YouTube has become an incredibly popular platform for sharing and consuming video content. With over 2 billion active users, it's no surprise that many individuals and businesses create and share YouTube videos.
Whether you're new to the platform or have a few ideas, making a video on YouTube can be daunting. That's why we've put together this booster step-by-step guide on how to make a YouTube video.
Whether you want to create content for fun or use YouTube to promote your brand, this guide will provide the crucial before and after steps you need to know to get started uploading videos on your own channel.
We know you are curious and excited to start creating your own YouTube videos, so, let's cut the long story short and get right into it!
A Comprehensive YouTube Plan of Action
Before making a YouTube video, you must start out by conducting competitor research since it is the most valuable step to help you stand out in search results. Here is why: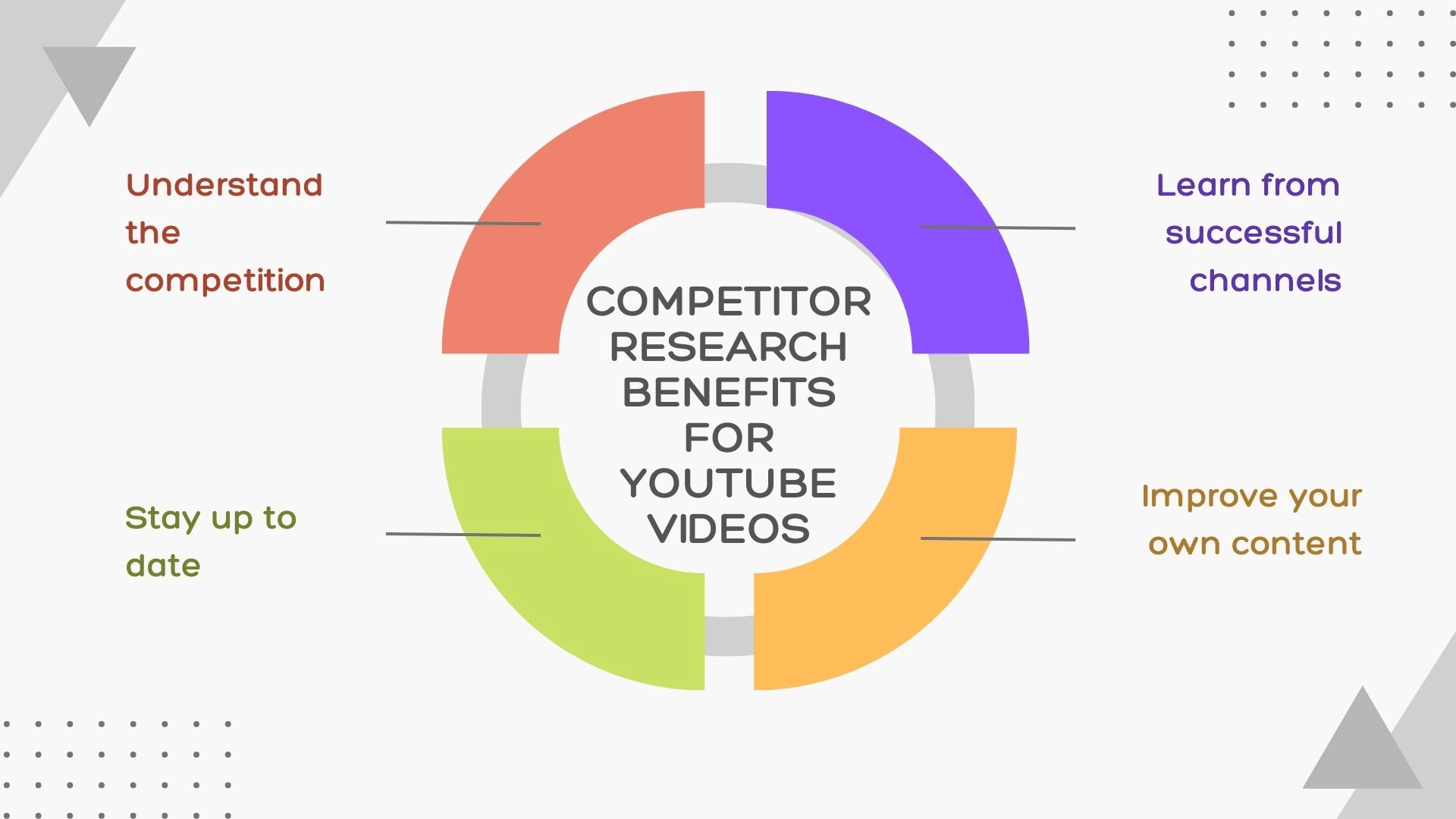 When you go to the channels you compete with on the YouTube search bar, keep watching videos that have a similar topic or the same idea as yours. Always focus on:
The videos with a large number of views to find out their most effective strategy.
Video titles and length of the videos to improve yours for search engines.
Video thumbnail details to understand how you should represent your video with it.
The best moments to mention likes, shares, and subscriptions to start marketing your YouTube channel.
Understanding how the top videos that you've watched on your proposed topic or idea stand out on the platform gives you a clearer idea of how to make  your own video achieve the same quality.
These few tips we've discussed will prep you for the most effective YouTube strategy below.
Plan Your Video Content
Now that you know the importance of researching your topic to get better ideas, next, you should focus on the video's goal and how to attract people.
Here is a planning template that can help you draft a few ideas about your video topic.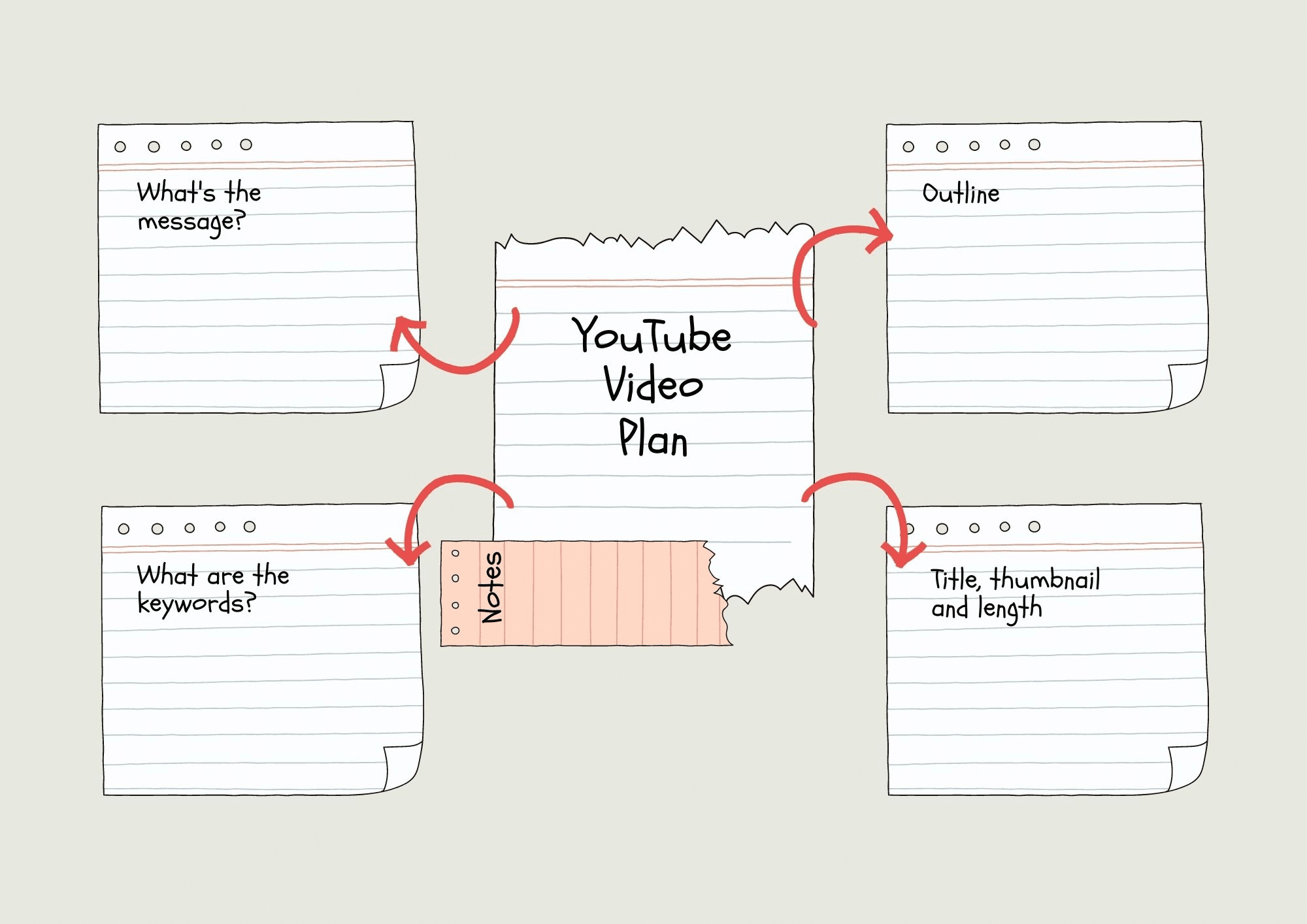 The most important tips to know about YouTube SEO are:
●     Conduct keyword research to determine the message of your new video.
●     Use relevant keywords to convey your target audience.
●     Understand your channel niche to reach more audiences.
All the videos on YouTube consist of three specific categories; educational, entertaining, and realizing.
If you want to say or show something that teaches your followers, then you should conduct keyword research on the skill you're showcasing to attract them.
On other social media platforms, we are familiar with using hashtags for visibility. Think of your relevant keywords like they are hashtags in your sentences, as they optimize your content in search results.
If you want to make videos such as vlogs or clips that will fascinate your viewers, , you must pay attention to your video quality.
People desire to watch high-quality videos when they find their preferred topic. So, you should have standard YouTube equipment for shooting your videos, or at least make the most of natural light if you're using a phone camera.
If you want to start creating videos for video reviews, video marketing, or public concern thematic content, you should have the right equipment that will produce high-quality work.
For example, a video editor knows to choose the right editing software for a better editing process, microphone audio will produce a better audio output, and a good camera will shoot exceptional videos for a better YouTube channel.
When all these are in place, write a script or outline for your video. This will help you present your thoughts about your video clearly. Here is an example template you can use digitally or manually for your scripting: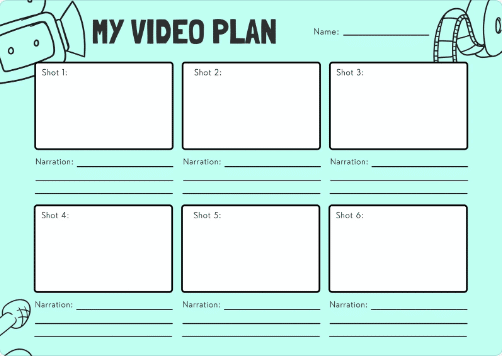 You can plan your shots, decide on the type of footage you will need, and determine the length of your video with this template.
Start Recording Your Video
Lights, camera, action!
What's best about YouTube is that you don't have to buy a lot of equipment to be successful. If you make your first YouTube video as a beginner, a tripod with a phone or a screen recorder is enough.
However, so many professional video creators have additional equipment they find useful, and you can be one of them if you have a camera, microphone, lighting kit, and tripod. Here's what you would need them for: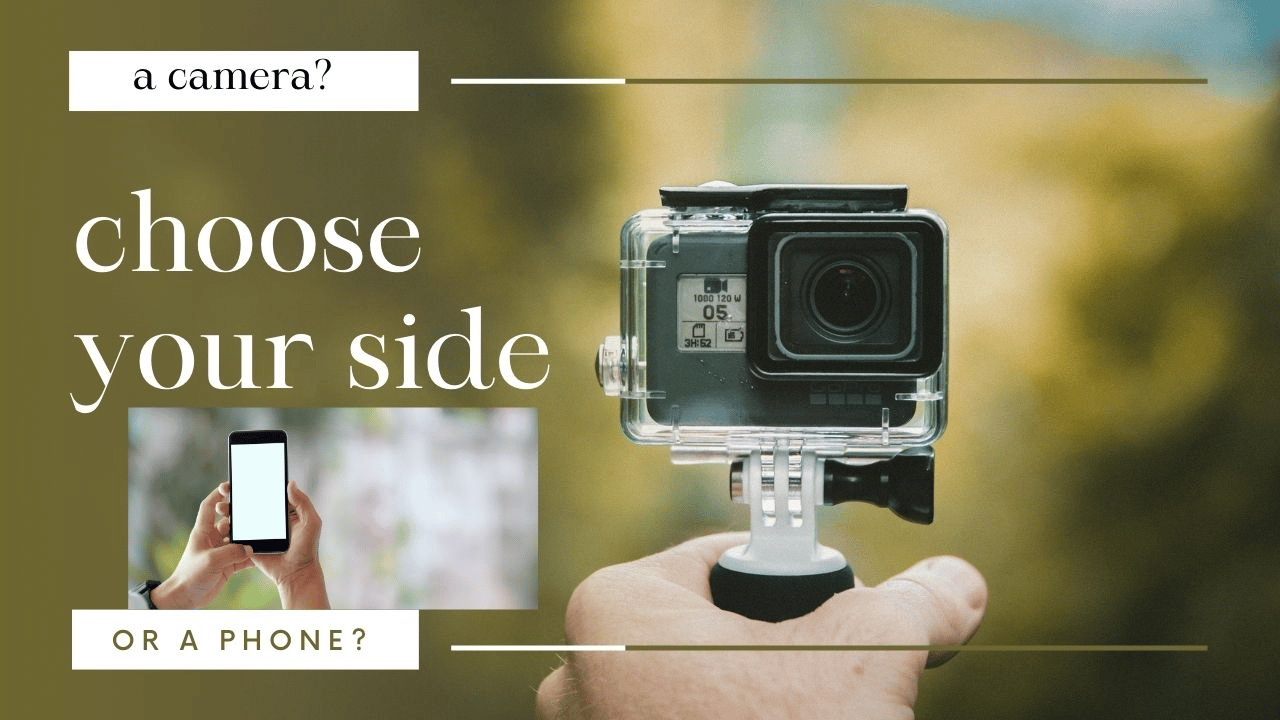 Camera for a high-quality video
When you want to create high-quality videos, you need to have a cost-effective camera. If you have good money, search for a DSLR camera.
Otherwise, you can buy compact or mirrorless cameras. If your budget is not enough for any of them, use your phone at the beginning because many YouTubers started out like that!
With a good microphone, your audio will be clear and free from distortion and background noise. Viewers are more likely to engage with your video and stay engaged throughout its duration when the audio quality is clear and easy to understand.
A good microphone can also help you convey your message with more emotion and authenticity, which can further enhance the overall quality of your video.
A lighting kit can provide consistent, high-quality lighting that advances the visual appeal of your video and helps to convey your message clearly and effectively. Good lighting can also make you look more professional, and lends a hand in establishing a strong brand identity for your YouTube channel.
First and foremost, a tripod provides stability, which is critical for capturing steady footage. Shaky footage can be distracting to viewers and make your video appear unprofessional. No worries about camera rolling with a tripod, you can adjust the height and positioning of your camera, allowing you to capture a variety of shots and angles.
Now, with a tripod, you can: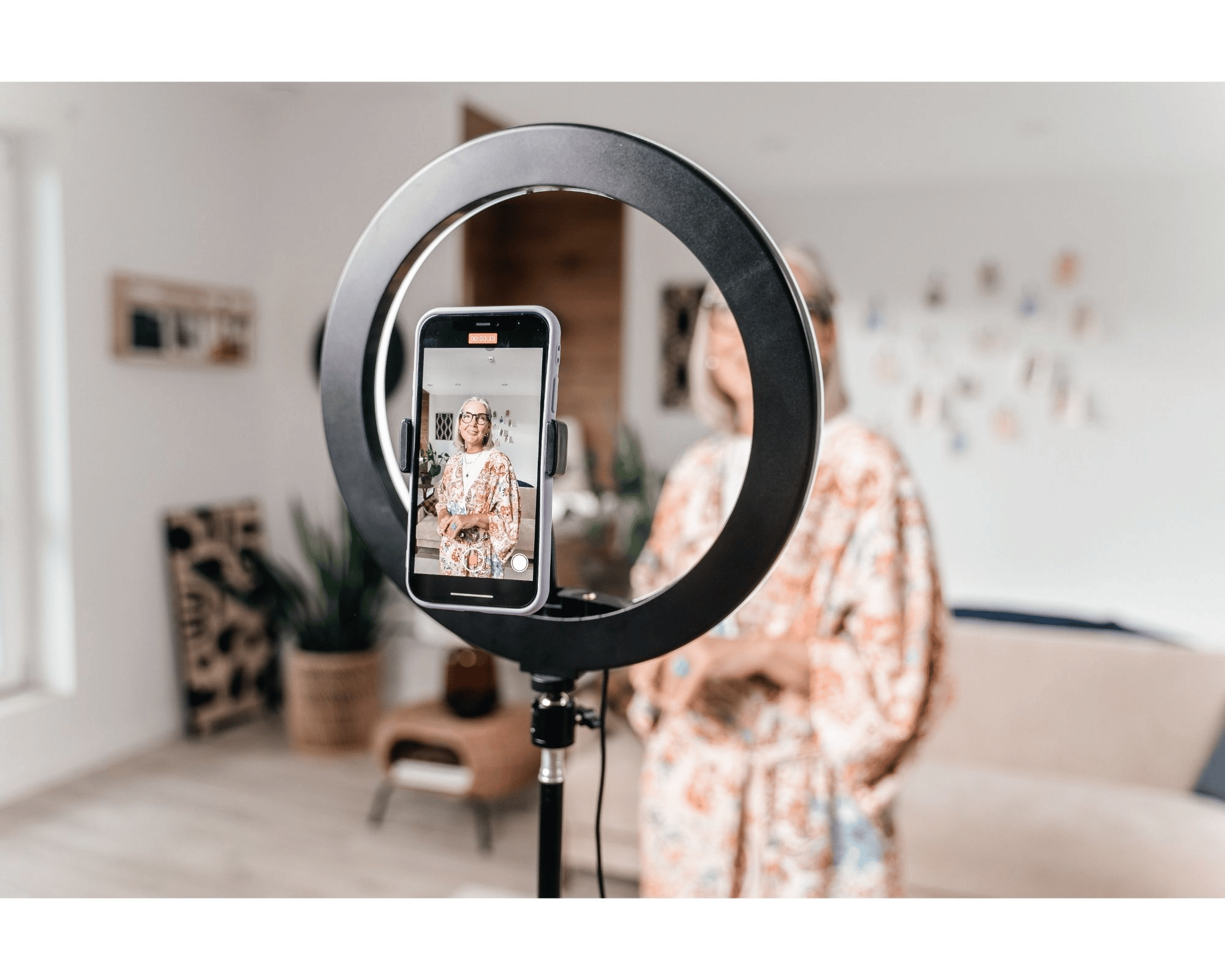 Set up your equipment.
Choose a location that fits your video's concept and has good lighting and sound.
Record your footage, following the script or outline you prepared.
Proceed with Editing Your Video
If you're looking to create compelling and engaging YouTube videos, one of the most important steps is editing.
Editing allows you to refine your footage, cut out unnecessary parts from your screen recording, and add special effects or transitions to make your video more dynamic and engaging.
In this section, we'll cover some key video editing tips and techniques for your YouTube videos using popular video editing software like Adobe Premiere Pro or Final Cut Pro.
Now that you understand the importance of editing in video creation, let's take a moment to talk about what it really requires for the sake of your first YouTube video.
Video Editing Tips:
Whether you're new to video editing or have some experience, these tips will help you create professional-looking videos that stand out on the platform and captivate your audience.
Use jump cuts: Jump cuts are a great way to create a fast-paced feel to your video. Simply cut out any dead space between sentences or thoughts, and stitch the footage back together. This creates a more dynamic video that keeps the viewer engaged.
Add music: Music is a powerful tool that can set the tone and mood for your video. Use music to enhance the emotion your video triggers in your audience, and keep the viewer engaged.
Use text overlays: Adding text overlays can help highlight important points in your video, and keep the viewer focused on the topic at hand.
Use color grading: Color grading can make your videos look more professional and visually appealing. Experiment with color grading to find a look that suits your video.
Use transitions: Transitions can add visual interest and help tie your footage together. Give it a try with different types of transitions to find what works best for your video.
Remember, these are just a few video editing tips to get started. Don't be afraid to test and find what works best for your specific type of video and audience. Now, let's get into the main steps for editing!
Import Your Footage Into Video editing software
The first step in editing a video on YouTube is to import your footage into video editing software. Popular video editing software options include Adobe Premiere, Final Cut Pro, iMovie, and Filmora.
Once your footage is imported, you can begin to work on organizing and trimming your footage to create a cohesive story.
Arrange and Trim Your Footage to Create a Cohesive Story
In this step, you will arrange your footage in the order that makes the most sense for your story.
You can trim any unnecessary footage or pieces that don't contribute to the overall flow of the video. This step is crucial in creating a clear and concise message that engages viewers.
Add Transitions, Text, Music, and Other Effects to Leverage Your Video
Now that you have arranged your footage, it's time to lengthen your video with transitions, text, music, and other effects.
Transitions can help create a smooth flow between different clips, while text can help clarify or emphasize certain points.
Music can also help to set the tone and mood of your video, while other effects add creativity and boost viewers' interest.
Ensure That Your Audio and Visual Elements Are Synced
It's important to ensure that your audio and visual elements are in sync and adjusted to the right levels. This includes adjusting the volume levels of music, sound effects, and voiceovers.
Additionally, you should ensure that your visuals match your audio, with the right timing and framing to create a seamless experience. Check Adobe Creative Cloud for a little inspiration.
Export Your Video in the Appropriate Format and Resolution
The final step is to export your video in the appropriate format and resolution. You can choose from various video formats depending on the intended use and audience, such as MP4 or MOV.
Moreover, you should select the appropriate resolution for your video, such as 1080p or 4K, based on the quality of your footage and the intended use.
Once you have selected the appropriate settings, you can export your video and upload it to YouTube.
Upload Your Video to YouTube
Once you've created and edited your YouTube video, it's time to upload it to the platform.
In this section, we'll go over the process of uploading your video, including tips for optimizing your video's metadata, setting up your video thumbnail, and promoting your video to increase views and engagement.
Whether it's your first video or you're already a regular YouTuber, these steps will help you get the most out of your video content on the platform.
Don't worry, the steps are similar in the YouTube app!
Log in to your YouTube account and click on the "Create" button

To upload a video on YouTube, you'll need to first log in to your YouTube account.
Once you're logged in, click on the "Create" button in the top right corner of the screen.
This will bring up a drop-down menu with a few different options.
Select "Upload video" and choose the file you want to upload

This will take you to the upload page, where you can select the video file you want to upload.
You can drag and drop the file into the upload area or click on the "Select files" button to browse for the video file on your computer.
Fill in the video details, such as the video title and description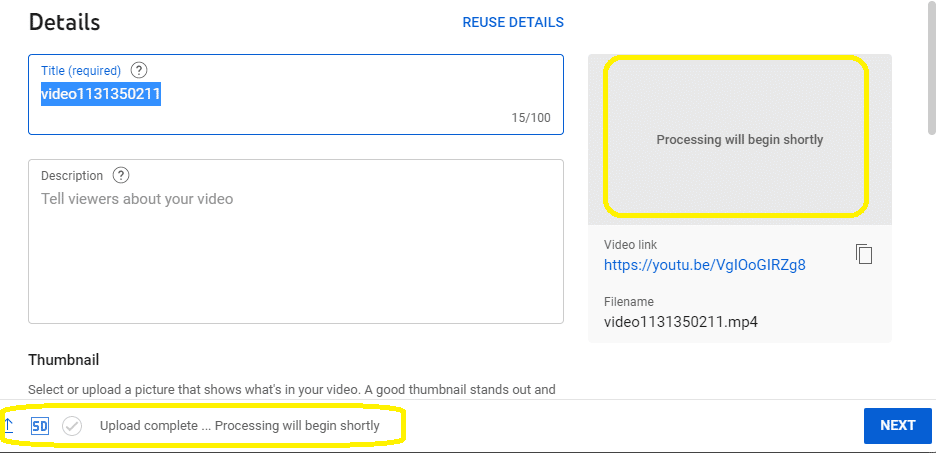 This is important for making your video searchable and discoverable on YouTube.
Include relevant keywords in your title and description to help viewers find your video.

Our example of tags above is relevant to educational content.
You must choose similar keywords for your content, including your video title.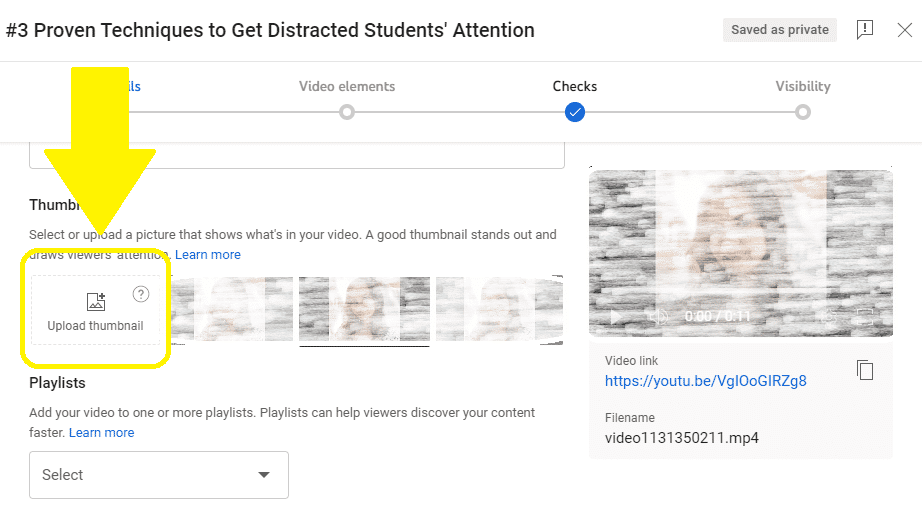 You can select a thumbnail from a list of pre-selected options or upload a custom thumbnail from your files.
It's essential to choose a thumbnail that accurately represents the content of your video and makes viewers want to click on it.
See how we represent our educational title with this thumbnail: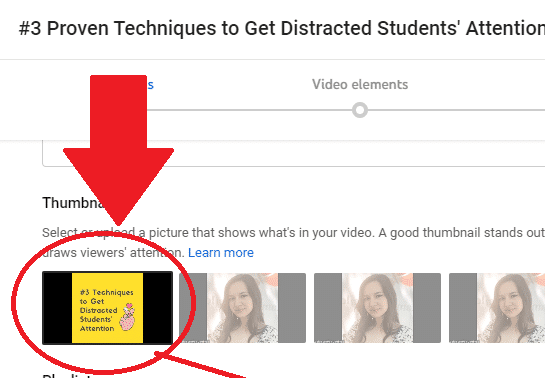 Add subtitles and add cards

"Add subtitles" is a feature on YouTube Studio that allows creators to add closed captions to their videos.
Closed captions are text overlays that display the video's dialogue, making it accessible to viewers who are deaf or hard of hearing, as well as viewers who prefer to watch videos with captions.
To add subtitles, creators can follow these steps:
Click on the video if you want to add subtitles.
In the left menu, click "Subtitles."
Click "Add language" and select the language of the subtitles.
Choose the type of subtitles that they want to add: "Manually" or "Automatically."
Manually: You can add the subtitles themselves by typing in the text as it is spoken in the video. You can also adjust the timing of the captions to ensure that they match the video's audio.
Automatically: You can use YouTube's automatic speech recognition (ASR) technology to generate captions. However, it's important to note that ASR may not be 100% accurate, so you may need to review and edit the captions for errors.
Once the subtitles have been added, you can preview them by playing the video with the captions turned on.
By adding subtitles to their videos, creators can make their content more accessible to a wider audience, improve the user experience, and potentially increase their video's reach and engagement.
"Add cards" is a feature that allows you to add interactive elements to your videos. These elements can be used to engage viewers, promote other videos or channels, link to external websites, and more.
Cards appear as small, rectangular overlays that you can add to a video at any time. When a viewer clicks on a card, they are taken to the associated content or URL. You can add up to five cards per video and can choose from a variety of card types, including:
Video or playlist cards: These cards promote other videos or playlists on your channel, and can be used to keep viewers engaged with your content.
Channel cards: These cards promote other YouTube channels, and you can use them to collaborate with other creators or promote related content.
Poll cards: These cards allow you to ask viewers a question and provide multiple-choice answers.
Link cards: These cards allow you to link to an external website, crowdfunding campaign, or merchandise store.
Donation cards: These cards allow viewers to donate to a nonprofit organization directly from your video.
By using cards, you can enhance the viewing experience and provide additional value to your audience.
Set the visibility and privacy settings for your video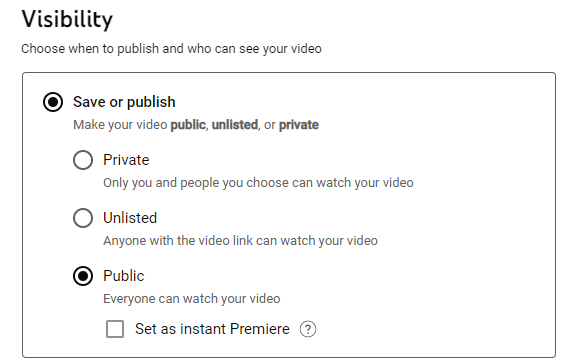 You can choose to make your video public, unlisted, or private.
Public videos are visible to anyone on YouTube, while unlisted videos can only be viewed by people who have the link.
Private videos can only be viewed by people you've specifically invited to view the video.
Click "Publish" to upload your video to YouTube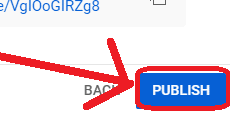 Your post-production may take a few minutes to process before it's available to view on YouTube.
Once it's visible, you can share your video with your audience, promote it through social media or other channels, and buy YouTube growth services to get likes, views, and followers quickly.
Do not Forget to Promote Your YouTube Video
Share your video on your social media channels
One of the easiest approaches for marketing videos on YouTube is to share them on your social media channels. This can help you reach your existing followers and drive more views to your video.
Use relevant hashtags and a compelling description to entice viewers to click on your video.
Add your video to your website or blog
If you have a website or blog, you can embed your YouTube video directly on your page.
This can help increase engagement on your website and drive more views to your video.  Remember to include a clear call-to-action to encourage viewers to watch your video.
Engage with your viewers by responding to comments and questions
Engaging with your viewers can help build a loyal fan base and increase the visibility of your own videos.
Actively respond to comments and questions on your video, and encourage viewers to leave feedback or share their thoughts. It advances your strategy of building a community around your video and increases its reach.
Collaborate with other YouTubers or influencers to reach a wider audience
Collaborating with other YouTubers or influencers can help you reach a wider audience and expose your video to new viewers. It builds relationships with other creators and increases your visibility on the platform.
Ensure to choose collaborators whose content aligns with your own videos, and work together to create content that is engaging and relevant to your audience.
Benefits of this Blog Post:
Let's say making a YouTube video involves several key steps, including planning your video, recording your video, editing your video, uploading your video to YouTube, and promoting your video.
Planning your YouTube video helps you create a clear and concise message that resonates with your audience.
Recording your YouTube videos ensure that you capture high-quality footage that enhances the viewer experience.
Editing your video clips allows you to refine your message and create a cohesive story that engages your audience.
Uploading your video to YouTube helps you reach a wider audience and get your message in front of the right people.
Finally, promoting your video helps you engage with your viewers and build a strong community around your video content on your YouTube channel and other social media sites.
By following these steps, you can create high-quality YouTube videos that resonate with your audience and help you achieve your goals on the platform.
You can even start video marketing and it is completely free. Cheers to more videos!
Frequently Asked Questions
What should I do to create ideas about my videos?
You should research competitors if you want to learn how to create YouTube video ideas.
Doing this helps you better understand what type of videos they are making, what topics they are covering, why they are buying YouTube services, and how their audience engages with their content.
By studying successful YouTube channels in your niche, you can learn from their strategies, techniques, and tactics to ideate how to make a YouTube video.
For example, you can understand what type of content performs best, how they structure their videos, engage with their audience, and promote their content.
Researching your competitors can also ensure you stay up-to-date with the latest trends in your niche.
You can see what types of new videos are gaining popularity, what types of content are losing traction, and what your target audience is interested in.
This assists you to improve your content, create videos that are more engaging, and building a stronger relationship with your audience.
How can I monetize my YouTube video?
To monetize your YouTube video, you will need to join the YouTube Partner Program and meet the eligibility requirements, which include having at least 1,000 subscribers and 4,000 watch hours in the past 12 months.
Once you are accepted into the program, you can earn money from ads placed on your videos, as well as from sponsorships and merchandise sales.
What video editing software should I use?
There are many editing software options available, including Adobe Premiere, Final Cut Pro, iMovie, and Filmora.
Choose a software that is fitting for your budget and skill level, and be sure to learn the basics of the editing software before starting to edit your video.
How long should my YouTube video be?
The length of your YouTube video will depend on the type of content you are creating and the attention span of your target audience.
In general, videos that are between 8-12 minutes tend to perform well on the platform, but it's important to focus on creating content that is engaging and valuable to your viewers, regardless of its length.
How can I make sure my video looks professional?
To make your video look professional, make sure to use good lighting, clear audio, and stable shots. Use a tripod to keep your camera steady, and consider investing in a good microphone for clear audio.
You can also add text, transitions, and other effects to enhance your video and make it look more polished.
Do I need screen recording software?
If you fit into any of the below categories, then, yes!
Educator or trainer
Content Creator
Gamer
IT professional
Business professional
Remote worker
Overall, anyone who needs to create visual content that involves demonstrating or explaining something on their computer screen may find it useful.