In this blog post, you're going to be amazed at what kind of content is watched on YouTube. Here, we'll deal with 33 most-viewed YouTube video content and 30 most-watched YouTube videos. After reading this article, we recommend you check your YouTube channel's estimated income by using the Views4You YouTube money calculator tool! You'll see, there's something insane going on! Let me give you some hints, the top videos on almost every single content are always created by children of all ages. If I knew things would come to this point, I would be a child YouTuber too. There is still some time for you to become one of the best YouTubers, now, it is time to find out what YouTube content will be best for you to start YouTubing!
Top 10 YouTube Videos That Everyone Watches Non-Stop
#1 Tutorials / "How To"
These types of videos are the best and the most watched YouTube video category, when you've very limited time and need to learn something very quickly. They hit millions of views and became the most-viewed videos on YouTube! Let's consider this, you're hosting a party, and there are lots of cocktails you want to whip up for your guests, but you don't know how to make any. Just type "how to make a cocktail" on YouTube, and there you have it.
It's quite funny that the most watched "how to" video on YouTube is "How to Make Dinosaur Ice Eggs" with 380 Million views. One of the first video tutorials on YouTube is "how to tie a tie". It seems men require a little assistance with that. People simply ask a very specific question, and someone already has the demonstration recorded it for many people to come and view. These videos are pretty helpful for different needs—, for instance, if you want to try to learn "how to solve a Rubik's cube." People are quite satisfied when they search for tutorials on YouTube and find the answer quickly.
#2 Gaming
Video games are no longer just for kids or teenagers. In fact, gaming has become one of the most popular genres on YouTube, with gamers of all ages and skill levels sharing their gameplay footage for the world to see. Gaming videos can be anything from live streams of people playing popular games like Fortnite, Call of Duty, Minecraft, PUBG, and League of Legends to highlight reels showcasing someone's best moments in a game, to walkthroughs and tutorials teaching viewers how to get through tough levels, or unlock secret achievements.
People are so obsessed with these kinds of video games that they even become subjects in the academic literature on creative industries (Yıldırım, 2022). No matter what type of gaming content you're looking for, there's always a good channel for you to watch day and night on Go check out some of these most-viewed YouTube video on channels like Unspeakable, and Preston.
#3 Cartoons | Animes
Children are born into a digital world. They know how to use WEB 3.0, and now they're living inside their tablets, phones, and TVs as long as there's a stable internet connection. Watching cartoons online on YouTube is quite enjoyable for younger ones. Usually, they don't stop at one video, they always check out a second video or even more. Hopefully, it teaches kids some top-spot values. So, they are doomed to play cartoons on YouTube. But they are learning colors and many other things from numerous videos.
If you have kids, you probably know some of the most viewed videos for children, such as " Johny Johny, Yes Papa", "Old MacDonald", "Baby Shark", "Pinkfong Kids Songs", and "Cocomelon Nursery Rhymes." You probably also know most of the cartoons from Looloo Kids, Miroshka TV, and Chuchu TV because your child loves watching them constantly on YouTube.
As a child, you might have also enjoyed watching cartoons on TV. Don't worry, now as an adult, you can find hundreds of hours of classic and modern cartoons on YouTube for yourself. If you're looking for some light-hearted fun or want to take a trip down memory lane, there are plenty of great cartoon channels on YouTube to choose from, including Cartoon Network, Disney, and Pixar. You can also find newer cartoons like Adventure Time, Steven Universe, and We Bare Bears. For Japanese animation fans (anime), plenty of channels offer English-dubbed or subtitled shows. Some of the most popular anime on YouTube include Attack on Titan, Naruto, and Dragon Ball Z.
#4 Make-Up | Fashion
There are two types of people in the world: those who enjoy shopping for clothes and everything, and those who simply don't. But, even if you're not the type to spend hours in a store trying on different outfits, fashion YouTubers are already trying all of them for you. They record great YouTube videos for the potential targeted audience because a good number of people love this content. Besides, many people enjoy seeing what's new in the world of fashion. So, they become genuine subscribers to those channels.
Luckily, there are plenty of great fashion and beauty channels on YouTube where you can do just that. Whether you're looking for style inspiration, want to learn how to do your makeup, a natural everyday look, or more specific looks like smokey eyes or winged eyeliner, or, just want to keep up with the latest trends, there's always a YouTube channel for you. Some of my favorites include Jeffree Star, PatrickStarrr, Jaclyn Hill, and Nikkie Tutorials. They own a good percentage of YouTube's content for fashion enthusiasts, and their videos are always amazing discoveries.
#5 Unboxing Video
Unboxing videos are the best! It is in the top 5 most viewed YouTube videos. It is a type of video where someone unpacks a new product they have purchased, it's so much better if s/he bought the things you ever wanted. Then it becomes your favorite personalized content. Most of the viewers tend to "like" these unboxing videos which are at some point a part of ads or affiliate marketing techniques. This way, you can easily find out whether the product is worth buying or not, or if it has the features you need or not.
Unboxing videos range from tech gadgets and phones to toys, clothes, shoes, makeup, food, and just about anything else that can be unpackaged. If there's a new product on the market, chances are there's an unboxing video of it somewhere on YouTube. Some of the most popular unboxing channels include Unbox Therapy, Marques Brownlee (MKBHD), Linus Tech Tips, and TechSmartt.
#6 Product Reviews
When it comes to making purchasing decisions, people often turn to YouTube for product reviews. The popular most-watched videos of the product are usually very accurate. Product reviews are a little different from unboxing videos. Product review content focuses on examining the product from the point of view of the YouTuber. People so much value these reviews that YouTubers have now become the opinion leaders of the digital age.
Whether you're considering buying a new smartphone, looking for a new beauty routine, or trying to find the best gaming setup, YouTube is full of product reviews that can help you make informed decisions and get views. Moreover, since people trust the opinions of other consumers more than they trust advertising, product review videos can be incredibly effective at driving sales and conversion.
If you're thinking about starting a product review channel on YouTube, there are a few things you should keep in mind. First, be sure to pick products that you're passionate about and that you believe your viewers will be interested in as well. You should also focus on creating high-quality content that is informative and entertaining to watch. Finally, don't forget to include links to the products you're reviewing in your video descriptions so that your viewers can easily purchase them if they're interested.
#7 Vlogs
Vlogging has become one of the most popular types of content on YouTube. A vlog is essentially a video diary or a journal where YouTubers document their lives, share their thoughts, and experiences with their viewers. Those viewers are so loyal and have sentiments for these online friendship that they always keep themselves updated with every content that the vlogger is upload. Vloggers with millions of loyal subscribers are not worried, because their subscribers will most likely watch their content, putting them on the list of the most viewed YouTube videos easily. But these vloggers know the exact time to post on YouTube for better engagement.
Vlogs can be anything from daily routines or haul shopping to travel videos and challenges. While vlogging may seem like an easy way to rack up views, it's actually quite difficult to do well. To be successful, you need to be interesting, entertaining, and relatable. You also need to have a strong understanding of your audience and what they want to see—not only content about you obviously, they need more.
#8 Favorite | Best | Top Videos
Best videos usually cover the favorite songs or particular category of a YouTuber's top choices. The best part of these videos is that you don't need to watch the whole video. Just listening to the sound and watching a little bit of it is enough to make you feel good. It's just like listening to your favorite song flow on the radio or seeing what your favorite YouTuber's favorite list has. Also, top videos are based on the YouTube algorithm which shows what's popular at the moment you open YouTube. For example, if you check out YouTube right after a new movie trailer is released, chances are, one of the top video trendings will be that particular movie trailer.
#9 Sports & Workouts
Sports and workout videos are becoming increasingly popular on YouTube as people look for new ways to stay fit and active. YouTubers are sharing their favorite exercises, training routines, and healthy recipes to inspire others to live a healthier lifestyle.
Whether you're looking for some at-home workouts to do during quarantine or you want some tips on how to eat healthy, there are plenty of great sports and fitness channels on YouTube that can help you out. Some popular favorites include Chloe Ting, Pamela Reif, POPSUGAR Fitness, HASfit, and Bodybuilding.com
#10 Music Videos
What is your favorite music video? Would you like to listen to the global hit songs both online and offline via YouTube? As many music video views indicate, everyone is on YouTube to see them. Music videos are one of the most popular types of content on YouTube, with billions of views being generated every single day. YouTube is filled with official video contents of various singers such as Justin Bieber, Katy Perry, Bruno Mars, Charlie Puth, Ed Sheeran, Alan Walker, Luis Fonsi, Wiz Khalifa, Mark Ronson, and Daddy Yankee.
If you want to make a successful music video, There are a few things to keep in mind. First, you need to choose a catchy and popular song that people will actually want to watch. Second, your video should be well-produced and visually appealing. Finally, don't forget to promote your video across social media and other channels so that people actually see it.
What are the Other Most Viewed Video Contents?

#11 Challenges
Challenges are always popular on YouTube. They're fun, they're shareable, and get people talking. That's why they're some of the most popular types of content on YouTube. Over the years, we've seen all sorts of challenges go viral on YouTube. There's been the "Ice Bucket Challenge", which is known as the ALS disease challenge, to the "Mannequin Challenge", which is something everybody stands still as they are when "Black Beatles" song starts to play, to the "Harlem Shake" that everybody starts to dance like crazy.
While some of these challenges are more serious than others such as eating some wild insects, they all have one thing in common: they get people talking (and sometimes even participating). Once people find it interesting enough to join the challenge, you don't need any further move. Internet engagement will do the best for you.
#12 Meme
Meme videos usually consist of clips from popular TV shows, movies, or viral videos with funny captions added. These videos are usually shorter than other types of content on YouTube, but they can still be very entertaining and generate a lot of views. They can become so much popular in one night that almost everyone gets to see and recall these videos even says later. Because they're hilarious, many people quickly remember to share them with their friends.
There is even a card game with the iconic faces from different meme videos. People play it by asking specific questions and the others show the meme faces to give a response. Just a tiny note from me, I use Charlie Bit Me face when I'm sad:( and start playing Paul Walker final scene when something dramatic happens.
If you want to make a successful meme video, there are a few things to keep in mind. First, you need to choose a clip that is actually funny and will resonate with people. Second, your video should be well-produced and visually appealing. Finally, don't forget to promote your video across social media and other channels.
#13 Video Podcasts
A video podcast is basically a podcast that is recorded in video format instead of audio format. These types of podcasts are becoming increasingly popular, especially on YouTube. That's because they allow you to see the expressions and body language of the person who is speaking, which can make the content more engaging. Video podcasts are also great for people who prefer to watch videos instead of listening to audio.
The most viewed video podcast is "Joe Rogan Experience #1169 – Elon Musk" with 60 million views. It is followed by "TED Talks Daily" with 50 million views. As you can see, video podcasts can generate a lot of views, especially if they're well-promoted and published on a popular channel.
#14 Educational Video
Educational videos are becoming increasingly popular on YouTube. That's because they offer a quick and easy way to learn about a variety of topics, from history to science to math. These videos are usually shorter than other types of content on YouTube, but they can still be very informative and generate a lot of views.
The most watched educational video is "Bill Nye the Science Guy S03E01 – Cells" with over 60 million views. As you can see, educational videos can generate a lot of views, especially if they're well-promoted and published on a popular channel.
#15 Shopping Sprees | Hauls
Shopping Sprees and Hauls videos are a type of content where people show off the items they've recently purchased, usually from a store or online. These videos can be very entertaining and generate a lot of views. They're also great for promoting products and stores.

#16 Cute Animals
We're the generation grown up with Garfield, Tom & Jerry, Bugs Bunny, Donald Duck, Tweety, Gufi, and Mickey Mouse. They were our beloved friends and always wanted to have them as a company. When it comes to the digital age, people started recording their own companies and uploading them to YouTube. This turns out great engagement. Once you come across to an animal video, you'll see it as the only video that makes you feel something.
You cannot skip the cutie pie kitties and funny animal videos. This is a fact! Some people might think that animal videos are just a waste of time, but there is actually some science to back up the claim that they can be beneficial. A study published in Computers in Human Behavior found that watching cat videos can boost a person's energy and positive emotions, while also decreasing negative feelings like anxiety and irritation. According to another research, anything that includes "cute" in it produces unclear feelings but still gets people's attention. So, this makes them one of the most viewed YouTube videos. YouTube even favors non-real animal animation videos and wild animal channels too.
#17 ASMR
ASMR is a type of content that is designed to trigger certain sensations in the viewer, usually a tingling sensation in the head or neck. This content is often created with soft sounds and gentle movements, which can be very relaxing for some people. ASMR videos are becoming increasingly popular on YouTube, especially as people look for ways to relax and destress.
#18 Skits | Pranks | Comedy Videos
Skits and pranks are a type of content that is designed to be entertaining and funny. These videos often involve people acting out situations or pretending to be someone else. Skits and pranks can be very popular on YouTube, especially if they really went well.
#19 Whiteboard Video
Whiteboard videos are a type of explainer video that uses a whiteboard as a visual aid. These videos are often used to explain complex topics in a simple and easy-to-understand way. Whiteboard videos can be very effective at getting people to engage with your content and learn new information.
#20 Reaction
Reaction videos are a type of content where people film themselves reacting to something. These videos can be filmed in response to another video, a news event, or anything else that someone might want to react to. Reaction videos are usually unscripted and spontaneous, which can make them very entertaining to watch.
What are the Most Viewed YouTube Videos?
There are still more YouTube constents for the viewed videos.
Here they are:
#21 Celebrity Gossip #23 Q&A Video #24 Webinar Teasers #25 Product Demo | Launch Video #26 Behind the Scenes (BTS) Video #27 Interviews #28 Docu | TV Series #29 Listicle Video #30 Community-Based Video #31 Business Result Video #32 Meet the Team Video #33 Conspiracy
30 Most Viewed YouTube Videos of All Time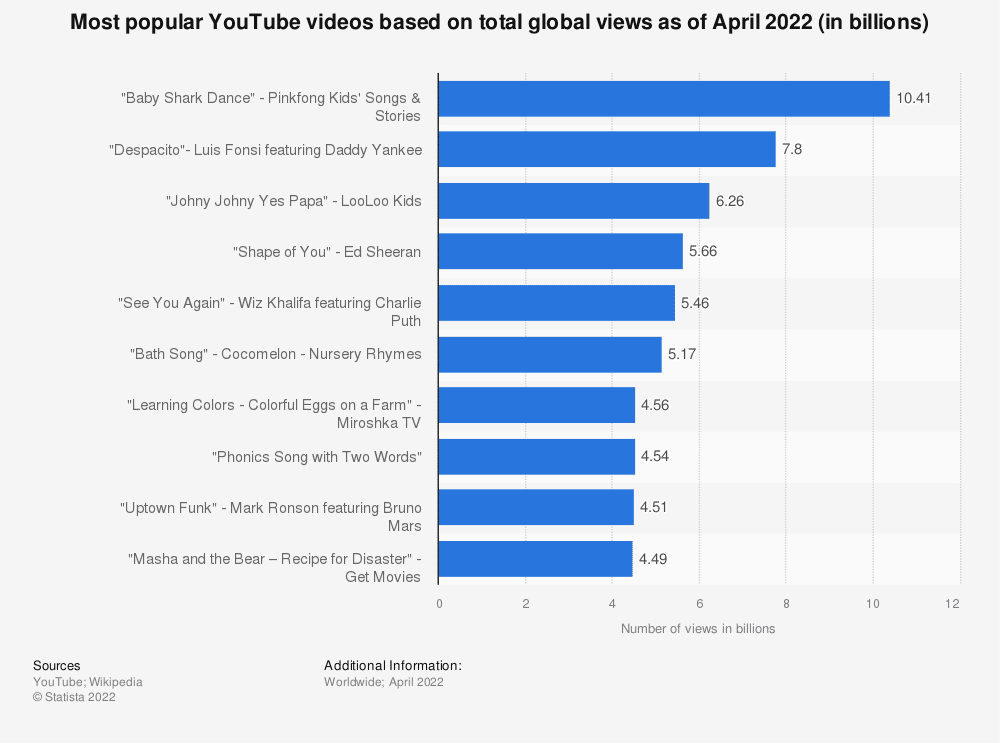 According to site data, the most viewed videos on YouTube is produced by child YouTubers, and by singers who uploads their music videos to the platform. It is very interesting that on almost every single subject, the first video is some colurful child content. Even we type nothing to the search bar, 11 billion views Baby Shark comes as the first YouTube video. As the list followed by the most viewed other videos. Here's a list of the other most-viewed videos on the platform: