The YouTube thumbnail downloader is a free online tool that allows you to easily and quickly grab video thumbnails or YouTube banners. You don't need to install an app, it can all be done through our website on your computer or mobile device.
The YouTube thumbnail grabber allows you to choose different sizes and qualities of images based on your preferences, which is great because it allows you more flexibility in what you want to use it for.
Views4You's free YouTube Thumbnail also allows you to download YouTube banners using the YouTube banner downloader in just a few clicks.
What Are YouTube Thumbnails?
YouTube Thumbnail images display videos to viewers by showing them a suggestion of what's in store before they click through.
The Following Are Some Examples:

The custom thumbnail image should be a high-quality image that will grab the attention of potential viewers instantly. This could be anything from your video, so make it count.
The YouTube algorithm is focused on visuals, so make sure your video has an eye-catching YouTube thumbnail.
The way you stand out as a creator and reach potential subscribers matters more than ever before.
Why Are YouTube Video Thumbnails So Important?
People always look at YouTube thumbnails before they decide whether or not to click on a YouTube video. So, it's really important that you pay attention and create thumbnails that will draw people in because if your YouTube thumbnail doesn't work as a magnet, then chances are no one else is going to watch your content.
It's not just the YouTube thumbnail that counts, but also how well it matches your YouTube video. A good one will ensure you get thousands of views; bad YouTube thumbnails keep people from watching altogether.
Luckily, YouTube lets you customize your video thumbnails, so make the best of it.
The Dimensions for the Ideal YouTube Thumbnails
Your custom YouTube thumbnail image should be as large as possible, as it will also act like a preview image for the embedded player. If you want to make sure you are keeping it professional, we recommend you use custom thumbnails and follow these five easy steps in order to see success with video marketing on Google's website or app.
The most popular YouTube video sizes are between 1280 pixels wide by 720 tall.
The YouTube thumbnails use an aspect ratio of 16:9.
The YouTube thumbnail size must be a minimum width of 640 pixels wide.
The max file size for this service is 2MB.
The most commonly used image formats are JPG, GIF, and PNG.
How to Build on YouTube Thumbnail to Boost Your Video
YouTube automatically generates three thumbnails for your keywords when you upload a video. These are random images culled from content found in videos on our site and they appear at the bottom of the page.

The customized YouTube thumbnail adds a touch of professionalism to your videos. And with just one click, you can upload an image from anywhere in the world and save it on our server for future use.
How Do I Download a YouTube Thumbnail?
#1 Visit YouTube and open up the video with the thumbnail image you wanted.
#2 Copy the link/URL of the YouTube video with the YouTube thumbnail.
#3 Paste the YouTube video link/URL in the box and activate the YouTube Thumbnail Downloader.
#4 Click on the "Download YouTube Thumbnail" button.
#5 The image quality of a YouTube video thumbnail is an important factor that determines how well people will be able to understand and enjoy your content. There are six different qualities available: High-Quality HQ, standard definition DVD resolutions; 4K, and 1080p HDTVs. The Low-Quality YouTube thumbnail option provides images with poor contrast levels while Medium-Quality YouTube thumbnails offer only enough detail for basic recognition of what's happening in the video but not so much clarity.
#6 Click the button that says "Download" and your video thumbnail will be saved to your device's storage.
YouTube Thumbnail Best Practices
Succeeding on YouTube, is not only about knowing what are you doing. You have to show that your knowledge is genuine and reliable by doing things well which means knowing how they should be done in the first place. Here you can follow some tips to help you:
1.To Grab Attention, You Can Use Text Overlays
Think about your YouTube thumbnail as an appetizer for the rest of your video. There's no need to dive right into consuming content because that would be boring! Instead, make sure you give people enough information so they know what's coming their way before clicking on anything else, then watch how quickly more viewers come flooding in from all over social media.
2.Do It Suitably
Your YouTube thumbnails should accurately reflect the content in your videos. Nobody likes clickbait, so make sure that what you are posting online reflects a real and interesting story with good quality. Don't use cheap advertising for yourself or other social media users who may share their own work on these platforms.

3.Insert Your Logo
The power of a logo is undeniable. If you include your company's branding in the YouTube thumbnail for every video that goes live on YouTube, then not only will people be more likely to remember who YOU are when they're searching but it can also increase viewer engagement. This can lead directly to some form of marketing or word-of-mouth advertising.
Vevo has a very straightforward approach to branding. They keep their logo in the bottom left-hand corner and place it consistently, which helps make them stand out from other music videos on YouTube or Netflix with no visual identity of their own.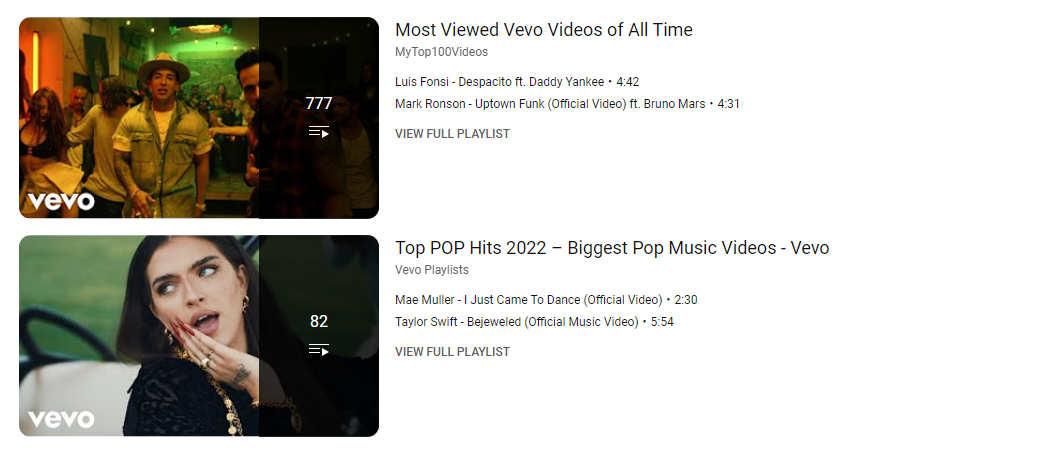 You can still see the main image, but with this small addition, it's clear that Vevo owns and uploaded this video.
4.Simplicity
You may have heard that YouTube thumbnails are quite small. This means it's important not to overcrowd your image, but there's still a balance you need to strike when including logos and text overlays in order for them not be too overwhelming on screen.
The YouTube thumbnail should represent what is happening in your video, not too much information but just enough to make them interested.
5. Make Them Curious
Your video's YouTube thumbnail is its most important element. It may be the deciding factor between whether or not someone watches your entire YouTube channel, instead of just clicking away when they see something that doesn't interest them in the captivating image you've put together.
The more curious people are about what happens in your video, the higher chance they'll click on it and watch all of its gloriously awesome moments. You can spark this interest with action shots like these.

If you don't have any interesting shots in your video, why not spice it up with some graphics?

6.Test It Out!
Finding the perfect YouTube thumbnail can be tricky, but there's only one way to find out what works and doesn't— by testing it out.
Viewers respond differently to text in YouTube thumbnails, so it's worth testing out different types of captions for your videos. You can change the size and font style too—     anything that will make them more engaging.
Testing and finding out what your viewers prefer is a completely subjective decision.
7.Consistency
Consistency is key when it comes to establishing yourself on YouTube. If you upload quality content and keep your viewers engaged, they'll be more likely want follow along with what's happening in future videos. Take this example of a successful creator who has built up their channel over time by posting high-quality video recordings every single day.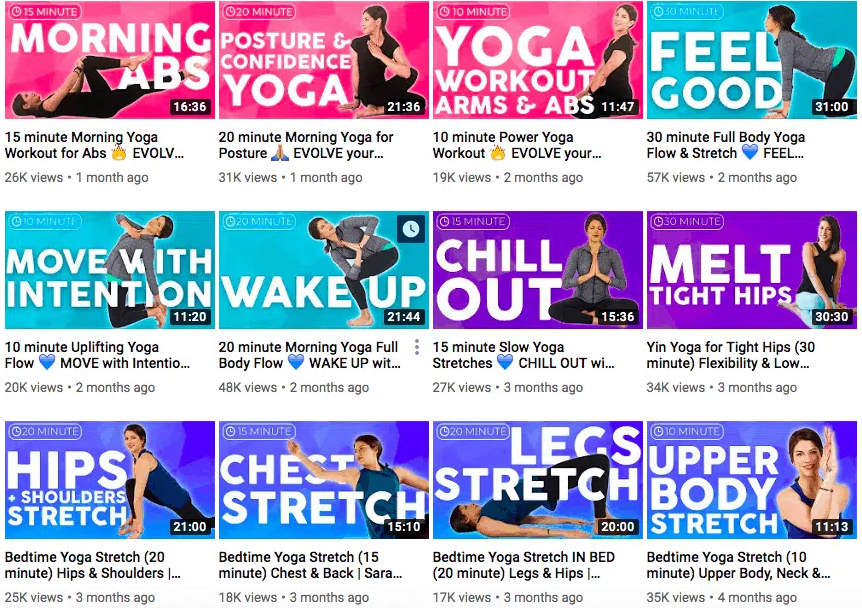 Along with the YouTube thumbnails, test out different title lengths and styles. This will help you optimize your channel for success.
Examples of Top YouTube Thumbnails
Now that you're an expert at creating great YouTube thumbnails, let's check out these awesome examples!
1. Refinery29
Refinery29 is an online magazine that has the latest trends in fashion and beauty, with videos of how-to guides for every type.
Refinery29 is an online magazine, YouTube channel, and TV show that features women in all shapes and sizes. From fashion tips for living your best life to straight-talking mini reports about the struggles of underprivileged countries around the globe, this outlet has got you covered.
Their YouTube thumbnail templates are sleek, sophisticated, and professional. They show a still image of the woman from their video with its logo in the bottom left corner for maximum impact!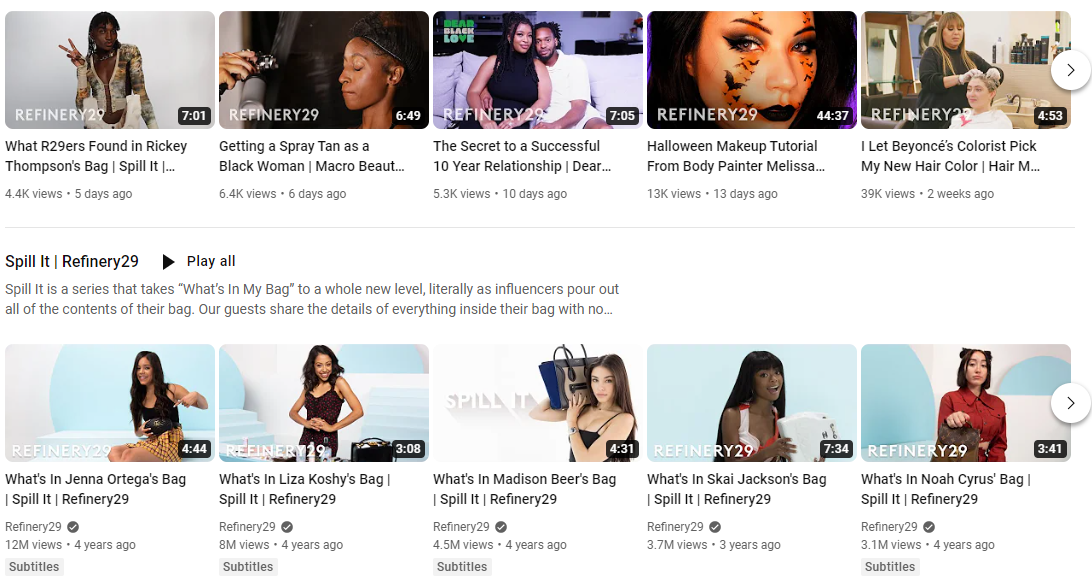 The more you put the logo in the YouTube thumbnail, the more it will strengthen your show on YouTube.
2. Yoga with Jessica Richburg
Yoga with Jessica has successfully amassed a yoga audience that provides free online hours for every level. The videos from their channel appear as the first 15 results when you search 'yoga' on YouTube, and it is because of these beautiful YouTube thumbnails. To further explain your video's subject matter, consider adding the video's title to its thumbnail.
This is a classic Yoga with Jessica YouTube thumbnail:

This YouTube video thumbnail shows the instructor, Jessica stretching and also big text that displays the content in this video. Other videos that rank for similar keywords pale in caparisoned to it because they don't have enough information or use complicated language which can be hard on viewers who just want simple instructions."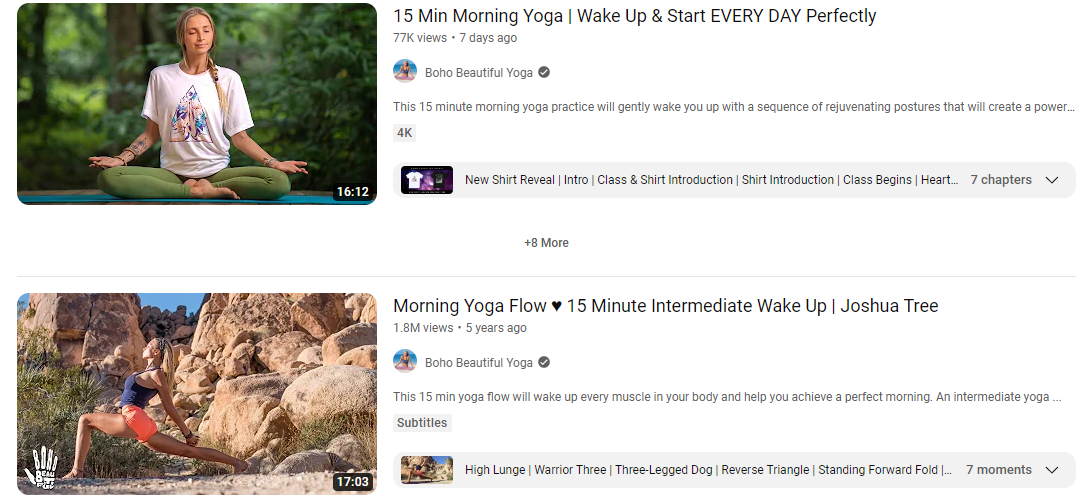 Video title or text over video is a great way to make YouTube thumbnails stand out and draw in viewers. It also helps with text that's hard for people who see only one frame at a time, like me.
Yoga with Jessica is all about consistency. Every YouTube video has the same basic structure an instructor in center, backed by big bold type of text that tells you what she's saying every step of the way.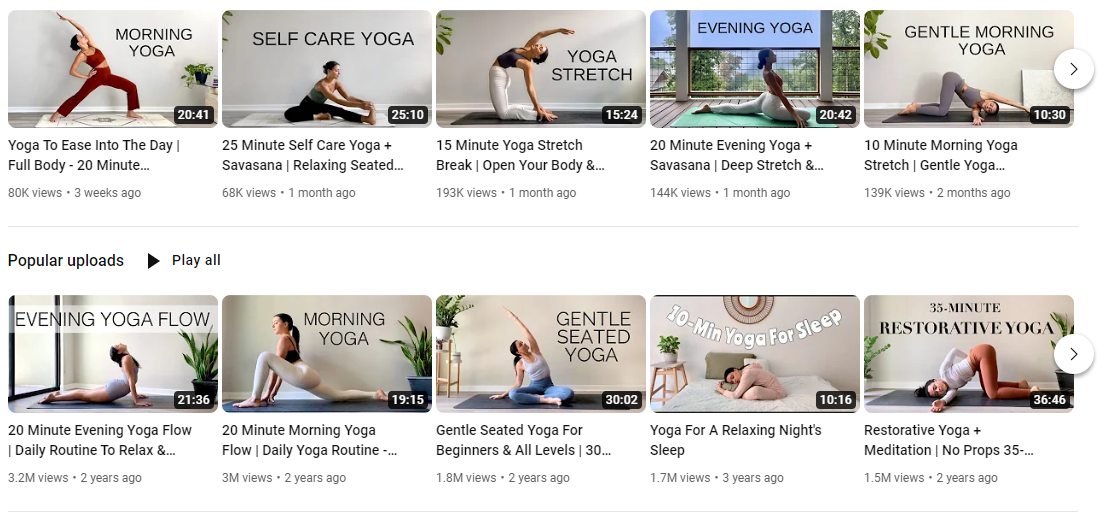 Dave and Ava
Dave and Ava – Nursery Rhymes and Baby Songs uses data to tell stories that are engaging, creative and fun. Their YouTube thumbnails are colorful and bright and with an eye-catching title that includes the full video name to pique your interest. You can use an animation feature to make your thumbnail stand out. Find a unique color scheme and font combination that suits your needs.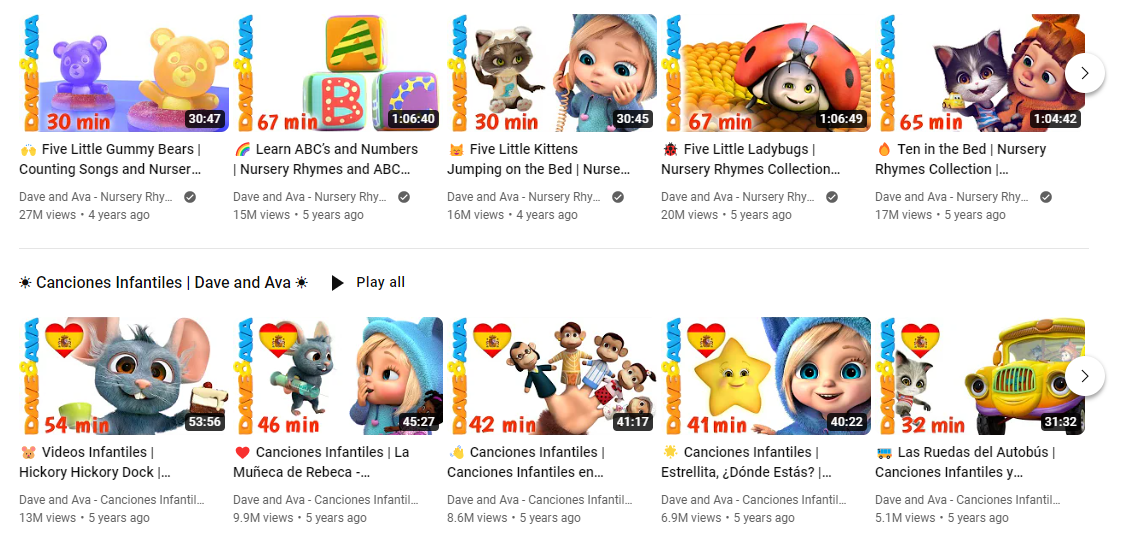 Their ranking in the search engine rankings is due to this special formula that helps them stand out from other companies. The keyword they use ranks the channel higher.

Same keyword that ranks other videos too:

Dave and Ava have more viewers because of a good YouTube thumbnail. The number of views every video gets is also significant, with Dave and Ava having much more watchers.
DIY Creators
DIY Creators is the perfect place to go if you want step-by-step instructions on how your project will look. You'll find plenty of videos that show what it takes, so there's no guessing or wondering required.
DIY Creators is the perfect place to go if you want step-bystep instructions on how your project will look. You'll find plenty of videos that show what it takes, so there's no need guess or wonder.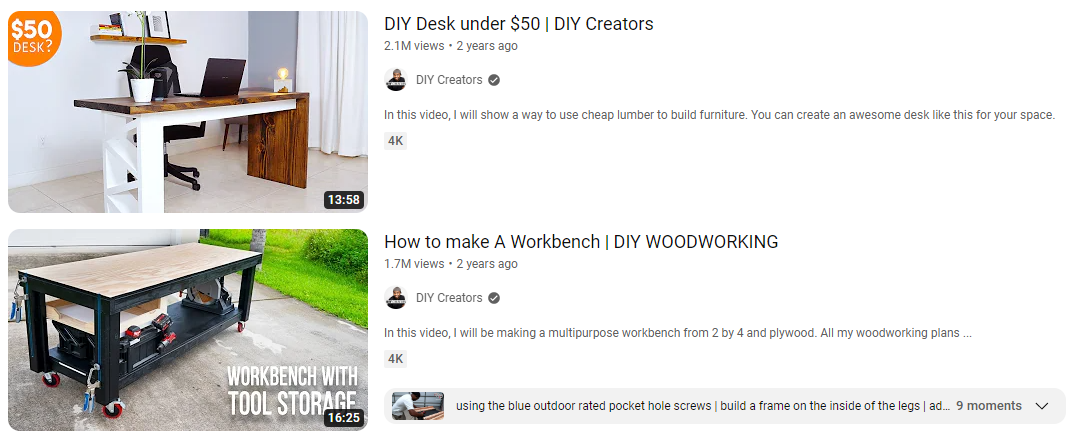 The images are clear and professional, with a focus on the DIY project as opposed to simply showing off what can be done.
How to Make an Eye-Catching Custom Thumbnail for YouTube Videos
STEP 1
Choose
YouTube Thumbnail Templates
The best way to create a YouTube thumbnail is by using an external tool. You can either sign up for an account or log in so that your design will be autosaved, type "YouTube thumbnail" into the search bar, and explore hundreds of professional templates!
STEP 2
Customize Your Layout
Try out various design tools in the video thumbnail maker to get a more personalized look. Upload your own snapshots, add custom fonts and play around with color schemes before you upload it onto YouTube for all of us viewers to see.
STEP 3
Make Extra Edits
Animate the elements on your blank canvas or change their arrangement to make your graphic design stands out. You can also use icons, stickers, and illustrations from our media library for YouTube thumbnails as well!
STEP 4
Download Your Design
When you're finished editing your video, click the Download button and choose one of these available formats to save an awesome YouTube thumbnail. Now it's time for publishing!
When uploading content onto YouTube make sure that both thumbnails are aesthetically pleasing as well as informative so people can easily find what they need in this vast ocean known as information overload today
The Best
Online YouTube Thumbnail Maker
Who said you can't be creative with design? Here are some very good tools out there for making your own awesome thumbnails.
1.Canva
Canva is the ultimate tool for anyone looking for an online YouTube thumbnail maker to create their own designs or just need some quick inspiration. With Canva, you may search through YouTube thumbnail templates to get immediate results then you can upload your own images as a YouTube thumbnail.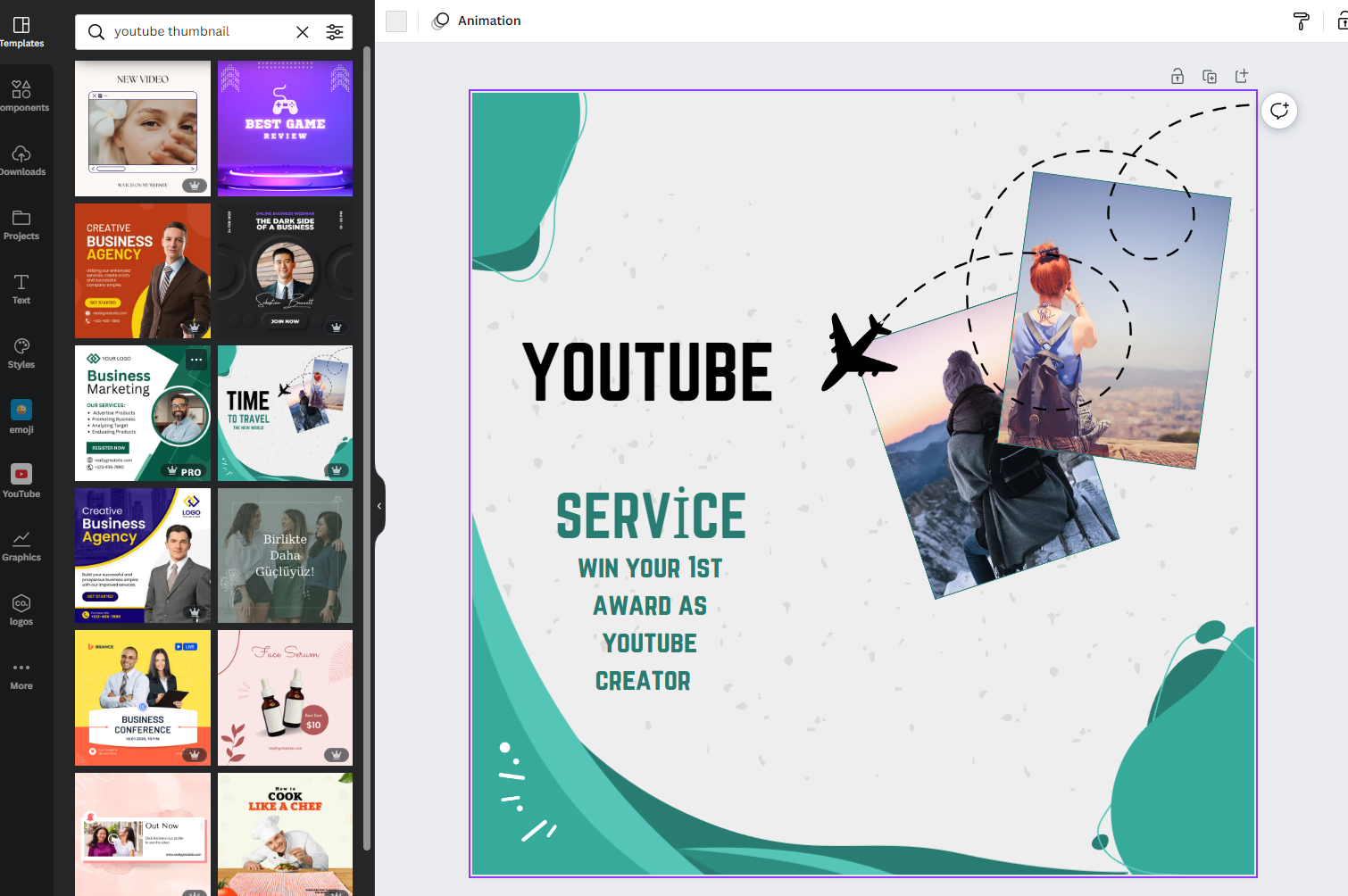 Personalizing your YouTube thumbnail makes your videos more clickable, so we recommend uploading custom images for this purpose.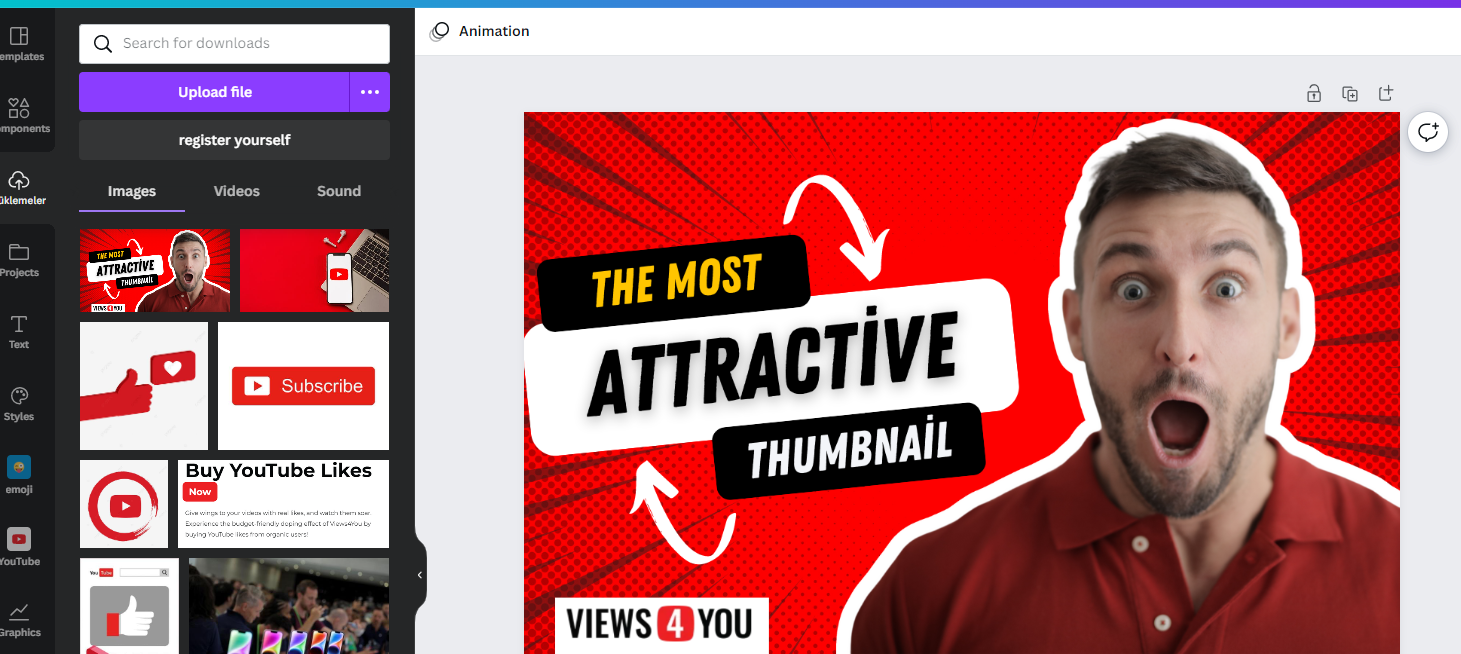 To make a perfect thumbnail stand out, change the backgrounds, and make click-worthy video titles for your thumbnails in your YouTube thumbnail creator. Canva offers thousands of fonts so finding one that suits is easy. Their library has over 1 million assets to choose from, so you'll be able find to the perfect graphic elements for your YouTube thumbnail.
Canva is a simple and free to use design platform with an intuitive mouse driven functionality as professional designers. However, some assets are only available to premium users who pay a small fee, instead of using free ones which have limited premium features in comparison.
2.Snappa
With Snappa, you may make professional YouTube thumbnail templates for all social media platforms in an instant. Simply make a few clicks and watch as your desired size is automatically generated for your YouTube thumbnail design.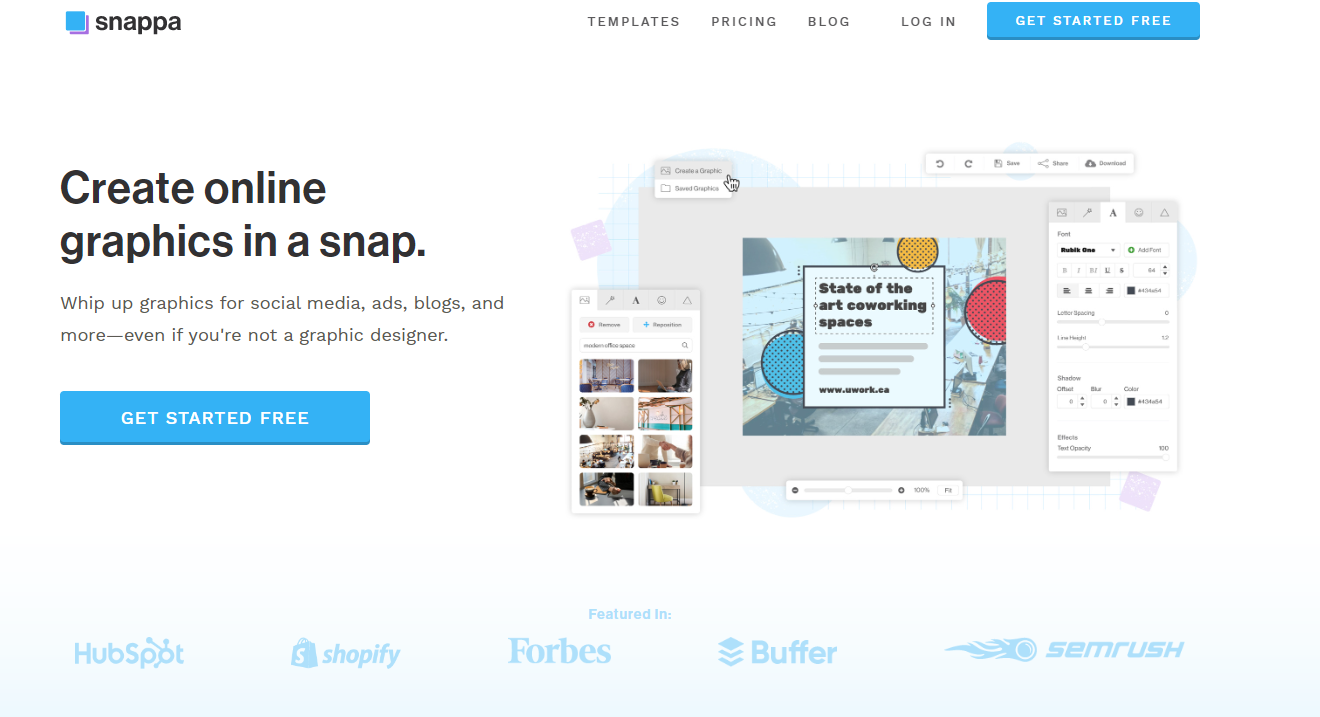 Then you can choose from a selection of professionally designed templates or create your own. From the million photos available to custom YouTube thumbnail templates, Snappa has what you need. The quality of your video is only as good as the aesthetics. Get creative with these incredible stock images and videos to make sure that you're delivering top-notch content.
The options are limitless with this platform. With a free YouTube Thumbnail Maker, you can create a perfect YouTube thumbnail in just seconds. All it takes is your desired YouTube thumbnail dimensions and file type to get the perfect YouTube thumbnail size.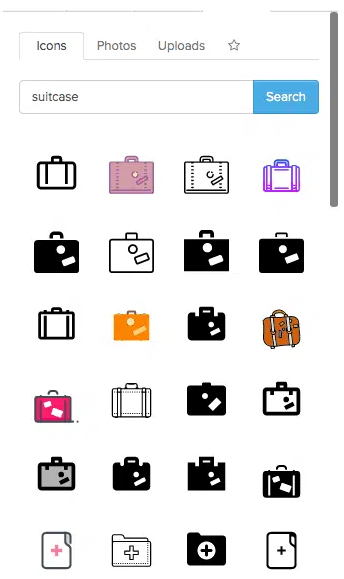 Downloading the YouTube thumbnail is a great way to show off your work. It's like being able to offer others access and an opportunity for inspiration.
3.Visme
Visme, one of the best YouTube thumbnail makers is a tool that helps you make a YouTube thumbnail for free. You can also use it for infographics and other visual content. To start with Visme just get on the social graphics website in your browser completely free: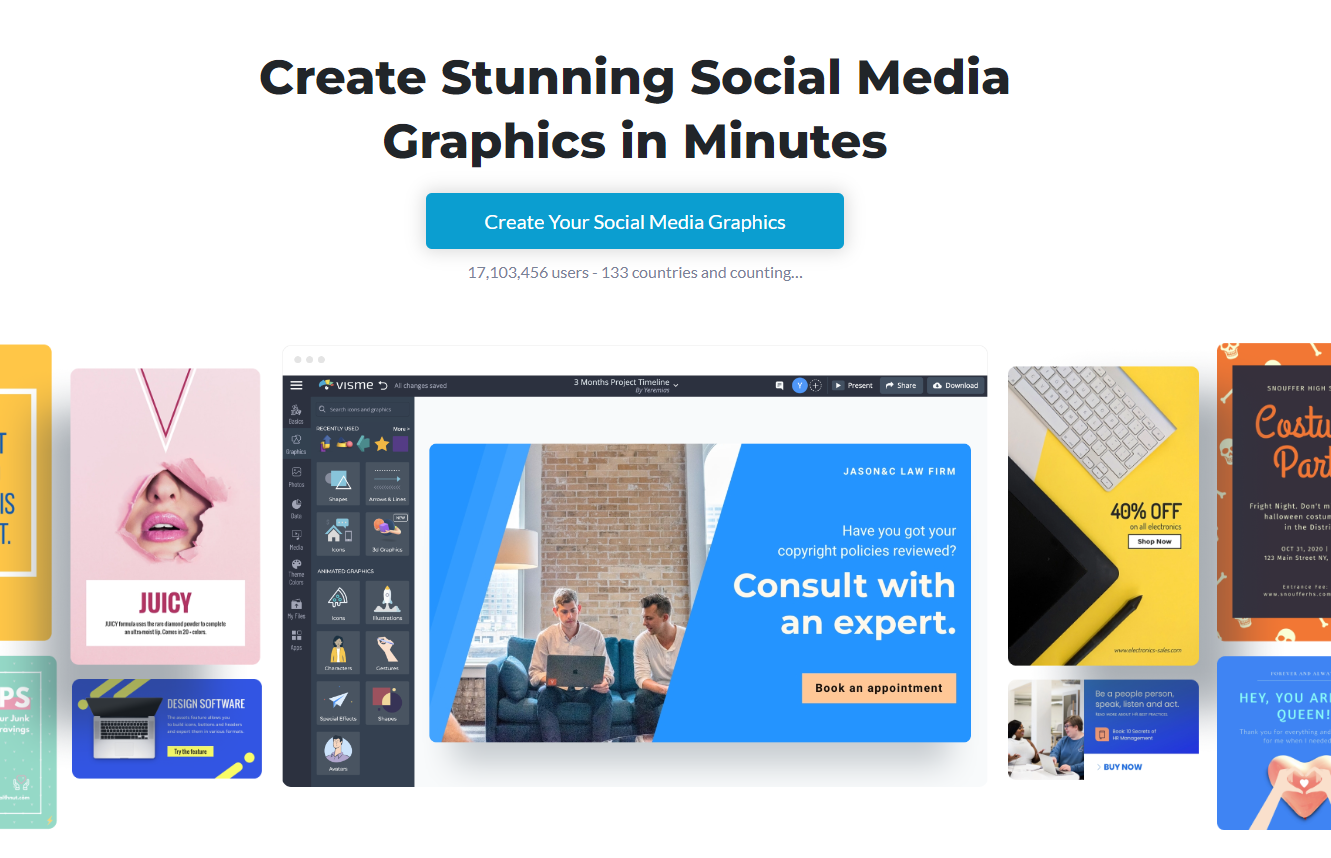 Visme is one of the easiest-to-use YouTube thumbnail makers tool that you can use to create everything from infographics, to printables, or stunning thumbnails. Click on the social graphics tab for some inspiration on text and design elements. Also, you can also choose from a variety of customized templates or build your own thumbnail by hand. The templates are easy to customize, although you only have a limited selection of graphics and fonts.
The cost of Premium Membership starts at a minimum cost per month. In addition, there are many exclusive graphics and templates that can be accessed through this high-tier package to have the perfect thumbnail you need.
YouTube Banner Size and Dimensions
Your social media imagery is like the cover of a book. In this article, we give you all the size and dimension information that will help you create a YouTube banner to get people excited about YOUR channel.
Books are like any other form of art. The visual aspects play an important role in enticing us to want to know more, and since it's no different with books, try to avoid misleading images.
The YouTube banner is similar to the book cover, it grabs your attention and makes you want to read what's inside. This will help audiences perceive a channel appropriately because of how creative they are with their design ideas for their videos on these platforms today.
YouTube Banner Size
The file formats of each image display are different on devices which can be a bit confusing, but it all makes sense with the help of these few terms and concepts. Here are some quick tips to ensure your banner art meets YouTube's standards:
YouTube's recommended banner size is 2560 x 1440 pixels, but you can use any image dimension that is at least 2048px wide with an aspect ratio of 16:9. Your file must also stay inside the 6MB limit.
YouTube Channel Art Size Guidelines
Well, there are many sizes for YouTube channel art because each size fits a certain type of device. For example, the small banner will show up well on an iPhone but might be too big if you were trying to show it to someone using an Android or another smartphone model.
When designing your YouTube banner, you need to make sure that it looks great on any size screen because it can make a huge difference. This will help increase the number of views and subscribers for each video.
This is a guide for the standard YouTube banner dimensions.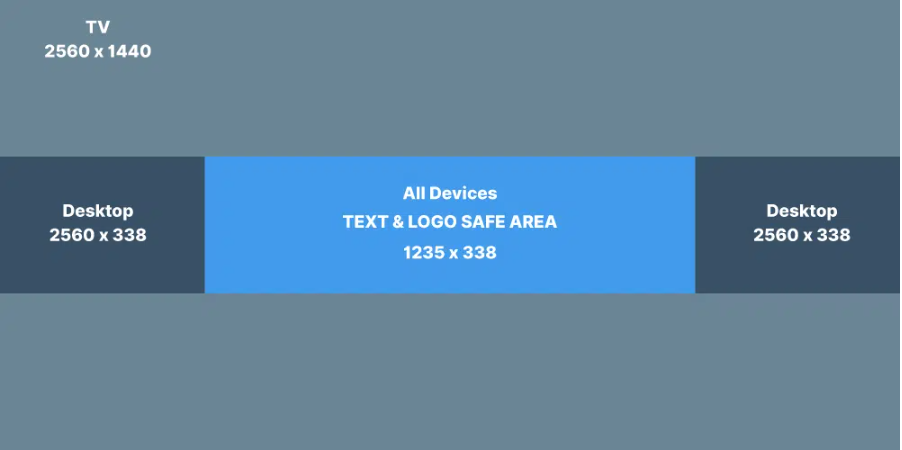 You've got to plan for a lot of different screen sizes when designing YouTube banner art, and what looks good on your computer may not work well on other types of screens. Let's take a look at some examples in action.
There are many different sizes and shapes of screens out there, but knowing your "safe area" will help you make sure that everyone sees what they're supposed to.
Know Your YouTube Banner Safe Area
To make sure you're displaying your banner correctly, it's important that you understand what "safe area" means for YouTube. Your 'safe-area' size is the minimum output capacity of where your image needs to be in order to show off your awesome video content.
To give your YouTube channel the best chance at success, make sure any part of it that's essential is completely within 1235 x 338 pixels. This means no awkward-looking elements like text or images which could turn viewers off before they even get started.
Clever YouTube Banner Examples
Check out these awesome YouTube banner designs! A great way to inspire you is by looking at our favorite examples of banners. These are some really creative banners that will work well on your channel.
Food Insider

Food Insider has designed a banner for their YouTube page that features five mouthwatering glimpses of food from videos on the platform. The white color scheme matches both its logo and social media branding guidelines, which makes this an aesthetically pleasing addition to any feed.
Wyzowl

They're a world-leading animated explainer video company. So, to reflect this, they created a simple banner with a huge icon representing their line of work on YouTube—it looks very much consistent throughout all other branding materials.
Google

Google's YouTube banner art is an interesting mix of colors and shapes, such as their Gmail logo. With such a well-known brand name it's able to go less strict with its design, than less recognizable brands that need more emphasis on what they do . The Google signifier appears nowhere but still remains immediately recognizable because we've seen this kind before in other places like search engine results pages (SERPs) or even within apps themselves.
YouTube Banner Template
The best way to make a banner for your channel is with one of these templates. They are easy, quick and give you an awesome result without any effort on your part!
How to Upload YouTube Channel art
Here is how you can upload your own YouTube banner.
Now that we've seen some of our favorite banners, let's go through this process for uploading yours step-by -step!
Signing in to your YouTube account will let you view all of the videos that are uploaded onto our platform, as well as manage them.
Click on "Your Channel" from within the left menu and find the banner area and choose the image you want to upload.
When you're finished editing, a preview will appear showing the way your selected YouTube banner art displays across different devices. At this point, you can adjust by cropping to change what's seen on an image.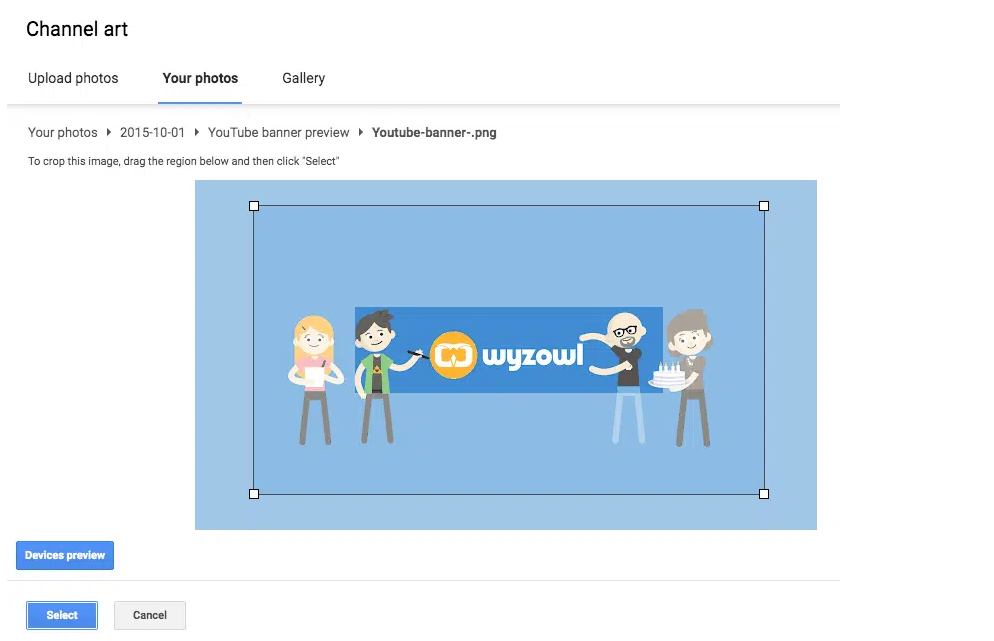 When you're happy with your image, click "Select."
Adding Social Media Icons to Your YouTube Banner
Though you can only have up to five social media links on YouTube, there is a way that will allow for more. All it takes are some simple steps in changing your preferences and setting the right combination of accounts.
1. To personalize your YouTube channel, you need to be signed in.
Go back to a menu option that says "Customize Your Channel."
Click on the tab labelled "About," then go to "links".
and then " Select"
We hope these inspiring examples have given you a few new ideas for your own YouTube channel banner.
Create Scroll-Stopping YouTube Thumbnails
If you want to be a video marketing professional, then YouTube is the channel for you.
Create scroll-stopping YouTube thumbnails so people can easily find what they are looking for. The YouTube thumbnail is like a window into the soul of your content. It gives people an opportunity to see what's on your videos without having any other information about them beforehand. It's important to make your video stand out in search results so that people will click and watch it. Learn how to make high-quality and great scroll-stopping YouTube thumbnails that will draw in new subscribers with this step-by-step guide.