YouTube is the powerhouse of video sharing, ranking second among worldwide search engine rankings. With an astonishing 8 out of 10 top results being YouTube videos and over 500 watch hours added per minute, it's no surprise that this content creation platform continues to expand daily. Learn how to rank YouTube videos by leveraging best YouTube SEO practices, so you can develop a powerful YouTube strategy and stay ahead of competitors.
Ready to increase your YouTube Ranking? Look no further! We'll provide a comprehensive overview of successful SEO strategies utilized on Views4You's channel and guarantee results, regardless of how large or small yours is. Hopefully, you find this blog post helpful and enjoy reading it.
What Do You Understand by YouTube Rankings?
Videos ranking on YouTube are a measure of success as creators climb up the list and gain higher visibility.
As the world's second most popular search engine, YouTube offers an exciting opportunity for marketers: a royal battle on finding out how to rank YouTube videos on the top page. YouTube videos abound with related keywords and captivating titles, often appearing on YouTube and through Google search results. You can become the king of this digital kingdom with cleverly crafted content.
This search for "get more YouTube views " on YouTube shows the top result from the
VidIQ's channel of a video posted months ago: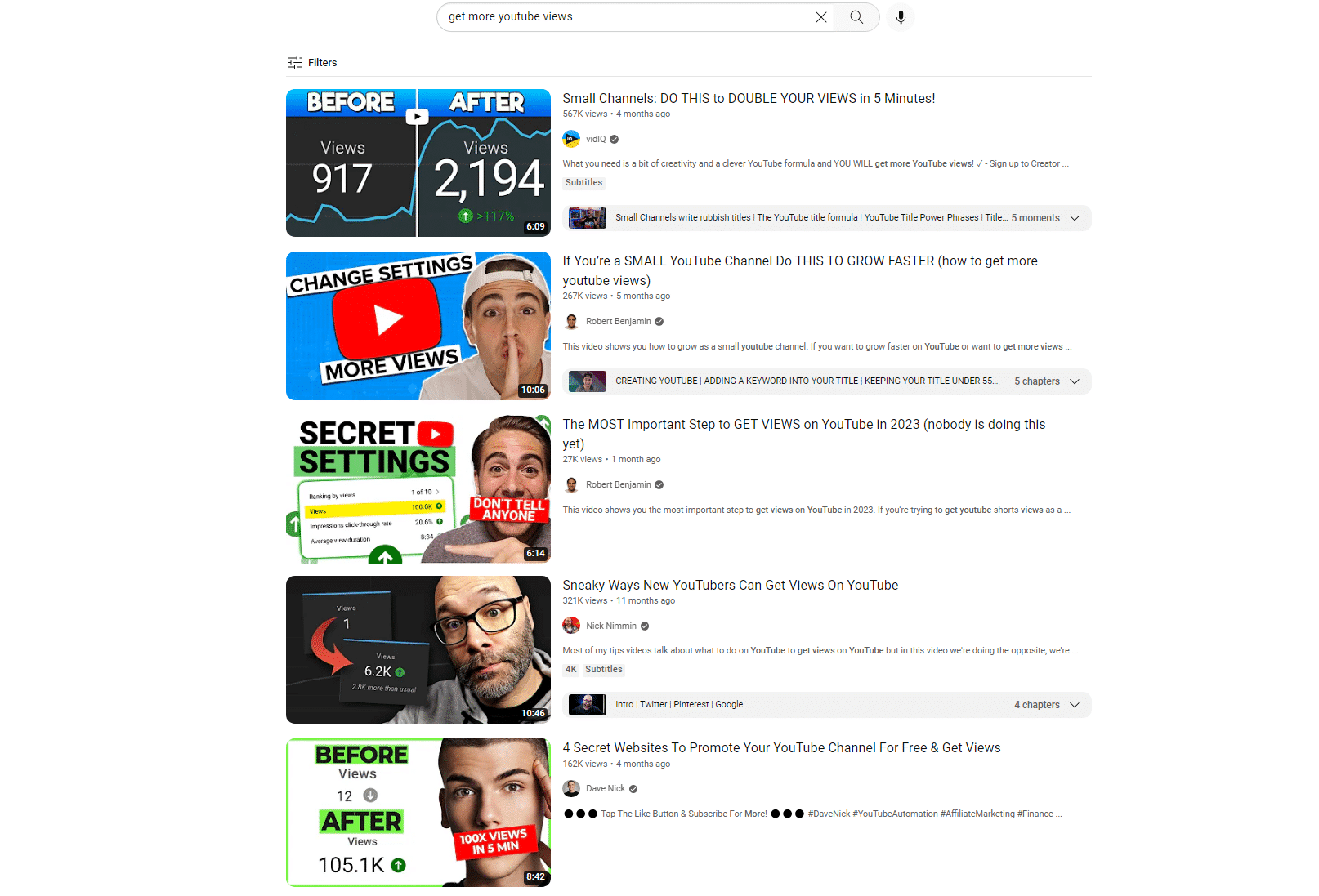 You should know that if you are a content producer on YouTube, your ranking is one of the most important things for you. A good high-volume keyword ranking will be the golden key to your success in your YouTube career.
This article will explain ranking and why it is essential to identify popular keywords. It is helpful to know the concept of keywords. You can get keywords from the words people search for the most in search engines. The larger the volume of a keyword and the closer YouTube ranks videos to that keyword, the more money you will make on YouTube. Here we understand the importance of YouTube Ranking factors, because YouTube Rank lets you see how far you are from that keyword.
Here, we will explain ranking through Views4You's YouTube video. As the Views4You team, we want to rank higher in the target keyword 'get more YouTube views'. At this point, Views4You's Rank Tracker tool comes to our rescue and tells us how far we are from the target.
YouTube stands apart from other social media channels with its unique ability to extend content's lifespan, giving creators and viewers more time to enjoy.
Google Videos provides drastically different video results than a YouTube search for the same query. Where there once was a 7-year-old YouTube ranking video, it's now five places down.
This demonstrates how quickly things can change in technology and digital media when you consider Google Video as one of your sources.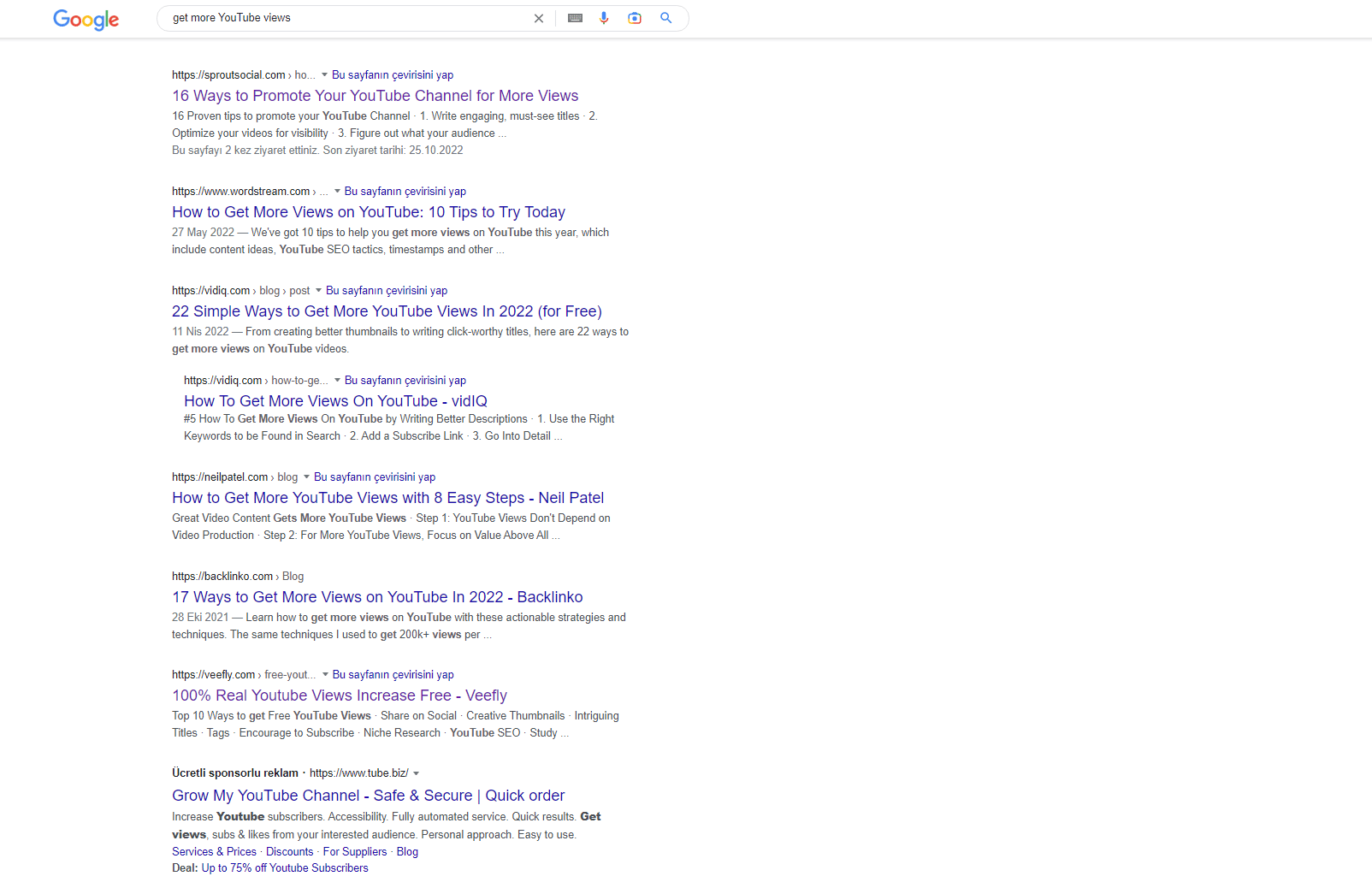 YouTube and Google offer their distinct ways of discovering content online; the former specializes in videos hosted on YouTube, while the latter scours for video links from all over the web.
How Does YouTube SEO Strategy Work?
Search Engine Optimization (SEO) is an essential strategy for any website, allowing you to make sure that when people search online, they find exactly what it is you have to offer. Ranking highly in SERPs enables brands and businesses of all sizes to draw in potential customers – making strategic web design key for driving traffic and creating a dedicated following.
YouTube SEO is powerful marketing, allowing you to reach viewers with highly specialized strategies. Optimize the various components of your channel – from playlists, videos, and metadata to descriptions which makes your YouTube ranking higher.
Take your YouTube SEO work to the next level by optimizing for video accessibility. It's more than just including keywords, meta-descriptions in titles, and tags – get creative with captions, transcripts, and alternative audio versions to ensure maximum exposure. To ensure online content is easily indexed, a strategy for optimizing YouTube videos should include leveraging their accompanying text data capability. Creating video transcript, subtitles, and closed captions to accompany your footage can significantly boost engagement time per viewer, user experience, and overall viewership while improving SEO performance. You can always track your videos by using YouTube Rank Tracker tools.
Monitoring Your YouTube Channels' Ranking
If a video on Views4You's channel with the keywords "YouTube views" ranks high in search results, it shows progress for our work. We as a team frequently use the YouTube Rank Tracker to check the effect of the "YouTube views" so we can look for progress. It could exponentially impact the number of views – and, therefore, success is achieved.
Many studies show that most people stop their search bar at the first result. If you can rank YouTube videos higher above a few results, it could be just what's needed to take your content from obscurity and into the spotlight with high viewership.
Tracking your rankings is a must to stay ahead of the competition – you must regularly check, as each day can bring different results. Monitor closely and get ready for anything coming on YouTube search results.
How to Rank YouTube Videos Fast and Safe by YouTube SEO Strategies
You can optimize your video content with these YouTube SEO tips to make it stand out. YouTube SEO entails specific processes and techniques that can help boost its visibility on YouTube's search engine and other search engines. Could you give your videos the competitive edge they deserve by using the principles of YouTube Optimization? Though the details may differ, these concepts remain primarily unchanged at heart. YouTube Search algorithms consider various criteria and rules, some beyond your control; however, there are several ways to boost visibility and rank videos higher- earning points that reward you for following best practices.
Choose the Right Keywords
Crafting an SEO-friendly YouTube video starts with driving the right traffic – and that begins with selecting the right keywords with high search volume. Identifying these search words or phrases can make all the difference in your success in learning how to rank YouTube videos higher with this YouTube SEO tip.
When you create a video, please include your target keywords in the title and video description. This will ensure that search engines recognize it as you intended – helping viewers find what they're looking for. Want the perfect title for your video? Our AI Video Title Generator enables you to create a creative and engaging description that gets the most out of each character.
To ensure your other videos attract an engaged audience, start by researching the most sought-after keywords. Using a keyword research tool is easy to get creative ideas for channel content and discover topics that viewers are eager to see.
For website optimization, keyword research tools are essential. Look no further than other websites or the go-to resources for uncovering high-impact keywords, such as Ahrefs and SEMrush.
Keywords aren't everything, but diligent keyword research certainly offers a good starting point in the YouTube SEO process.
Optimize the Video Title Description
No. 2 on our YouTube SEO tips is to boost user engagement with your video content by using keywords in the title. YouTube recommends that the initial words of your description should include core keywords. It also encourages concise descriptions, capping them at 200 words for optimal impact.
YouTube is an ever-changing realm with more than 400 hours of new videos added every minute – that's a lot. While keywords are essential for YouTube SEO to succeed, you will need more to push you to the top. You can increase your chances by mastering YouTube search engine optimization strategies.
Get the attention of YouTube users with an irresistible video title! Make a statement that compels them to click on your content and check it out.
Discover the secrets of YouTube account success. Our keyword 'how to promote your YouTube channel' reveals several insider tips and tricks to help maximize your presence on this popular platform. From teaching entertaining – or even both – let us share with you how best to get ahead in social media's most vibrant space.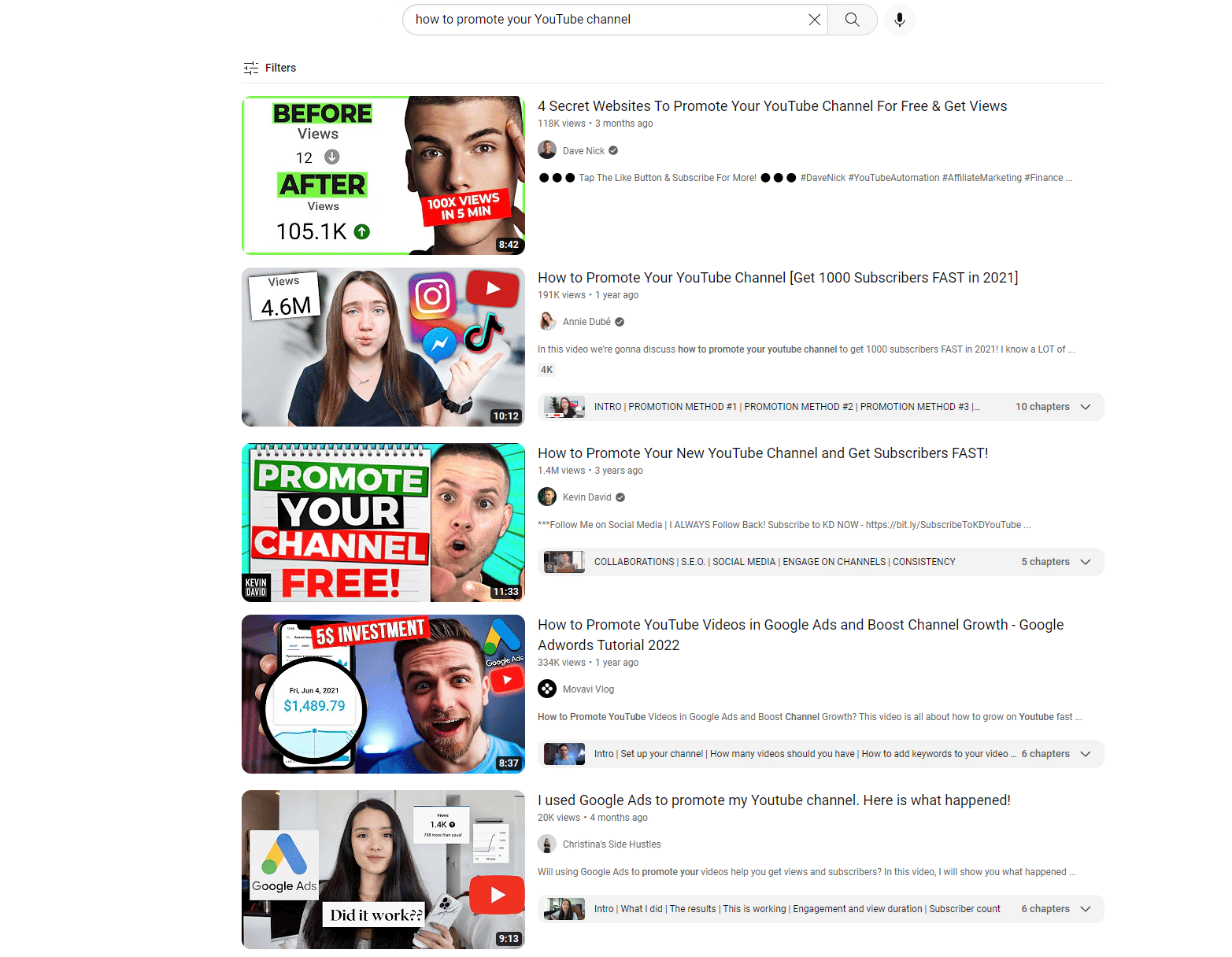 The most popular videos on this topic are all instructional, helping viewers develop their skills and knowledge. They generously provide the keyword in every video so curious mind can find the answer to any questions they have.
With limited characters, your video title can still be an attractive click magnet by incorporating the right promises.
If your YouTube video is a hit, it could be rewarded with better search engine results! The clever algorithm behind the scenes will take notice of any spike in popularity and boost you accordingly. So remember that quality content makes surreal to great potential rewards on YouTube.
Optimize the Video Description
Using YouTube SEO tips to maximize your video title is essential, but please remember to ensure the video description also has a great effect. A sufficient explanation can help your viewers get an accurate impression of what they're about to watch and could be just the thing that makes their decision easy.
Please ensure your title grabs more viewers' attention, then use your video descriptions to give them a deeper insight into what they can expect.
When you write a YouTube video description, you should aim for 250 words and use your most crucial video keywords at the start. This will help ensure that viewers can quickly identify what your content is about – making it more exciting and engaging.
While the YouTube algorithm is undoubtedly essential, your viewers are even more significant to your success! Keep them captivated and remember that they will be reading too, so using a robotic approach won't be helpful.
Creating a compelling video description requires some strategic thought:
You can maximize your content's reach by including essential target keywords.
Genuinely original writing is the key to capturing attention.
Please ensure direct viewers can easily find you online by including your website's URL.
This example provides us with great insight into a unique description.

Jump right in and explore the creator's website! This engaging video will teach you to construct an online business from scratch. Come on board as the uncover invaluable tips to achieve success.
This optimized description will give YouTube an understanding of your video content, enabling it to reach the optimal audience.
Include the Right Video Tags
Please ensure you optimize your videos for visibility by incorporating the appropriate keyword(s) in three major areas – title, description, and tags. This triple-threat approach will help ensure maximum audience engagement with your material and is one of the most straightforward YouTube SEO tips to apply.
YouTube tags remain a mystery, but no matter what your research may tell you about their impact on the algorithm, they still present an opportunity to optimize your video's visibility. Even though nobody will be able to see them directly – adding these brief descriptors takes almost no time and is worth considering as part of any content strategy.
Could you add diverse expressions of the words or phrases you target to maximize your search results? This will help ensure a comprehensive range of related videos to what your visitors seek.
Some examples you can use for 'How to Promote your YouTube Channel':
YouTube Channels
YouTube Videos
Promote your YouTube Channel
YouTube Videos
Social Media Platforms
Promote YouTube Videos
YouTube Description
They can be more detailed to convey the message effectively.
With Tube Buddy, you can transform YouTube into a powerful platform for creative video file projects.
Keep up with the competition and uncover your competitors' secrets – a keyword in your video rank tracking allows you to see which tags will optimize SEO performance, helping you stay one step ahead.
To stand out from your competitors, you can use an app to find out what key tags they use for their excellent videos. By matching the same labels as them, you can hijack some of their viewers and direct more attention toward your video content.
Create an Engaging Script
Take your time with this crucial point and master 'how to rank YouTube videos'.
If you want your performance to be as smooth and genuine as possible, it's best to rely on something other than a script — factor in some improvisation for an effortless-sounding delivery.
An impressive script provides the structure you need to confidently deliver an engaging performance, keeping viewers captivated and interested throughout. Use the YouTube SEO tools to increase your video's watch time and traffic.
A script has multiple benefits that can help you take your video content from average to extraordinary. Not only will it give clarity and polish to what you have to say, but it will also save time on production – so you can work smarter instead of harder and make more videos for viewers' enjoyment.
If you can't captivate your audience within the first 30 seconds, more than a third of them will likely tune out. This is an even more significant challenge in today's digital world, where people have shorter attention spans and so much content to consume.
Craft a script that hooks your audience from the get-go! Introduce an intriguing premise and captivate viewers with what's to come. Build up on your title, so they are driven by curiosity – pique their interest through a succinct start for maximum impact when you deliver in the finale.
For an effective YouTube strategy, please include your target keyword within the content of your video. Utilizing a natural approach is critical – mentioning it early and several times will give you additional ranking boosts. Speaking out loud instead of typing will also help YouTube's audio detection abilities recognize keywords more accurately.
Discover the Search Intent of Your Audience
Utilize these YouTube SEO tips to maximize your business's visibility and reach greater rankings. Searching the web is only half the battle – Google and YouTube prioritize providing relevant search results to satisfy their users. To do so, they each employ a unique set of criteria: while Google assesses page experience, such as time spent on site or bounce rate, YouTube measures metrics like view count and watch time for ranking purposes. Both engines strive to give you precisely what you need by applying this precise approach.
YouTube's algorithm closely examines how users engage with videos to find relevant and exciting content. While some top-ranking results may not always be 100% accurate, they sure know how to catch a viewer's eye – these videos can hold their attention for longer compared to even when other more "relevant" contenders exist.
When considering a user's search goals, most queries fit into one of four main groups. By being aware of these categories, businesses can maximize their potential to connect with customers and help them find what they are seeking quickly and effectively.
Data Intent: The people who search "YouTube growth services" are trying to find the best growth service platform for YouTube. If you are looking for this keyword, it is beneficial to meet Views4You.
Transactional Intent: "Free YouTube Subscribers" This YouTube keyword research helps you to find out how to gain subscribers for free: Views4You comes to your rescue for this. You can try our free YouTube Subscribers service.
Marketing Intent: "How can I buy YouTube Subscribers?" Viewers who search this look for the best companies to buy YouTube subscribers. Of course, you know that the best place to get YouTube subscribers is Views4You.
Add Closed Captions to Boost YouTube Search
Did you know that you can download subtitles of videos on YouTube? Views4You team has released a YouTube Subtitles downloader for you free of charge.
YouTube offers an inclusive viewing experience for all, enabling users with hearing impairments to access content through the power of closed captions. Supercharge your video's SEO with subtitles and closed captions. By uploading a supported text transcript or timed subtitles file (in the form of an SRT file), you can ensure that important keywords are highlighted, helping viewers to find your content more easily.
With captions, your YouTube SEO can get an extra boost. These captions make it easier for viewers to consume media and easily get crawled and indexed by Google and YouTube. YouTube can automatically caption your videos, though they are usually riddled with errors.
These YouTube SEO tips include ensuring your closed captions are discovered and optimizing them for YouTube by editing the ones provided or uploading your own.
Technical Tactics for Successful YouTube Ranking by YouTube SEO Strategies
There are some more technical YouTube SEO points added in this blog post to help you master how to rank YouTube videos higher on search engines.
Start Making Longer Videos
Surprisingly among these YouTube SEO tips is that YouTube's top-ranking videos tend not to be the quickest clips; in fact, longer ones often dominate. Whether it's a DIY project or an instructional video, type any keyword into the search engine, and you're bound to get more lengthy results than expected.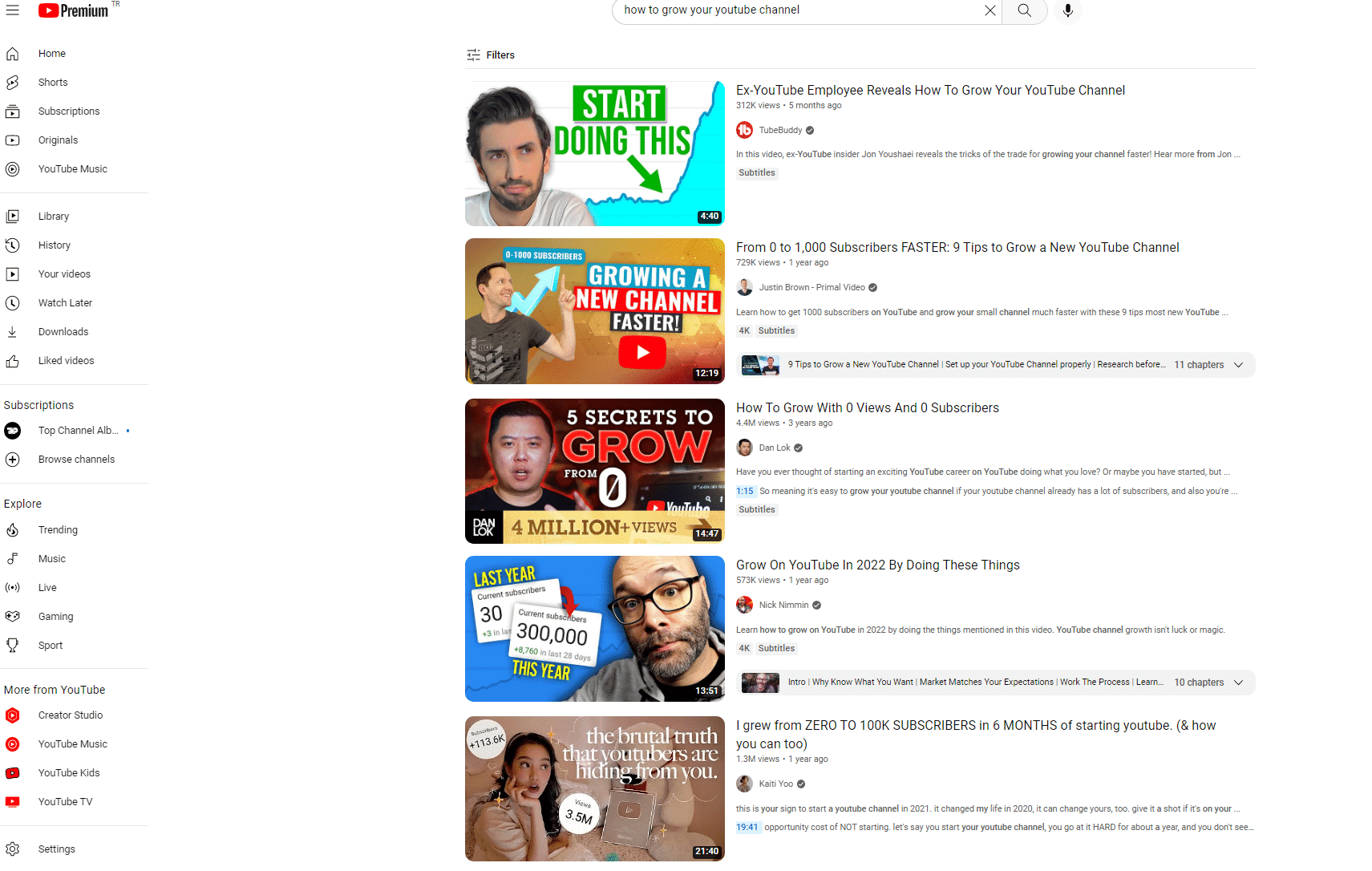 YouTube understands the actual value of viewer engagement – and rewards it accordingly. Those who watch longer are highly likely to see ads, which means YouTube can reap commercial benefits from increases in total view duration. It's a mutually beneficial system that ensures user and business success.
YouTube rewards content creators who produce longer, engaging videos that keep viewers watching. High-retention videos are given priority in rankings, ensuring every video you make is a captivating adventure for your audience.
Although answering questions thoroughly is essential, you can make your videos shorter. Instead of breaking one video into five parts, aim for a more comprehensive single take – saving time while still hitting all the necessary points.
To rise on YouTube, create long videos that captivate your viewers and keep them watching until the very end – otherwise, you won't make a mark.
Encourage Engagement in Your Videos
With YouTube being a go-to for many viewers and content creators alike, often, the last thing seen in a video sign-off, is an invitation to stay in touch with new videos. Subscribing remains one of the best ways to ensure you get all the benefits. Also, you can always check video analytics to learn what your target audience is more interested in.
Taking the time to cultivate your content can pay off, both for future viewership and SEO. Every like, comment, or channel sub is a vote of confidence from viewers that signals, 'This was awesome.'
A massive study showed that video comments significantly impact a YouTube video's overall ranking, showing the power of feedback in pushing content to higher visibility.
Reaching out and connecting with your audience is a great way to boost the success of your YouTube videos! Even simple YouTube SEO efforts, like encouraging engagement, can have an enormous impact.
Create an Interesting Video Thumbnail
The power of a video lies in two crucial elements that viewers see: the title and its accompanying video thumbnail. Creating a custom thumbnail is vital.
YouTube will choose a random frame from your video thumbnail, but don't let that limit you. YouTube SEO tips advise you to create an unforgettable image to ensure everyone notices it.
It always takes work to produce creative video thumbnails. If you need a good idea, try Views4You's YouTube thumbnail downloader tool instead of thinking about what to do.
To make a mark, please create an eye-catching visual treat that draws people in. Check out some inspiring samples here – you'll surely come up with something truly captivating.
The video thumbnails immediately engage viewers, with presenters confidently looking into the camera and clearly outlined text-driven messaging. The color contrast of illustrated elements grabs attention while giving a professional presentation feel to appeal to any potential consumer.
Regarding YouTube's SERP, you need your content to stand out like a standout display in an actual storefront. If you ensure the posting is top-notch and unmatched, visitors will know they're getting only the best quality answers when they call.
If you want your content to stand out, make sure it's easy for users to access – a simple click is all that stands between them and a fantastic video. A high click-through rate will help YouTube recognize the importance of your channel, so get those clicks up.
Create a Playlist with the Videos from Your YouTube Channel
Rather than sticking to just one clip, viewers can be treated to a complete viewing experience by watching five or six of your videos in sequence.
Ensuring optimal watch time is paramount from successful YouTube SEO tips. Maximizing the time viewers spend watching your content will help ensure visibility on YouTube's search engine and result in a higher ranking.
Creating playlists is a great way to highlight and share videos with similar topics or themes. By grouping them, you can showcase your favorite content in an organized manner.
Strengthen your visibility and reach by connecting with like-minded content creators. Ask them to add your videos to one of their playlists; this form of gracious collaboration will help expand the potential audience for all involved, giving everyone's work a valuable boost in exposure.
Link Your Website with YouTube Videos
Connecting and interconnecting is a critical part of success – almost like building bridges that link people, ideas, and beliefs together. Unlock greater visibility on YouTube with these YouTube SEO tips.
The link between a video and its corresponding site is critical regarding website visibility. This vital connection can boost rankings in search engine results for maximum impact and reach.
To break it down, you have two options: With a call to action or without – both of which can be applied in this situation.
YouTube can provide an incredible opportunity for your potential customers – it has a built-in audience. It's up to you to ensure your content is engaging and interactive so viewers are encouraged to visit your website.
Your website is your starting point for success in marketing efforts.
Engage potential customers by clicking on an ad
Collect information to provide them with a tailored offer
And close the deal.
Optimization Matters Everywhere.
To ensure your video hits the top of YouTube rankings, optimize your YouTube videos description by including relevant keywords and variations. Also, please make sure that your transcript is compelling and informative; just like any other website's content – this will help YouTube to understand more about what it's all about!
Crafting the perfect description for videos is easy with a few pointers. Aim to write 200-300 words and ensure your content remains fresh, original, and natural – avoid duplicate text or excess keyword stuffing at all costs! Source one-off keywords to create variation in each post's copy too. With that advice on board, you'll be crafting high-quality descriptions in no time!
Creating unique content can be time-consuming. If you need more hours in the day, why not outsource your writing needs and free up more of your schedule? Platforms like Fiverr or Upwork are perfect for finding talented writers who will craft personalized pieces to fit any project.
Outsource with confidence by specifying detailed guidelines for your writer, if you don't mind. Clear instructions can help ensure a successful result, allowing you to focus on other tasks.
Remember High-Quality Link Building
The finale of your Google ranking journey is the essential step. Please make sure you get it.
Link building is the essential element to ensure success in your online venture. To get maximum benefit, avoid bombarding YouTube with numerous low-competition keywords; their sophisticated algorithms can detect spam attempts and take appropriate action.
I recommend leveraging high-quality link-building strategies over an extended timeframe to achieve the best SEO results. A few of these might include using.
Web 2.0 services like Tumblr posts or Pinterest pins.
Private Blog Networks (PBNs), and
Social bookmarks.
Call To Action!
YouTube provides an effective way to build and engage with a viewer base quickly. However, users must exercise caution when creating content; one misstep can result in long-term consequences like permanent suspensions.
Get a jump start on your video's ranking with our smart growth-hacking tips. Your audience is sure to expand in no time as you follow these user-friendly strategies and optimize the engagement of viewers. Maximize your YouTube video visibility by utilizing these effective YouTube SEO tips.
Gain New Subscribers
On YouTube, subscriptions are a sign of success. From viewers to algorithms, they represent an impactful endorsement that can positively affect rankings and ultimately fuel online growth.
Showing your support through subscriptions is an ongoing commitment that keeps people consistently connected to you and your content.
To maximize the value you provide on YouTube, prioritize getting people to subscribe — likes and comments are critical too, but subscriptions tend to have a significant impact. Make sure that your viewers know why subscribing is worth their time.
Step Up the Production Value
YouTube SEO is a powerful tool, but to be successful, it's equally important to consider your content's quality.
Maximize user experience and search performance with these YouTube SEO tips for top-notch video quality.
With a pro-level studio setup out of reach for many, your video's quality doesn't need to suffer. Fortunately, there are simple and cost-effective solutions available.
With the prevalence of smart devices, anyone can start creating videos. You can use your device for content creation.
You can take your video quality to new heights with suitable investments and strategic changes. Investing in an iPhone or Android device is essential for smooth results – it could make all the difference.
Unlock unparalleled video creation possibilities with a tripod, backdrop, lighting equipment, and microphone: your setup for making high-quality productions.
Aim to Create High-Retention Videos
Market professionals emphasize the need for high dwell time for SEO success, allowing users to remain on your website or page.
A lasting impression is a key to website ranking; the more time a user spends on your page or site, the better its chances are of becoming an algorithm favorite and securing that all-important higher rank.
A similar guideline holds when using YouTube – an essential tool for communication and expression.
Audience retention is key to gaining viewers and optimizing your content for YouTube SEO. Ensure visitors stay engaged from beginning to end by creating videos that keep their attention!
YouTube has made it clear that video engagement is an influential ranking factor, so having high retention rates should be a priority for achieving optimal rankings on the platform.
You can produce high-quality videos with creativity and the right tools without breaking your budget.
One of the most important YouTube SEO tips is creating incredible videos that captivate your audience and offer helpful insight. Crafting quality content will be well worth it in the end!
Maximize engagement with your videos by breaking them into smaller, accessible chunks that are easier for viewers to digest.
Captivate your audience from the outset by offering a concise and stimulating introduction, jumping directly into the key points of discussion.
Use an SRT File to Add Subtitles & Closed Captions.
You can improve their search optimization by incorporating subtitles and closed captions into your YouTube videos. This technique highlights important keywords for viewers to find content that resonates with them easily.
Add subtitles or closed captions to your video can be easily accomplished by uploading a supported text transcript, a timed subtitle file, or typing the transcripts on the platform. Automatically sync texts with videos for hassle-free captioning.
Add Cards and End Screens to Increase Your YouTube Channel's Viewership
YouTube Cards are a powerful tool for video creators to keep their audiences informed and engaged. Presenting as an eye-catching circular icon with the letter "I" in its center or a translucent bar of text prompting viewers to subscribe, these preformatted notifications appear on desktop and mobile devices, enabling up to five different types of cards per individual video.
Let the channel cards guide direct viewers on a journey of discovery, taking you to new channels with intriguing possibilities. Boost your video traffic and watch time with these simple but effective YouTube SEO tips.
Ask your viewers to be a part of the creative process and show their support for your video content by contributing financially with fan funding.
Invite them to explore further with Link cards. Expand their engagement beyond whatever topic you're discussing by providing them quick and easy access to an approved crowdfunding platform or merchandise-selling site.
End screens provide viewers with a visually-rich experience after their viewing pleasure is finished, allowing them to take the next step. An example of this could be an overlay featuring images and links related to what they've just seen – offering up even more immersive content without interrupting prior engagement.
With YouTube constantly assessing ways to improve the viewer's experience, there may be times when cards and end screens appear differently than you intend. As such, it is vital that one carefully weighs these two tools when deciding which will best serve their viewers.
Select a video category
Please ensure your video reaches the right audience by contextualizing it with relevant categories – this allows you to use the advanced search option and increases its chances for discovery.
You can easily find the perfect category to express your videos with YouTube. Select an appropriate option when uploading and share your content with a wider audience!
Keep a Close Eye on Your Analytics
The last of our YouTube SEO tips is to assess the effectiveness of optimizing your YouTube content for search engine visibility, it's essential to remain alert and track analytics continuously.
Always analyze your videos periodically – it's a great way to identify strengths and highlight any necessary improvements to be made.
YouTube's analytics function is a powerful tool for measuring success. Learn which metrics are essential for optimizing your video content and growing an engaged audience.
Watch Time
Engagement with your content grows exponentially as users spend more time connecting with the material. Recent stats show a steady rise in cumulative minutes spent per session!
Impressions CTR
Engagement with your video is critical – you can view how many people are taking the initiative to watch it after they spot it on their homepage.
Card CTR
Keep your YouTube viewers engaged with cards! Please include them in content to drive further exploration and add an interactive layer of interest.
Traffic Sources
Analyzing user paths to your content reveals patterns and trends in how people discover it – knowledge that is invaluable for crafting a successful, engaging content strategy
Unique Viewers
How much of your content was seen by a vast audience, with an estimated number of viewers over the specified period?
Subscriber Growth
Analyzing subscriber counts by location, video, and period can provide valuable insights into what content resonates best with your audience. Noticing outliers in these metrics is a great way to refine your strategy – pinpointing the unique elements behind successful or unsuccessful videos will help you create more impactful content moving forward.