Being successful on social media is in today's number one "must have" list. That's why it is so important to post content when the most significant number of people are available to view your work. Because, let's face it, the more eyes you can get on your content, the better. Therefore, you need to know when the best times are to post on social media platforms, or know the best place to buy YouTube views, yes we're talking about Views4You.
When it comes to YouTube, the second largest search engine, fortunately, it provides insight into when your viewers are most likely to respond positively to your uploads. In this blog post, we'll be dealing with all the data taken from various sources as well as YouTube itself to identify the best time for uploading content on YouTube.
Best Time to Post on YouTube Based on Surveys
After considering all the data, here are the best times daily.
Monday – between 5 PM – 7 PM
Tuesday – between 5 PM – 7 PM

Wednesday – between 5 PM – 8 PM

Thursday – between 12 PM – 3 PM
Friday – between 12 PM – 3 PM
Saturday – between 9 AM – 11 PM
Sunday – between 9 AM – 11 PM
Survey 1: Views4You Quality Case
Views4You data of 2023 resulted that the best time to post on YouTube is between 5 PM and 7 PM local time on weekdays. But there is more! Keep reading to find out.
According to data collected from 5.300 YouTube channels, the results were found to be true across all major countries worldwide, including America, Europe, and Asia-Pacific countries. These hours were chosen because they offer a significantly higher engagement rate than other times throughout the day or night. During this window of time, viewership peak hours, and subscribers tend to be more active than during any other part of the day.
Although the data suggests that weekdays between 5 PM and 7 PM local time is the ideal period for uploading content all over the world, the one specific best time to post is Wednesdays at 7 PM as this is when most of the YouTube channel subscribers will be online and ready to watch your content as 76 % of YouTubers data has shown.
Additionally, analytics showed that Fridays might be an ideal time for posting if you're hoping to reach "the most people in the shortest amount of time". In other words, if you're trying to get your video to go viral, it might be a good idea to post it on Friday.
But, among the participants, there were million-follower-YouTubers who worked collaboratively with brands to run YouTube ads for them. And, those YouTubers claimed that there is no specific time to get more views on these advertorial YouTube content, but, the concept is much more important to create paralleled with special days, such as Valentine's Day. Therefore, they said that they focus on creating relative content to place and promote the brand items to get views. If you want to get the attention of the marketers on this behalf, you need to prove that you're really influential in these conceptual days.
Data Based on Age Groups
It was based on the data collection of their own YouTube engagement analysis that the 18-25 age group called young adults prefers to watch videos between 12 AM – 2 PM and 6 PM 9 PM since it's time they do lunch break or go home to watch YouTube video uploads while eating dinner as 92 % of the YouTube users claimed to choose "watch videos while eating". We believe it's the thing of the new generation who grew up watching anything to finish up their food.
On the other hand, the 25-40 age group prefers to watch YouTube videos between 7 PM and 10 PM since they finally have some relaxing time to watch video content.
During these times, viewers are more likely to watch for longer periods of time and will be more likely to engage with your relevant content by leaving comments or sharing your video.
Data Based on Genders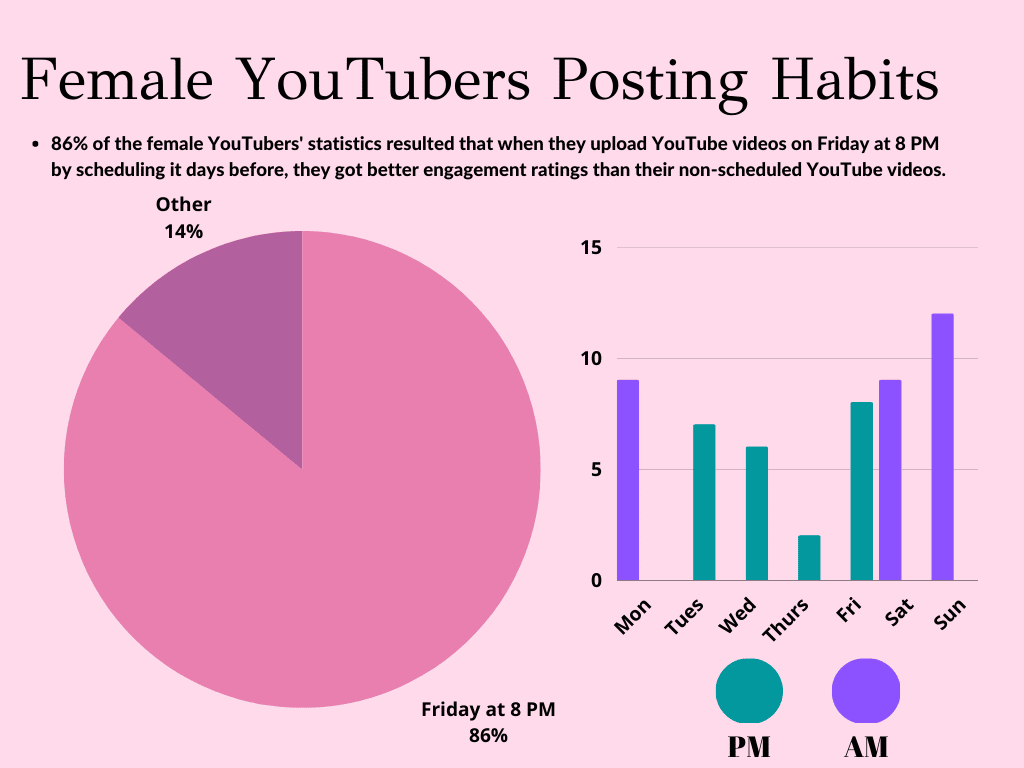 When it comes to gender groups, 86% of the female YouTubers' statistics resulted that when they upload YouTube videos on Friday at 8 PM by scheduling it days before, they got better engagement ratings than their non-scheduled YouTube videos. This indicates that female YouTubers' audience love consistent posting of their favorite YouTubers. It also means that when scheduling your posting time on YouTube, it is actually a powerful factor to be watched by more viewers, especially when your audience has been waiting for you to post videos.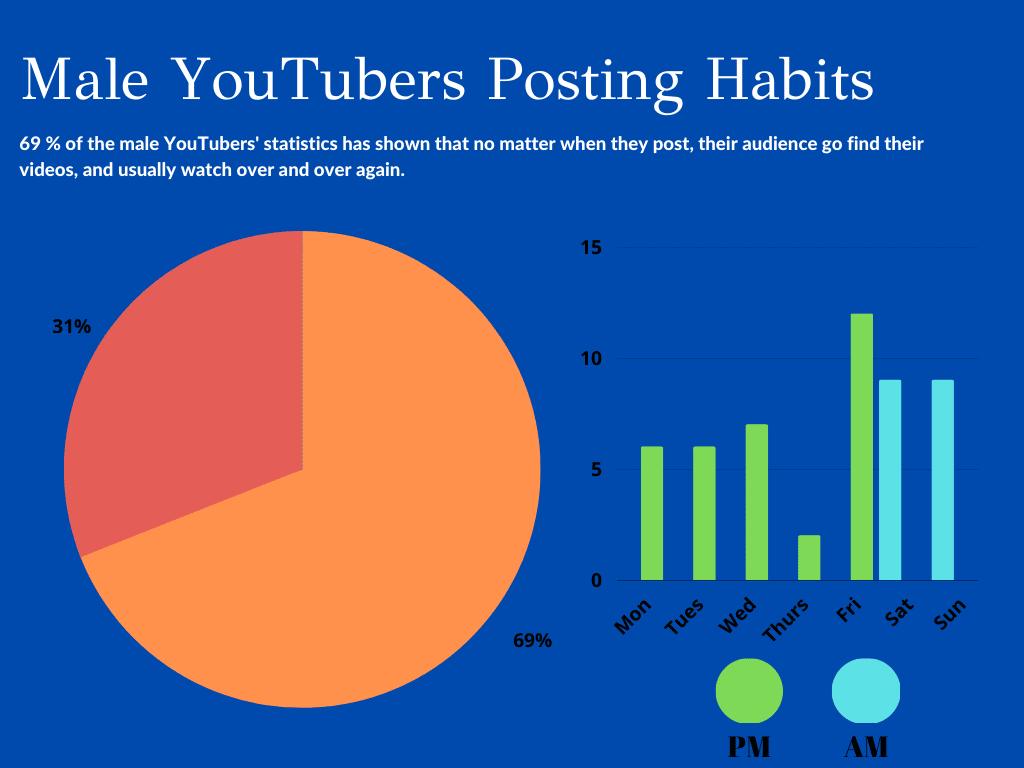 69 % of the male YouTubers' statistics has shown that no matter when they post, their audience go find their videos, and usually watch over and over again. It may cause because of the funniness they put their videos to make it more appealing to male-generated target audience.
Data Based on Months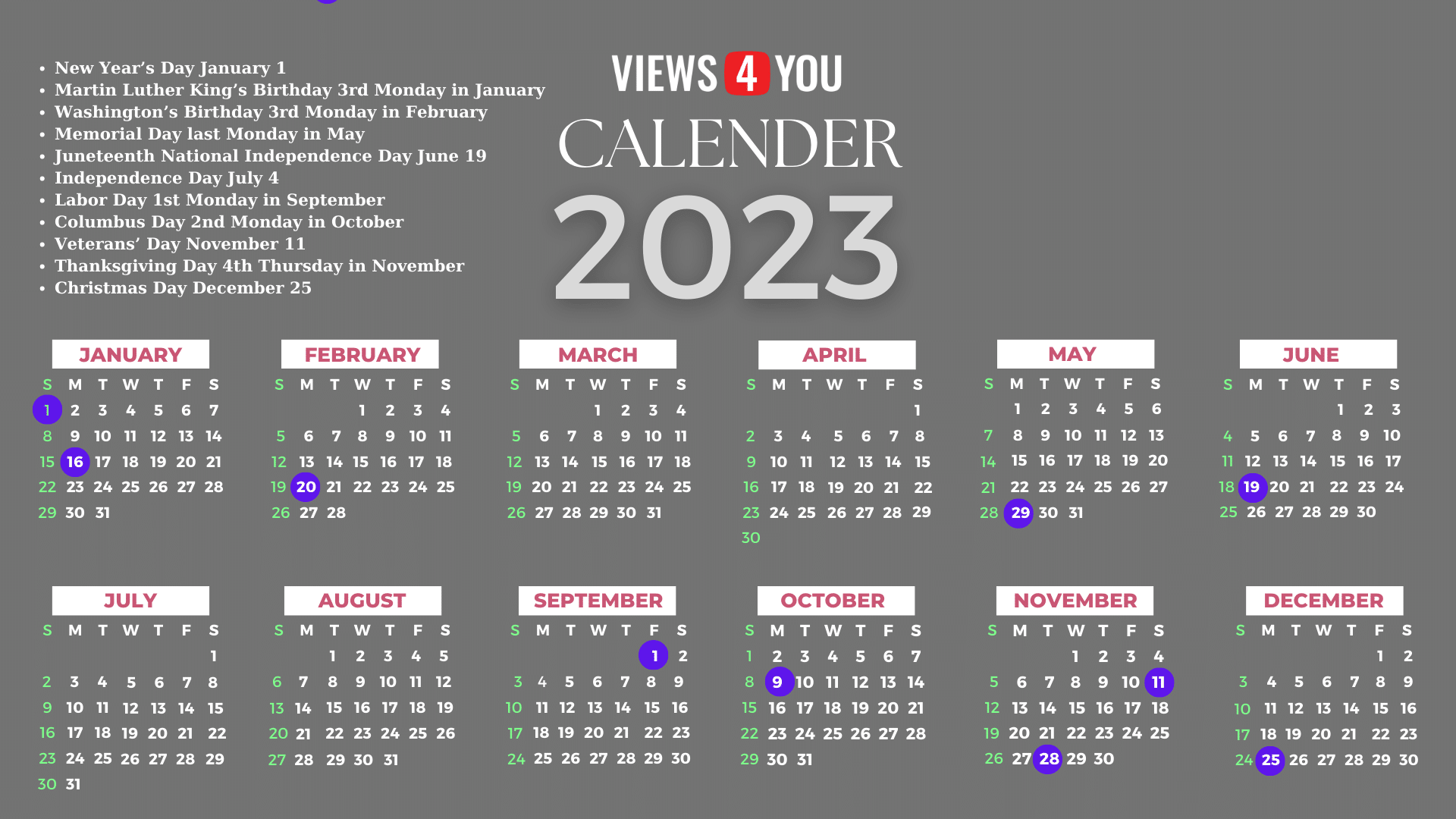 Again the results show that the end of each month (around 3-4 days before the new month begins) can be considered as a great time since people tend to use that time period in order to catch up on their favorite channels and find new ones.
It's also stated that there is a holiday spirit run over YouTube. Holidays always bring an influx of viewers who might be looking for something different compared to the traditional holiday content. Thus, making this a great opportunity for your channel to shine. The year-end holidays are a prime time for viewers to spend some quality time with their family, friends and favorite YouTubers. As such, an increase in engagement rates happens right around this time – usually between November and December. This means posting content as early as October gives you plenty of time to boost your views and much traffic before Christmas. This is especially true if you have any holiday-themed or celebratory videos planned.
What should be extra said about the timing of YouTube content that people tend to look for winter activities during this season since in summer they tend to live their life offline, so, you need to plan ahead and make sure your videos are ready to be watched for winter seasons.
The insights gained from this survey can be used to inform content creation and posting schedules for YouTube creators, ensuring that their videos are seen by the largest possible audience.
Additionally, understanding when peak viewing times occurs can help inform ad placement decisions and ensure maximum visibility for video campaigns. With this data in hand, creators now have more tools to make sure their content reaches a wider audience.
It's important to remember that there are other factors which can influence engagement levels as well. But, don't worry we will get into them, too. For now, you can also calculate your own YouTube channel's best time to post on YouTube with Views4You AI-generated "Best Time to Post on YouTube Finder"
How to Use "Best Time to Post on YouTube Finder"
Using the "Best Time to Post on YouTube Finder" is quite simple. Follow these steps to be sure you're doing it right.
Then, the algorithm will generate a report based on your chosen location. It will include detailed insights into when viewers are most likely to engage with your content, as well as what days of the week have seen better engagement rates than others. Who doesn't want to start a step further on YouTube. Knowing when your target audience is watching your YouTube content is the most crucial aspect of YouTubing.
After you find out the best time to post on YouTube, I'll provide helpful tips on how you can further optimize your upload time schedule for maximum viewership, and you to keep up with the game at the right time. Therefore, you'll be able to back up your video content when it comes to YouTube SEO by looking at the deep analysis of Views4You.
So, if you're looking for the best time to post content on YouTube in 2022, make sure to use Views4You AI-generated "Best Time to Post on YouTube Finder". With its well-created algorithm, you'll be able to easily identify the best time for you to upload new video content and maximize viewership.
Best Times to Publish YouTube Videos
What is the location of your largest following:
Best Times to Post Based on your Most active Followers Time Zones
---
Your Local Timezone:
The timezone is not defined
Monday
03:00 PM
04:00 PM
05:00 PM
Tuesday
03:00 PM
04:00 PM
05:00 PM
Wednesday
03:00 PM
04:00 PM
05:00 PM
Thursday
01:00 PM
02:00 PM
03:00 PM
04:00 PM
Friday
01:00 PM
02:00 PM
03:00 PM
04:00 PM
Saturday
10:00 AM
11:00 AM
12:00 PM
Sunday
10:00 AM
11:00 AM
12:00 PM
Survey 2: Misfit Hustler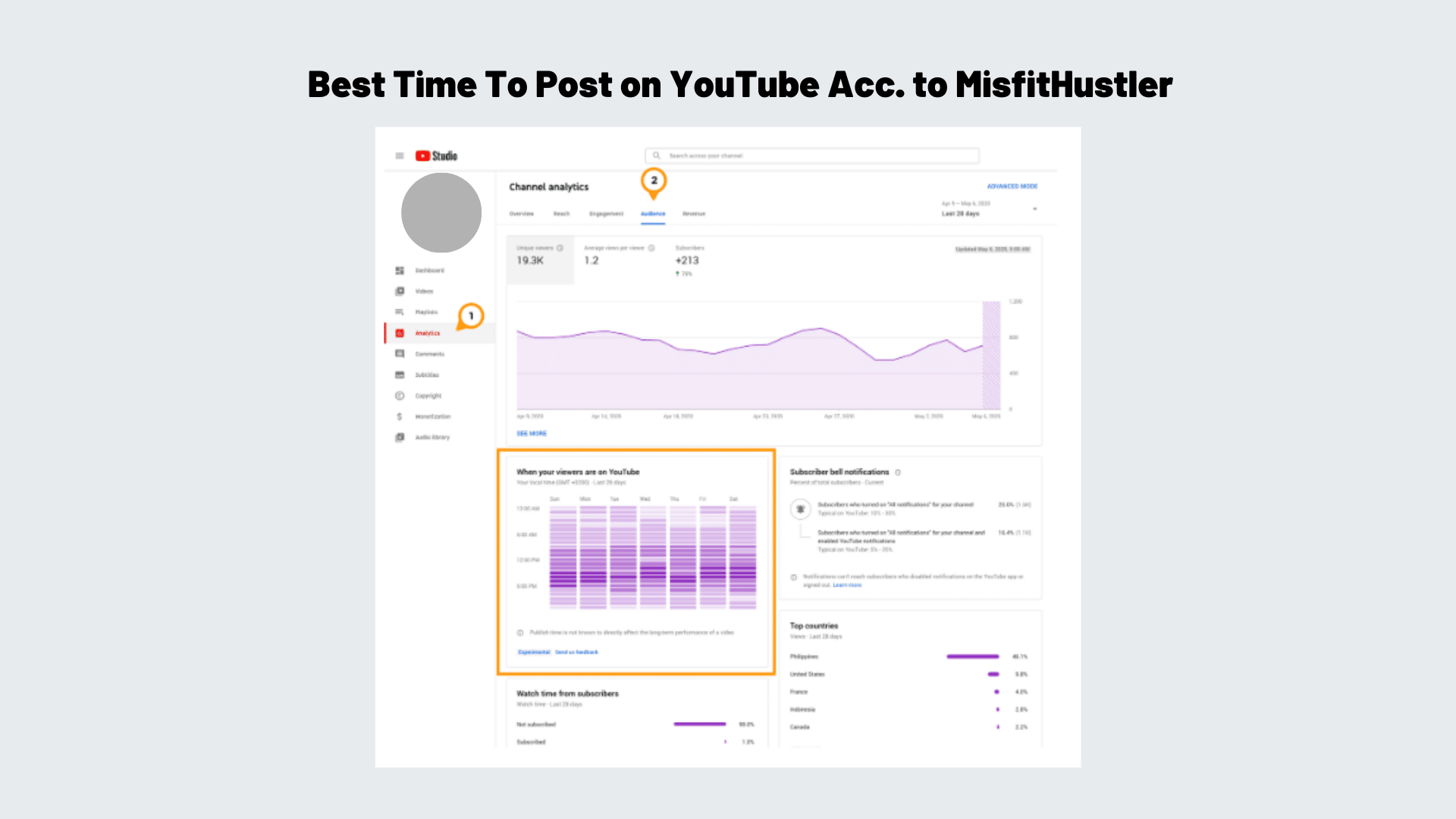 For Misfit Hustler, the best times to post on YouTube depends on your YouTube Analytics, which you can check through your own YouTube channel. You need to check the dark purple bars given in the analytics. It's also said that when creating content specifically tailored towards Misfit Hustler's target audience suggestion, you need to consider when they might be most likely to watch YouTube videos.
Depending on their age group or geographic location, certain times may be more successful than others. For example, younger viewers might be more likely to watch content in the late evening and early weekdays while older viewers may be more likely to watch videos during mid-day or afternoon hours. Additionally, the time of day may also depend on the type of video being posted – certain types of content such as educational or motivational videos that require concentration might do better during quieter times such as mid-day or early afternoon.
Ultimately, when creating content, it is important to analyze data from previous posts and experiment with different posting times to find out what works best for your target audience. This will help ensure that Misfit Hustler's videos get seen by the right people, at the right time.
Survey 3: HowSociable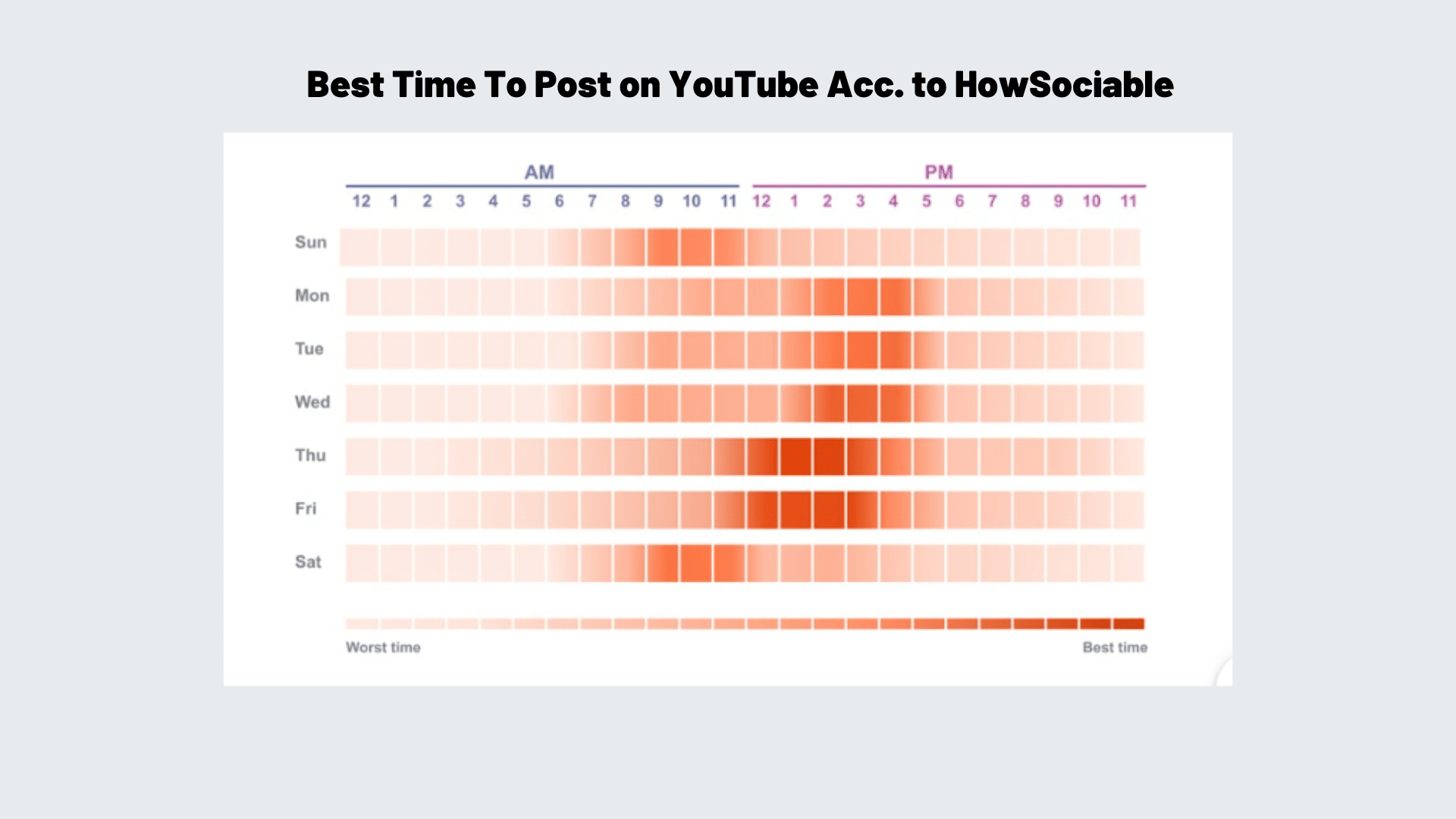 HowSociable conducted a survey to determine the best times to post content on YouTube. The results showed that the best time to post is during peak hours, which are Monday through Wednesday from 2:00 PM to 4:00 PM, and 12-3 PM during Thursday and Friday in the Central Eastern Time zone. However, it's important to note that this may not be true for all channels and audiences, as each channel has its own unique audience with different preferences.
Survey 4: Edgy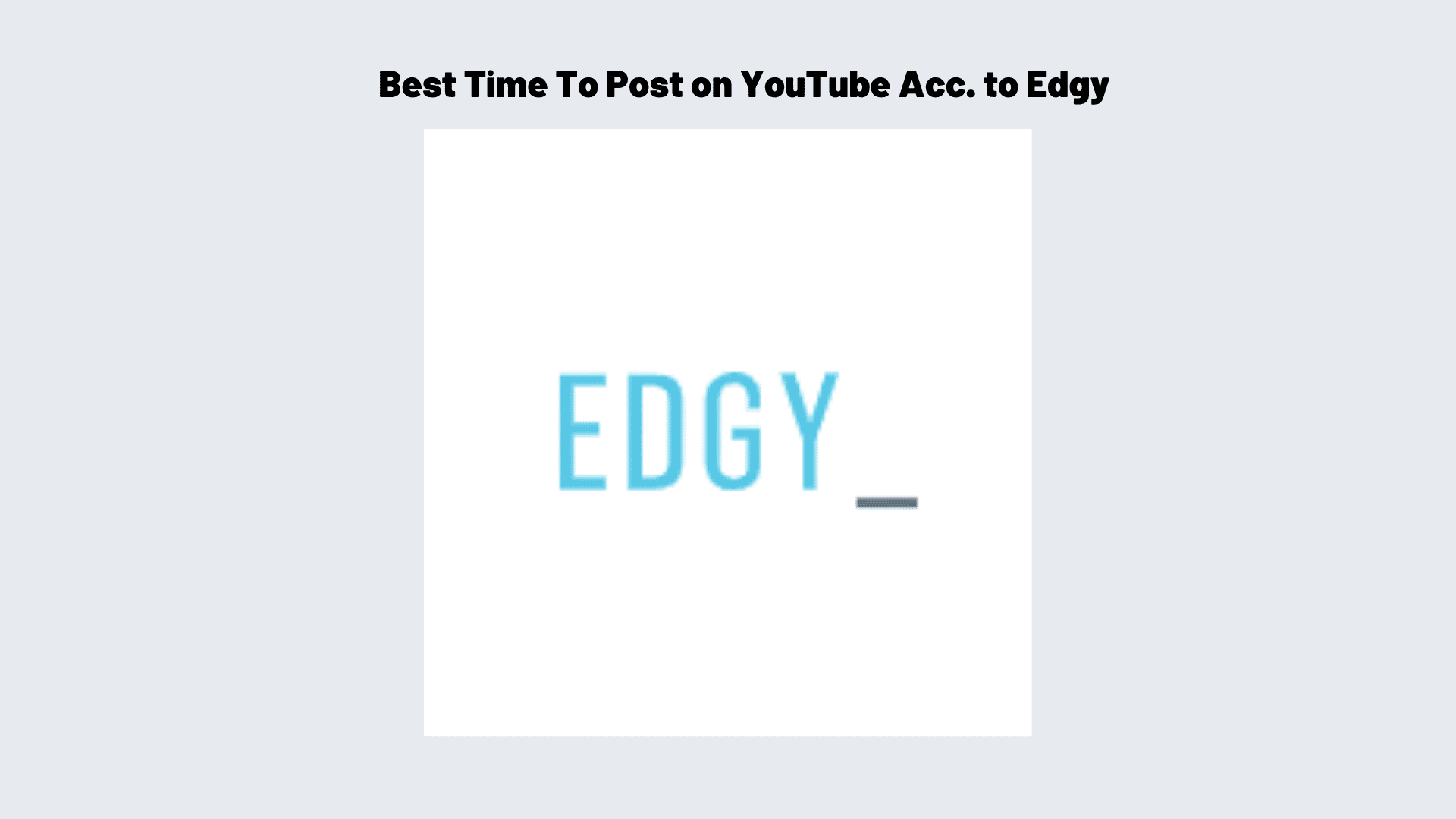 Edgy recently surveyed their audience to find the best times of day to post on YouTube. They found that the most popular time was between 2 PM and 4 PM, since it's the time Google wake up, so well YouTube. The algorithms are all designed to index blog posts, and videos, especially in YouTube's case it's something true to keep up with.
During these hours, your content will be up in the search results even though it seem a little early to post something social media platforms. But, they noted that this could vary for different niches, as well as platforms, so it's important to analyze your own data to determine when you should be posting your content.
Survey 5: Boosted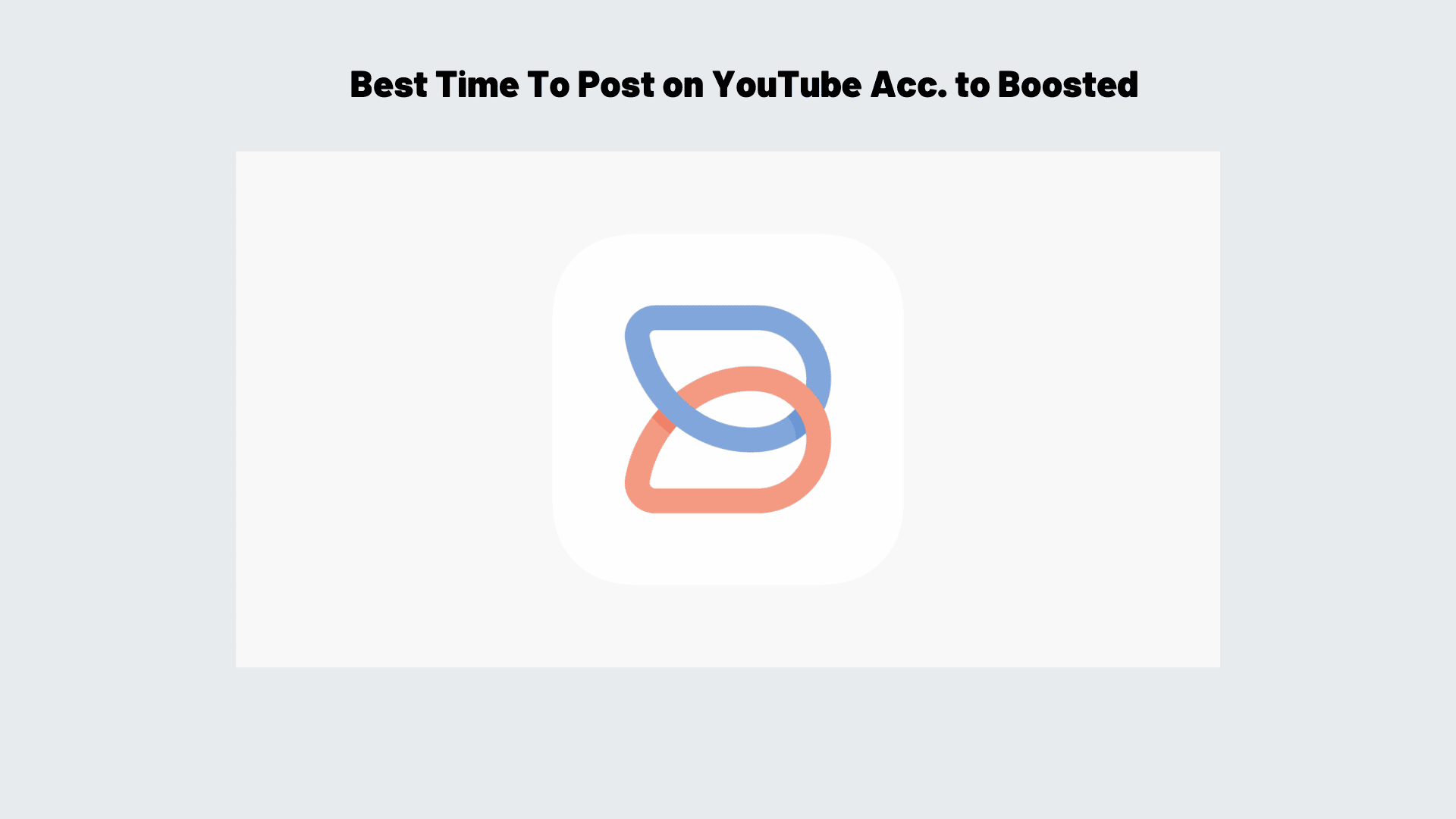 Surveys conducted by Boosted, a digital marketing agency, have revealed the best times to post on YouTube. According to their data, Wednesday, Friday and Saturday are the most effective times to post videos in order to maximize viewership. The hour-based conclusion suggested that you should be posting between 5 PM to 9 PM to get a serious impact on the YouTube videos.
Altough Sundays between 8 AM and 11 AM, or after 5 PM are considered as "optimal", it's noted that 8 AM on weekdays is again an ideal time to post on YouTube. This is because you can either reach east coasters while they're on their way to work or west coasters during their lunch break.
They again, claim that it is important to note that these ideal times may vary depending on your audience demographic and location – as well as any seasonal changes or holidays which could lead viewers away from YouTube.
To ensure maximum reach, experiment with different posting windows throughout the week. So, they suggest that posting videos at least three times a week can greatly improve your reach. With the right combination of days and times along with plenty of good content, YouTube users should see an increase in their viewership over time, they say.
Survey 6: BlogHubSpot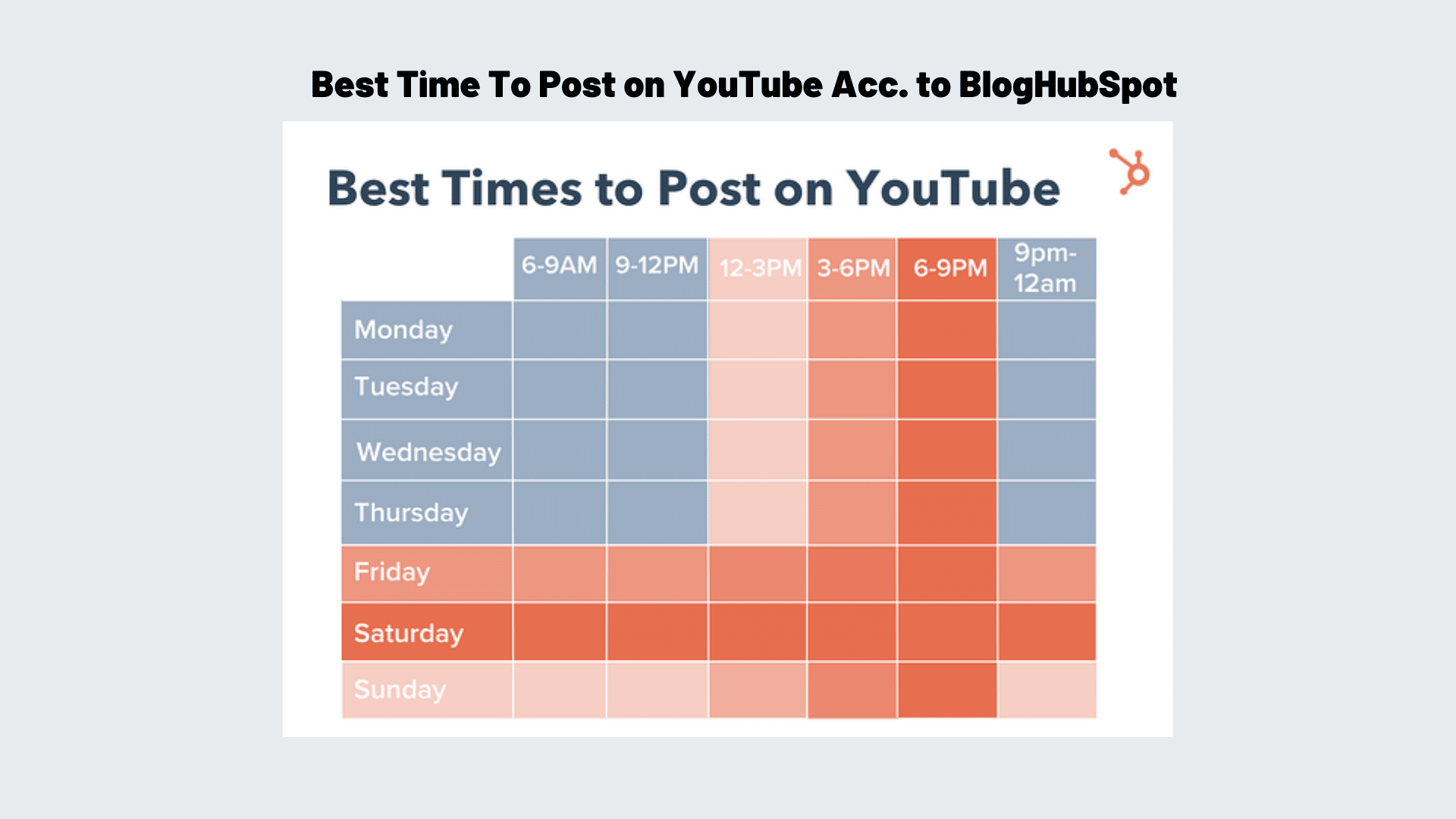 According to the survey runned over 300 marketers in the USA, 19% of them said that it is between 12 PM to 3 PM; 23% of them said that it is between 3 PM to 6 PM; the most marketers who are 31% said that it is between 3 PM to 9 PM of the days' time frames.
They also stated that the worst times to post videos on YouTube are between 6 AM to 9 AM; 9 PM to 12 AM; 9 AM to 12 PM.
Almost 20 % of the marketers said the best time to post a video for a YouTube campaign is between 6 AM and noon.
Survey 7: TubeFilter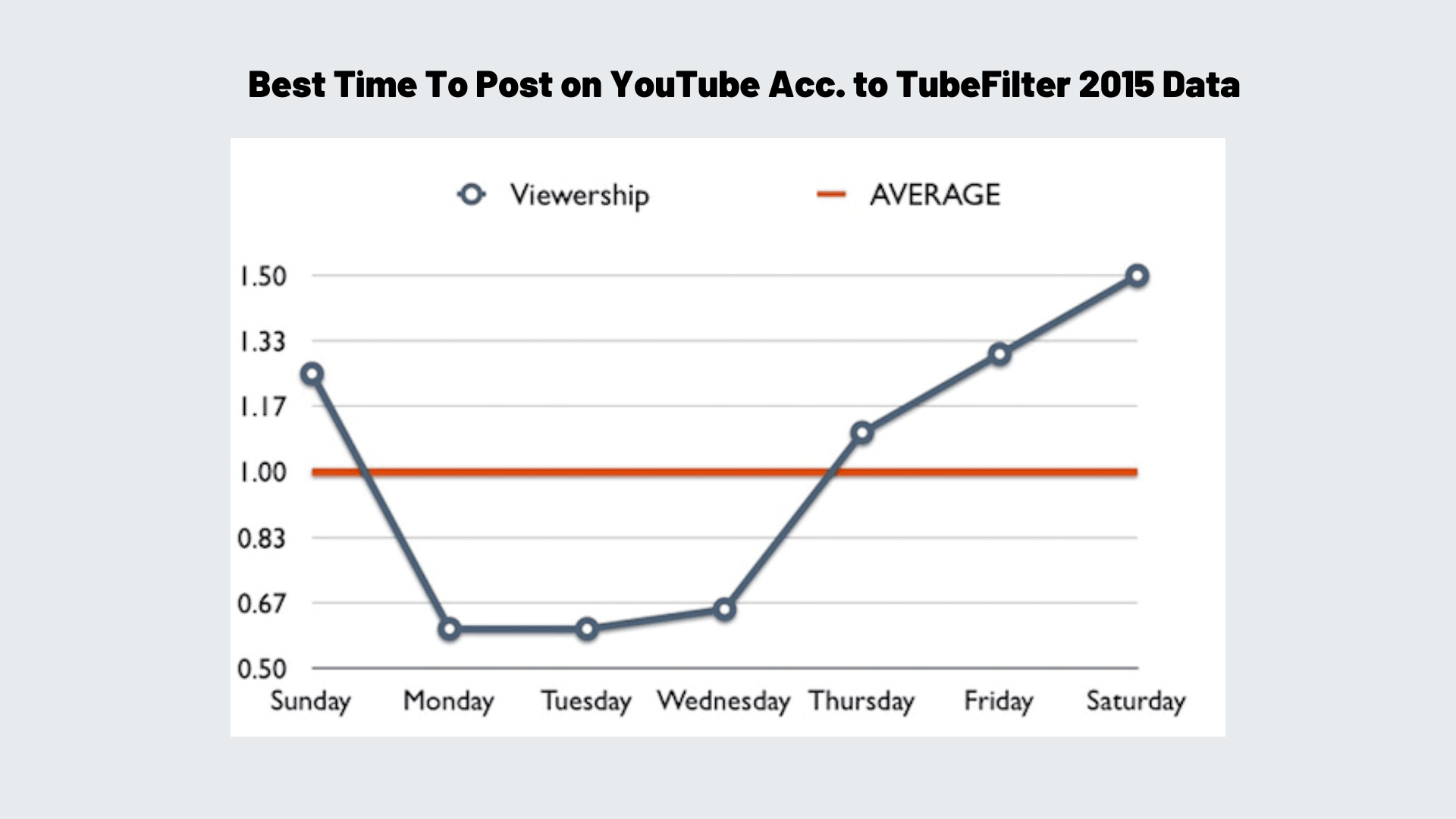 TubeFilter, conducted a survey with Frederator Networks to ask content creators of various age groups and countries about their posting habits back in 2015.
They collected enough data from 1,300 YouTube channels. And the survey resulted that the audience is 40% U.S based, 65 % of the viewership was male, and 80 % was between 13-34 years old.
As the results depending on multiple YouTube algorithms suggested that the best day to post on YouTube was Thursday and Friday. But also as their programmed data calendar of 2015 indicated, here are the yearly result for the best days for advertising dollars: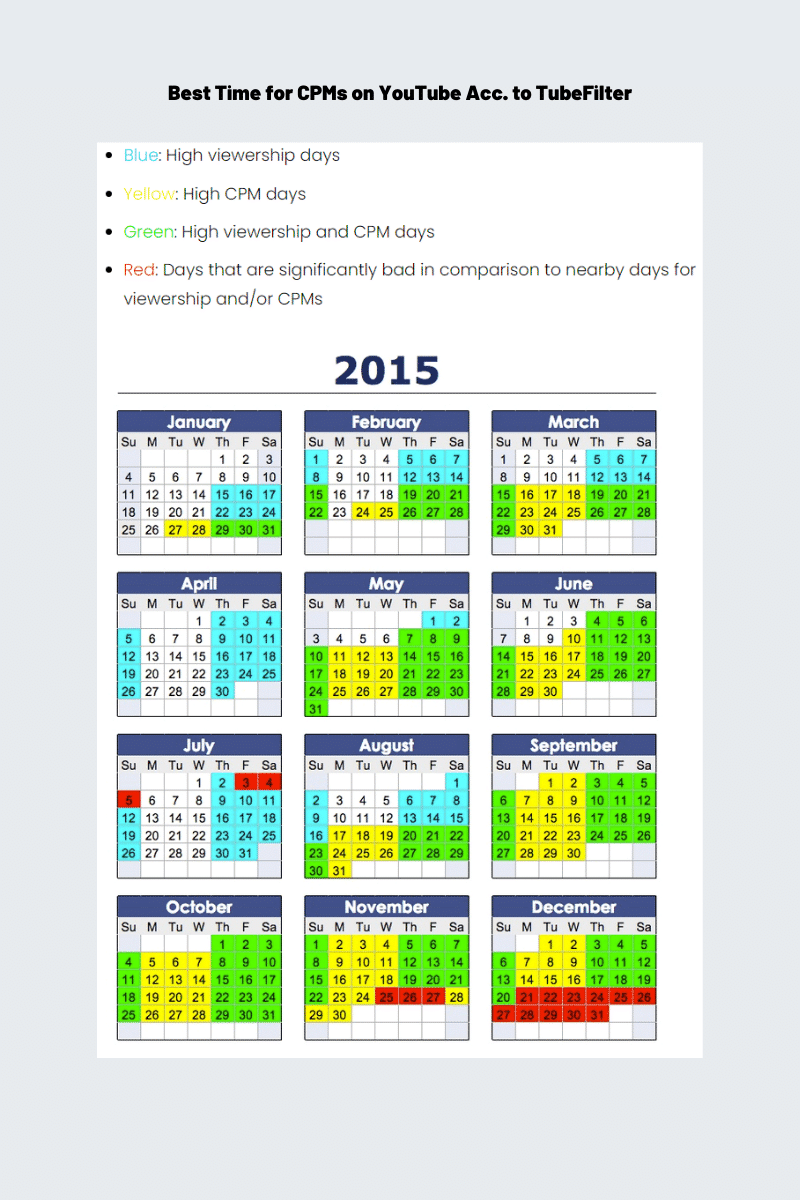 Is There One Specific Time to Get More YouTube Views to Your YouTube Channel?
Absolutely, not. Getting YouTube views for your channel depends on numerous factors that you cannot even imagine. We've been talking about this over decades, and created various blog posts to guide you on your way to finding YouTube viewers organically, even though we sell it.
But, there is not one specific time for viewers to come upon your video post. They are not zombies eager to eat your fresh content in case you use Views4You's genuine YouTube views to get the viewer data Views4You's YouTube views to get the viewer data that we designed to provide you within a few hours.
Not saying it just to lead you to buy YouTube subscribers, but as a user-also-provider, there is no better time to boost your video marketing goals with Views4You. Once you get an audience who will be ready to watch your content and directly increase your watch time easily and safely, you'll know that you don't need to follow up one specific time to post on YouTube, because Views4You will be with you 24/7.
Find Your YouTube Channel's Best Time to Post on YouTube: Go to YouTube Studio
YouTube Analytics is the best reliable way to identify what is the best time to post on YouTube just analyzed for you specifically. How come?
Go to your YouTube channel.
Open "YouTube Studio" by clicking the right corner of the page.
Then, your channel dashboard will be shown up.
Tab to the see "Analytics" section.
Click on the "Audience" tab to see "when your viewers are on YouTube", "channels your audiences watches", "watch time from subscribers", "content your audience watches", "age and gender", "top geographies", and "top subtitle/CC languages".
Click on "Advanced Mode" to access groups, comparisons, filters and more customizable charts.
To learn more about how it works, either use "Chart guide" in the right corner onf the chart with a question mark given, or read "YouTube analytics basics" which is created for users.
But, honestly, you need to have enough traffic for YouTube to generate your advanced report. Otherwise, without some activity on your video, YouTube cannot calculate the insights, such as the viewers' weekly and monthly activation times. Therefore, if your channel looks like the image below, you must first find it your way by reading this blog post.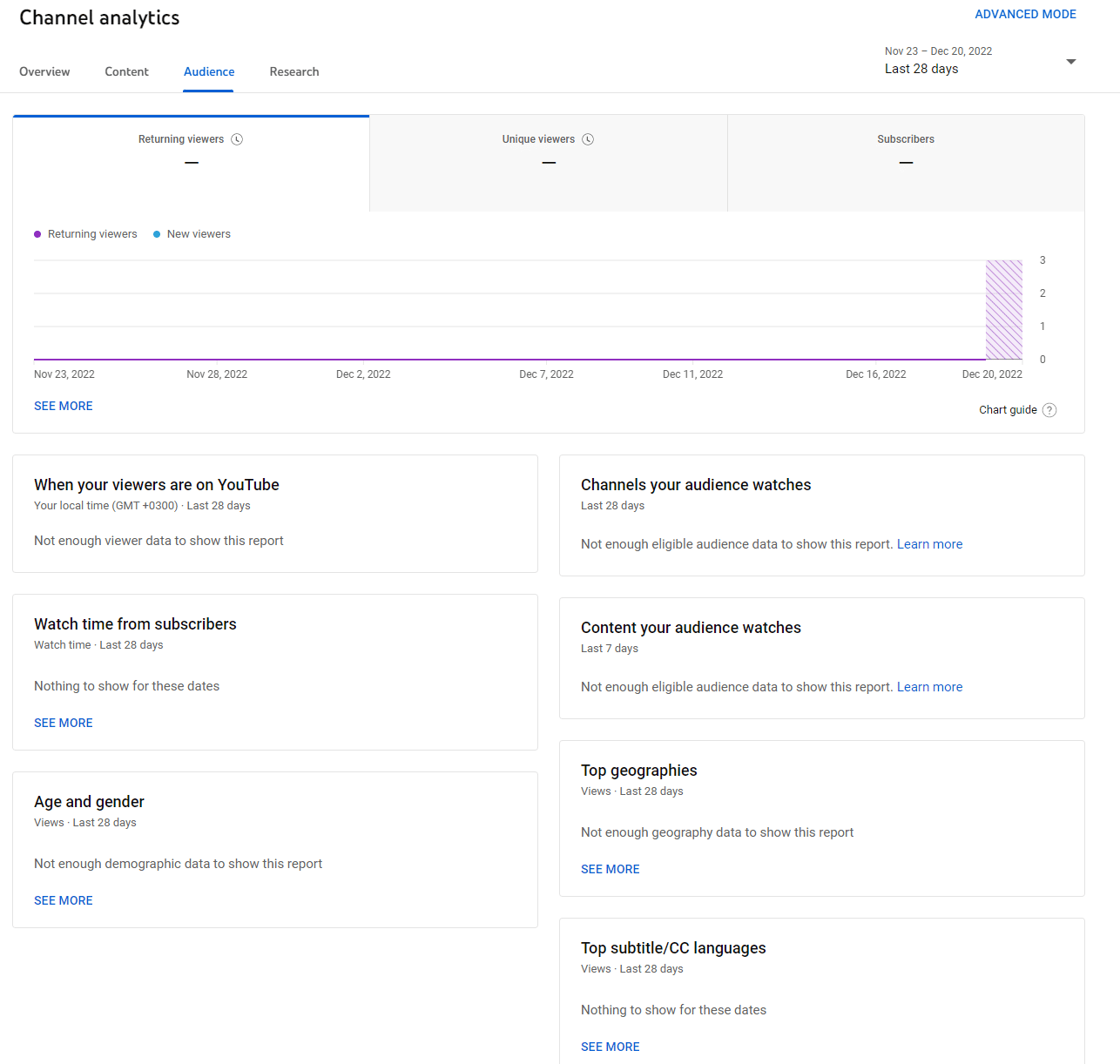 Views4You's YouTube Video Analytics and Report tool will help you understand all details of the YouTube video that you pasted to analyze on the tool. This tool calculates video views, comments, likes ratio, views ratio, estimated video value, and estimated CPM of the video. This way you can be able to understand what you need to do to get more views on your YouTube channel. For example, if you created a certain type of content like a "how to" video and if YouTube users watched it over and over again, all you have to do is uploading more "how to" videos to your channel. Or, do they love to watch "unboxing videos"? What are you waiting for, here is your next "ready to watch" video content idea. Just, reveal what is inside of the box, and some flattering words to the brand to build strong brand collaboration. That's how you'll become an influencer on Youtube.
You'll be unstoppable by knowing your YouTube analytics, the best time to post on YouTube, and the estimated value of a certain video! There'll be days waiting for you to get maximum engagement for your future quality content. Check how Mr.Beast is earning money from his one single video content.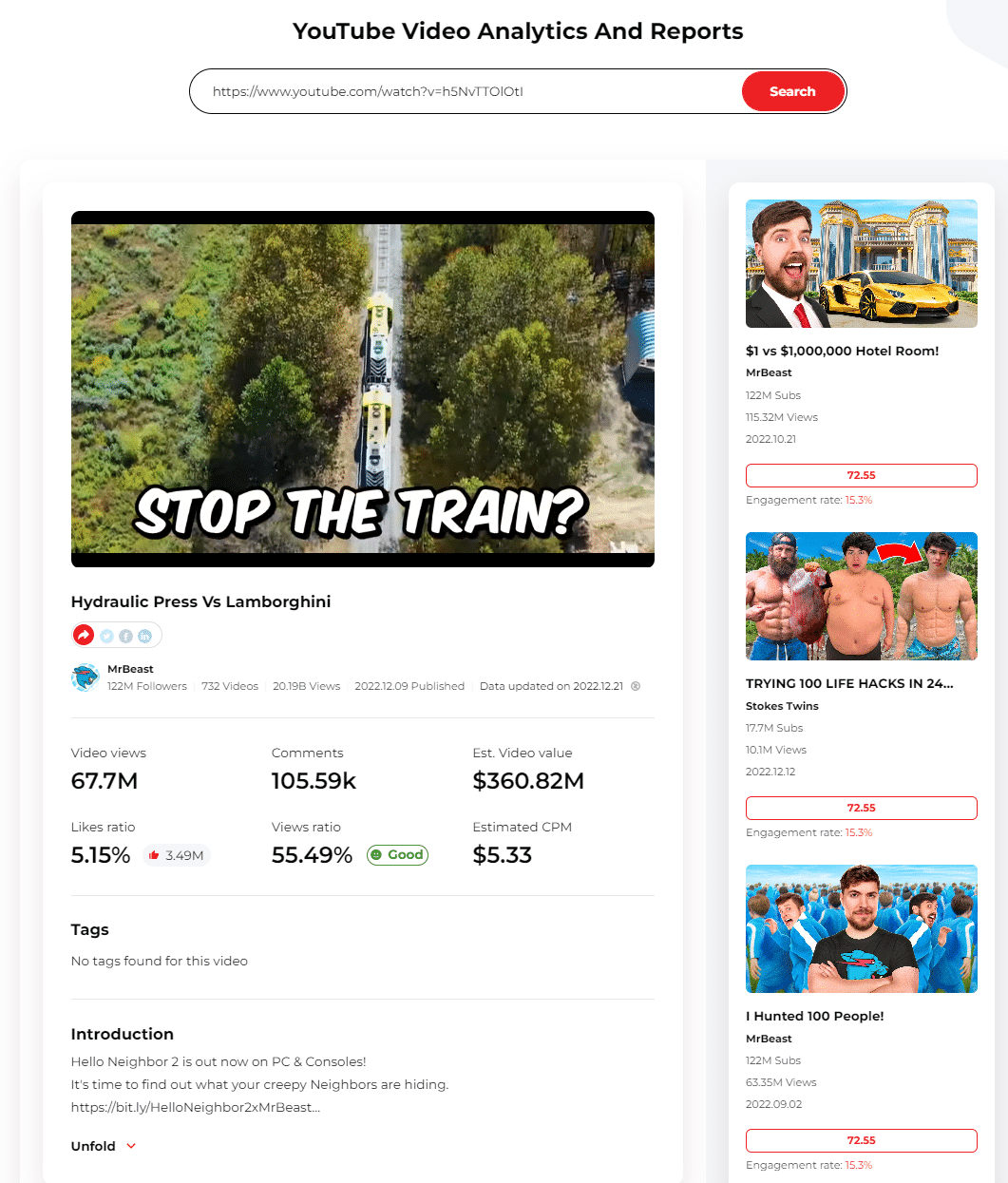 Speaking of money, Views4You has a YouTube Money Calculator tool for free. As you can check right here, we again analyzed Mr. Beast YouTube channel through the tool, and it turns out that he's making really good money on the platform. We bet he knows how to read his own YouTube analytics, work on his peak time, and reach his target audience by following the audience's behavior.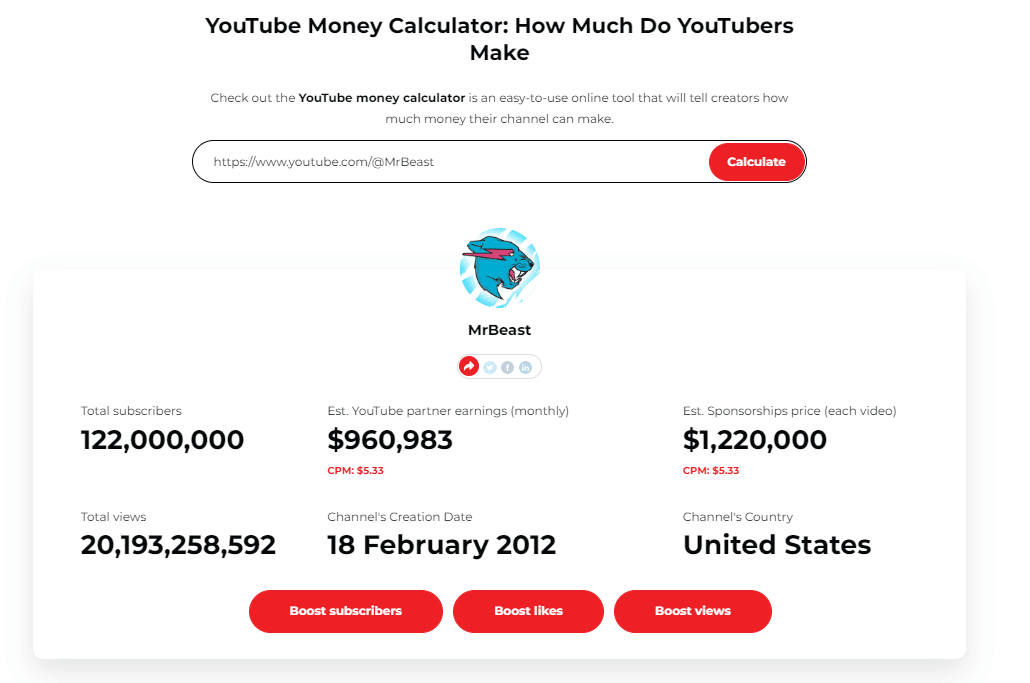 How Frequent You Need to Publish YouTube Videos?
"It all depends on you" we may say. But, it is not you, but your audience who will make you decide your frequency of YouTube posting time.
However, you may keep in mind that the more you upload videos, there will be better chance to hit your YouTube account millions. Because people love daily content no matter which social platforms you're trying to scale up.
Most YouTube users subscribe to YouTube channels they found active. Therefore, they can watch what they like before even wondering among other YouTube channels to subscribe. But, don't worry we'll provide you some backup of your choice. You know, you can buy YouTube likes too anytime, right? Even if you have some concerns about buying it, you can get free YouTube likes, among other trials. We don't force anyone to buy, just being sure everyone deserved likes when they upload videos.