Have you been searching your YouTube videos looking for a particular comment you want to reply to? Or do you want to search YouTube comments section to find comments that are important to you so you can learn more about them? Looking for a specific comment is sometimes hard on YouTube and it may take some time before you finally find it.
This is why you need an ideal YouTube comment finder tool to assist you. YouTube comment finder tools will aid you in improving engagement with your YouTube audience. Every YouTube video comment section is always different. Finding YouTube comments in the comments section of a video is easy if that specific YouTube video has just a few comments.
However, searching a YouTube video comment section that has too many comments is time-consuming and sometimes impossible. Thanks to the YouTube comment finder tools being created now, you'll be able to search YouTube comments efficiently and achieve your clear objective. Read on to discover the best tools you can use to find YouTube comments!
What Is a YouTube Comment Finder?
A YouTube Comment Finder is a great tool that helps you search YouTube comments easily on a video. It is free for everyone and you can use it on any YouTube video.
Whether you want to read comments, find a specific one, or see all the comments of a particular video, these tools have got you covered. YouTube hasn't yet produced an adequate tool for modifying comments.
Therefore, you have to combine the available ones with these YouTube comments finder tools to make things easy for you. Deleting unsuitable, offensive, or amateur comments and interacting with your viewers on the YouTube comments section can also be time-consuming.
However, with these tools, it's much easier. You can use a third-party service or browser extension to search comments without bothering with the traditional official methods.
What Are the Best YouTube Comment Finder Tools?
YouTube comment finder websites like the ones listed below, will greatly help you in your YouTube comment search. You can search YouTube comments so easily, including all the most recent comments.
Each tool also works as a YouTube comment finder for YouTube Shorts. The websites to use to find YouTube comments include:
YT Comment Finder
YT Comment Finder is among the best and simplest tools to use for finding specific YouTube comments online. Using it is free and it always produces the desired results.
YT Comment Finder is great for finding comments on a target video or channel. You can even see the whole info about the YouTube video and channel when you use YT Comment Finder.
The only thing you'll need to do to look for specific YouTube comments is to input certain words you are searching for. Then, a list of comments on those keywords mentioned will be displayed to you. This is how to make use of it:
1. Visit their website
2. Enter the name, video ID, or URL link address of the target video and click Search.
3. Input the YouTube Video URL
4. Look for the "Search This Video" option beside the target video and click on it.
5. After clicking the Search Video option, input certain keywords mentioned in the comment section and click on the SEARCH button to get results.
YCF Comment Finder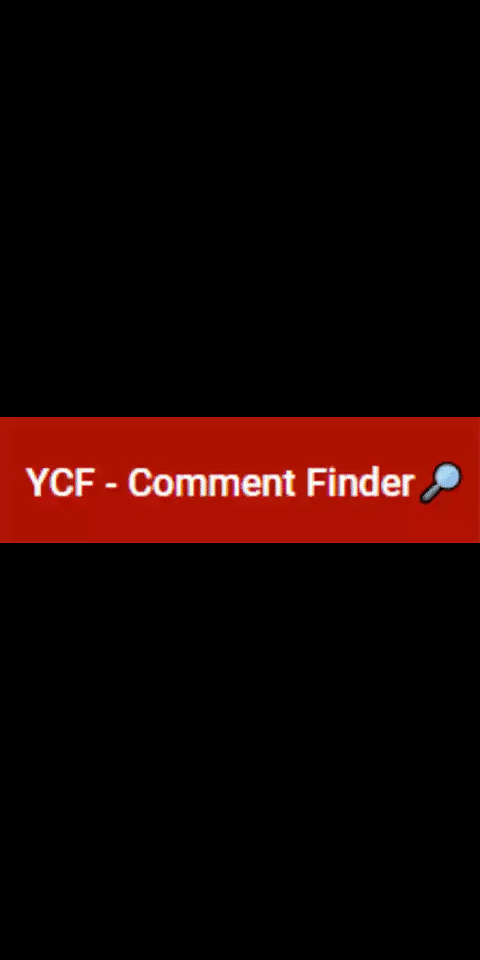 The YCF Comment Finder is a fascinating tool to use to find YouTube comments. You're free to search for comments on a specific video, channel, and even video ID and every single related comment will be shown to you.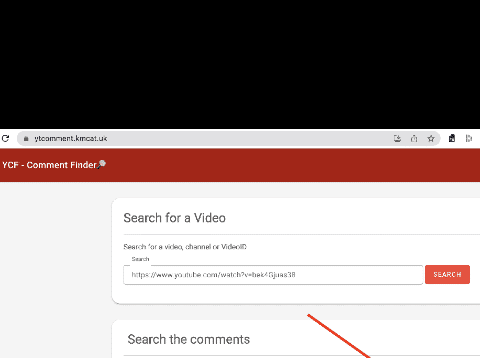 When seeking specific comments, you can make use of the search button which is so simple to use. Also, you can view suggested videos, chat comments, export comments and discover new videos and channels.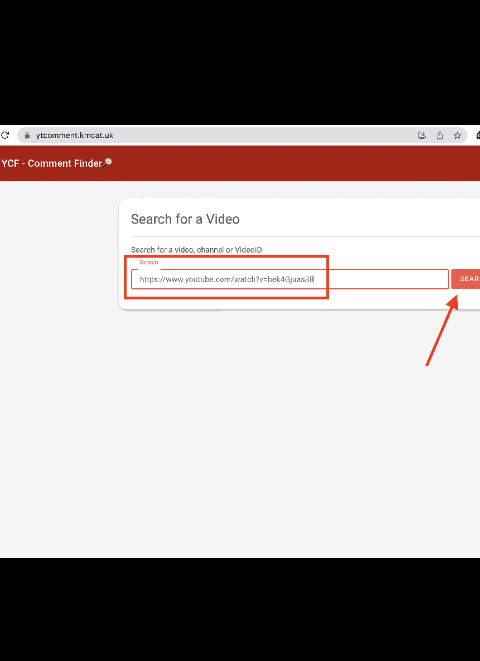 With the YCF Comment Finder, you will be able to find out the most recent comment and remain informed, so you should try it out.
EMAPP – YouTube First Comment Finder
Though you can discover a video's first comment with the YouTube settings, it isn't an easy process at all and the comment can only be seen by the video creator himself. However, with the YouTube First Comment Finder, you can search and discover the first comment of a specific YouTube video.
This website is one of the best out there and using it is quite easy. Follow these steps:
1. Go to the site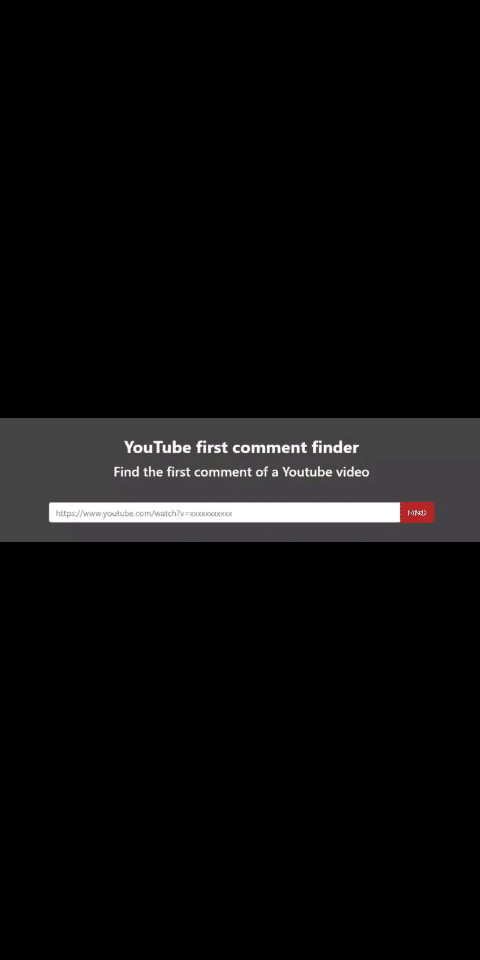 2. Copy the URL link address of the target video and paste it into the YouTube URL column.
3. Click on "Find" to get the video.
4. Then, the first comment of the pasted video will be displayed on the site's right-hand side.
YouTube Comment History (Google My Activity)
This tool created by Google is the best to use when you want to search comments especially old ones you've written before. Go to the 'Google My Activity' page to begin. There, you can search and view every of your previous activity on all Google services, including YouTube comments.
Hadzy
Hadzy is a great website to search for YouTube comments, find comments and analyze them. Its system of working is just like that of YT Finder. Enter a shareable link or URL of the target video into the Hadzy search bar.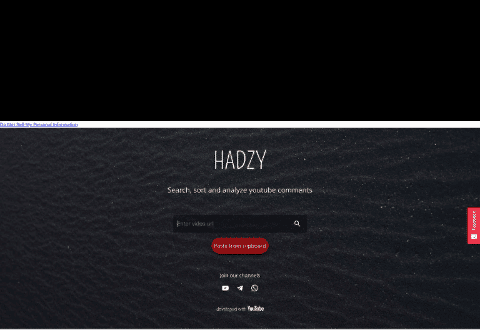 You only have to press 'paste', then your entire YouTube comment history on the videos you want will be revealed. They also have a helpful YouTube tutorial and an easy-to-use homepage to help you achieve your goal.
YouTube Studio
The YouTube Studio app is another great tool that you can use to receive notifications on comments and view every comment activity on your account. You'll be able to see all your YouTube comments in your channel's dashboard easily, thanks to YouTube Studio. After opening YT Studio, proceed to the menu at the bottom and click on 'Comments'.

Then, you can view all the comments you want in one spot. The bar is also available to use when looking for a specific comment. Your comments can be filtered by type and you can also see the most recent comments. Then, you can reply to any comment you want inside the app directly rather than going back to the video.
YouTube Comment Finder Extension
Asides from these websites listed above, YouTube comment finder extensions are also available to aid you in looking for particular comments. They include:
YCS YouTube Comment Search
YCS YouTube Comment Search is a Chrome extension that allows you to search through the content of a comment, response, chat replay, and video transcript of the YouTube video being played at that moment.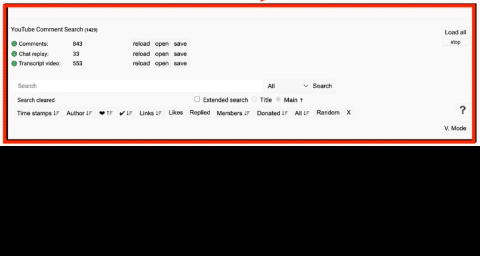 Apart from going ahead to search YouTube comments, YCS also has an engine for checking time stamps, replays, and many others. With the Chrome extension, you can view comments as they're being written on the current video.
Also, you can analyze YouTube comments. All replies will be shown in the left panel and you're free to arrange them according to response, top comments, and latest comments.
Follow these steps to use it:
1. Install YCS first of all, then open a YouTube video with comments and start playing it.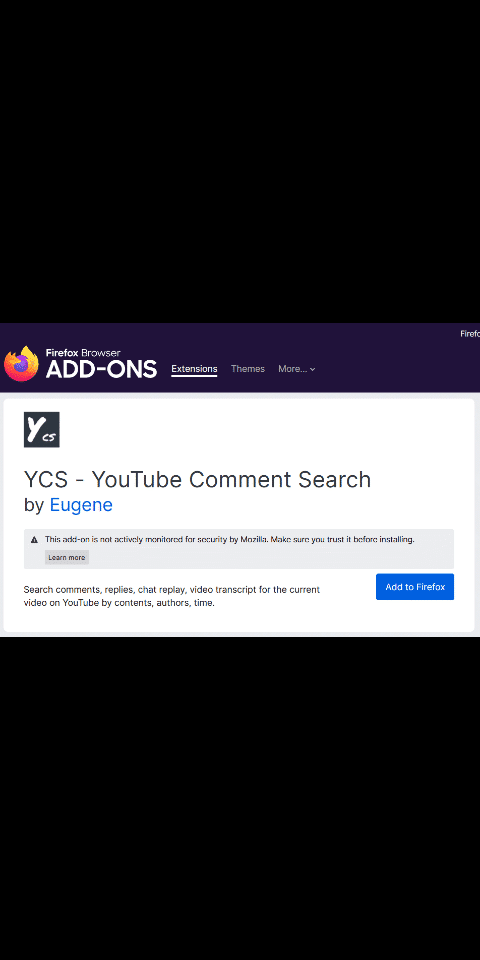 2. Don't put the browser in incognito mode.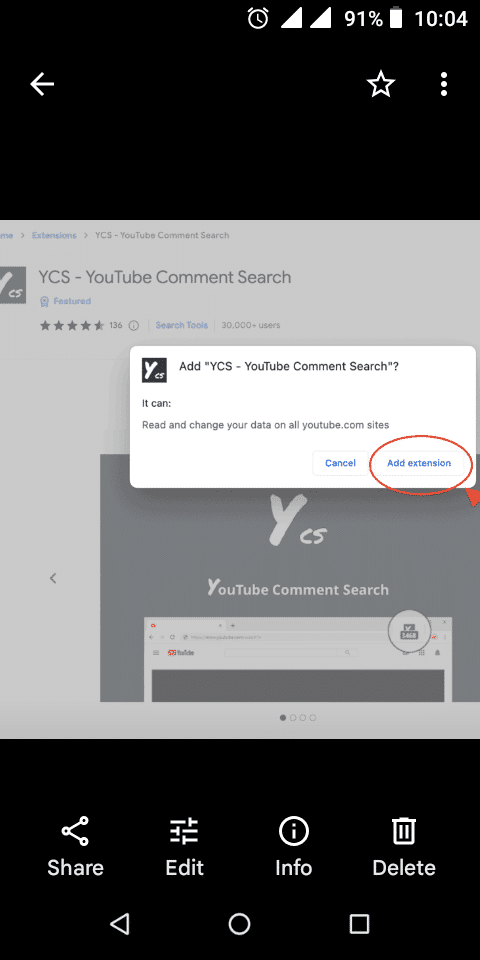 3. The YCS extension will be displayed in your browser's upper right corner and a search bar will be shown as you press it, just over the comments.
4. Input the keyword you want and click Search. It will load data and you'll receive your desired results afterward.
Show YouTube Comments While Watching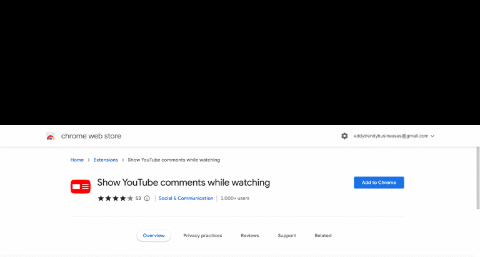 This YouTube comment finder tool is a Google extension that lets you view comments live as you're watching a video. You'll see the comments being displayed in a side panel, and you're free to sort them the way you like, such as the most recent comments, main comments, etc.
You do not have to leave YouTube's homepage whenever you're making use of this extension. In addition, they carry out frequent updates, so the YouTube comments section is always updated every time a change occurs on YouTube.
How To Carry Out YouTube Comment Search
To carry out a YouTube comments search, first of all, open the particular video and scroll down to begin to search for comments.
If there are certain words you need to look for, you can utilize the Ctrl + F function to search for comments with those specific keywords mentioned.
Also, you can go to your channel to view replies on your YouTube videos. To do this, proceed to the left panel and click 'Comments'.
Unfortunately, these traditional official methods are stressful and not effective for finding comments quickly. To find comments easily, faster, and effectively, you should make use of third-party services for your YouTube comments search.
How To Find Your Latest Comments on YouTube
Follow these steps to find the latest comments on your YouTube channel:
1. Sign in to your YouTube account.
2. Proceed to YouTube studio, then the 'Comments' section.
3. You'll see a list of every comment that is on your YouTube videos.
4. Then, you can reply to the comments, remove offensive ones and interact with fans.
FAQ
Why Do YouTube Comments Disappear?
YouTube comments disappear because certain channels hold up comments for some time for the video owner to go through them and approve them. It may be every comment on a channel that is pending approval, or only the ones containing certain words. There's only one clear objective for doing this—YouTube is subjecting them to moderation.
In any case whenever your YouTube comments refuse to show up on a channel, consider that they are being reviewed or have been removed by the channel owner.
How Can I See My YouTube Comments History?
To find your comments history, proceed to the left drop-down menu which is on YouTube's homepage.



After selecting 'History', a tab named 'History Type' will be displayed.
Select 'Comments'.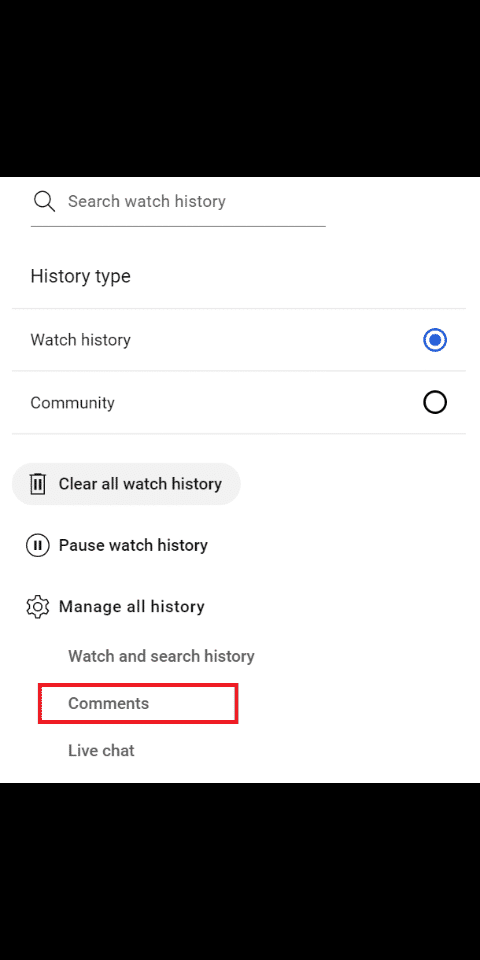 After doing that, you will be taken to another page where an array of your comments will be displayed.
Can YouTube Users View Deleted Comments?
A video's creator can't see deleted comments that were written in a YouTube video but removed before they saw it.
However, the comment can still be viewed and accessed via email in a case where the comment writer had turned on email notification.