YouTube has an enormous amount of video content and for that reason, watching videos has become an integral part of over two billion users' daily lives. But for some of us who have exhausted our regular YouTube video viewing options, there are many other ways to find content that is hidden but not less enjoyable. Have you ever tried finding unlisted YouTube videos that aren't accessible from public streaming channels to explore more content that could be equally entertaining?
As a YouTube subscriber, you may be familiar with the search function. This function can help you find videos in the search bar or by browsing through a related video. However, it's limited to results that are public. So, if you want to get access to additional and hidden YouTube content, you need to know your tricks.
This guide will show you how to improve your online experience and find hidden gems as well as how to make your own YouTube video unlisted on the platform.
3 Ways to Find Other Users' Unlisted YouTube Videos
There are several ways to find other people's unlisted videos on YouTube and most of them involve using complicated processes and third-party apps.
But there are three simple methods that you can use to find unlisted YouTube videos and watch them with ease:
1. Utilize Search Operators to Find Unlisted YouTube Videos
In order to find a particular video, you can use the search operators feature of various search engines. This feature allows you to search for videos using certain keywords or phrases.
This is the simplest way to find unlisted videos — unless you already have a link — and the most common method of accessing hidden YouTube videos.
For example, if you are looking for a particular video titled "Hidden Gems of YouTube", you can use operators and find it in Google search results.
You can also use advanced options to add more details about what you are looking for.
2. Find Unlisted YouTube Videos on a Public Playlist
Another way to access an unlisted YouTube video is to find it in a public playlist. This method is the most straightforward method of finding an unlisted video and has the benefit of not requiring any third-party software.
You can find the playlist on the search bar, a YouTube channel homepage, or in the search results.
It's important to note that you can only watch unlisted YouTube videos through the public playlist view. If the channel owner changes the playlist visibility settings, then you won't be able to access the videos.
3. Visit a Third-Party Website to Find Unlisted Videos on YouTube
The third way to access those videos is to visit an unlisted video website that allows you to browse all videos and playlists of a YouTube account.
There are many of these websites that offer a wide range of features. However, few of them provide a secure online experience. As a result, you should carefully select which one to use and which meets your needs.
Find Unlisted YouTube Videos in Your Channel
Finding your own videos on YouTube, unlisted or private, is easier than finding someone else's unlisted or private video on the platform. That means you don't need any unlisted video website or app to navigate them.
If you uploaded an unlisted YouTube video to your channel but don't know where to find it, you can navigate the unlisted video by following these steps:
Log in using your account information and click on your YouTube profile picture in the upper right corner.
From the drop-down menu choose YouTube Studio.
Once you access the YouTube Studio dashboard, select Content on the left sidebar.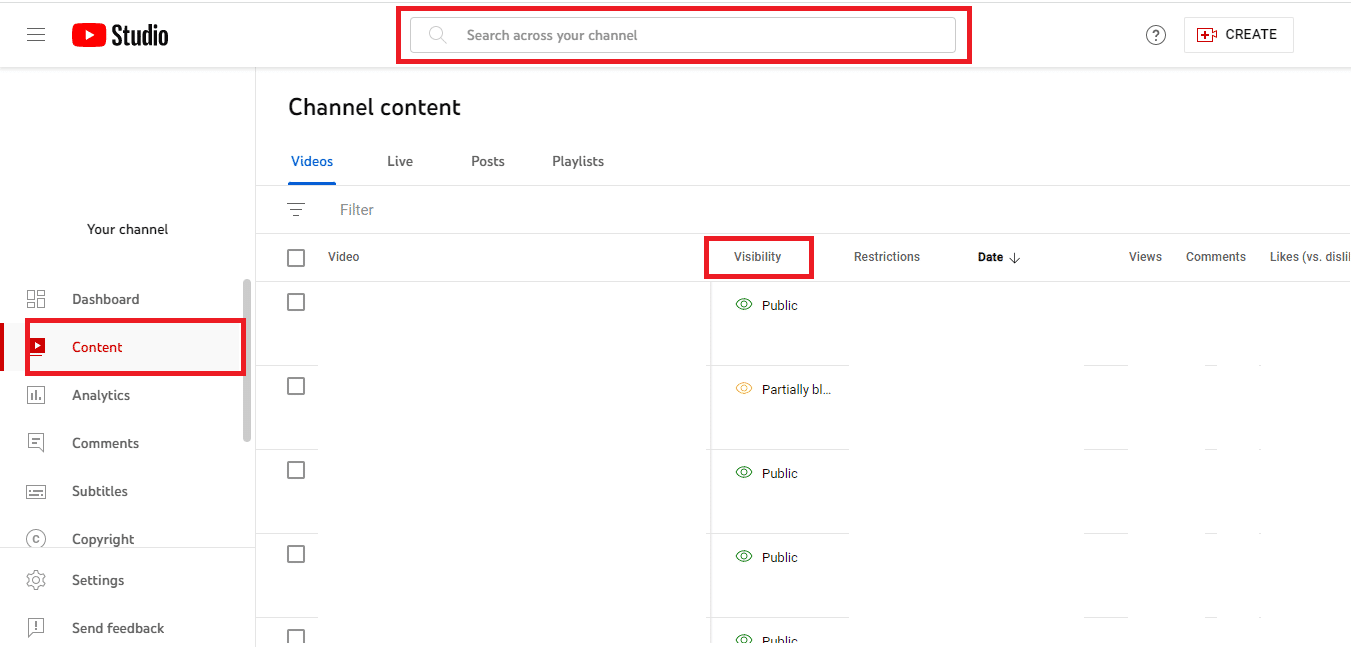 Once you access all the videos you uploaded, you can search and view your unlisted YouTube videos and start playing them.
If you would like to change the visibility of your already uploaded video (public, private, or unlisted), you can change video privacy settings.
If you want to release an unlisted video on YouTube, you can select "Unlisted" for visibility during the upload process.
FAQs
What is an Unlisted YouTube Video?
Unlisted YouTube video is video content that isn't available to viewers on the platform's general search results page. These videos are often accessible via a link and don't appear on the user's YouTube profile page.
Often, you can only watch them if the content creator provides a link to the video, through playlists with the public setting, Google search results, or via a third-party website.
YouTube Video Unlisted vs Private: What's The Difference?
Unlisted YouTube videos are content that isn't available to viewers on search engines, including YouTube's search results and suggestions. They are accessible only through a link or by following the methods we mentioned above such as Google results, a link, or a website.
A private YouTube video, on the other hand, is content that is only visible to the channel owner. Only people who can log in to your account can view private videos.
Private YouTube videos aren't available to other platform users.
What Are the Benefits of Unlisted Videos?
Having your YouTube videos unlisted gives you more control over what content other users can see on your channel. It also allows you to create more personal content on your channel without the restrictions of search results and share it with a small group of audience.
Can You Search for Unlisted Videos on Your Account?
If you're the owner of the video, you can search for unlisted videos on your account from the search bar of YouTube Studio.
If you are looking for someone else's content, it won't appear in YouTube's search results as the content owner only allows a limited number of people to watch it.
Can You View Unlisted Videos on YouTube Studio?
Yes, as the owner of the content, you can view unlisted videos, private videos, and public videos on Studio without any restrictions. Just navigate to your video and hit enter to play it.
How Can You Share Unlisted Videos?
You can share your unlisted videos with others through a direct link. You can post it on your subscriber feeds, share the link on your social media platforms, a public forum relevant to your content, or other sites you think your audience is interested in.
Once you share the link, it'll lead people to your channel and allow them to watch the unlisted video.