Haven't you found the YouTube videos you watched in the past few days? Most probably, YouTube deleted the videos because they could not be appropriate for the community, and they could have sensitive or wild content not to comply with YouTube's terms and policies. Or the content creator just wasn't pleased with the video and decided to delete it. However, when the videos are uploaded, they become part of the world wide web; they cannot disappear even if you delete them. You may wonder how to watch deleted YouTube videos unless it is on the popular video-sharing platform.
There are various ways to watch deleted YouTube videos, by using a video URL, watch ID, titles, or relevant keywords. Don't worry; this blog post will explain how to watch a deleted YouTube video. Let's dive in and find the most suitable method to watch your favorite videos, even if they have been deleted.
Recovery of YouTube Videos Online
In the digital world, there are different ways to restore YouTube videos online. Let's check up on our options.
How to Find Deleted YouTube Videos with Wayback Machine Website

Using Wayback Machine is the easiest way to find a deleted YouTube video because this website archives more than 500 billion data. This digital archive discovers videos, images, audio, web pages, and texts. Thanks to the advanced algorithm of Wayback Machine, you can find them with URLs and even rewatch and recover deleted videos. Follow these steps:
Visit the Wayback Machine.
Check the address bar middle top of the page and enter the video URL.
See a calendar showing the dates of the saved video.
Pick a specific date to see the YouTube page.
The video may play; if not, try other dates.
Sometimes, they cannot play; therefore, you can try other ways to retrieve deleted YouTube videos.
How to Access Deleted YouTube Videos with YouTube Video Finder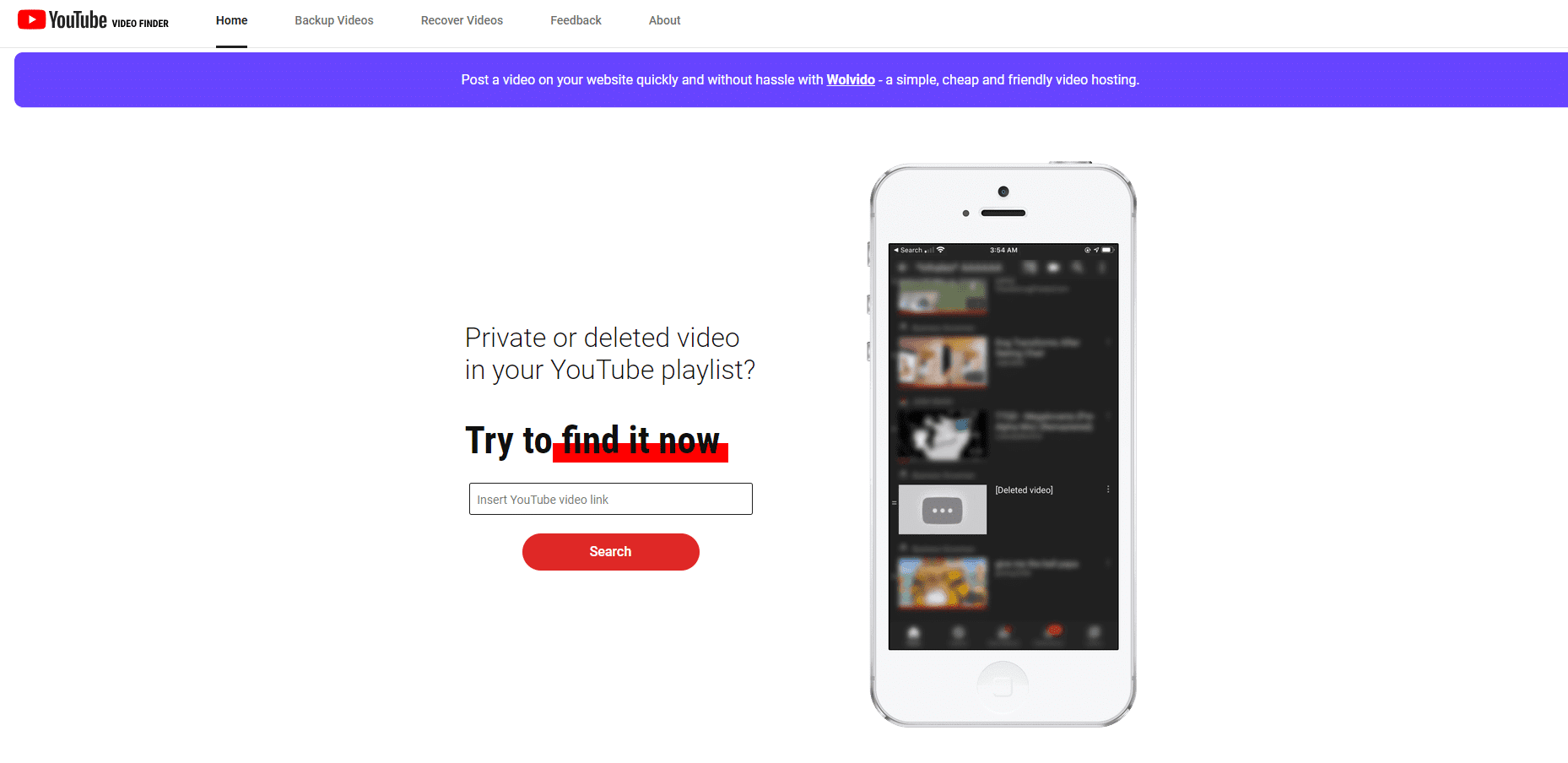 YouTube Video Finder is an online tool that works with Wayback Machine to recover deleted videos. You need to copy-paste the deleted video on the search bar and tap on the search button. A few seconds later, Wayback opens with search results. This method is advantageous when you find a YouTube video URL, the website directs you to Wayback Machine and you can try to find your lost video by utilizing a search engine in a fast and safe way.
Discover Deleted YouTube Videos without Wayback Machine
You may wonder how to watch deleted YouTube videos without Wayback Machine; but don't be confused, there are many ways. Sometimes, you may not access deleted YouTube videos via Wayback Machine and search for another way to find them. Here is another solution: Time Travel which includes Archive.today, British Library, Archieve-It, and Internet Archive. Check the steps: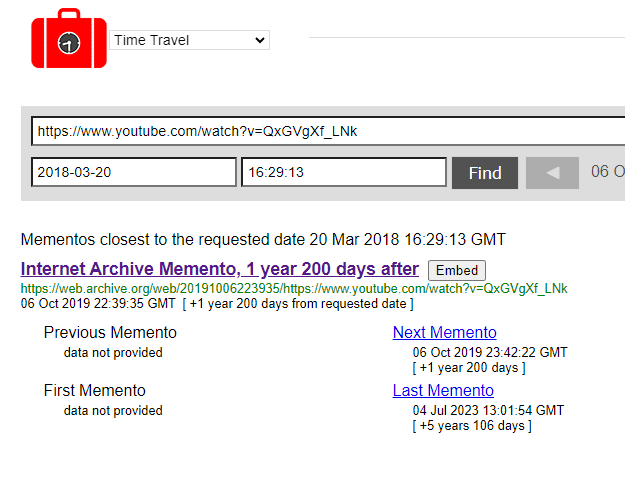 Visit the Time Travel Website.
See the search and date bars.
Write the necessary information to reach deleted YouTube video.
Click the "Find" button to see links to the video you are searching for.
How to Watch a Deleted YouTube Video with Google Search Operators
Using Google Search Operators is another way to find deleted YouTube videos. Google is the supreme search engine that has the entire internet worldwide. There are various methods to watch deleted YouTube videos by utilizing Google.
Watch Cached Version
You can watch the cached version of the video if Google saved it before being deleted by the creator. Remember, the private or deleted video from the way back cannot be found or watched via browser history. However, you have a chance with more famous videos.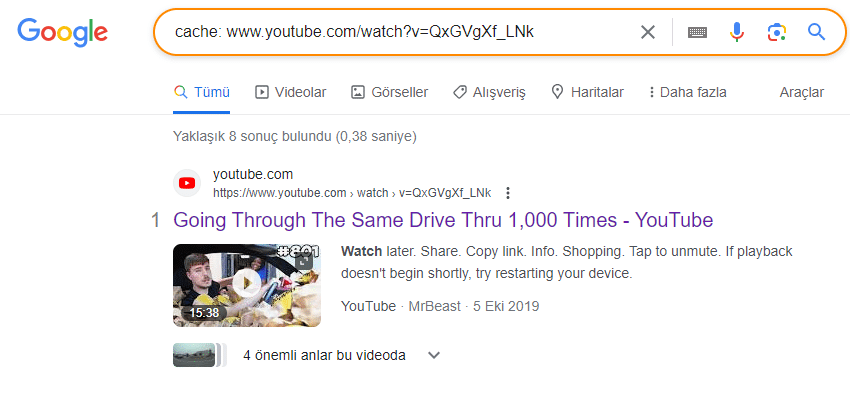 Write "cache:" and video URL to the Google search bar, don't include "https://".
Use Watch ID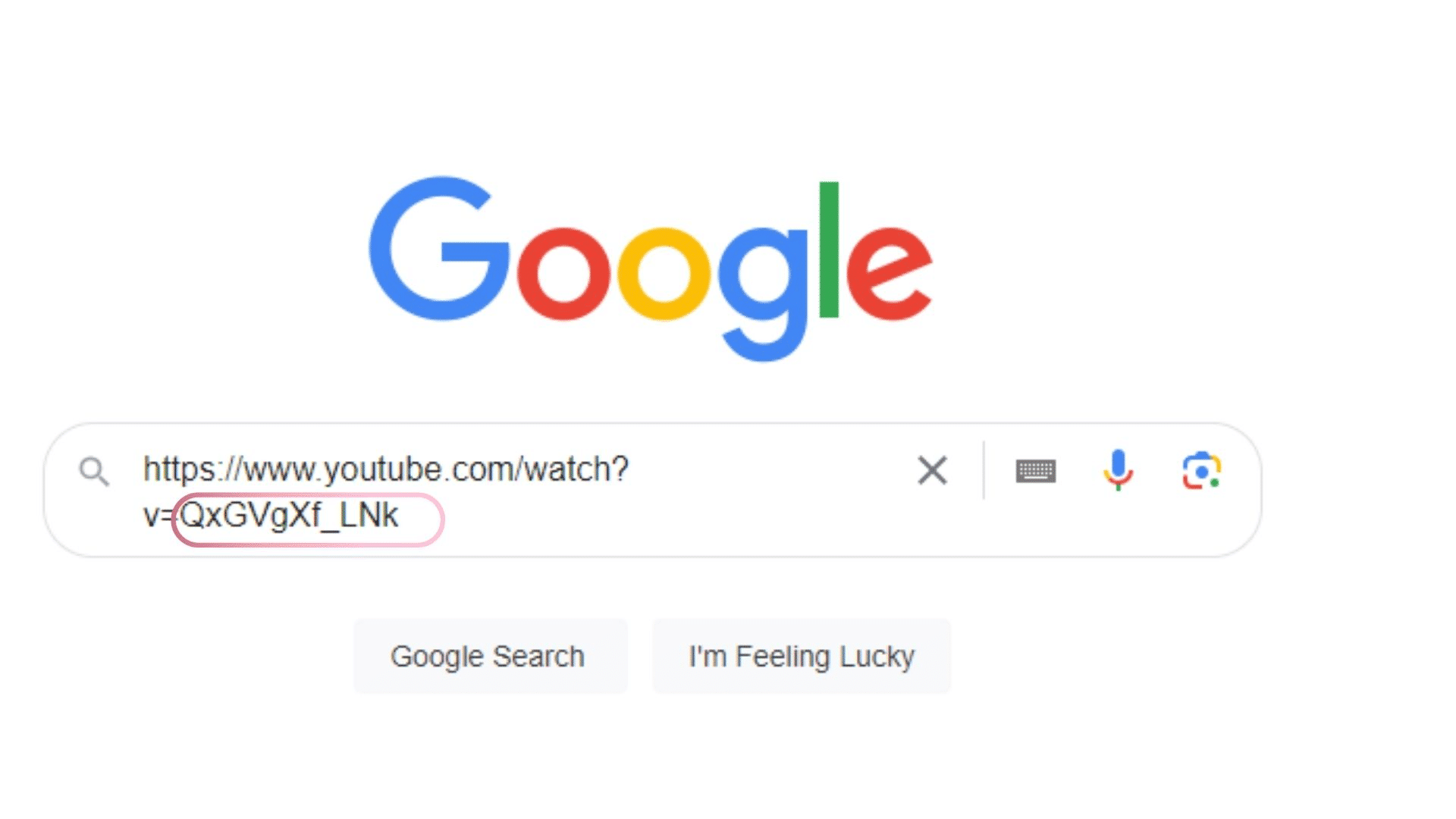 Searching for a deleted YouTube video with a watch ID is possible. Watch ID is located in the video's URL, which comes from after "watch?v=". You can copy-paste it into the Google search bar. As a result, blog and media posts about deleted content may appear on search results and check whether they play or not.
Write Title or Keywords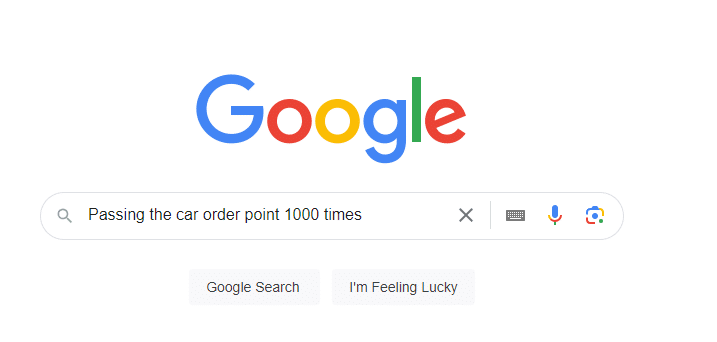 If you don't know the URL or watch ID of the video, and you remember its name, then you can find the deleted YouTube video. This way is beneficial for finding the content that is deleted by YouTube because of copyright or some reasons.
Write the deleted video's title to the Google search bar and see the results. You can also search on Facebook, TikTok, or other social media sites to find the content. The original video title may be changed by the users on social media; therefore, you can try to search with relevant keywords. This can work if the deleted video has been viral once upon a time.
Bonuses: Other Ways to Watch Deleted YouTube Videos
Besides Wayback Machine and Google Search, there are different ways to watch YouTube videos. Let's take a glance at and find your deleted favorite YouTube video.
Get in Touch with Video Creators
If you cannot find the deleted YouTube videos, you can contact the creator to ask for the video. You can send an email or find the YouTuber's other social media accounts to get in touch with them. If you befriend them and be kind, they can share the video with you.
Utilize Reddit
There is a web page called /r/tipofmytoungue where you can find any information you want. Visit the website and request the deleted video's URL. You should be very specific and clear in your demand, making it easier to watch deleted YouTube videos. If lucky, someone can answer your request with a video ID.
Find Deleted Videos on Other Social Media Platforms
It is possible to find deleted YouTube videos on other social platforms because once the video is uploaded to the internet, it can be shared by other users. Even if video content is deleted from the YouTube channel, the internet archive gets you!
Yet, if the video creators delete the videos from both YouTube and other social media platforms such as TikTok, Instagram, and Facebook, your chance is low to recover video content. Remember to check other video platforms like Vevo and Vimeo.
Watch the Video Tutorial
On the platform, you can find various video tutorials on watching deleted YouTube videos. Thanks to YouTubers, it becomes possible to find the lost video title or URL. Enter keywords or titles of the video on the YouTube search bar, then check the results. Watch related video content and find what you are searching for. Even you can ask whether the YouTuber has the video or not.
Contact YouTube Support
As a YouTube Partner, you can benefit from the "Get Creator Support" alternative to recover deleted videos. You can email the YouTube care team to handle this issue. 10,000 views and more on your YouTube channels will help you to get in touch quickly. Here are the steps you need to follow:
Open your YouTube account and click on the left bar.
Find the "Help" button located at the bottom of the bar.
Dab "Need More Help" and then "Get Creators Support."
Pick the related category and tap on "Email Support."
If it is mentioned, you can click on the link, which is "Contact Creator Support Team."
Cloud Backup
If you store your YouTube videos online, you can definitely find them easily with cloud backup. You need to log in to your cloud account, which can be Google Drive, Dropbox, and Microsoft OneDrive, to start the recovery process. Benefiting from automatic backups or data recovery of those services provides a convenient and secure way to protect YouTube videos. Don't forget to check your cloud backup status to be up to date.
Recovery of YouTube Videos on Computers
There are also various methods to find and watch deleted YouTube videos for computers. Here are the recovery options for both Mac and Windows PCs.
Video Recovery from Backups
There is always a way to find lost YouTube videos, even if it is deleted from your computer. If you have a habit of backing up everything, you don't need to worry about your lost content. Backing up helps you in any unfortunate situations, such as malware intrusions and accidental deletions.
If you frequently make backups, you can find the lost YouTube videos quite easily, even if you delete them once in a blue moon. Yet, remember, fresh downloaded or deleted videos cannot be art and part of backup multimedia files. You may need to check other recovery methods.
Third-Party Recovery Apps
You should have backups of all the videos uploaded on YouTube. However, you may delete them from your computer because they occupy the store of it. Recovering deleted YouTube videos with software is pretty clever. There are various data recovery software, but we will share the most preferred ones.
Recoverit
With this software, you can reach maximum success and recover a recently watched video on your Windows or MacOS PC. You can also find the video on USB flash, hard drives, and SD cards. It doesn't matter whether your content is lost in malware intrusion, accidental video deletion, or malware intrusion. Recoverit can find your video in any case.
Pick the location of the deleted YouTube videos.
Click on the "Start" button to begin the scanning.
View deleted YouTube videos list.
Dab into the "Preview" button to verify if you see your file.
Check all YouTube video details, including format, file name, and size.
Select the video and click on the recover option.
Recuva
It has very user-friendly interference like the other recovery software. You can download this app to find the deleted YouTube video from your computer. Recuva is only available for Windows PC; if you use Mac, you can prefer one of the others. You can follow the same steps with Recoverit; most recovery software has the same steps to find the videos.
EaseUs
This is also an easy-to-use app for the recovery process of YouTube videos. It can be downloaded on both Windows and Mac computers. Install and launch the application, then follow the same steps as other software apps.
Disk Drill
This software app is also available for Windows and Mac PCs. You can recover various data types like videos, audio, and images. Like the others, download and start the app to recover deleted YouTube videos.
FAQ
How Can I Find the Deleted Video Link on YouTube?
You need a URL to find your deleted YouTube video without a title or keyword. If you don't have the URL, first, you need to find it and then search for watching deleted YouTube videos. Here are some ways to find out your video URL.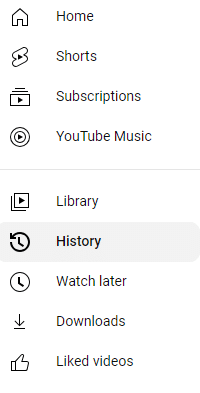 Check out YouTube History or Liked Videos: It is one of the most influential ways to find deleted videos on YouTube. Check your history or liked videos to find and watch them.
Discover Other Video Platforms: If you cannot find the video on YouTube, you can control other video-uploaded platforms such as Vimeo and Vevo.
Explore Browser History: Controlling the browser's history is one way to find both title and URL of the video. According to the date you watch the video, you can find it quickly.
Glance at Your Playlists: Sometimes, people watch YouTube videos, like and add them to playlists to rewatch them later. If you are doing this, you have a chance to find them after being deleted. Check your YouTube list and get the URL.
Control Your Texts: Occasionally, we send funny and entertaining videos to our friends from various social media platforms. If you are lucky, check your older messages to discover the deleted videos.
Try different methods to find the URL, title, or even the video itself, then search for a way to recover it.
Can I Download Deleted YouTube Videos?
Yes, you can obtain the content by using Wayback Machine. Enter the video URL in the website's search bar and wait for the navigation. When you access the digital archive, you can download the video in a breeze.
Restoring deleted YouTube videos by backing up your cloud services is also possible. Or you can benefit from recovery software to access lost content. Once you get to the lost YouTube videos, you can download them quickly if it works.
Do Deleted YouTube Videos Vanish Permanently?
Unfortunately, the deleted videos vanish permanently due to the strict rules of the YouTube platform. YouTube discards the videos that break the community's rules forever, and the creators cannot recover their videos by uploading the same content. To re-upload their content, they must modify the videos according to YouTube's terms and policies.
The YouTubers or viewers who want to watch the original video can use Google Search, Wayback Machine, or other methods- mentioned above- to save the video.