As a growing online presence, YouTube is becoming increasingly significant for marketing and sales. To capitalize on this trend, you need to be sure your marketing efforts get noticed and captured by users. Hence, building an audience on the platform requires a lot of dedicated work and there is a common notion that you must create fantastic video content to enjoy success. Since first impressions don't get a second chance, you need to leave a strong impact on every first-time visitor to your site.  Knowing how to make a YouTube banner (or YouTube Channel Art) will bring you successful results.
This article will discuss some of the most effective tips and tricks for creating an eye-catching  YouTube channel banner to help you leave a lasting impression. Additionally, we will mention free sites to get YouTube banner templates and the perfect dimensions to maintain a professional appearance on different devices.
How to Make a YouTube Channel Banner with Canva
Using a free online graphic design platform like Canva is an excellent way to create YouTube banners that stand out. It's particularly popular among beginners because it doesn't require any design or coding knowledge and has a wide range of free templates. You'll find minimalist as well as modern options here.
The intuitive user interface and simple navigation allow anyone to design stunning graphics in no time. Furthermore, the application has a convenient drag-and-drop feature that makes it easy to add images and text to the banners you create.
You can also use the built-in fonts, color schemes, design elements, and themes to create your own YouTube banner template.
Here is how to make a YouTube banner in minutes:
Open Canva and Search for YouTube Banner Template
Canva has hundreds of free templates for all sorts of purposes. They're well organized, so all you need to do is enter what you are looking for in the search bar at the top to view all options.
Once you find your desired design, click on it to get started with the process. Or, select the blank option to create a YouTube banner of your choice from scratch.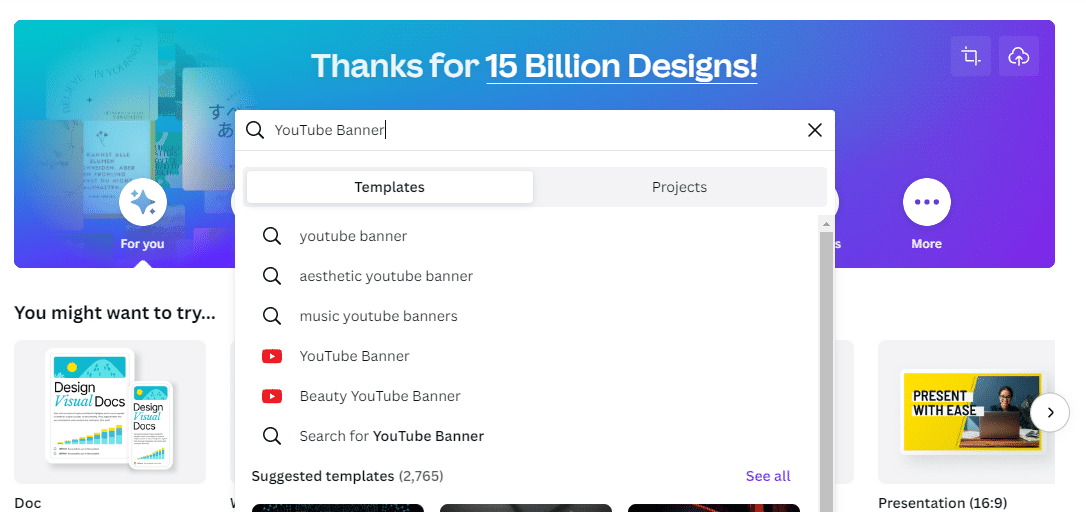 Once you have selected your preferred design template, you can start tailoring it to your taste, based on the aesthetics, niche, and other features of your YouTube channel.
Customize Your YouTube Banner Design
The platform has a wide range of tools to help you personalize your design template so that it matches what your brand represents to viewers.
You can add your logo or any other desired elements to your YouTube channel art to make it aesthetically pleasing. Or, you can edit the color scheme or background image to make it look more professional.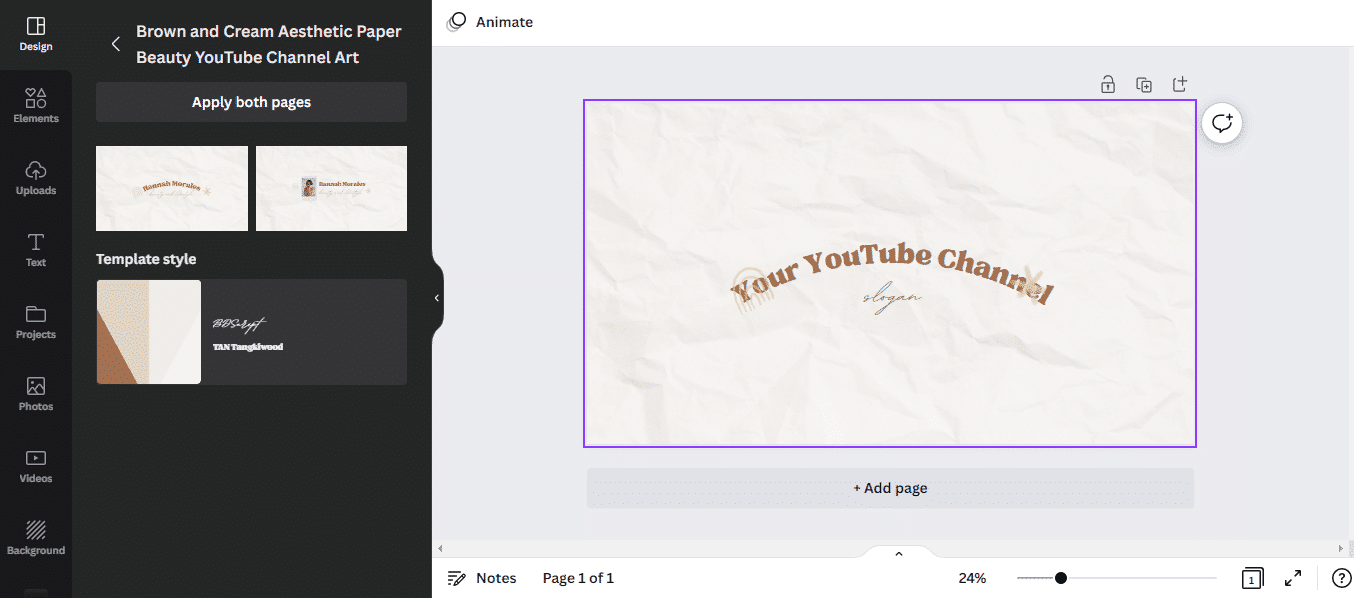 In summary, to create an attractive and eye-catching banner design for your YouTube channel, upload your own images and create your color palette, or utilize core features such as:
Essentially, a YouTube banner signifies what channel it belongs to and what type of content it contains. Therefore, you must personalize your banner design to create an engaging and memorable experience for your viewers.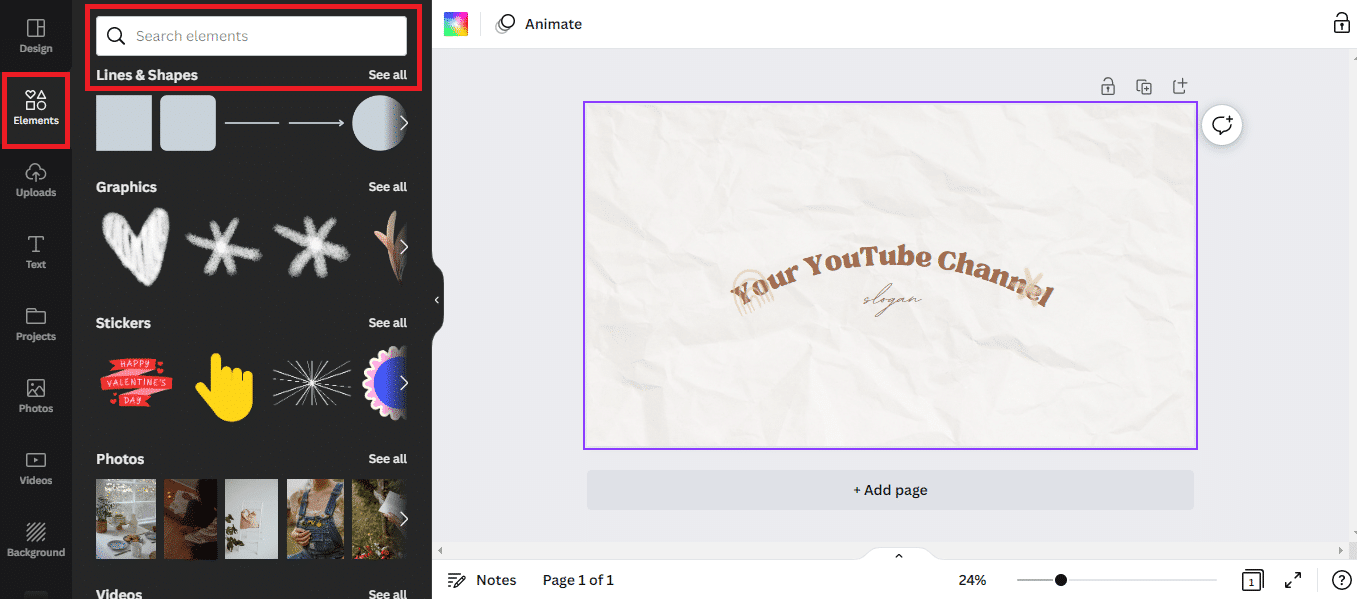 Canva offers millions of free and paid elements you can use to make your banner unique and relevant to your video content.
From charts and grids to graphics and stickers, you can find anything by simply entering a keyword into the search bar.
If you upload images to your Canva account, you can also use them for your YouTube channel art.
Additionally, you can explore the photos section of the platform to find eye-catching images that will best fit your design.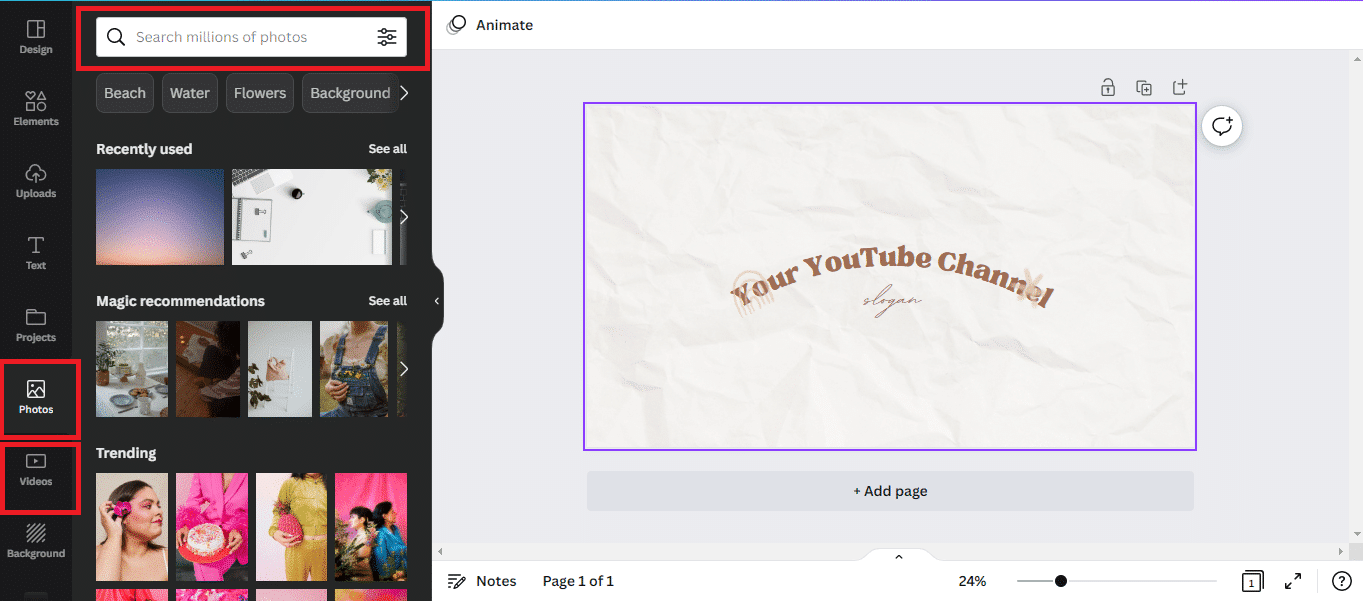 While YouTube doesn't support videos with banners, you can likewise use the resource for your other channel content. You can also capture an image from a video to use in your banner art.
Plus, you can crop your image, add text, and resize it to fit your requirements.
The animated character structure is a style that is becoming increasingly popular on YouTube and can create a powerful brand image for your YouTube channel.
So, when creating a YouTube banner, you have the option to add a personal touch to make your design unique and entertaining.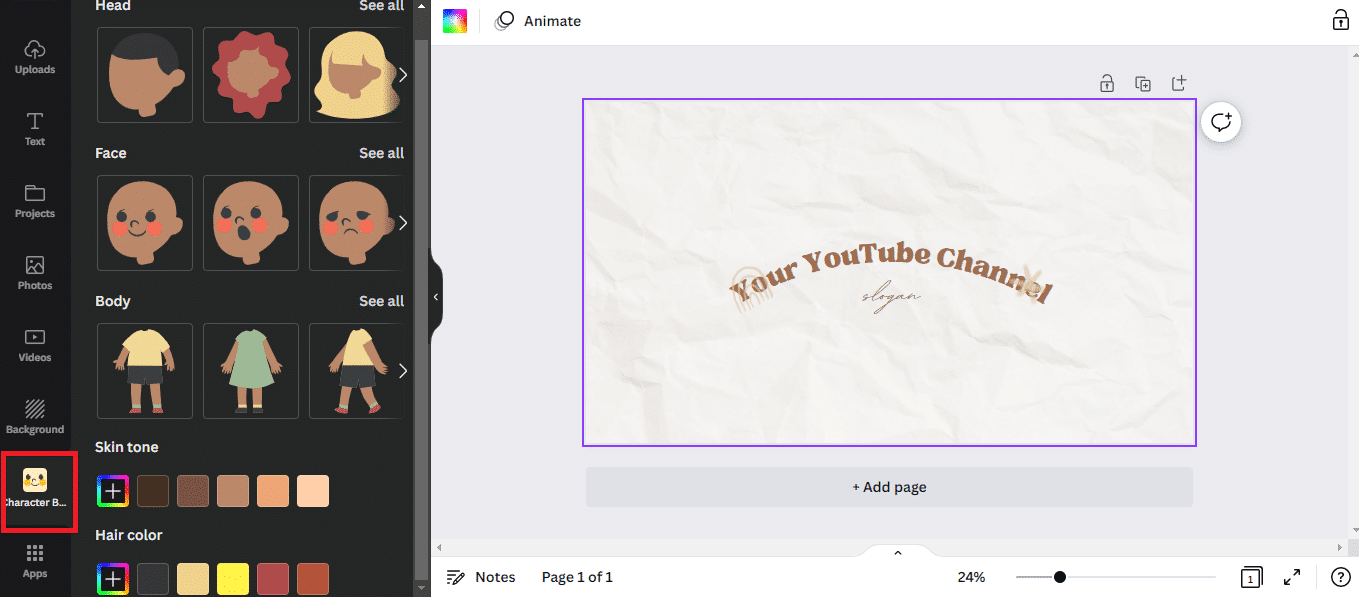 By using Canva's character builder, you can create a character for your banner and style it to resemble your brand or a popular character from the video content itself. Thus, you can use this tool to introduce your YouTube channel in a fun and creative way to boost engagement with your videos.
In addition to the features mentioned above, Canva also offers some useful apps that you can use for your YouTube banner. These apps generate engagement and traffic, increasing the performance of your YouTube channel and videos.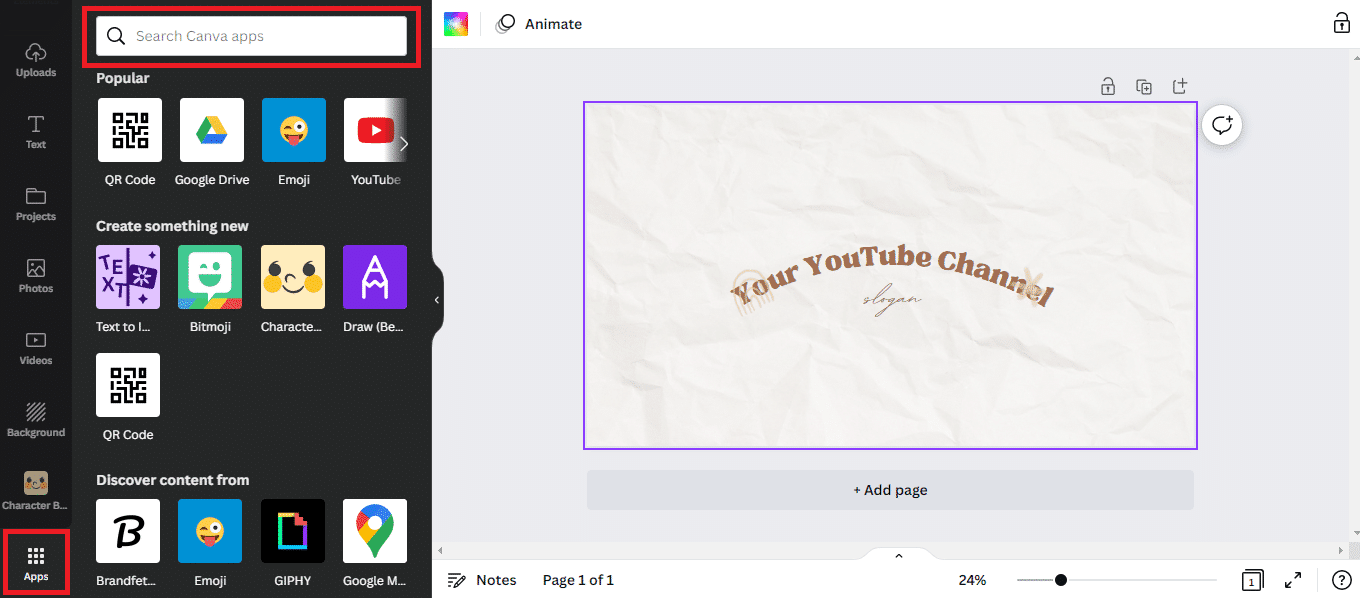 For example, you can add a QR code that acts as a subscribe button or leads to your business website.
You can even customize it to promote your other social media platforms or products.
Save and Download Your YouTube Channel Art
Once you have completed designing your YouTube channel art, you can save it to your device's hard drive or cloud storage so you can access it from anywhere.
Canva enables you to download your design as JPG, PNG, and PDF. If you're using a paid plan, you can also download your YouTube banners in SVG format.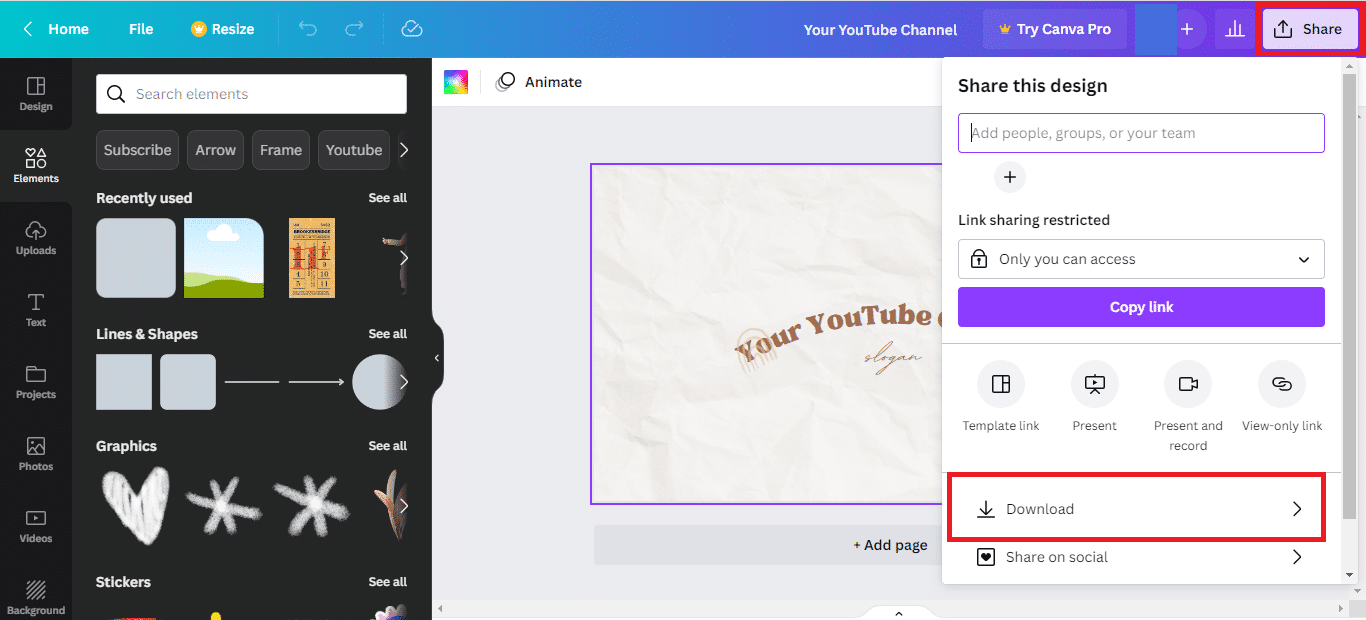 To download your banner image file:
Click on "Share" in the top right corner of the screen.
Then click download.
Select the file type from the drop-down menu.
Download and save your YouTube banner image.
After you save your design, you can upload it to your channel and make it more personal for your content and business.
How to Make a YouTube Banner with Adobe Photoshop
If you have design experience, another answer to how to make a YouTube banner is to utilize Adobe Photoshop. You can use Photoshop Elements Organizer to create a banner from scratch or use the organization's YouTube banner templates as a starting point.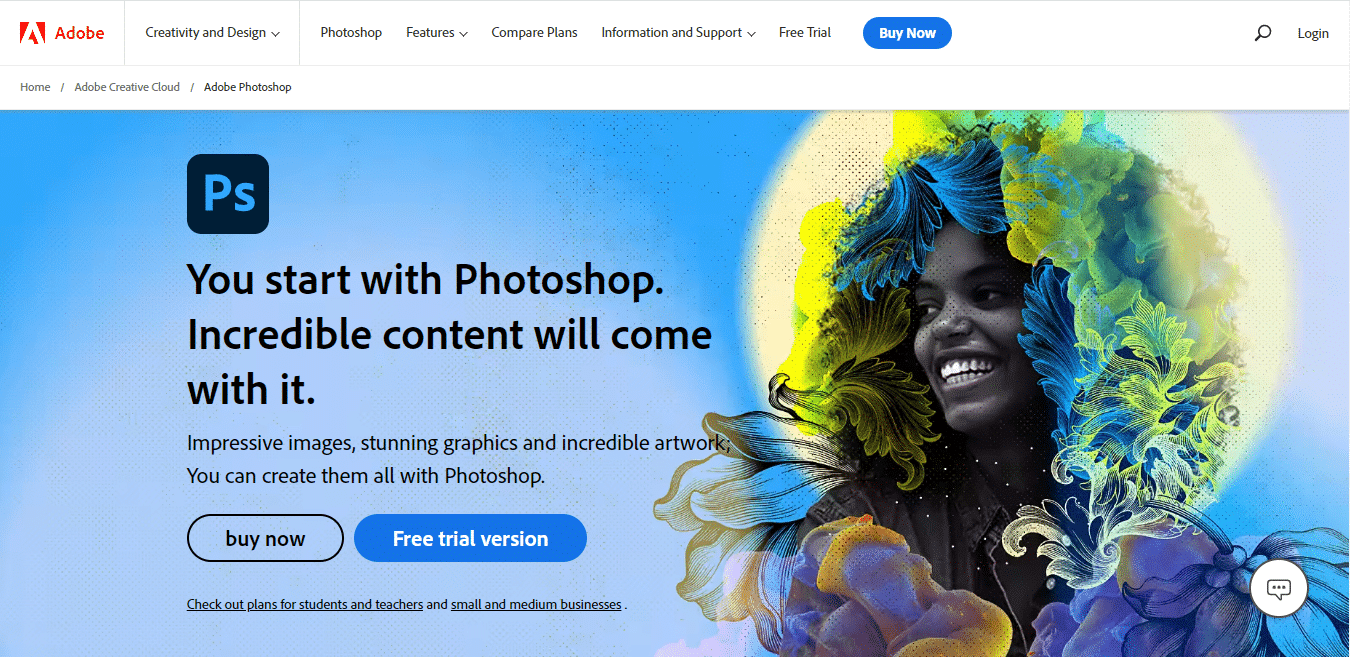 You can also create a basic banner by referring to one of the many tutorials available online.
Tips for Creating a Great YouTube Banner
There are a few things you need to consider before creating YouTube channel art. These ensure it looks great on all devices, whether it's a smart TV or a mobile device.
Use High-Quality Images on YouTube Banners
To create effective YouTube channel art, you must use high-quality images. A low-quality image looks unprofessional and may deter potential viewers. So, make sure your images are high-resolution and carefully cropped to remove unnecessary borders.

YouTube Creators' banner is an ideal example of using high-quality image for channel art. YouTube creators' diversity of content is reflected in the variety of their images.
Include Call-to-Action for Your Viewers
YouTube channel art should communicate your content and encourage existing and new viewers to take action. By including a simple call-to-action, you can encourage users to check out your content or products.

Dior used this technique on their channel art to promote their Ready-to-Wear Show.
Use Proper YouTube Banner Sizes
You need to consider YouTube banner dimensions while creating your channel art.
The correct dimensions should be 2560 x 1440 pixels, but if you're not sure how to use it, you can keep it visible in the YouTube banner safe area. This way you can ensure your banner appears properly on mobile apps, computer or TV screens, and other devices.
Incorporate Color Schemes
The use of color is an effective way to communicate a message and bring your content to life. In addition to banners, you can use them for your logo, profile picture, and other content to increase brand awareness on YouTube.
You can use the colors of your brand to convey a sense of consistency and identity to your viewers across your social media channels.

A great example of color usage is Vegthings on YouTube. They utilize the same colors in their logo, profile picture, and banner to create an aesthetic appearance for their channel.
FAQs
To sum up, here are answers to the most asked questions about how to make a YouTube banner.
How Can You Make YouTube Banner Art?
There are several ways you can design a banner for your channel. You can use an app or online site to develop your own design or customize existing templates to make it unique. You can also hire a professional designer to make a banner.
Are YouTube Banner Templates Free?
There are many sites that offer free templates, which means you don't have to invest in them. However, paid versions typically provide more advanced features and a better banner template.
What is a Good YouTube Banner?
A banner is a type of advertising medium for a channel that serves as a call-to-action, promoting a video or product to viewers. So, it should attract YouTube users and encourage engagement while also promoting the channel. It should be appealing and eye-catching as well as interactive.
What to Include in YouTube Banner Design?
There are no must-dos when it comes to creating the perfect banner for your channel. You can try different shapes, pictures, fonts, colors, and other elements to enhance your YouTube presence and engagement. You can include your brand logo, catchphrase, or website link of your online business.
Should You Use YouTube Channel Name on Banner Art?
It depends on your preferences. Generally, you can use your channel name and add a logo or some text but make sure it's visible and readable on any device.
What is the Recommended YouTube Banner Size?
The ideal YouTube banner size is 2560 x 1440 pixels with an aspect ratio of 16:9 to optimize the visual layout and content on the screen.
How to Change a YouTube Banner?
The banner on your channel can be edited using the "Customize" feature of your YouTube account.

Click on the photography icon or select "Customize channel" once you view your channel page to upload a banner image.

Once you upload an image with the proper YouTube banner size, complete the process with "Save".
What is the Best YouTube Banner Creator App?
The best app is the one that offers the most comprehensive toolkit and resources to make a successful YouTube banner. If you're new to creating banners or any design, the most suitable option would be Canva.
What is the Best Format for a YouTube Banner?
YouTube banners can be submitted in JPG, PNG, BMP, and non-animated GIF formats. The file size of all YouTube banners must not exceed 6MB.
What are the Best Colors for YouTube Banner Art?
The most popular ones are complementary colors, and it's ideal to choose two or three of them as your main colors to reflect your channel personality. Many people use one of the four elements of nature—red, green, blue, and black.
Why Should You Use a YouTube Banner?
A YouTube banner can help your channel's growth and visibility and increase brand awareness. A well-designed banner can encourage your subscribers and new viewers to watch your videos and engage with your content. They're also useful for advertising your products or services.
Can You Add Links to Channel Art?
Yes, you can add links to your banner design as text. You can also utilize the "Add Link" feature so that people can view your links once they click on them.