YouTube platform is the second largest online media website, with more than 15 billion monthly visits. People watch, listen, and learn on YouTube directly. It has become part of our everyday lives.
With many visitors on YouTube, the chance to attract more views is a hard job. So, to get more views naturally on YouTube is not an easy process that can take a lot of effort and years.
To stand out on YouTube with more views, I have piled five methods for you in this blog.
I will give details and hints on each method for creating videos and encouraging viewers to grow views of your channel page.
After reading this article, I am sure you will be enlightened about getting more views and start taking action to promote your content.
Here is a list of how to get more views on YouTube in 5 methods:
Unique content
Visual Content
Research
Effort
YouTube Community Tab
Self-Promote
Social Media Marketing
Now, let us look at some important details and each method to easily get views on YouTube.
1- Unique Content for more YouTube Views
What Makes Your Content Attractive to View On YouTube?
This blog covers the seven most effective methods to get more views for your YouTube content. Below, you will see one of the most viewed videos on YouTube. Let's explore it.
Start by thinking about your strengths and areas of passion. You have a high chance of creating videos in that area and creating high-quality material if you're passionate about a particular subject.
Check to see whether there is interest in that subject. You may search for it by using keyword planners and keyword explorers.
Understand the rivals in that market. Watch the most popular YouTube videos to find inspiration for better works.
Think about target audiences to attract as well. What information will pique their interest? Also, you can check out the videos currently popular among your competitors. Why do their videos catch viewers, you might wonder.
Finally, think about your YouTube channel's objectives. What do you want your video production to accomplish? After considering each aspect, you can decide on the niche to focus on. Then, highlight your channel's specialized niche on the home page.
Good video content and YouTube content is significant to attract viewers to your channel. Remember that you compete with thousands of YouTube channels, so your content needs interesting and attractive topics to stand out.
2-Visual Content to Get More YouTube Views
Attractive Visual Content Like Titles, Thumbnails, and Playlists
The presentation of your videos is a key component of YouTube marketing, and their titles greatly influence the performance of your videos.
The secret is to develop attention-grabbing titles so your audience immediately finds your content appealing and informative.
For this reason, catchy video titles are a must if you want to get more views on YouTube.
Since YouTube's research shows that titles substantially impact a video's success, creating compelling titles is essential. Here is advice on how to create video titles that get lots of clicks:
Put brackets or parenthesis at the end of your title to enhance the video views rate.
Include numerical elements in your title: Use numbers to highlight any pertinent numerical elements in your video, such as advice, methods, steps, weight reduction, etc. This raises awareness and establishes clear expectations.
Limit the length of your titles to 50 characters max: According to Justin Briggs' research, YouTube search results favor videos with under 50 characters long titles.
The Qualities Listed Below Make an Engaging Thumbnail:
In the discovery mode, while scrolling through search results and recommendations, viewers' use of custom thumbnails significantly influences their choices.
According to YouTube, 90% of the most popular videos on the platform use custom thumbnails. So, creating custom thumbnails is important to attract direct viewers.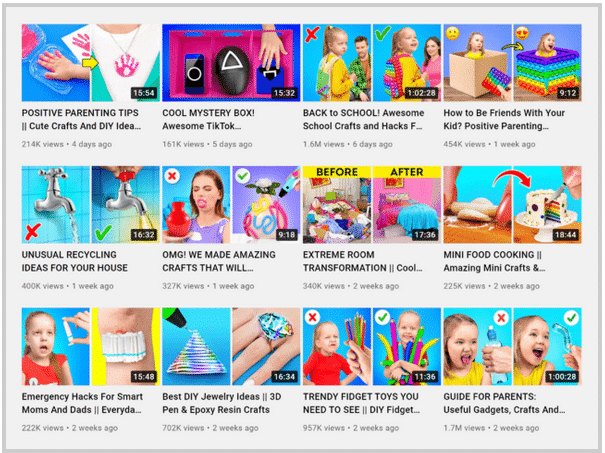 The thumbnail accurately represents the substance of the video to viewers without fooling them. Incorrect thumbnails may reduce watch time and impair the algorithm performance of your movie.
Your video thumbnail draws the viewer's attention by standing out among the other videos. Using vivid colors or contrasting tones can make the thumbnail stand out from YouTube's red-white-and-black color scheme.
The thumbnail completes and combines well with the title of the video. Both components should convey a consistent message and encourage visitors to click and view the video.
Use Related Keywords: our custom thumbnail should contain keywords similar to your video's title that accurately represent the content of your video.
A YouTube playlist can also make your channel attractive and bring out more views.
A playlist is a selection of videos that are frequently themed. Playlists can be used to organize content and direct users to particular videos. They can be discovered by visitors in the Playlists area of your channel.
Playlists work well because it is auto-play and make it easier for your viewer to skip to the next and play each time a video ends automatically. So, this option gets you more subscribers and more YouTube views on your videos.
3- Analytic Research to Attract more YouTube Views
Do Your Research About How to Get More Views
Not just subscribers and people who are already interested in your channel (though we'll go into that later), ranking in search results is the best way to get fresh eyes on your videos.
However, it is simpler said than done. So, what can you do to raise your videos' position in YouTube searches?
Research. You should use a program like Google Keyword Planner for two reasons (remember, you'll need a Google Ads account):
Examine search patterns to identify which target keywords to use. Have a lot of search queries but few videos, which is frequently referred to as low competition, and utilize that information to create your next video.
Read through YouTube SEO rules before you start posting your entire video. Make sure you regularly review YouTube analytics.
Use these relevant keywords in your search engine, such as the title, tags, description text, and subtitles of your movie.
Search engines are a great way to start searching for video ideas. For example, once you pick your content topic, you can search for some suggested videos and related videos on the Google search engine.
Always keep in mind that your ideal audience is the most important consideration—YouTube's algorithms don't care whether your entire YouTube video is technically "good." It is concerned if a certain user wants to watch it. Users generally prefer to watch "good" videos despite this.
4- Show Effort to Get More YouTube Views
Consistent Effort For a Long-time Presence
If you strongly desire your videos to stand out from the other users, you must constantly upload a new video to your YouTube channel.
Don't give up; keep producing fascinating and engaging material, remain active on the platform, and gradually, you'll see a rise in YouTube subscribers who will become your new video viewers.
You can produce a sizable number of views and profit from YouTube as soon as that happens.
Think like Google when producing high-quality videos that connect with your target audience to optimize your earning potential. Alternatively, get a little Cinderella help from Views4You.
5-YouTube Community Tab that Shows more Interset by Adding YouTube Views
Strong Relations With the YouTube Community
"audience engagement" is another way to say "relationship building." Of course, the objective here is to increase YouTube views reasonably, naturally, and long-termly.
Interacting with other YouTube users—content creators or commenters—increases the likelihood that they will be interested in your business, subscribe to your channel, and watch more of your videos.
Starting a two-way dialogue by using the community tab could be accomplished by:
Activating comments and responding to them (it's polite to do so!)
Hold a YouTube competition.
Create reaction videos
Add stuff from other people to your videos (with their permission).
Ask questions and seek suggestions
In your videos, thank your viewers
Reply to each comment that the viewer makes
6-Self-Promote and Earn More YouTube Views
Promote Your Channel
Promote your videos on other social media channels.
Post a brief teaser video using native video to your social media sites, along with a link to the longer version of the videos on YouTube.
Remember that you won't want to share identical content on all your social media platforms.
You may further advertise your channel by generating YouTube badges on your website using YouTube APIs. Outlets like Reddit or Quora can be useful.
A scheduling service like Views4You is the ideal way to create and schedule those updates for your followers, short of hiring an assistant to manage your social media.
You also promote your videos with YouTube video descriptions. Use related keywords, YouTube video tags, and create playlists and playlist titles.
-Be natural in your video description; people will read what you've written for the video content. It shouldn't only be about the robotic codes.
-Say something about the video's worth and pique people's interest in what's inside.
-When composing the video description, use the keywords that you used in the title and YouTube tags section. Regarding ranking, YouTube considers titles and descriptions to be two separate areas.
7-Social Media Marketing Help your YouTube views Increase
Purchasing YouTube Video View Packages
Purchasing social media promotion bundles is a great way of increasing the views on YouTube videos.
To avoid fake and bot views from the YouTube algorithm, buying your view packages from a trusted social media platform services provider is strongly recommended.
For example, Views4You is one of the greatest ones to purchase from. It is the most preferred social media service provider by many influencers and channel owners.
If you want to see the highest number of views on your channel homepage, it is a brilliant idea to boost up your videos with their affordable view packages.
As I mentioned above, it is critical to choose a trustworthy provider. The views must be non-fake and bot-free to avoid the detection of YouTube's algorithm.
You have to remember that YouTube can detect fake views, eliminate them from your channel, and terminate your account if there are any fake views on your account.
Views4You offers you a trustworthy bundle with bot-free views. I strongly suggest you to try them. They also have free-view trials before you purchase to see how to get more views on YouTube and progress on your views.
Last Words
You now know how to raise your YouTube views, just like we did when we first started looking for solutions to obtaining more views on YouTube.
The most crucial factor is producing compelling content that viewers want to watch. You'll be well on your way to YouTube success if you can accomplish that.
Another important factor is a constant effort to post more videos for maximum exposure and views.
To double your efforts thus far, don't forget to purchase YouTube views, likes, and subscribers from Views4You!
FAQs
How long does it take to boost my views on YouTube?
If you want to boost it naturally, it will take 3 to 6 months. But if you buy real views, it will reach its potential in just a couple of weeks.
What factors do affect not getting viewed?
1. Failing to make visually appealing thumbnails for your movies
2. Only paying attention to views and subscribers
3. Failing to explore the content;
4. Failing to seek out alternatives
5. Producing videos without doing any research
6. Not making introduction videos
What are the most important factors in getting more views on YouTube?
1. Eye-catching Title and attractive Thumbnails
2. Audience retention
2. Improving the description of the video and YouTube channel
3. Optimize videos for likes, subscribers, and comments
4. Establishing Playlists
5. Search for other YouTube creators
6. Building relations with viewers
7. Promote your channel
8. Purchasing a social media marketing campaign
What is the most viewed video content on YouTube?
Kids Channel and kid-related content
How to videos
Music videos
Travel videos
Funny videos
Shopping and make-up videos
Vlogs
Educational and informative videos
Product reviews
Video games
These are some of the most watched video content on YouTube.