The freedom that music streaming provides is one of its many benefits. You aren't bound to a particular music collection, unlike traditional music libraries. If you're looking to move to a different music streaming service, you can cancel your subscription membership to the one you currently use. While choosing a streaming service, there are a number of things to take into account, such as offline listening and ad-free experiences. The well-known option, YouTube Music Premium, offers a huge selection of music, playlists, and features. It might not, however, satisfy everyone's needs.
You can choose to end your YouTube Music subscription for your own reasons, such as the desire to test an alternative audio interface or worries you have regarding Google's vast data-collecting practices. We will explain how to cancel YouTube Music membership in this post in a simple procedure that won't take much time.
You may cancel your YouTube Music Premium subscription using a desktop computer or an Android or iOS smartphone. To do this, you will need to log into your account settings and use the "Cancel Membership" option. Remember that if you decide to cancel your membership, you will no longer have access to some services and materials, including ad-free music playback and many more.
Cancel the Subscription Through your Desktop Browser:
To cancel the subscription, follow these steps:
Open YouTube Music web player.
Next, tap on the profile picture icon.
Now tap Paid memberships to access the paid memberships page.
Next, tap Manage Membership beside the YouTube Music subscription information.
Now, hit Deactivate beside your next billing date.
Next, tap Continue to Cancel. You will be asked if you wish to Pause membership instead.
Tap Yes, cancel to complete the process.
Cancel YouTube Music Subscription Through the Android app:
To cancel the subscription, follow these steps:
Click the profile picture.
Choose Paid memberships.
Now, tap the paid membership you wish to cancel.
Next, click Deactivate beside the listed billing cycle.
Tap Continue to reach the next step.
Now choose the reason for canceling and click Next.
Click Yes, cancel and you're all done.
Cancel YouTube Music Through the iOS app:
You can cancel the YouTube Music paid subscription through two methods on iOS:
1-You can use your web browser and follow the steps given above. You can follow this method in case you are billed for the paid subscription via Google.
2-If you are billed via Apple, as you joined via YouTube app or YouTube Music app, you can cancel subscription from the Apple account settings. To find the option, go to Settings, then click the profile picture, then Subscriptions, then YouTube Music. Finally, tap Cancel membership. Still, you have access to the platform's services until the end of the trial period or billing period.
FAQ
Are there any other alternatives to consider?
You are free to check out alternative music streaming services after terminating your YT Music membership. A number of family and group plans are available including Apple Music, Google Play Music, Amazon Music, and Spotify.
Searching the Google Play Store or the App Store will provide a ton of possibilities. It is simple to reactivate your YT Music membership if you cannot find a better suitable option.
What is the cost of subscribing to YouTube music?
Both on a computer and a mobile, YouTube Music is free to use. But a monthly membership is required if you want additional benefits like background play, the option to download music for offline listening, and an uninterrupted listening experience.
For a single user, the service is $99.99 USD per year or $9.99 USD per month. To help you save money, there are various programs available. For instance, if you choose the family plan, which costs $14.99 USD per month, you may split the cost with up to six other YouTube account holders as long as they share the same home. As an alternative, you can enroll in the student plan for just $4.99 USD per month if you're a student.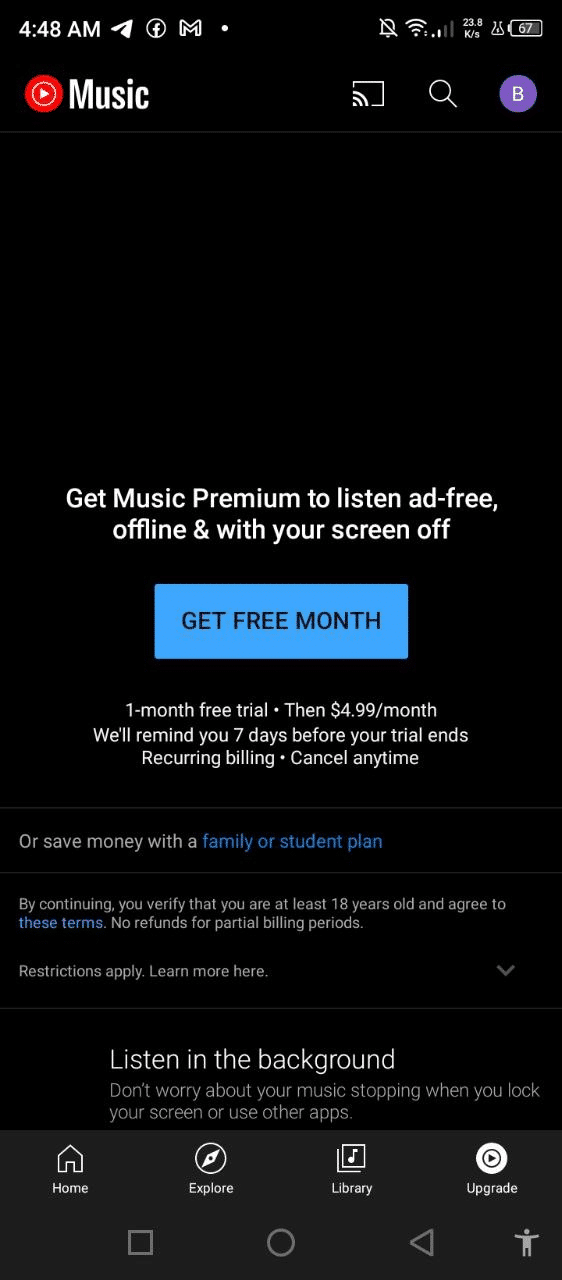 Can I get a refund for canceling YouTube premium?
When canceling a YouTube Music Premium membership, you will not get a refund for the time between when you delete and when the membership ends.
If any perks associated with your premium plan are not functioning, you may be eligible for a refund.
YouTube premium vs YouTube music: What's the difference?
Even though they are owned by the same company, YouTube Premium and YouTube Music Premium are two different options.
For example, YouTube Premium features are:
* Watch videos without ads.
* You may use the picture-in-picture (PiP) mode or let videos play in the background while using the YouTube mobile app.
* Download videos to watch offline.
* Use YouTube Music Premium without any extra money.
* View YouTube Original content without any extra fees.
YouTube Music Premium offers you ad-free content, but only on the YouTube Music app or site. Here are some more YouTube Music Premium benefits:
* Downloading music and clips songs and videos to listen and watch them offline.
* Playing music in the background or even when the mobile device is off-screen.
* Use Audio-Only mode to play music without playing their clips.
* The benefits continue until the current billing period ends.
* Listening to songs without ads.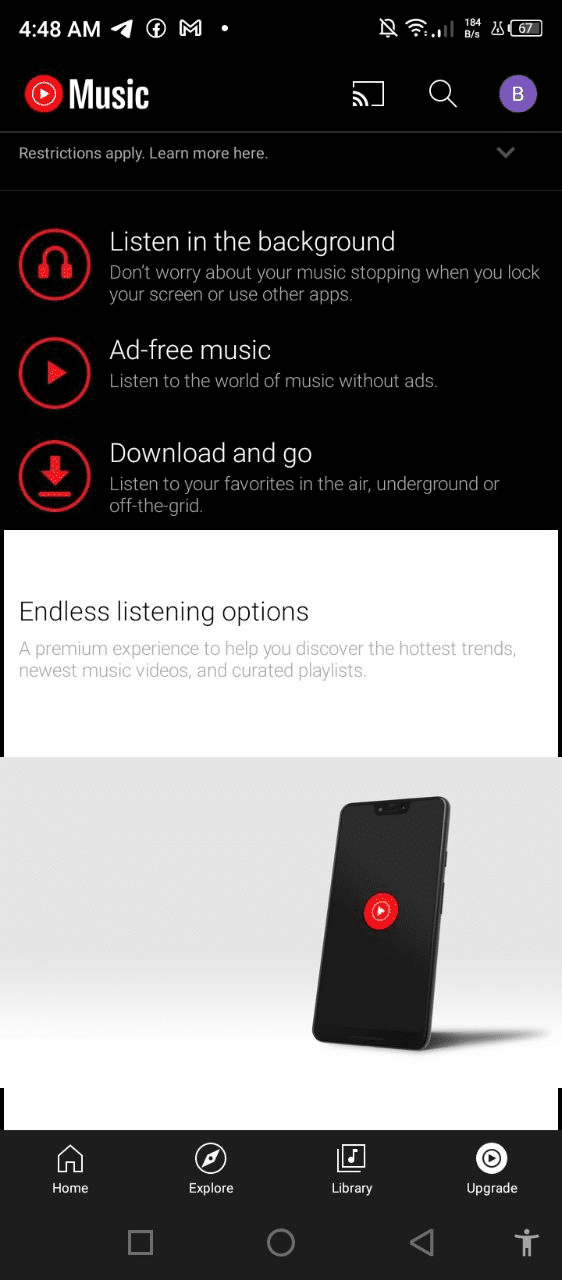 How to cancel a YouTube music-free account?
Closing a YouTube music account is a simple process. Please follow these steps:

1. Go to your YouTube channel/ account, then to the YouTube Studio dashboard.
2. Go to "Settings".
3. Now, hit "Channel", then "Advanced Settings."
4. Move down and tap the "Delete Channel" button.
5. Follow the instructions to confirm the deletion.