Humans require music to function, and music channels can be accessed anytime, anywhere, on various gadgets, including smartphones, earbuds, TVs, and laptops. Because it offers many features, like creating your own playlist, downloading songs, listening to music without ads, and choosing offline, most users purchase subscriptions from music streaming providers. YouTube Music is a well-known popular music streaming service. Even if YouTube Music Premium allows for enormous specializations, you still want to terminate your subscription because Spotify, Apple Music, and other music streaming services have captured your attention.
You've decided to cancel your YouTube Music premium subscription, but you're unsure how. In this blog, we'll walk you through the process of easily canceling your music subscription on any number of devices. Observe the information below:
Cancel the Subscription Through Desktop Browser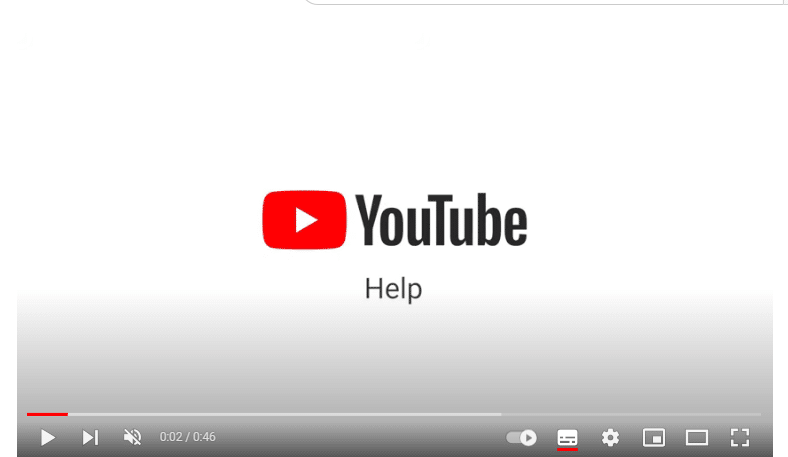 Follow these procedures to end your subscription:
Simply enter youtube.com/paid_memberships on the Google page.
On your computer, launch the YouTube Music web player.
Click the symbol for your profile photo.
To reach the paid memberships page, select "Paid Memberships".
Then click the "Manage Membership" option.
Click "Deactivate" next to your next billing date to finish.
Then select "Continue to Cancel." Instead, you will be prompted to "Pause Membership."
To finish, select Yes and then cancel.
Here are the instructions in picture form to stop your YouTube music subscription: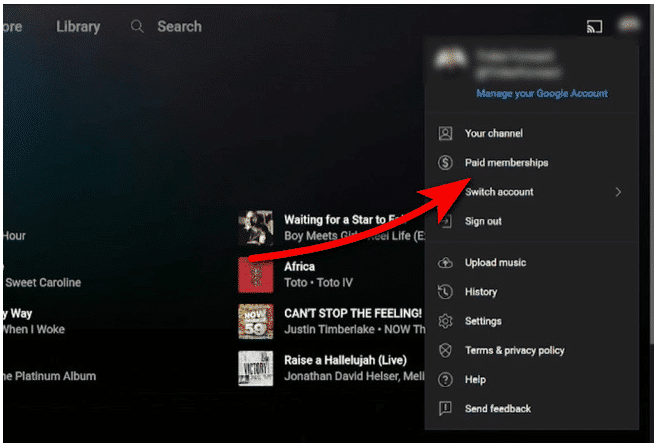 After selecting paid memberships option, click on manage membership and deactivate your subscription.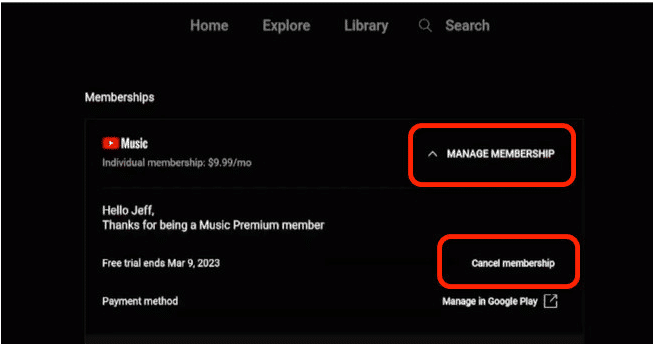 How to Cancel YouTube Music If You Are an Android User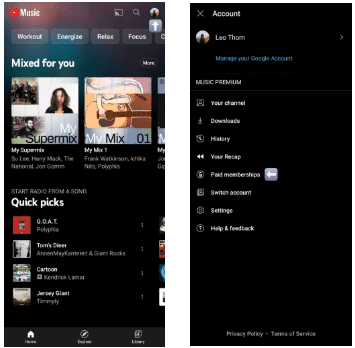 You must install the YouTube app on your Android smartphone to cancel your YouTube music premium membership.
1. Select the profile photo.
2.'Paid Memberships' should be selected.
3. At this point, tap the paid membership you want to cancel.
4-After that, click "Deactivate" next to the listed billing cycle.
5-Tap on to go to the following step.
6-After that, select your cancellation reason and press Next.
7-Click Yes, then click Cancel to finish.
How to Stop YouTube Music Subscription on iOS:
You can end your paid YouTube Music subscription on iOS by visiting the account settings section of your Apple ID. But you need the YouTube Music app on your iPhone. Before proceeding, you must first enter your Apple ID credentials;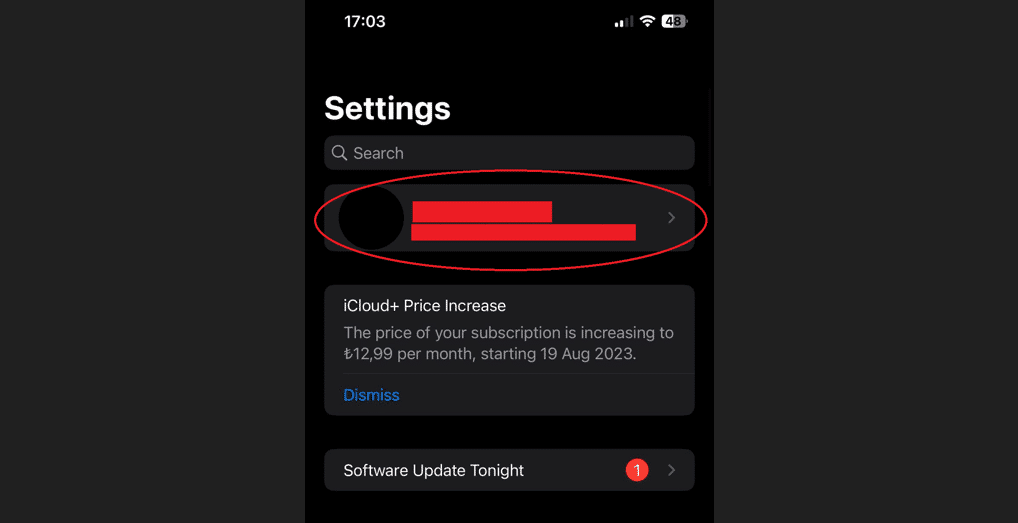 Then choose subscriptions where the circled part is.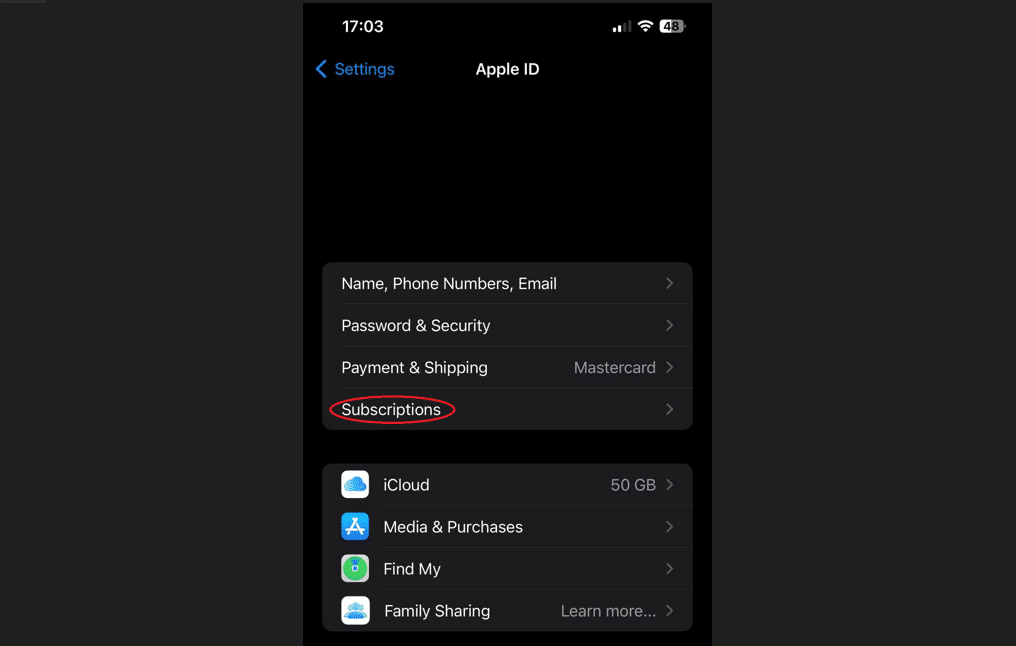 1- Access the Settings app on your iPhone,
2-Click the Media & Purchases area under Apple ID, iCloud+, and your profile image.
three subscriptions, some YouTube Music,
3-A cancellation window will appear.
4-Click the cancel membership option to finalize the cancellation.
You can still use the platform's services until your subscription's trial period or billing cycle expires.
FAQ
What does a subscription to YouTube Music cost?
You can use YouTube Music for free to start. However, a monthly membership is necessary if you want extra features like background playback, music downloads, offline listening, and ad-free listening.
The service cost for a single account is $9.99 USD per month or $99.99 USD per year. A family package that allows you to create up to six YouTube account holders costs $14.99 USD each month. If you're a student, you can instead sign up for the student plan, which costs just $4.99 USD a month.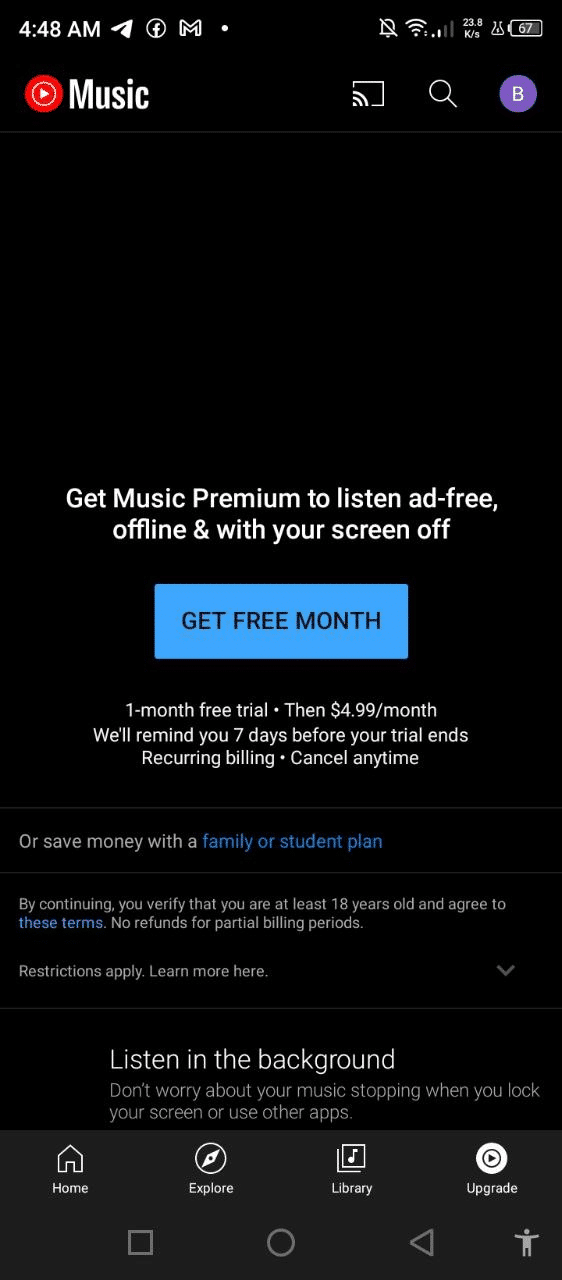 Can I cancel YouTube Premium and receive a refund?
You won't receive a refund if you cancel a YouTube Music Premium subscription for the period of time between when you delete and when it expires.
YouTube premium vs YouTube music: What's the difference?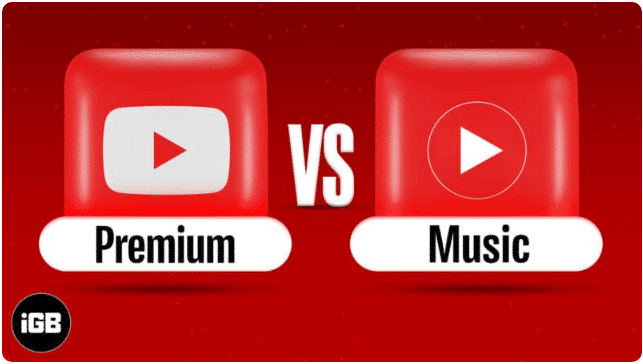 The two alternatives, YouTube Premium and YouTube Music Premium, are distinct even though they are both owned by the same business.
For illustration, YouTube Premium provides:
Watch the commercial-free video.
When using the YouTube mobile app, you can watch videos in picture-in-picture (PiP) mode or with the background playing.
To watch videos offline, download them.
Use YouTube Music Premium without spending any more funds.
Watch YouTube Originals without paying anything extra.
You can access ad-free content with YouTube Music Premium, but only on the YouTube Music website or app. Here are a few other advantages of YouTube Music Premium:
Obtaining music, video, and audio clips for offline listening and viewing.
Background music or even when the mobile device's screen is off.
How can I terminate my free YouTube Music account?
It's easy to cancel a free YouTube music membership. Please take these actions:
Visit the YouTube Studio dashboard after logging into your YouTube music account.
"Settings" should be accessed.
Select "Channel" now, followed by "Advanced Settings."
Tap the "Delete Channel" button by descending.
To confirm the deletion, adhere to the directions.