Making money on YouTube can be challenging, especially for novices. They cannot start getting income when they create their YouTube account or share multiple videos. YouTube content creators who want to become popular influencers must meet various criteria. Yet, firstly, they need to know the answer to how many views on YouTube to make money. After you learn the number of views, you can develop a marketing strategy to be successful quickly.
YouTube views are the primary source to earn money on the platform; thus, you should keep your eyes peeled and collect all the tips I mentioned in the blog post.
How Many YouTube Views Do You Need to Make Money?
It is possible to notice that you begin to earn money for every 1,000 YouTube video ad views, not just video views. Your audience should click or watch at least 10, 15, or 30 seconds of the ads- it changes according to ad types- to get paid for views. Engagement is the key factor in making money from the YouTube platform. Yet, this can happen after you are accepted to YouTube Partner Program, which is necessary to get YouTube earnings and benefit from other revenue streams. To make a big buck, you must have 100,000 ad views for every video.
Before diving into mathematical processes, I'll explain the criteria of YouTube's Partner Program to support you in this journey.
Prerequisite: Participate in The YouTube Partner Program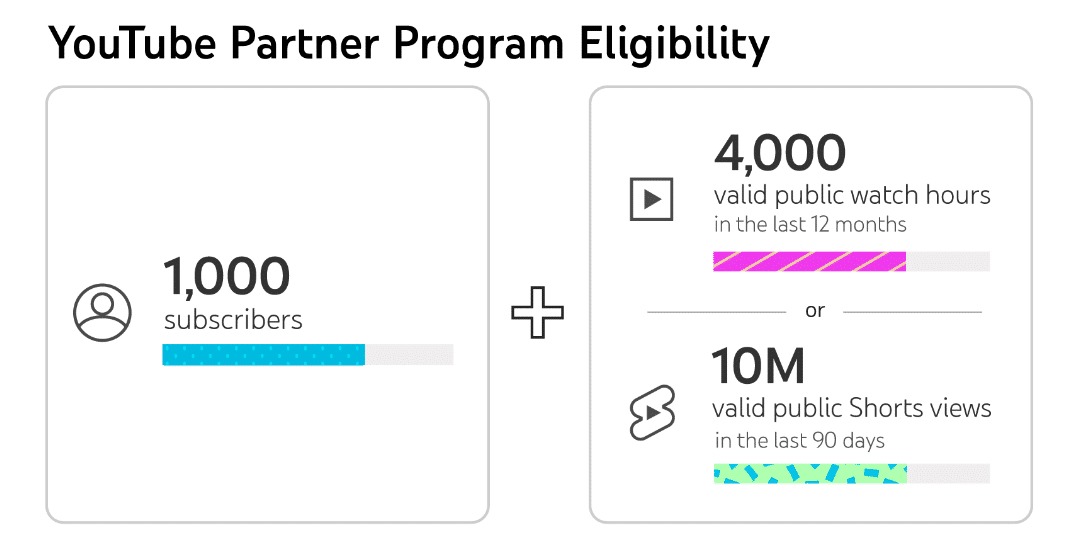 As mentioned above, earning money on the platform is impossible before you join YouTube Partner Program. Let's check the requirements.
A YouTuber needs to live in a country where YPP is accessible.
Read the monetization policies of YouTube channels.
A YouTube channel has to be connected to Google AdSense account.
Content creators must obey the rules of Community Guidelines.
Get 1,000 subscribers on your YouTube channel.
Publicly gained 4,000 watch hours in the recent year or 10,000,000 Shorts views during the past 90 days.
As a last phase, video creators should sign the terms and conditions to agree with the requirements of the YouTube Partner Program.
After you complete your application, an expert team will review your channel and decide on whether you meet the criteria. When the YouTube team approves you, you can start making money as an eligible creator. Congrats!
YouTube Shorts or Traditional Video Views
Some YouTube creators prefer sharing only YouTube shorts on the platform. However, your ad revenue can be less than traditional video content. As its name signifies, these videos are short- up to 60 seconds; therefore, putting several ads is impossible.
The ads can be viewed between YouTube videos in the Shorts Feed. You should be eligible to earn money from Shorts like traditional videos. Unauthentic Shorts, like unedited movies or TV show clips, fake views, or unfit for the ads guideline of the platform, cannot be accepted. YouTube pays $0.04 per 1000 Shorts views if you are an eligible content creator.
Traditional content- longer videos can be more profitable because creators can add more than one ad to their clips. After you fulfill the criteria of the YouTube Partner Program, you start earning money from ads. Advertisers pay $0.01-0.03 per each view; an average YouTuber makes $0.018 for each ad view, which is $18=1,000 ad views. Choose ad types and numbers and video format wisely to earn a fortune.
1+ Million Views
If you are a newbie on the YouTube platform, you have a challenging and long way to reach 1 million views on your videos. Start with reaching out to the requirements of the YouTube Partner Program and then 1,000 views for each new video. Earning between $2 and $20 per thousand ad views is possible.
If you have chosen your niche cleverly and applied various strategies to your channel quickly, you can reach 100,000 ad views on each video. You can earn more money, approximately $120-2,000.
If you proceed consistently, even you can reach 1 million views, which means making the big bucks. This also comes to indicate you have reached the milestone. Now, officially you are an influencer on the YouTube platform. It is possible to benefit from influencer marketing, sponsorships, live streams, and other revenue streams. Your estimated YouTube earning can be $1,200-$6,000 per every million views.
How to Make Money From YouTube Videos: Ad Views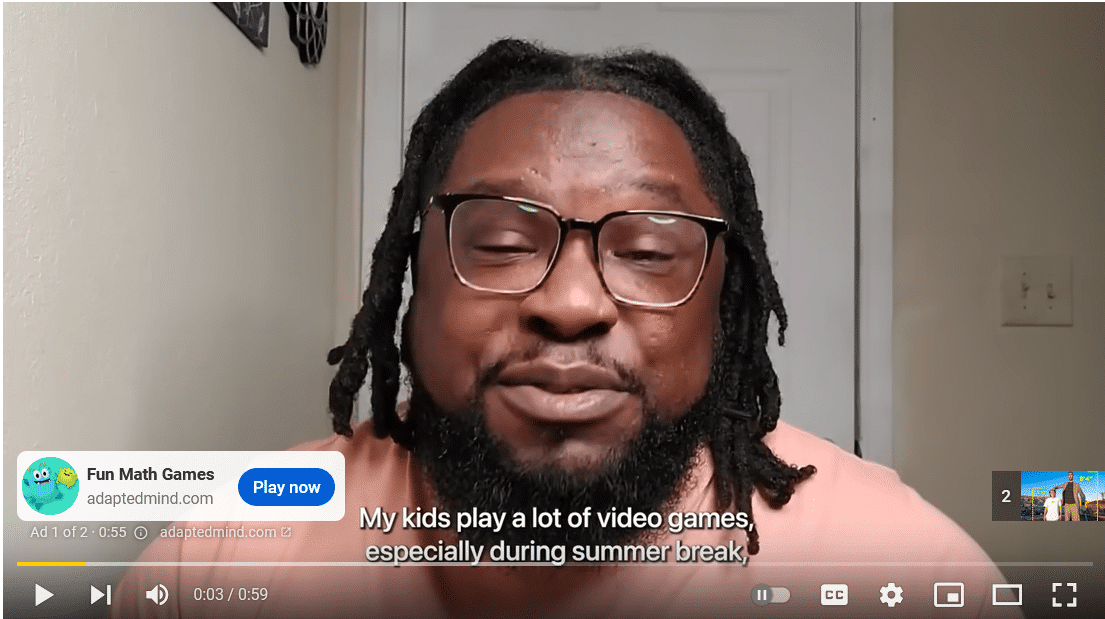 Now you know how many views on YouTube to make money, it is time to go deeper into ad revenue.
After you have joined YouTube Partner Program, you will start earning money per 1,000 ad views which is a CPM of a YouTuber. However, the YouTube pay rate can change according to your niche, content, posting frequency, etc. Eligible content creators can calculate their daily, weekly, monthly, and yearly incomes by looking at how much YouTubers make money from 1,000 ad views.
You should know ad sorts and factors that affect your ad revenue to create a successful YouTube channel and career.
Strategically Utilize the Full Menu of Ads
YouTube stars utilize various ad types to generate revenue from advertisements. According to your choices, the revenue generated from ads can vary; thus, you should choose which types you prefer for your new videos. If you pick the winners, beyond doubt, you can earn big bucks on the YouTube platform.
Back-to-Back Ads: These are multiple ads; it is possible to see one after another.
Bumper Ads: These are short and unskippable ads at the beginning of video content.
Non-skippable Ads: These are not skippable, and approximately one ad takes 20 seconds.
Skippable Ads: These ads are more prolonged than non-skippable ones, and you can skip them roughly 5 seconds later.
After you create videos and upload them to the platform, you must profit from them. The most efficient and easy way is to add ads to earn money from a video view. You can pick the video you want to place ads and activate the monetization features from YouTube Studio. It is possible to set your monetization preferences, including ad formats.
To boost viewers' watch time, a YouTuber can add up to 4 ads to a 20 minutes video. One can be a pre-roll ad that is skippable and short. It is possible to add mid-roll ads lasting between 7-15 minutes. At the end of the content, you can prefer adding one end-screen ad to promote your channel or videos.
The Factors Affecting Ad Revenue
Your ad income isn't only subject to how many subscribers or views you have. There are various parameters to affect the ad revenue of a YouTuber. If you want to be one step ahead of other YouTubers, you can pay attention to other factors mentioned below.
Count of the Video Views: The number of views that your videos receive is not vital for ad revenue. Your fans have to watch most parts of your video so you can earn money from video views.
Putting Ads Strategically: You should place ads strategically to create natural breaks in your videos. It is possible to obtain a positive viewer experience if you put various ads in the correct places.
Picking the Most Suitable Ads: Using the best-fit ad in your videos is crucial for monetization strategies. I suggest you avoid stocking your videos with many ads; therefore, you don't lose your viewer's attention. The best choice is, generally, one pre-roll, 2-3 mid-roll (depending on video length), and one end-screen ad.
Tapping Counts of YouTube Ads: Advertiser pays for both clicking and viewing counts; thus, you must direct your fans to tap the YouTube ads to make money. You can specify the ads according to your niche because they must address your fans' fields of interest to make them click on ads.
Choosing a Niche: Picking a niche can be challenging when you consider your passion, interest, and of course, income. The ad revenue can alter according to your niche. For example, personal finance, games, life hacks, and technology channels earn more than other areas- roughly $11-14 per 1,000 views. Pick the perfect niche and create a viral video to prove yourself.
Length of YouTube Videos: Uploading longer videos on YouTube can attract you in terms of ad revenue. However, if you cannot place ads strategically or pick the correct ones, your video content may lose its effect. While creating videos, make a point of both the length of the content and the placement of ads. If you put superabundant, irrelevant ads on a video, you may spoil the viewer experience.
Ad Blocker Tools: More than 40% of YouTube users utilize ad blocker tools to abstain from seeing many ads while watching videos. This situation can damage an eligible content creator's ad income, the primary source of making big bucks on the platform.
YouTube Premium: Most users prefer YouTube Premium Subscription to stand aloof from ads. Yet, YouTube considers this situation and provides you earn money via other revenue options from YouTube premium users.
Discover Other Monetization Strategies
Even though your primary source is YouTube ads, you have various options to prefer as a second revenue stream. Plus, you can benefit from more than one to enhance your career and income.
Affiliate Link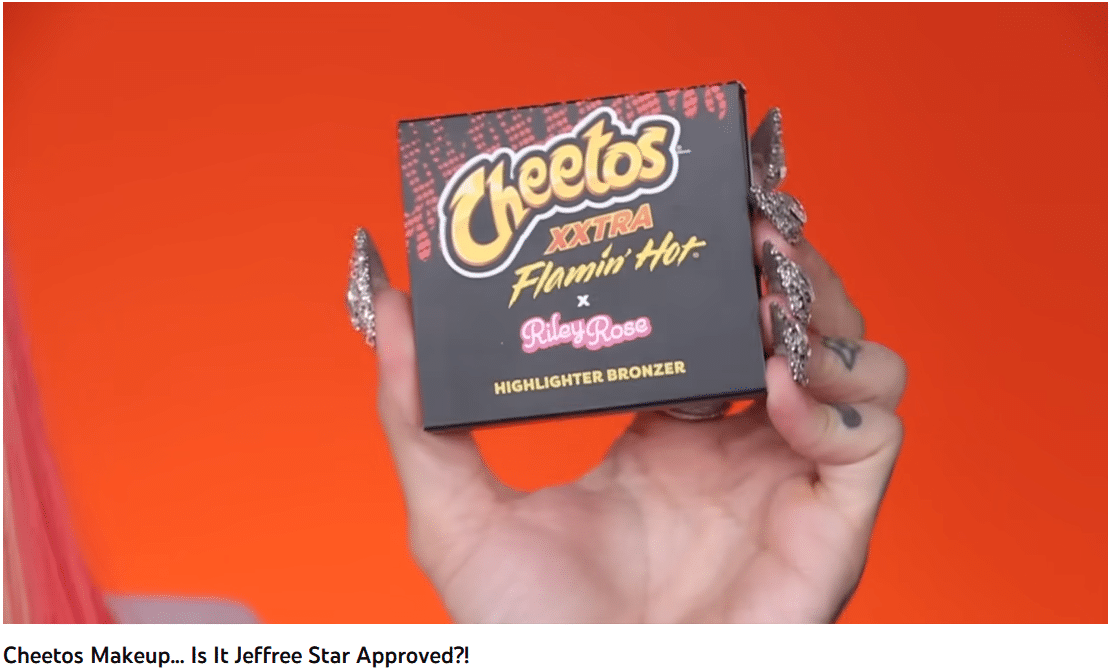 When you get your social proof, credibility, and reliability on the YouTube platform, the brands will contact you if they enjoy your style and unique voice to introduce their products in your videos. If you deal with them, you can get a commission from the sales to your followers. After you mention the products, you can add the links in your video description; thus, your fans can easily access the brand.
Sponsorship
Sponsorship is one of the most preferred revenue streams because it is fun and influential! In these circumstances, you meet brands and become their ambassador to promote their fresh products. Besides, you may have various opportunities that brands give you, like free products. When you become a face of a brand, your popularity will increase, and you can gain more subscribers, views, and likes on YouTube.
YouTube Shopping
When you become an eligible YouTuber, you can utilize the shopping feature and sell your products to your fans. You may create attractive promoting videos for your merch and provide the audience with buy them. If you don't have a brand yet, consider selling cost-efficient products such as t-shirts, phone cases, accessories, or stickers.
Channel Memberships
Channel memberships feature is fan funding, aiming to make money for content creators. Your subscribers can join the special community by paying a fee, and they can reach your exclusive content, badges, stickers, or other perks.
Super Chat and Super Sticker
Thanks to Super Chat and Super Sticker features, you can gain money from live streams. A true fan can want to draw your attention because millions watch your broadcast. Maybe, they desire to appreciate your effort and success; thus, they send you fancy stickers.
How Can I Promote My YouTube Channel?
You should promote your channel in different ways to benefit from various revenue streams and make more money from them. Here are some ideas that might work for you.
Uploading Videos Regularly
Regularly posting videos is crucial to keep your audience engaged because they may wait for your following content to enjoy. Please don't make them wait too much! Planning a weekly or monthly calendar to share your ideas and unique content would be best. If you have many ideas to create more content, you can share at least two videos weekly. But don't be inconsistent by posting content every day. It may be good for a while, yet, you may have different gigs and cannot manage your time for the YouTube platform.
Buy YouTube Services

To boost your channel and videos, you can buy YouTube subscribers, likes, and views from a reliable service provider. Luckily, you've Views4You! You can prefer our top-notch and secure YouTube services to amplify your influencer career. If you have doubts, try our free YouTube services without paying a penny! With fast delivery, we want you to experience our cost-free and high-quality YouTube subscribers, likes, and views. If you are satisfied, you can visit our related website and buy more at an affordable price.
Find Your Unique Voice
To become a shining star on YouTube, you must have a long-term social media marketing strategy and your voice to succeed. You always need a better idea to amaze your audience with your authenticity. One day you can shoot a sincere promotional video; another, you can share valuable knowledge in your niche. It is possible to be both sociable and knowledgeable about various topics. You can approach the same areas with different points of view; this will set you apart from other influencers in the field.
Find the Right Time to Share
Finding the perfect time to post your content is vital because sometimes your audience is unaware of the shared videos. Your new video can get lost on the YouTube homepage if they follow many YouTube channels. Yet, if you specify the days and times to post your videos, your audience can follow your timeline easily. Besides, it is possible to attract more subscribers when you discover the most suitable times to share videos on YouTube. The days and times can vary according to your country and audience; consider those two factors.
Collaborate with Other YouTube Creators
One of the most efficient ways is collaborating with other popular YouTube creators. You can promote your channel and content through their videos. If you choose a collaborator in the same niche, you can probably gain new subscribers who follow this creator. Expanding your reach is possible to increase your credibility and reliability on YouTube.
FAQ
Is It Possible to Receive Payment Weekly?
No, it is not possible. YouTube pays you monthly via Google Adsense between the 21st and 26th. Plus, you should go over the limit of $100 to take your money for that month; otherwise, you can get paid in the next month.
Can I Make Money on YouTube without Reaching 1,000 Views?
You need to satisfy the criteria of the YouTube Partner Program to earn money, and there is no need to obtain 1,000 views for each video. Instead, you need 1K subscribers, 4K public watch hours, or 10M Shorts views to become eligible. If you can reach these limits, you can gain organically 1,000 views, and from day to day, it will increase.
May I Buy Likes for More Videos After Trying Free Service?
Yes, you can buy likes for multiple videos on your channel. If you newly discover Views4You, you experience us for free. We bet you will be satisfied with our YouTube services. Then, purchase likes for your various videos to amplify their visibility on the platform.