In the ever-competitive YouTube world, every YouTuber must strive to produce video content that's different from the rest of the crowd. This is especially important if you're still struggling to find your footing and make a headway on the app.
From the first few clips in your video, you should be able to captivate your audience's attention to keep them glued to the end. One of the ways to achieve this in your video creation process, is to create fantastic intro videos to add to your YouTube videos.
You can achieve this with a free YouTube intro maker in just a few clicks. Let's learn about the very popular YouTube intro maker tool and how you can start making a professional intro video in no time!
What Is a YouTube Intro Maker?
Just like the name suggests, a YouTube intro maker is a free or paid tool that Youtube content creators use to make a YouTube intro for videos on their YouTube channel. YouTube intro makers are perfect for creating intro or outro videos that help to keep the audience interested in what you have to offer.
An intro video, or a preview, is an introductory video that reveals what the video is all about, while an outro video concludes the video and sometimes gives viewers an idea of what to look forward to in the next video. The idea behind using preview makers, is to help the creator make professional-level intros that can attract viewers.
It's like a preview of what the main video will show viewers, but shorter and to the point. Even better, you don't have to be a professional video maker to be able to use any of the video templates in a YouTube intro maker, they're perfect regardless of your design skills or lack of it.
Look for These Top Features of Free YouTube Intro Maker
If you want to get a free YouTube intro maker for your YouTube intros, then there are a few features you should look out for. Here they are:
100% Fully Customizable Templates and Effects
Your chosen free intro maker must have fully accessible customization options that allow you to tweak the intro video as you wish. This enables you to make the video preview into what you desire to show. It should come with lots of video intro templates that you can select from and edit as you wish.
Thousands of Stock Free Intro Videos and Music
A great YouTube intro video maker should have not only YouTube intro templates, but also stock-free intro videos and music files. You shouldn't have to be searching elsewhere to find great videos and audio files for your intro video, the free intro maker should have all you need.
Easy Download or Shareability
Once your intro videos are ready, your intro maker should be easy to download or export to other software. Every intro maker for YouTube must have multiple sharing options so that your YouTube intro videos can make it safely to your YouTube channel.
Brand Building Kit
You must be able to customize your video to showcase your brand. This means the video maker should not have a watermark stamp. Each blank canvas must be able to allow you use your brand's color scheme, font style, logo, and general brand theme so that all your videos will appear consistent on your YouTube channel.
List of Free YouTube Intro Maker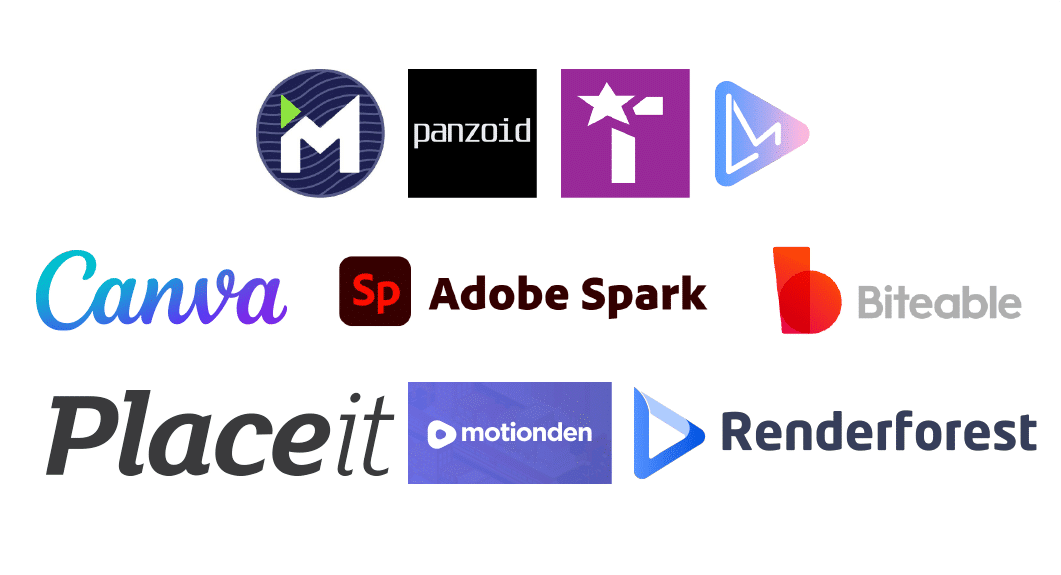 Here are some free YouTube intro makers you can consider. These 10 YouTube intro makers were chosen based on their popularity, ease of use, features, and cost (being free). They have a variety of templates and customization options to suit different needs and preferences. They all listed alphabetically.
Adobe Spark:
Adobe Spark is a free online tool for creating graphics, web pages, and videos, including intros. You can choose from a variety of templates and customize them to your liking. It's a great option for content creators who want to create visually appealing videos.
Biteable:
With Biteable, you can create more than just YouTube intros. It offers a wide range of video templates, including outros and social media ads. You can use the free version with limited features or upgrade to a paid version for more customization options.
Canva:
Canva is a popular design platform that offers a variety of templates for creating different types of videos, including intros. You can customize the templates easily and create a video, gifs, and presentations that reflects your brand. It's user-friendly and easy to navigate. And my number one choice. I even exemplified the 3 common steps based on Canva's features below with the images.
IntroMaker:
It was IntroCave before they named IntroMaker has a large library of intro templates that you can customize with a variety of options. You can use the free version with limited features or upgrade to a paid version for more customization options. It's a great platform for creating professional-looking YouTube intros.
LightMV:
LightMV offers a many of video templates, including YouTube intros, that are simple to customize. It's user-friendly and the output is of high quality. It's a great option for content creators who want to create YouTube intros without any hassle.
MotionDen:
If you're looking for another user-friendly platform with a bunch of templates for creating intros, outros, and other types of videos, MotionDen is worth checking out. It also offers a free version with limited features and a paid version with more customization options.
Panzoid:
This is a free online tool for creating custom intro videos, with a splendid library of templates, animations, and 3D models. It's popular among YouTubers due to its easy-to-use interface.
Renderforest:
This platform has logo reveals, explainer animations, and more. Renderforest provides video editing tools so users can tweak their creations even further. Also, the platform allows users to collaborate with other professionals or team members on projects for a seamless workflow.
Placeit:
Placeit is a platform that helps users quickly create mockups of their designs. It also features an intuitive drag-and-drop editor as well as unlimited downloads and revisions on all plans. They lets users share projects with teammates or clients so they can give feedback in real time.
Tube Arsenal:
It also offers sound effects, royalty free music, images, and video clips so users can customize their creations. While it's free to use with a limited number of templates, you can purchase more templates or upgrade to a paid version for more options.
How to Create a YouTube Intro Video
Creating a YouTube intro video can seem like a daunting task if you're not familiar with video editing, but there are plenty of tools available to help you create an attractive and professional introduction for your channel as I mentioned above.
The first thing is to decide what type of intro you want. You can use basic text animations, animated characters, or just a logo animation. Text effects can be applied using online tools such as Animaker or Biteable. Animated characters are typically created in Adobe After Effects and include things such as 3D models, hands drawing your logo, or other custom animations. Logos can be animated using Adobe After Effects or by downloading pre-made templates from sites such as Envato Elements.
Once you've decided on the type of animation you want to use, it's time to start creating your intro video. You can create the video in your favorite video editing software or you can use a web-based app such as YouTube Intro Maker. This will allow you to quickly and easily upload your images and logo, add text animations, music, and more. I explained the 3 common steps using Canva to create YouTube intro, but you can follow these steps in almost every free YouTube intro maker.
Then, once you have created your intro video, it's time to upload it to YouTube! Make sure that the settings are set correctly so that YouTube channel viewers don't have to wait for several minutes for the intro before watching your videos. After you uploade, include a link at the beginning of each of your videos so that viewers can access your channel introduction quickly and easily.
Step 1 – Choose Your Intro Template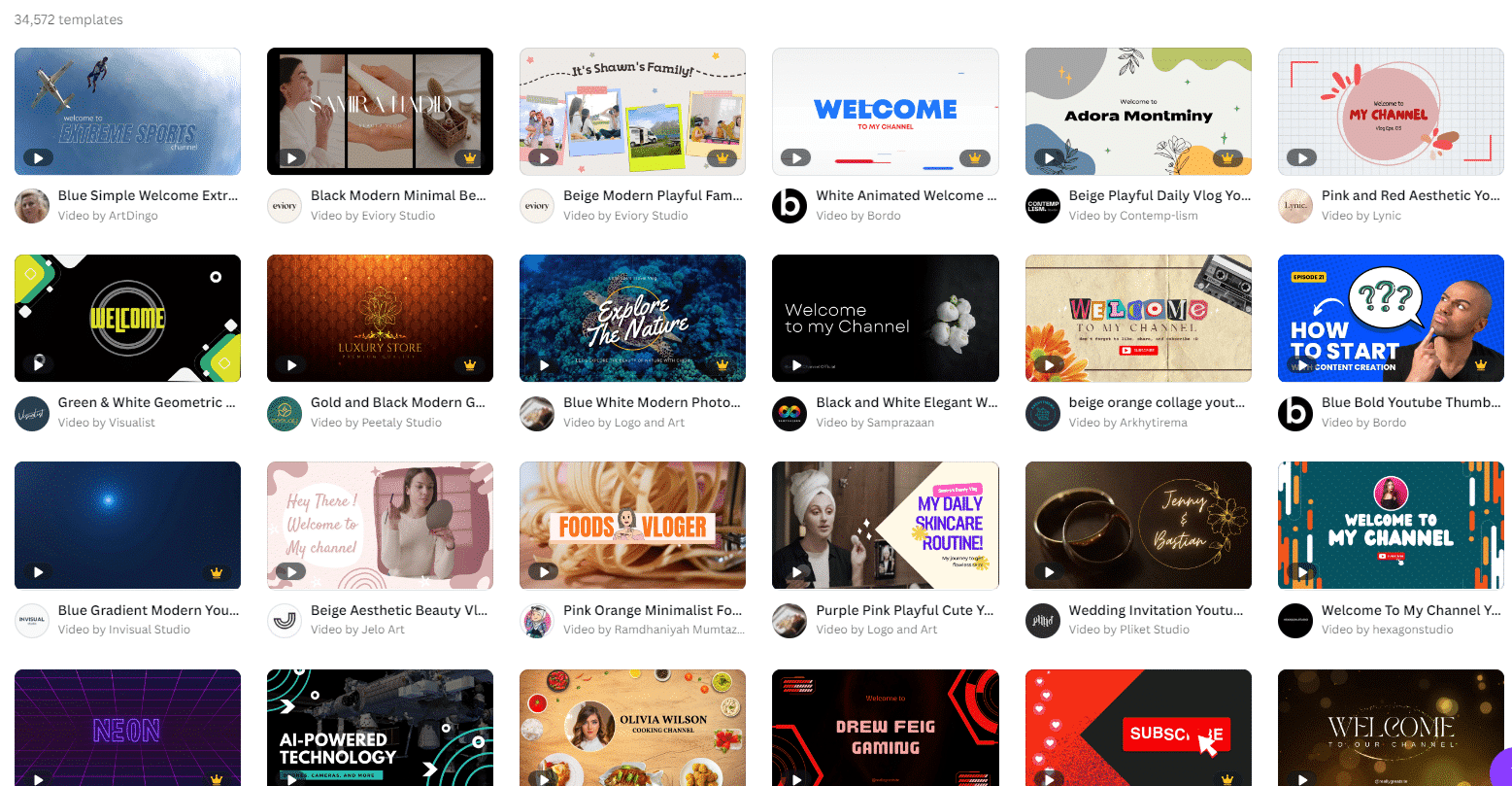 Browse templates on the YouTube intro video maker of your choice to find one that suits you. These images are taken from Canva interface, but the steps can be adapted all editing apps.
The video template you choose should closely represent what your YouTube brand does, so that your brand's theme can look aligned.
Once you choose a template, let's customize it.
Step 2 – Edit Template to Personalize Your Video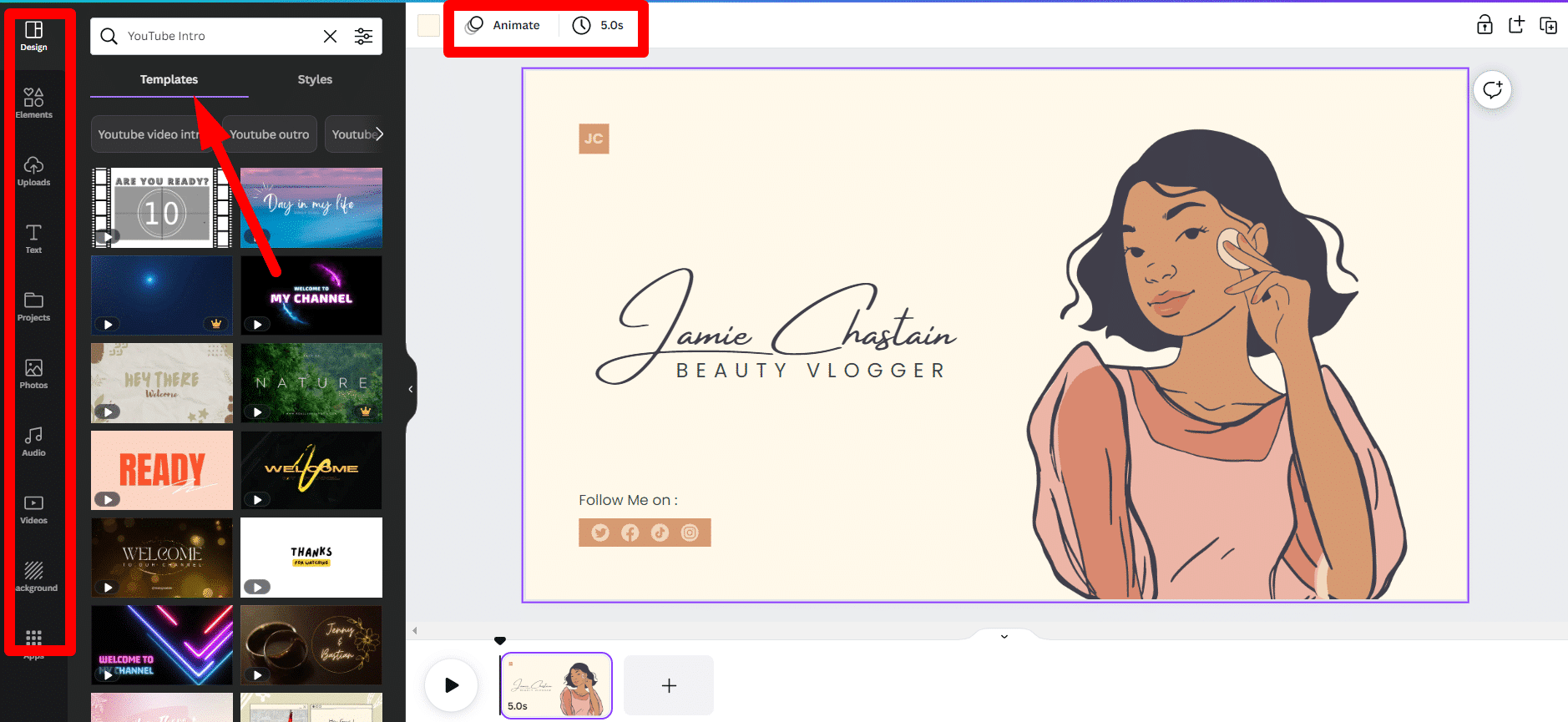 I've selected a template for my beauty channel, and customezed it.
After you choose yours, you get to customize your selected video templates the way you like.
Feel free to add photo effects, your logo or logo animations, music, stickers, intro animation, a short preview of the main video, whatever you like, it's all up to you!
How to Customize Your Template (on canva)
1. Change the colors – Changing the colors of an existing design can give it a whole new look and feel. You can choose from over 60,000 color combinations in Canva's palette. To change colors, simply select the element you want to adjust and click on the "Color" menu at the top right corner to choose your desired hue.
2. Swap out images – Give your design a personalized touch by swapping out stock images with your own photos or graphics. Just click on the image placeholder and select "Uploads" to upload your own images.
3. Add text – Adding text is a great way to add a personal touch to your design. You can customize the size, font style, color and alignment of the text by selecting it and using the options at the top left corner of the Canva editor.
4. Adjust layout – If you want to move an element or adjust the overall layout of your design, simply click on it and drag it around. You can also use tools like grids, frames and arrows to make sure everything looks perfect. You can add shapes, stickers, frames and illustrations, and adjust brightness, contrast, and blur effects, too.
5. Save and share – When you're done customizing, just click "Save" to save your design. You can download as GIF, JPG, PNG and PDF. You can also click on the "Share" button to share it with friends or colleagues as it is seen in the Step 3.
Step 3 – Share Your Intro Video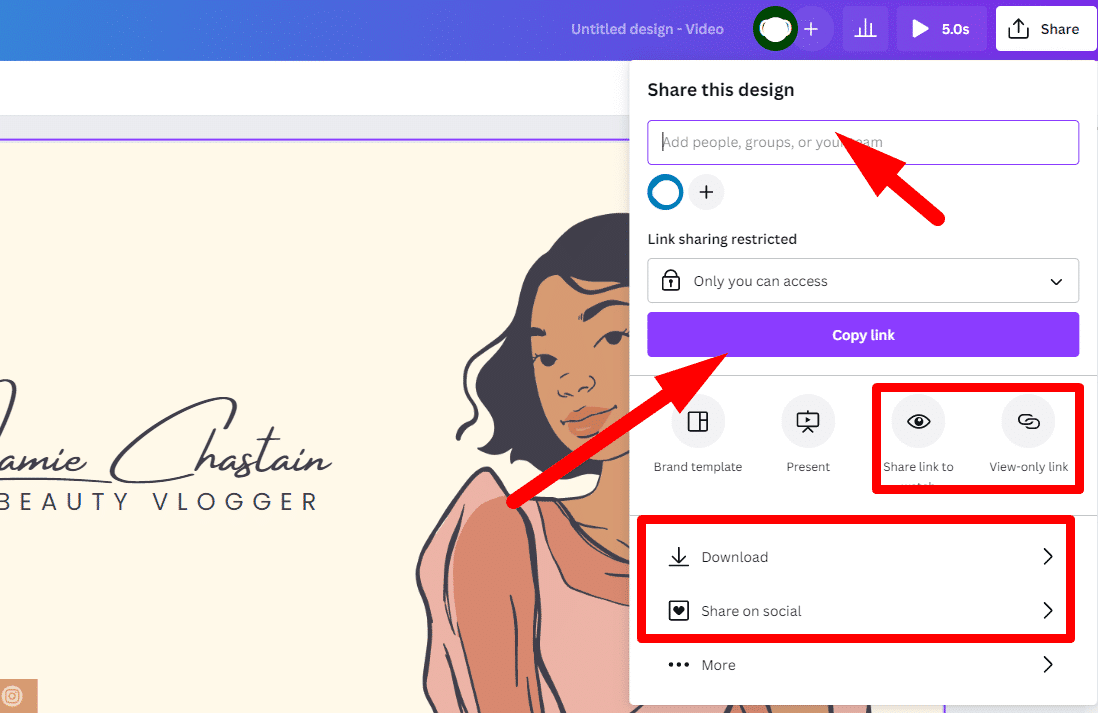 Once the video template has been properly edited and your intro video is ready for YouTube, you can export your video file and download to your device, or upload it directly to YouTube's video editor. It's easy, quick, and best of all, free!
What are the Top 10 YouTube Intro Video Categories
There are a huge variety of YouTube intro videos you can create. However, intro videos are typically organized into different categories to make it easy to find the intro templates you're looking for.
Here are the top 10 categories for YouTube intro videos:
Gaming videos
Social media and entertainment intros
Logo reveal videos
Beauty, fashion, and make up intros
Anime video intros
3D logo videos
Breaking News intro video
Minimalist videos
Aesthetic videos
Sports and fitness YouTube intro videos
Simply choose the category that is related to what you need, select your video templates, edit them, and start uploading to your channel once you're done!
Why Is a YouTube Intro Necessary?
A YouTube intro video helps you show a whole new side of your channel to your viewers if done right. It portrays your YouTube brand as a professional account that has what it takes to keep them hooked. With the right video intro, you create an air of authority in your niche that keeps people wondering what you're all about.
If you edit and upload your video properly with the many templates at your disposal, you stand the chance of growing your viewership in a short while because it helps you stand out!
Can I Do My Intro by Myself? What are the Benefits to Using a YouTube Intro Maker?
Yes, you can create your own intro for YouTube if you have the time and resources. However, there are many benefits to using a YouTube intro maker instead.
You have a lot to gain by using an intro maker for your YouTube intros. Here are some of the benefits:
Using an intro maker takes care of all the technical aspects of creating a stunning introduction quickly and easily.
It saves you time by providing professionally designed templates that you can customize with just a few clicks.
You don't need any knowledge of video editing software or complicated design software.
The whole process is straightforward and requires no special skills.
A good intro maker will also provide options to add music and sound effects to your videos, as well as transitions, animations, logos, motion graphics, and other elements to make your intros unique and eye-catching.
Having access to these features will make your intros stand out and give them a professional look.
The convenience of using an intro maker also means that you can create multiple versions of the same intro and test which one works best with your viewers. This allows you to keep up with trends in video marketing and tweak your intros as needed without having to start from scratch each time.
Grab Your Audience's Attention With the Best Free Youtube Intro Maker
Now that you have all the information about intro video makers at your disposal, get to work by choosing the most impressive free intro maker to edit and create your videos. Upload your exported file to YouTube and wow your target audience in 10 seconds!
FAQ
What can I include in my video intro?
There are different things you can include when you create your preview depending on what you wish to showcase. You can showcase your brand name, logo, clips from a previous episode, a sneak peek of the new clip, etc.
Will it export with a watermark?
Most free YouTube intro makers do not include a watermark on their videos. But if you use a YouTube intro maker that has a premium version, your exported file may include a watermark.
What is the best length for a video intro for YouTube?
 
The best length for intros should be about 10 seconds. The shorter it is, the quicker you grab their attention and leave them wanting for more.
Do I have to say something in my YouTube intro?
What you include in your YouTube intro is up to you. You can use the clip to introduce the topic, the product, or the idea you want to discuss. Or simply use texts and audio to create the short clip.
In what format can I export the YouTube video intro?
Different free intro video makers have various formats for exporting intro video files. However, the MP4 format appears to be the most commonly featured format across board.