For businesses and individuals alike, YouTube is a treasure trove that makes reaching a target audience easier than ever. There is a multitude of opportunities and features available to generate money on the platform. However, many people still find it too difficult to break into this lucrative market. This is especially because they don't know the right strategies to leverage, such as learning how to make money on YouTube without making videos.
In this article, we'll delve into various ways to monetize your YouTube channel without filming or creating videos of yourself. We'll provide useful tips and advice on how to get started building your YouTube presence and start generating income easily.
We'll also cover best practices for businesses to increase their sales by reaching a YouTube audience.
Unlock the Potential of Making Money on YouTube Without Making Videos
There are plenty of ways to enable monetization of content creation without creating your own YouTube videos. While these are relatively easy methods to follow, their success mostly depends on the YouTube audience you want to target.
However, before you start, it's essential to understand what you're trying to achieve on YouTube. To achieve your business objectives, you need to decide whether you want to sell a product or service, reach a certain niche audience or increase brand awareness. Having SMART goals will give you a strong base, enabling you to maximize your monetization strategies and take advantage of the available opportunities.
Once you decide what you want to achieve, you can unlock your business potential by following these methods:
Partner with YouTube Channels for Affiliate Marketing
Affiliate marketing is a potentially profitable approach and the method involves collaborating with a successful YouTube channel to promote your products or services to their audience. According to Glassdoor, the base pay for affiliate marketing is $56,198 per year, making it a lucrative option for those looking to earn money through YouTube. Additionally, the practice generates billions in revenue in the US, indicating its effectiveness in generating sales and revenue as a business.
By leveraging affiliate marketing, you can benefit from the trust the video content creator has built with their subscribers, enhancing your credibility and reputation.
It's important to note, however, that successful affiliate marketing partnerships require careful planning and execution. While choosing the right YouTuber to work with, you need to consider:
How many YouTube views do they receive on a single video?
What is the quality of their video content and their reputation on social media platforms?
What is their influence on their audience? And more.
You need to find the right content creator to collaborate with, one whose audience will be interested in your products or services. You can do it by searching for a YouTuber with an impressive media kit in your niche or visiting websites that provide affiliate programs.
Sell Product Merchandise to Make Money on YouTube
One of the most profitable ways to monetize a YouTube channel without creating a YouTube video is by selling merchandise. Branded merchandise such as t-shirts, mugs, caps, posters, and other related products can effectively generate revenue and promote your brand, and a YouTuber's.
Many YouTube content creators use various platforms or an Ecommerce site to create and market their merchandise. By offering merchandise, not only can YouTubers make money, but they can also increase their overall visibility and promote their brand.
The YouTube channel Dude Perfect is a prime example of successful merchandise selling. They create sports and comedy content on their channel and also sell merchandise with on-brand sports designs.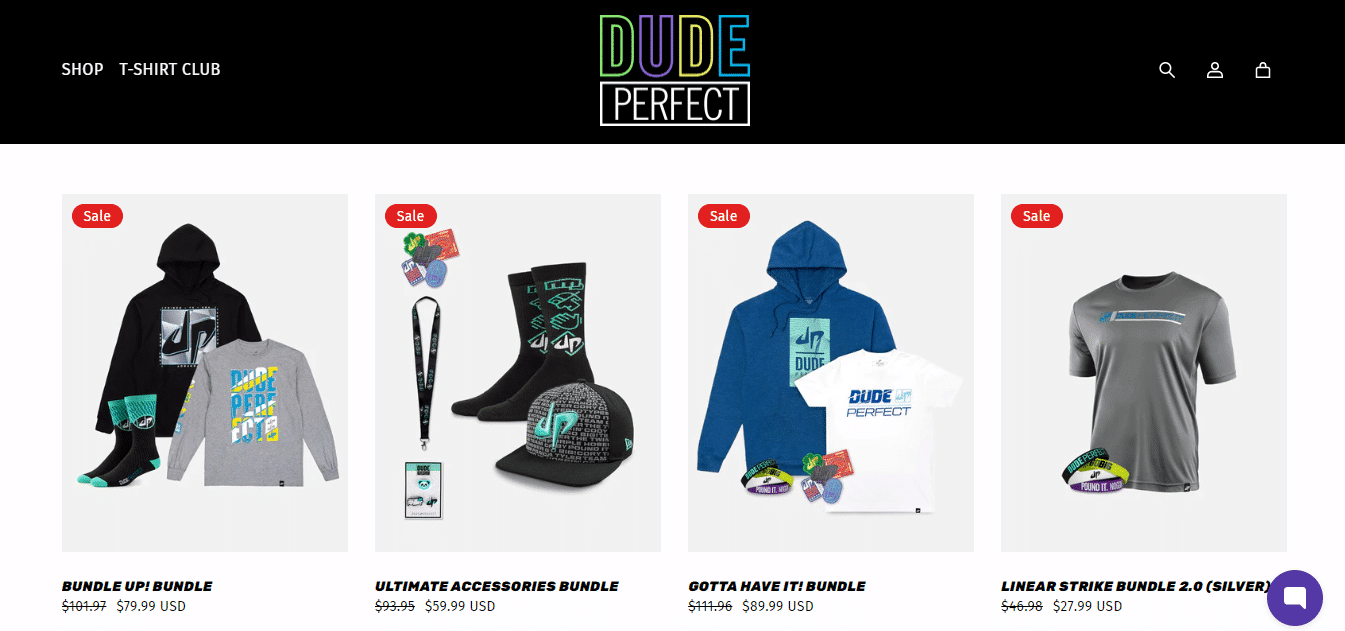 You can offer to sell merchandise for channel owners to earn revenue. This method requires you to establish a partnership with a YouTube channel owner. You can handle the production, inventory, and shipping of the merchandise, while the channel owner can handle the marketing and promotion of the merchandise.
Additionally, you can collaborate to create merchandise that promotes both your brand and the YouTube channel if you already have an established business. As a result, you can reach subscribers who are interested in your products. To reach a wider audience, you can invest in YouTube growth services to boost your partner's channel, which will directly affect your sales, help you increase your reach, and drive more sales.
Leverage Sponsorships on YouTube Videos
Sponsored videos are a great way to make money on YouTube without creating your own videos. This can be an effective way to reach a wider audience and generate revenue, as you leverage the established viewership of YouTube content creators to promote your own brand.
When you sponsor other YouTubers, you can work with them to create content that aligns with your brand and message. This can include various types of content, such as video reviews, tutorials, unboxing, and more. By collaborating with YouTube channel owners who share your values and target audience, you can be sure that their content will resonate with your targeted audience and receive the most traction.

If you aren't sure who to work with, you can utilize online sites or YouTube hashtags to find influencers in your niche. Or, you can purchase YouTube growth services to grow your YouTube channel and work with the sites to reach your targeted audience.
Become YouTube Consultant to Other YouTubers
One profit-making idea that can help you make money from YouTube, is becoming a YouTube consultant. As a YouTube marketing expert, you can offer invaluable advice and guidance to other YouTubers on a variety of topics.
For instance, you can provide insight on how to create engaging and informative content that resonates with your audience. You can also teach them how to set up a winning YouTube channel, optimize their high-quality videos for YouTube search results, and monetize their content effectively through the YouTube Partner Program.
Provide Content Services to Other YouTubers
Another way to make money on YouTube without posting videos is by providing content creation services for other YouTube channel owners. With this strategy, you would create or curate YouTube content for video creators to use on their channels.
You can offer services such as:
Video editing for video creators with basic skills.
Making intro and outro for YouTube videos.
Content writing services to provide catchy and informative titles and video descriptions.
Graphic design for video thumbnails and YouTube channel profiles to help content creators enhance the overall quality of their channels.
You can showcase your prowess on existing platforms or create your own website to attract more clients and work for multiple channels at the same time. Social media can also be a fantastic tool for promoting your services and showcasing your portfolio to potential clients.
Offer Subscription Services for YouTube Channel
Offering subscription services for other channels is another great way for making money on YouTube as most users seek services to increase their subscriber number, watch time, and other metrics. You can offer subscriptions to other channels and receive a portion of their revenue when they receive new subscribers. You can also offer packages with additional features such as access to exclusive third-party content or discounts on products or services.
You can also use YouTube growth services to increase the visibility of other channels, and therefore increase their number of subscribers. This can help you maximize your earnings and ensure that you are taking advantage of all the opportunities available on YouTube.
In addition to the methods listed above to make money on YouTube without making videos, you can also post alternative content that doesn't require filming yourself to earn money on the platform.
Create Audio-Based Content
One of the most effective ways to generate passive income from YouTube is by creating audio-based content. This format allows you to record and upload audio files that viewers can access directly at any time. It does not require any knowledge of video-based computer software, making it simple to create and manage.
In addition to creating custom audio for other creators' videos, you can also produce original sound for YouTube shorts. However, you need to consider the license agreement before selling the audio. You can also record animal or object sound effects as video content creators often search for them to use in their video clips.
Another advantage is that it's easier to create short audio-based videos for this type of content. Short audio pieces can be edited, transcribed, and published on demand.
Upload Audio-Only Podcasts
Creating an audio-only podcast on YouTube is one way to make money without producing a video.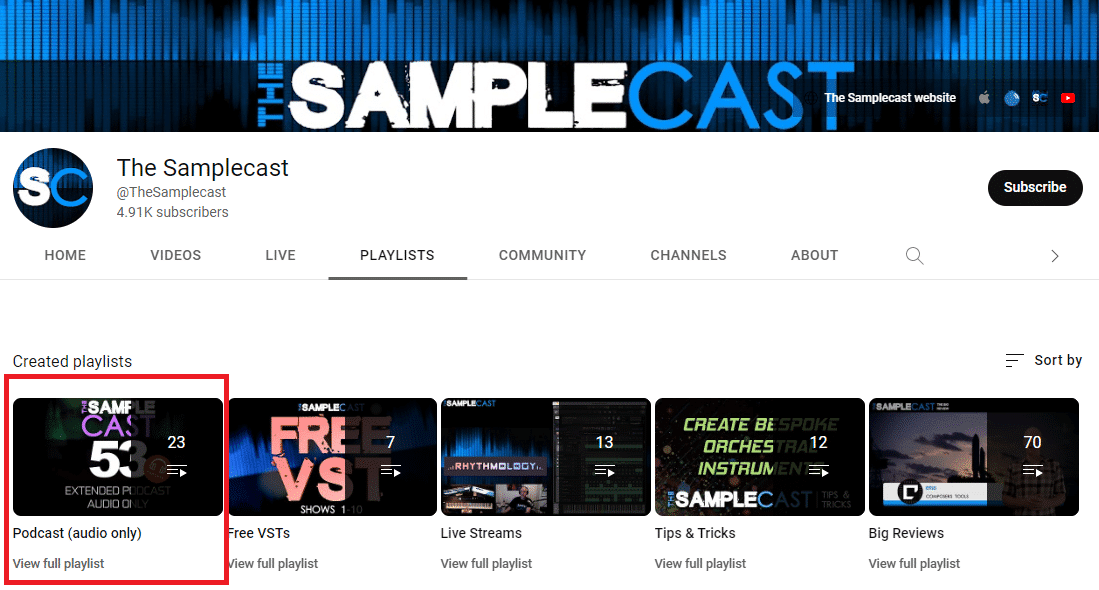 Podcasts are currently one of the most popular forms of online entertainment. People enjoy listening to informative, fun, and engaging podcasts at any time of day, making them an excellent way to promote your brand and reach new clients.
A study by Edison Research indicates that 62% of U.S. adults aged 12 and older listen to podcasts. This proves their growing popularity by increasing from 57% to 62% in 2021 and 2022 respectively. So, it's no wonder that many YouTube channel owners, like The Samplecast, utilize audio-only podcasts to reach their audience.
Create ASMR YouTube Videos
ASMR stands for Autonomous Sensory Meridian Response, which is a tingling sensation that some people feel in certain environments or when they listen to certain sounds. In recent years, the popularity of ASMR videos on YouTube has soared, making it an excellent platform to promote such content. Many channels, such as ASMR Bakery use this popular niche to create engaging content.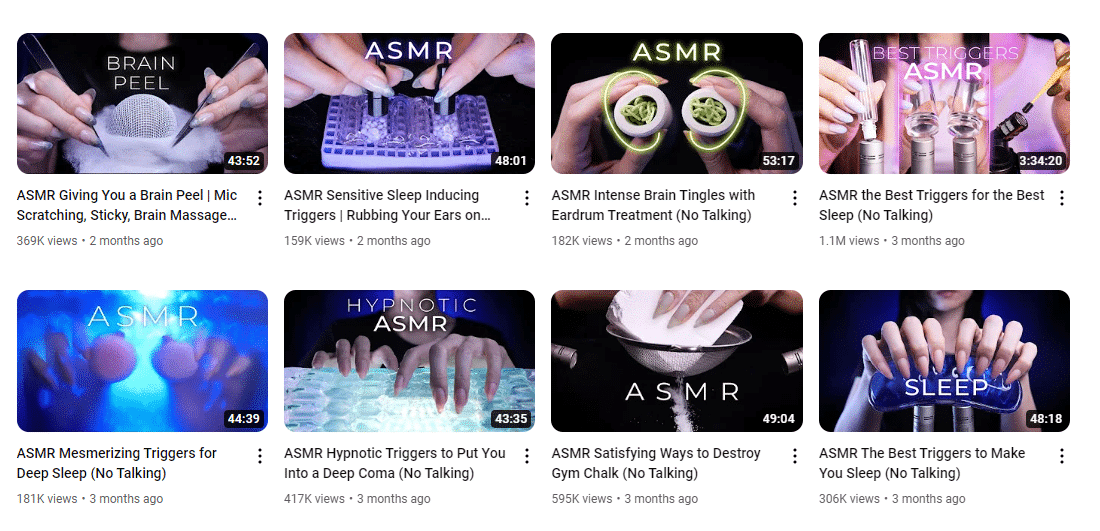 You can also build a successful channel in the ASMR niche without filming yourself. Simply buy YouTube views , likes, or subscribers to improve your chances of reaching your desired audience easily and quickly.
Live Stream Video Games
Live streaming is a very effective marketing tool to introduce products and connect with the audience. Viewers love the live gameplay of their favorite video games because it gives them an opportunity to interact with fellow gamers while viewing the game firsthand. So, if you are a gamer and can maintain a steady stream, you can use this feature of the social media platform to build your audience and presence.

If you'd like to increase your income, you can encourage your subscribers to become Patreons or join channel memberships to have access to exclusive content. To reach such popularity in a short time, you can utilize YouTube growth services to grow your channel. You can also join YouTube's Partner Program to use multiple revenue streams.
Create Animations
Animated videos are another popular type of content that attracts a large audience on YouTube. From movie trailers and ads to original video content on the platform, many users utilize this engaging style to interact with others. Several channels, including Nutshell Animations, specialize in it.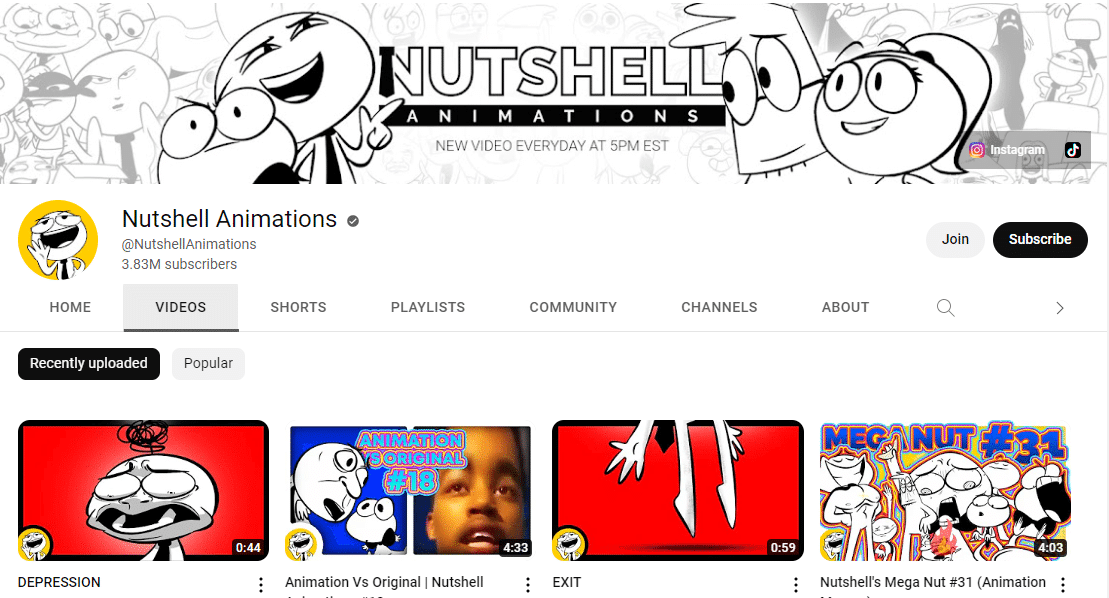 You can also use computer-generated or AI programs to create engaging animations and monetize your content.
Upload Tutorial Videos
As an educational resource or for a few tips for daily living, YouTube continues to maintain its popularity among its audience. That makes it an ideal platform for uploading videos of online courses or how-to tutorials.
Channels like Mr. Web Designer built an audience of 163K subscribers by sharing informative videos about web design.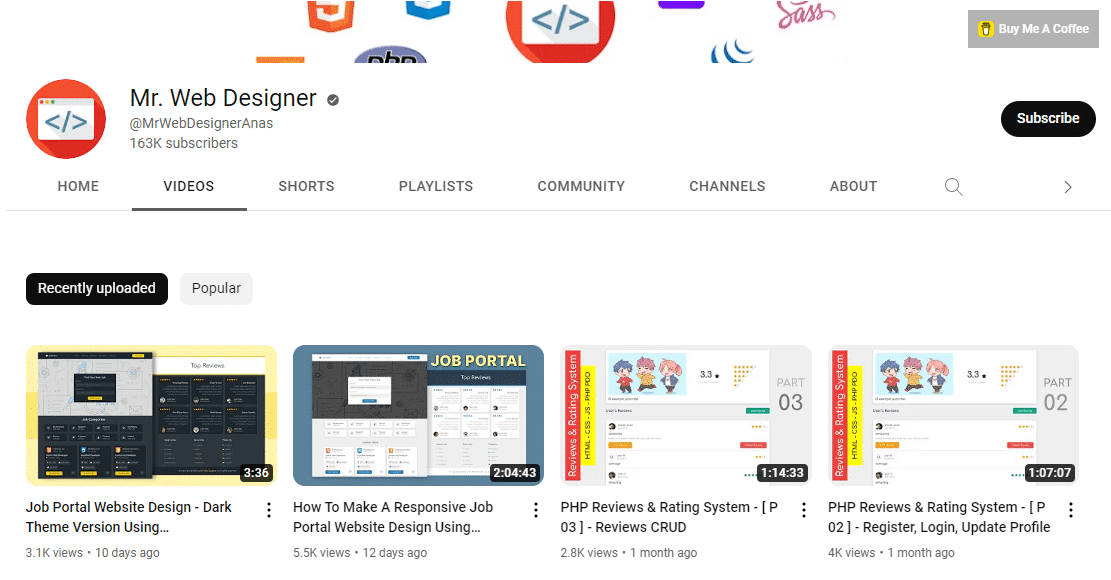 For example, if you're an expert on a topic such as marketing, you can create a YouTube channel and post tutorial videos for others to learn from. Additionally, instead of filming yourself, you can use a digital whiteboard or your computer screen to share your information.
Use Royalty-Free Third-Party Videos
Another way to make money on YouTube is to use royalty-free stock videos. These videos are suitable for anyone who doesn't have time to film their own videos but still wants to post content to engage their audience.
You can use royalty-free videos for any YouTube video project that requires no additional footage like explainer videos, trailer videos, or product promotion videos.
Use YouTube Videos with Creative Commons License
In addition to royalty-free stock videos, you can also use videos with a Creative Commons license from YouTube's library to make money. You can adapt other users' videos and post them on your channel before making money through YouTube ads.
Hire a Freelancer to Create Videos
If you're too busy to even create a YouTube account, you can hire a freelancer to make content that promotes your brand. This will help you to deliver your message to the targeted audience without having to record your face.
If you're a small business, the investment might seem questionable, but for long-term marketing success, it's worth it.
Record Voice-Over for a Video Creator
You can also provide voice-over services to make money on YouTube. This way you won't have to create content or film yourself. Instead, your voice will appear in other YouTubers' videos.
Customize Super Stickers
A revenue stream that the YouTube Partner Program provides to its users is the Super Chat feature. As the name suggests, "Super Chat" provides a revenue source for content creators by allowing people to highlight their comments on live chat. Most of them even use Super Stickers for interactions.
While you may not be eligible to use the chat, you can still design customized stickers for other creators to make money on YouTube.
Invest In YouTube's Parent Company
One way to make money on YouTube without using your channel is to invest in the parent organization, Google.
Google provides a great opportunity for those who own shares of the company to earn passive revenue as the value of its shares increases over time. You can also invest in the company to increase your income and make money without creating videos.
FAQs
To ensure that you are making the most out of your YouTube channel, you may have some questions. Here are some common questions related to making money on YouTube.
What is the Advantage of Affiliate Marketing for an Online Business?
The advantage of using the affiliate approach is that the content creator does not need to be a part of the YouTube Partner Program. You can directly communicate with them to discuss payment options instead of using the platform as a third party.
Moreover, you can utilize affiliate links to enhance your own YouTube presence or allow the YouTube channel owner to use the link on their other social media platforms.
Can You Use Live Streams to Make Money on YouTube Without Making Videos?
You can leverage affiliate marketing for a YouTuber to promote your product or service through a Live Stream instead of making videos yourself.
Can You Make Money from Ads without Making Videos?
One cannot directly earn ad revenue from ads without making YouTube videos.
Ads is a program that allows content creators to monetize their videos by displaying ads to their audience. The revenue generated from these ads is shared between the content creator who has an AdSense account and YouTube. Therefore, to earn money through ads, one must create and upload videos to their YouTube channel and meet the requirements of the YouTube Partner Program to become eligible for monetization.
What's the Best Way to Make Money on YouTube?
The best way to make money on YouTube, is to join YouTube Partner Program and link your AdSense account to your channel. This will enable you to monetize your YouTube videos and receive a portion of the ad revenue generated from views.
If you want to make money on YouTube without making videos, you can use the tips and revenue stream options above to maximize your earnings.
How Many YouTube Views Do You Need to Join the YouTube Partner Program?
To join the YouTube Partner Program, you need to have at least 4,000 watch times in the last 12 months and 1,000 subscribers. So, the views on one single YouTube video doesn't affect the eligibility for the program.
How Many Subscribers Do You Need to Have to Offer YouTube Premium Content?
To create videos or offer services for YouTube premium, you must be a YouTube Partner and have a minimum of 30,000 subscribers.
Is YouTube a Good Way to Generate Passive Income for an Online Business?
YouTube can be a great way to generate passive income for online businesses. It offers a wide range of opportunities for entrepreneurs to reach their target audience, build brand awareness, and monetize their content.
Can You Earn Money on YouTube Without Having a YouTube Account?
Yes, while you need to have a YouTube account to create your channel, you don't need one if you're making money without posting videos. You can reach other YouTubers via email, Super chat, or another social media platform.
Can You Make Money from Videos with Creative Commons on YouTube?
Yes, it is possible to monetize videos with the license of Creative Commons on YouTube. You can do this by enabling ads on your videos and earning ad revenue from them. However, you must ensure that you adhere to the specific terms of the Creative Commons you are using.
Depending on the license, you may be required to give attribution to the original creators, such as viral video makers, or you may not be able to use the clips for commercial purposes.
How Do You Optimize YouTube Videos for Search Engines?
Optimizing your videos for search results is essential to ensure that your videos are seen by the right people and get the maximum number of views. To optimize your videos, you should include relevant keywords in the titles and descriptions of your videos, as well as in the tags.
Can You Earn Income from Channel Memberships?
Yes, you can! Channel memberships are a great way to monetize your channel and build a loyal following. With memberships, viewers can pay a monthly fee to access exclusive content.
How Can You Measure the Success of a YouTube Channel?
There are a number of ways to measure the success of a YouTube channel, but one of the most comprehensive and reliable methods is to access the analytical metrics available via YouTube Studio. This tool provides channel owners with a wide range of data and insights into their channel's performance, including information on video views, engagement, audience demographics, and revenue.
How Can You Find Out Your Estimated YouTube Revenue?
Click YouTube Studio to access the chart "Monthly estimated revenue" on the Revenue tab. This tab provides estimated revenue data based on your channel's performance, including metrics like ad revenue and YouTube Premium revenue. It's important to keep in mind, however, that this is just an estimate and your actual earnings may vary depending on a variety of factors, such as changes to YouTube's monetization policies, fluctuations in ad rates, and shifts in audience engagement.