Tired of YouTube TV and want to cancel your subscription? You're reading the right article.
With so many options for streaming entertainment and shows these days, it's no surprise if you're considering canceling your YouTube TV subscription. Maybe you found a better alternative, or you want to put a better check on your finances for fraud prevention purposes.
Whatever YouTube users reason may be, it's good news to know that it's possible to cancel YouTube TV subscription in a few simple clicks. All you'll need to complete the process is the device of your choice (Android, iOS, or PC) and an internet connection. Remember to have the YouTube TV app installed if it's a mobile device to make things quick and easy.
Now, let's get down to helping you learn how to cancel YouTube TV subscriptions in a minute.
Canceling YouTube TV Free Trial Before Billing Date
If you signed up for a free trial of YouTube TV, and no longer want to continue with the service, you must cancel your YouTube TV subscription before the next payment period. This is to avoid getting a charge on the financial account you used to sign up.
It saves you the trouble of having to request a refund from the service's customer support team. Use as much of the trial offer as you can, but keep the expiration date in mind—you may even need to set a reminder to keep track.
Once you cancel your subscription, bear in mind that you lose access to the streaming service along with any add-ons you may have purchased or installed. Also, you may not be eligible for another trial offer on that YouTube account for a long time.
What if You Cannot Get a Refund?
It is important to note that if you've used a promotional code during sign-up and are canceling within the trial period, you may not be eligible for a refund. We recommend checking with customer service before canceling your free trial.
How to Cancel YouTube TV on Desktop
To cancel membership to YouTube TV on your desktop or personal computer, here are the quick steps to follow:
Go to your web browser and type in tv.youtube.com
In the top-right corner, click on the Sign In button to re-sign in, if you're logged out. Enter your Google login details, it's what you use to access your YouTube TV account. Sometimes, you may need to input your home zip code as well.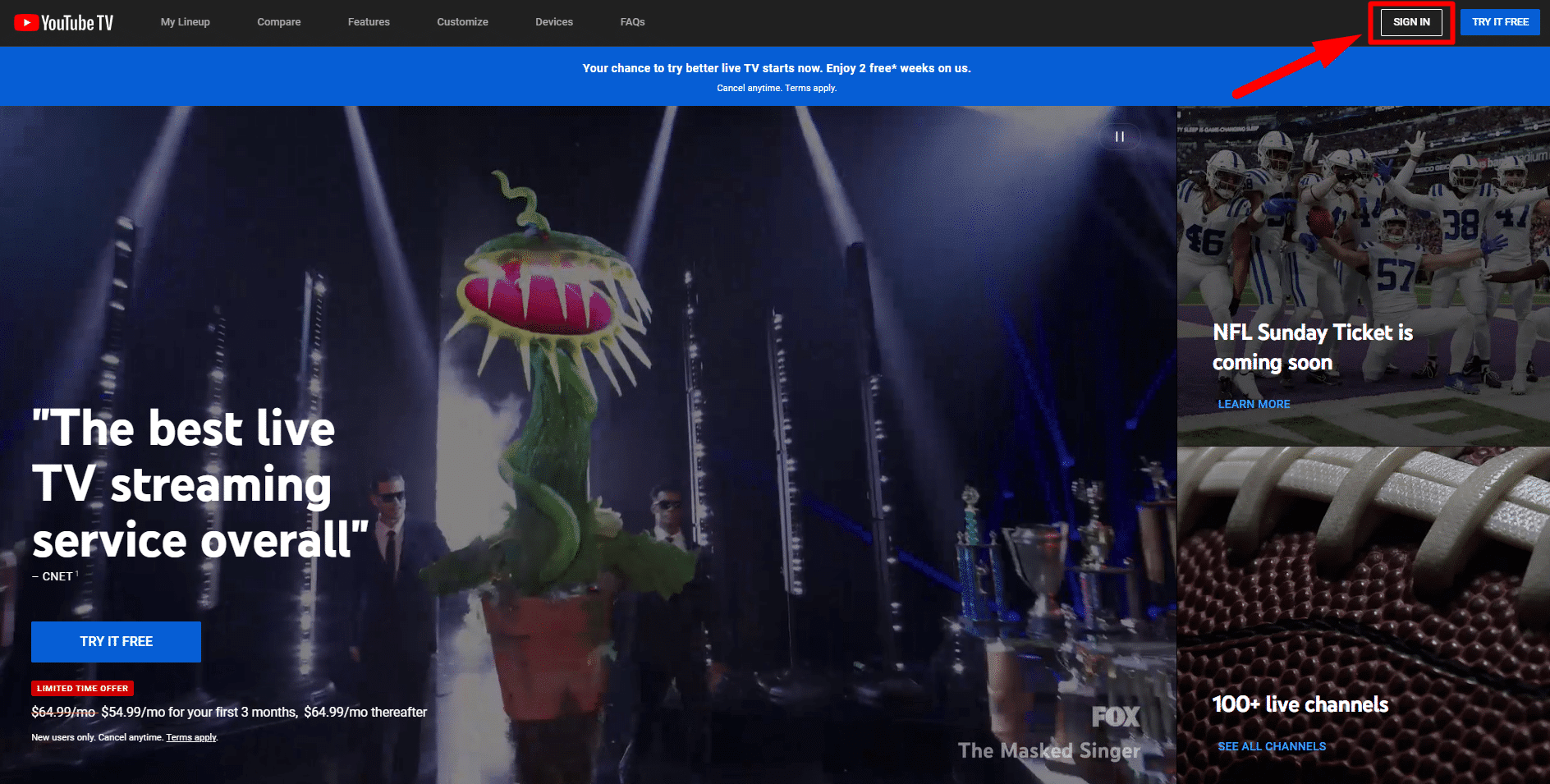 Click on your profile icon in the top-right corner of the screen to reveal a list of options. Tap Settings.

Click on Membership at the top left sidebar to open up the Membership page.
Click Pause or Cancel Membership under the YouTube TV option.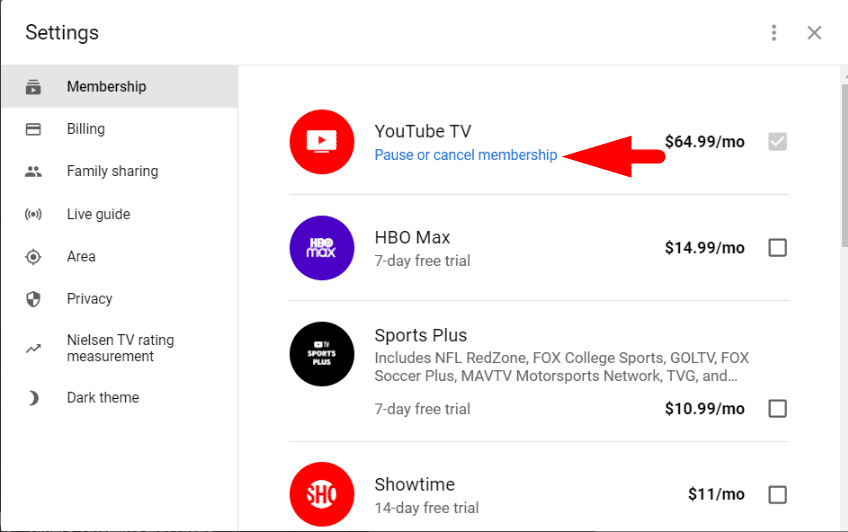 In the pop-up window that opens up, navigate to the bottom of the screen, and click Cancel Membership which appears in blue.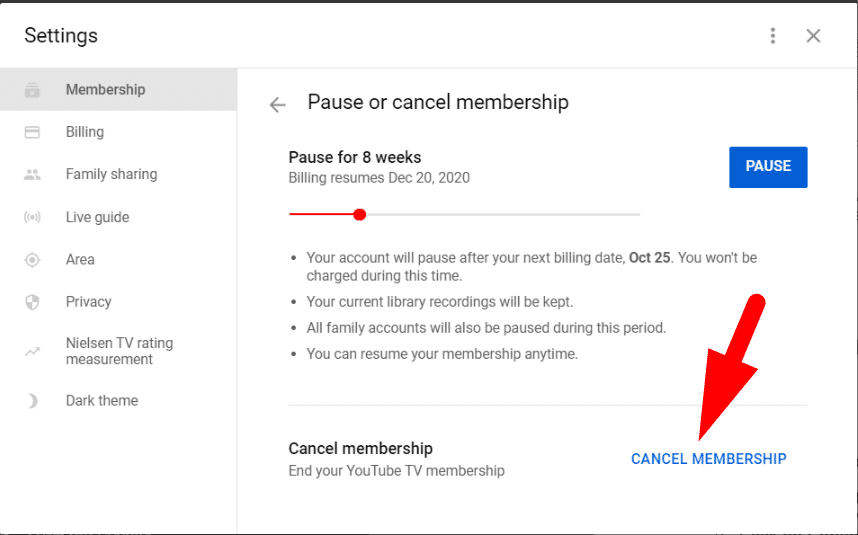 Next, YouTube will ask to find out why you want to cancel YouTube TV, so select an option from the list and move to the next step. Click Continue Canceling, the blue button at the bottom of the screen.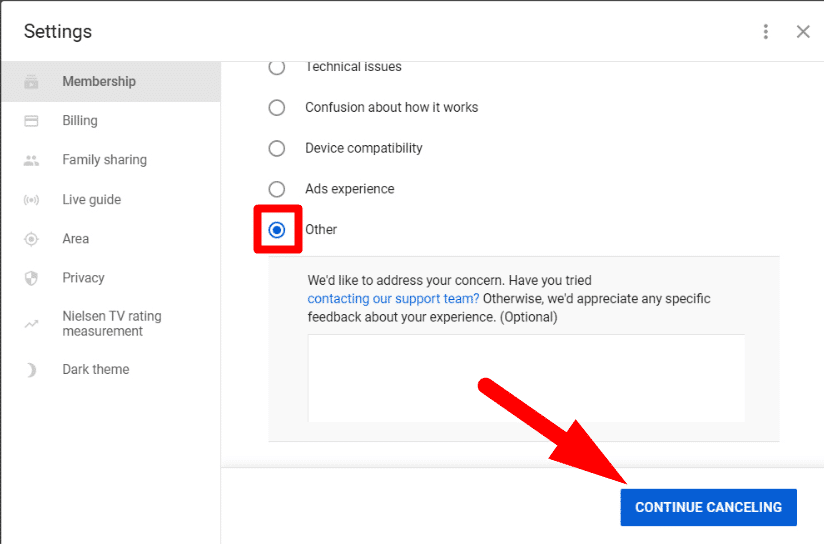 Lastly, select Cancel Membership to complete the cancellation.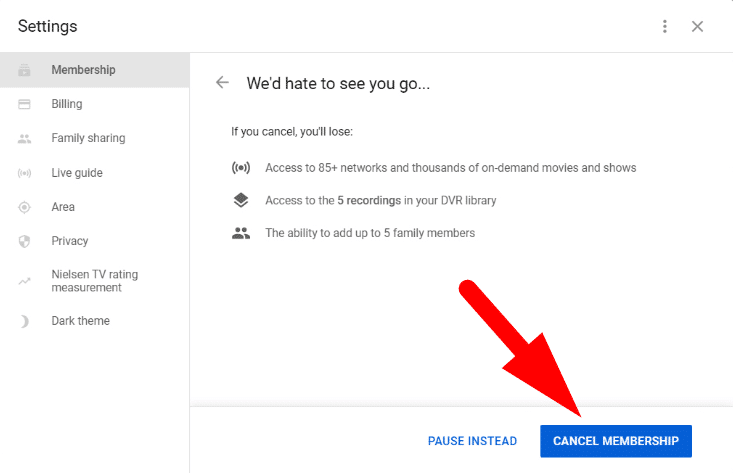 If you follow the above steps carefully, you should be able to completely cancel your membership. YouTube will auto-redirect you back to the Membership section page. Look out for "Restart membership" under the YouTube TV logo to confirm if you have successfully canceled. Also, expect an email confirmation telling you your paid subscription has been canceled.
Note that you can still access YouTube TV until your subscription period ends. So, if you have 10 days left, for instance, you can access the TV for 10 more days.
How to Cancel YouTube TV from an Android Device
Canceling your YouTube TV membership on an Android device is simple. You won't be carrying out the steps in a mobile web browser, but on the YouTube TV app, so install it if you haven't. Here's how to cancel YouTube TV subscription on your Android app:
Go to the YouTube TV app on your Android phone or tablet, then sign in to proceed. If you have other accounts connected to YouTube, be careful to choose the specific account you want to deactivate.
Go ahead to tap your profile photo in the top-right corner, then select Settings.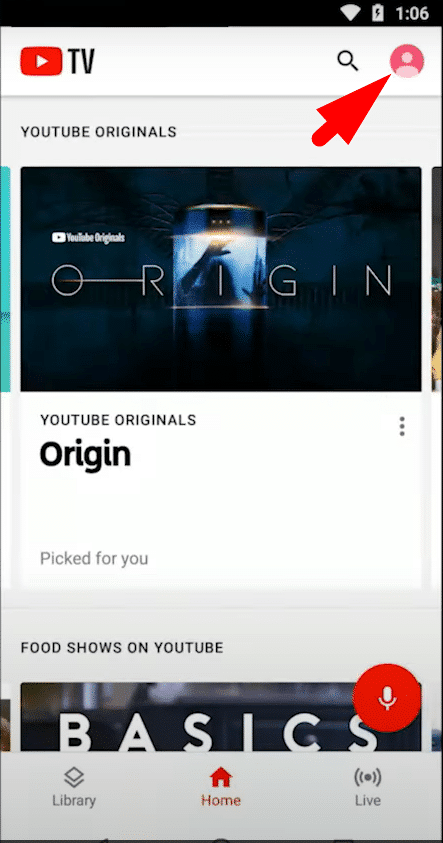 Open Settings to reveal a drop-down menu, then look out for and select Membership (tap on it.)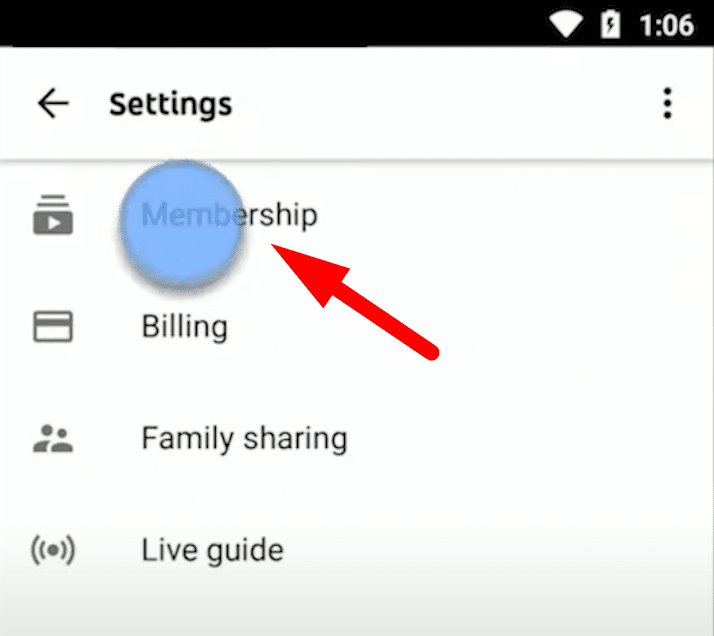 Tap Manage on the next screen. You can either click on Cancel or Pause, but since you want to cancel YouTube TV, select Cancel. If you change your mind about canceling, you may click Pause instead.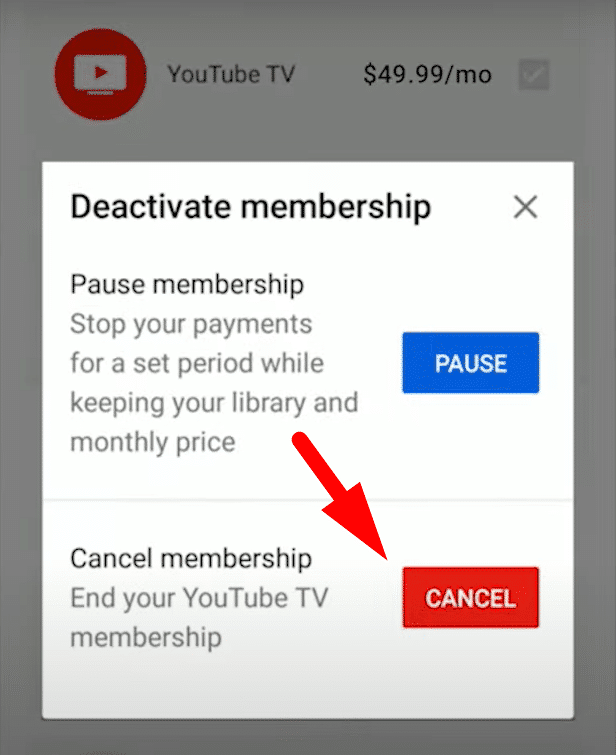 Select your reason for canceling your subscription, then click Continue Canceling.

Finally, confirm your cancellation by clicking the blue button "Yes, Cancel" at the bottom of the screen.
As usual, note that you will lose access to the services on the app once the current billing cycle ends.
How to Cancel YouTube TV from an iPad & iPhone
If you use an iOS device, here's your guide to help you cancel your YouTube TV membership. If you have the YouTube TV iOS app installed, you won't be able to use it for this process. The iOS app does not allow users to pause or cancel membership via the app, so you have to use your mobile browser or a computer.
However, it's a similar process to the steps for the Android devices above. Here's what you need to do:
Go to tv.youtube.com on your mobile browser and log in
Tap your profile photo and then Settings to reveal a drop-down menu.
Select Membership, then click Cancel Membership.
Lastly, confirm your action to cancel your subscription.
How to Pause YouTube TV Membership
If you're not ready to fully commit to a cancelation of your subscription to the streaming channel, you can pause your YouTube TV instead. Pausing means you put your account on hold for the next 8 weeks, after which YouTube will automatically activate it and charge your account.
Here's what you need to do:
Go to the mobile app or web browser and navigate from your profile photo to Settings. Next, tap Membership. Beneath the YouTube TV option, tap Pause or Cancel Membership, then select Pause on the page that opens up.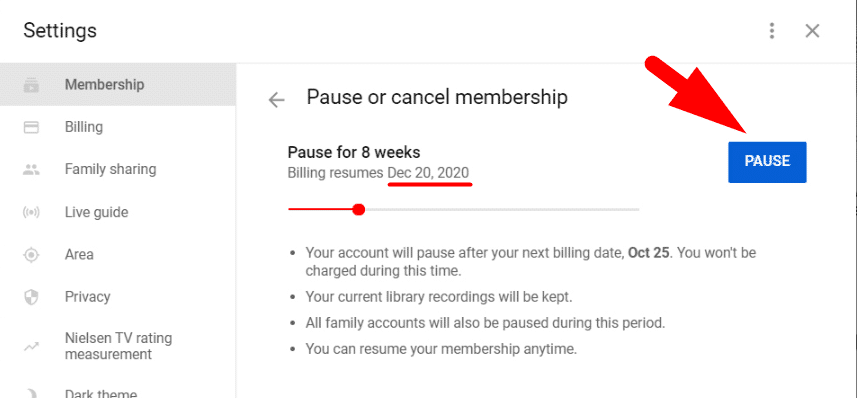 Be careful to note the date your billing resumes to avoid getting charged if you don't plan to pay for the subscription.
What Will Happen Next Billing Period When You Cancel It?
At the end of your billing date after canceling your subscription, here's what you can expect for the next billing period.
The normal monthly price you're usually charged will not be deducted from any of your accounts connected to YouTube TV. You can reactivate your account when you like, to regain get full access to your recorded programs, and more. If you pause your account, you won't be billed until after 8 weeks. Any current library recordings you may have will be saved.
If you have any issues with your cancellation, irregular billings, and more, you can speak with a customer support team member to assist you. Select the Chat option in the drop-down menu of the Help section of the app or website to get an immediate response to your issue.