Go test to measure the worth of your YouTube channel, or other YouTubers' million-dollar-channels with our free YouTube Money Calculator tool. Then, wait no longer to start your breathtaking journey, too. Because the platform provides unique opportunities for those who want to be the richest YouTuber ever and reach financial success. It welcomes any unique content and makes sure they reach the right audience when buying YouTube subscribers, who are interested in different YouTube niches. If you want to find yours, read the article about 33 Most Viewed YouTube Contents of All Time.
YouTube Money Calculator by Views4You
Check out the free YouTube money calculator is an easy-to-use online tool that will tell creators how much money their channel can make.
This tool allows users to calculate their potential revenue by simply pasting the URL for their channel into the search column. The calculator measures things like video view count/time spent watching etc., which gives more accurate numbers than simply guessing.
Using the calculator, will give you a good idea of yearly YouTube earnings and also shows you whether it would be worth starting up and creating videos for certain niches that may interest you!
This tool can help you easily calculate your earnings from the videos. To come up with an accurate figure that may surprise people, the calculations are based on the size of the video, engagement rate, and other factors.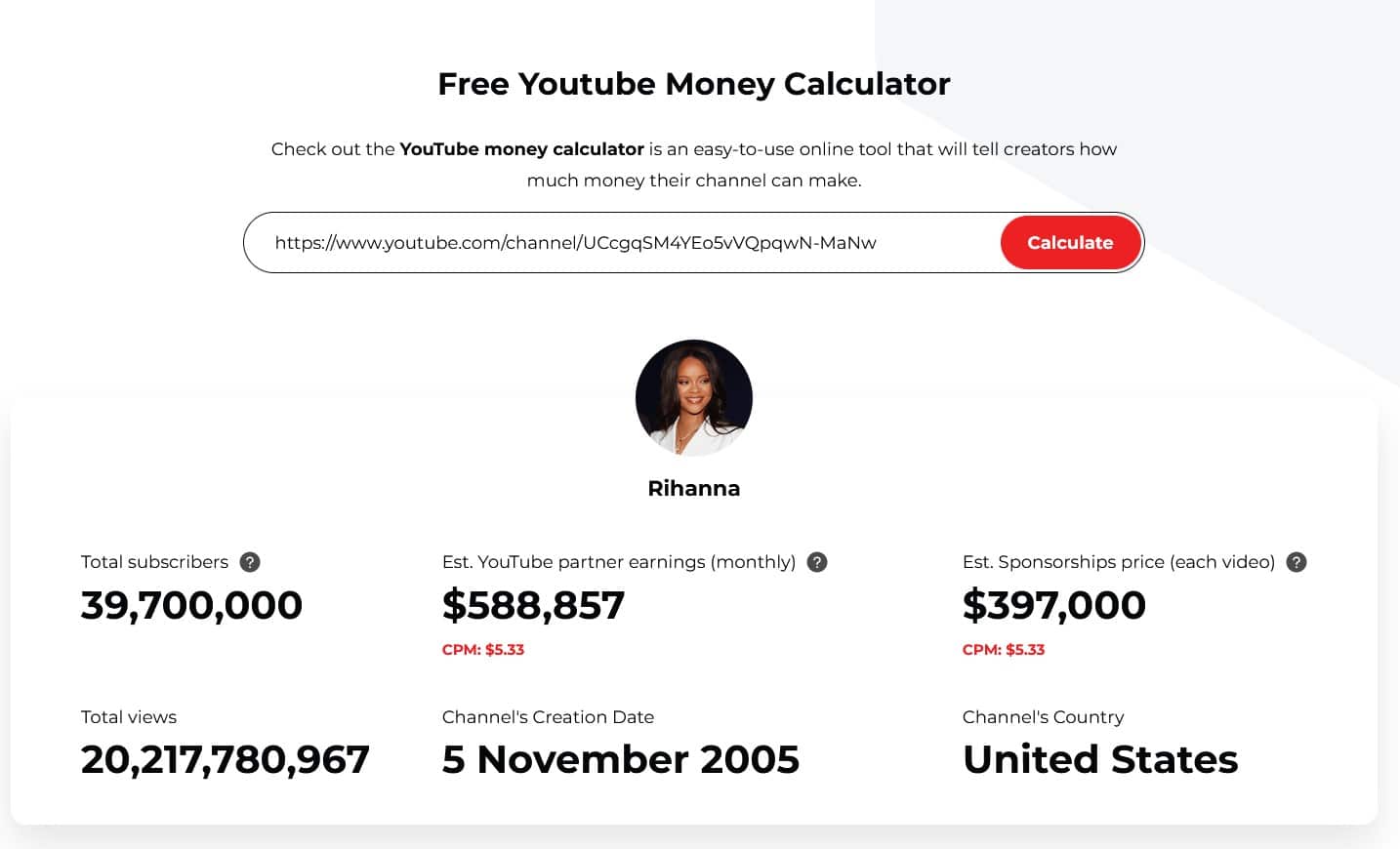 How Does Views4You's YouTube Money Calculator Work?
The YouTube monthly income calculator is quite straightforward. It's a simple process of entering some information about the videos and the number of views, then watching as it does all the other work for you.
With just a few steps, you can have your revenue calculated by YouTube money calculator, showing you how much money your channel could be making.
The process is simple and easy — all it takes to use the YouTube wage calculator is three steps:
Drag the calculator bar backward or forward, depending on how high or low your daily video views are on average for videos
Set estimated CTR based on historic performance history from previous campaigns (think about those times where ads performed best)
View total earnings potential over time by weekdays alone as well as monthly earnings at any given moment!
How Do We Calculate a YouTube Channel's Estimated Revenue?
There is a quite working algorithm going on here.
Once you copy the YouTube channel URL to paste YouTube money calculator search, the sytem locates the country of the channel first;
Then, the system confirms the channels total view count;
Next, it finds out the channel's establishment date, and time – how many months have passed from that date;
The system drops out 18 months from the total activation date to find out validness of the channel;
Now, total view count is divided to 1000 to calculate CPM;
Finally, the CPM divided to the valid active time, it is for to calculate YouTube channel's revenue.
How Much Do YouTubers Make Money?
Let's start with this, if you want to become a YouTuber, there is no easy way to earn money on YouTube at first. You'll get coins by coins before hitting to millions of dollars. This is not something as simple as searching "how to" on Google. Successful YouTubers already started YouTubing before anyone had a clue about how much YouTubers can make, or before they earn money based on their watch times.
In our YouTube Money Calculator tool, you can both see how much money your own channel can make and other channels estimated earnings.
Now, sit back and take notes to learn all-single-detail-about how much YouTubers make, and how many subscribers, YouTube views, ad revenue, video likes, and brand pays you need to get good money in the new digital age.
But first, to be able to earn from YouTube Ads, creators need to join the YouTube Partner Program.
How Much Do YouTubers Get Per View on YouTube?
An average YouTuber who have Google AdSense account to become a part of the YouTube Partner Program, gets around $0,001 and $0,003 for every view. Yet, they could not get the money from their videos. It depends on: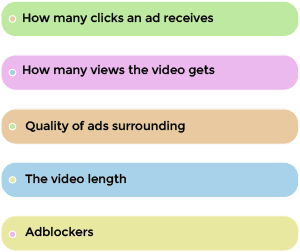 How Much Do YouTubers Make Per 1,000 Video Views?
As the estimated avarege payment-per-ad-view is given between $0,01 & $0,05, successful niches get paid around $18 for 1,000 for ad views.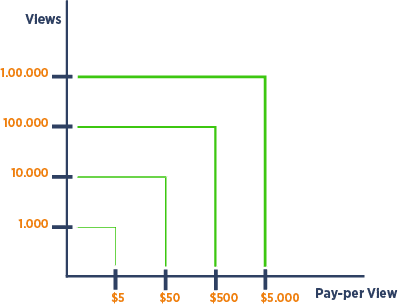 How Much Do YouTubers Make Per Subscriber?
Well, YouTube does not pay you for subscribers. Even if they are the key to becoming a well-known YouTuber, they are not the thing YouTubers make money exactly. It is the actual rates of the views! However, one should keep in mind that subscribers are the ones who are most likely to watch your content though. Once you gain a new subscriber, his/her home page will show him/her  your content too.
Yet, we've a good news for you. Brands that are your possible collaboration target care so much about your channel's subscribers count. Your subscribers can even effect your sponsorship price in a positive way. According to HypeAuditor's research on State of Influencer Marketing 2021, YouTubers demand these following prices under the sponsorship contents.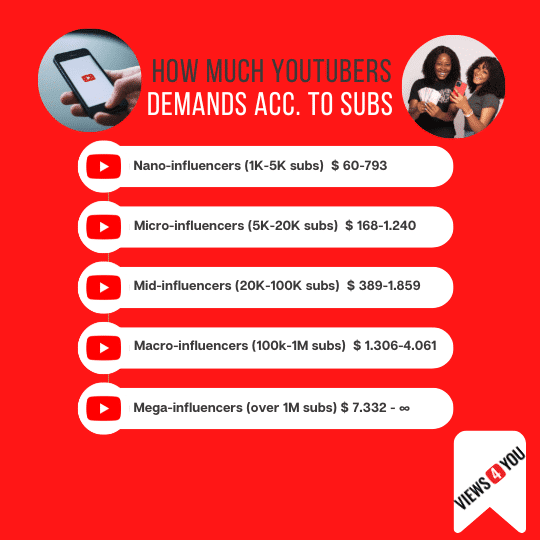 How Much Do YouTubers Make Per Video?
It's pretty much connected to the number of views a video has and many other factors such as "how many Google ads are displayed" and other mentioned factors above. For example, Ryan Kaji is making monthly $2 million in ad revenue from his videos on his channel Ryan's World, and Natsya made $18 million in the past year.
Top 10 Countries in 2022 with the Highest YouTube Cost (aka CPM) Per 1,000 Views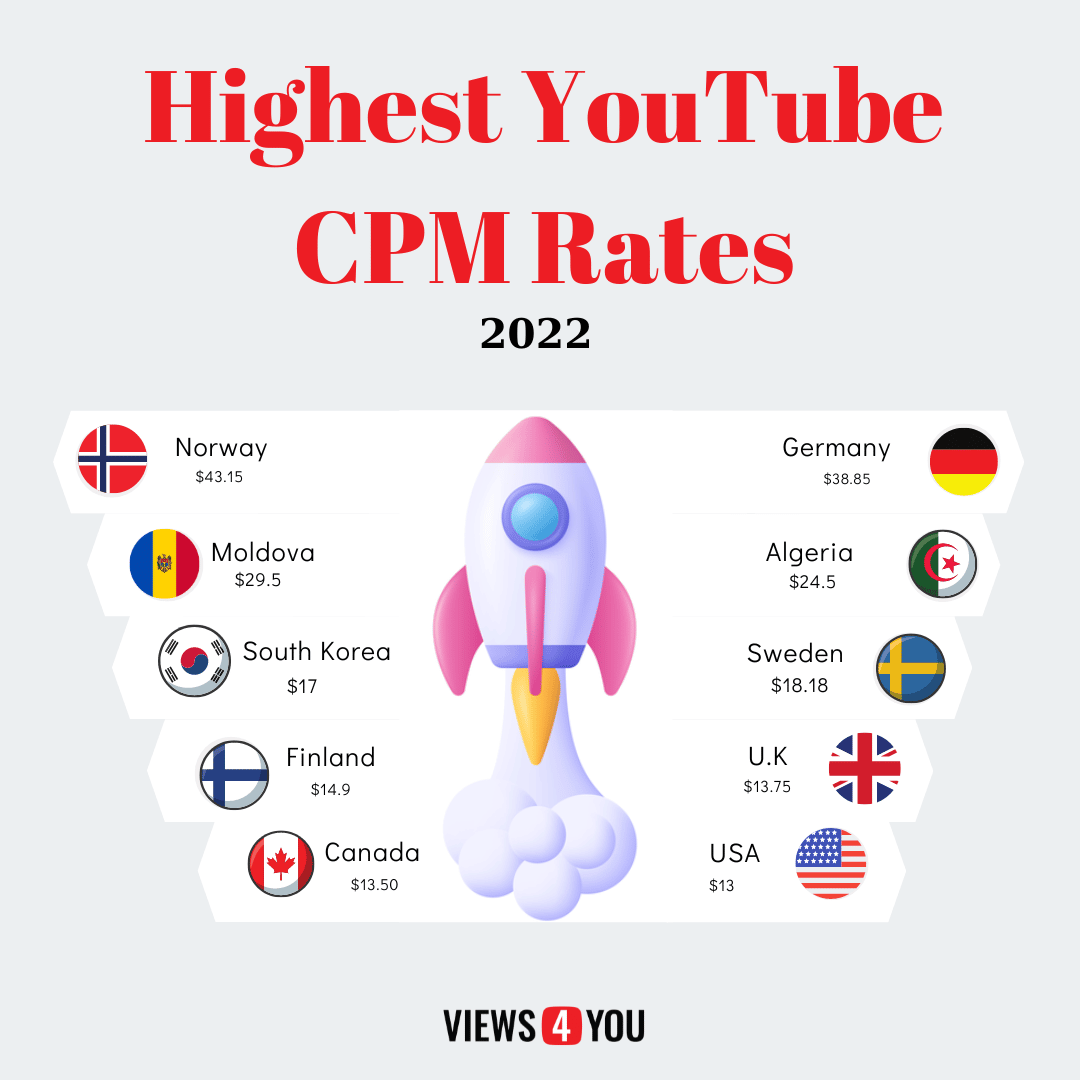 7 Ways – How to make money on YouTube?
Everyone thinks that the primary source for creators to make money on YouTube is YouTube Ads, the video that appears before the main content. But, actually, it is not! That's because no one ever wants to watch them and simply clicks on "Skip Ad", which results no payment for the YouTubers.
Therefore, if you're planning to make money from ads, the earnings will definitely be very low. In case, you're being a YouTuber, who accepts affiliate marketing from brands, you could gain lots of money from just being the mediator, and YouTube converter.
YouTube video sponsorship
Viewers can skip ads or watch half the ad, which isn't something advertisers prefer when they want to promote their products. Thus, you can receive paid sponsorship to showcase a product or service through your content. Or, you can mention it at the beginning, middle, or end of your videos.
This is a method often used by YouTube stars due to their video having exposure to more viewers.
Merchandise sold via YouTube
A successful channel with at least 1,000 subscribers or well-known as an Official Artist Channel can include a merchandise section under videos. This feature enables viewers in approximately 30 countries to view and purchase merchandise such as:

Many sites partner with YouTube and allow YouTubers make and design their branded merchandise.
Instead of sponsorship, you can include affiliate links to the video description and offer discounts to your subscribers while promoting a product or service.
YouTube Channel Memberships
If you're part of the Program, you can use the channel memberships feature to attain money from your most devoted subscribers.
By paying $5 monthly, which is only a small percentage compared to what you can earn, you can upload:

It enables content creators to access and use monetization tools.
The program allows advertisers to distinguish your channel from many others. As they seek creators of original and quality content and have dedicated subscribers.
How can you join YouTube Partner Program?
The conditions to join Partner Program and qualify for monetization on YouTube are:
#Abiding by YouTube monetization policies.
#Not having any active Community Guidelines strike on the YouTube channel.
#Having at least 1,000 YouTube channel subscribers. If you want to reach 1,000 subscribers number, buy YouTube subscribers from Views4You now.
#Having at least 4,000 valid total watch hours in the last 12 months. Views4You can very easy provide  4.000 watching hours to you. Buy YouTube views from Views4You.
#Residing in a country where the program is available.
#Creating an AdSense Google account.
It's essential to have an account to receive the earnings that YouTube pays.
How to create an AdSense account for YouTube?
It's possible to create an account and link it to a channel.
To create an account:
Log into YouTube Studio and select Monetization in the left menu.
Select Start and Sign-up.
Follow the required steps, fill the form with your information and choose your Google account, which you'd like to use for the service.
Verify your email account and submit your application for it.
Once Google approve your application, you'll receive an information email. The confirmation will also appear on YouTube Studio.
Is The Role of YouTube Monetization Different From Google AdSense?
Yes! Monetizing on YouTube can be quite different from using Google Adsense. But the overall idea of showing ads and receiving revenue from them still holds in both situations.
With YouTube monetization, there is more power over the ads that are shown. With Google Adsense, it's not as easy to control what kind of ads will appear and where on your video page they'll be placed, making them less effective to generate income.
YouTube's new ad types allow you to choose between displaying video ads, sponsored cards, or overlay underlay banners. You also can turn off certain types if you don't want to show them anymore. This expansion lets you control the user experience and you can customize the ads to make your audience engage more.
Furthermore, YouTube offers an excellent way to promote your products and services! With ad campaigns, you can run ads for any product or service that suits the needs of customers. This is a great way for content creators like yourself to generate more revenue!
Unlike Google Adsense, which only permits you to show general ads, running ad campaigns will allow your audience the chance of being targeted with specific interests they may have based on their browser history or other factors that would make them more prone to this content type.
Google's purchase of YouTube gave them more power to monetize your content. However, you still have a lot of freedom to choose the best way to do this on the site yourself whether through ads or otherwise!
Who Are The Top Paid YouTubers?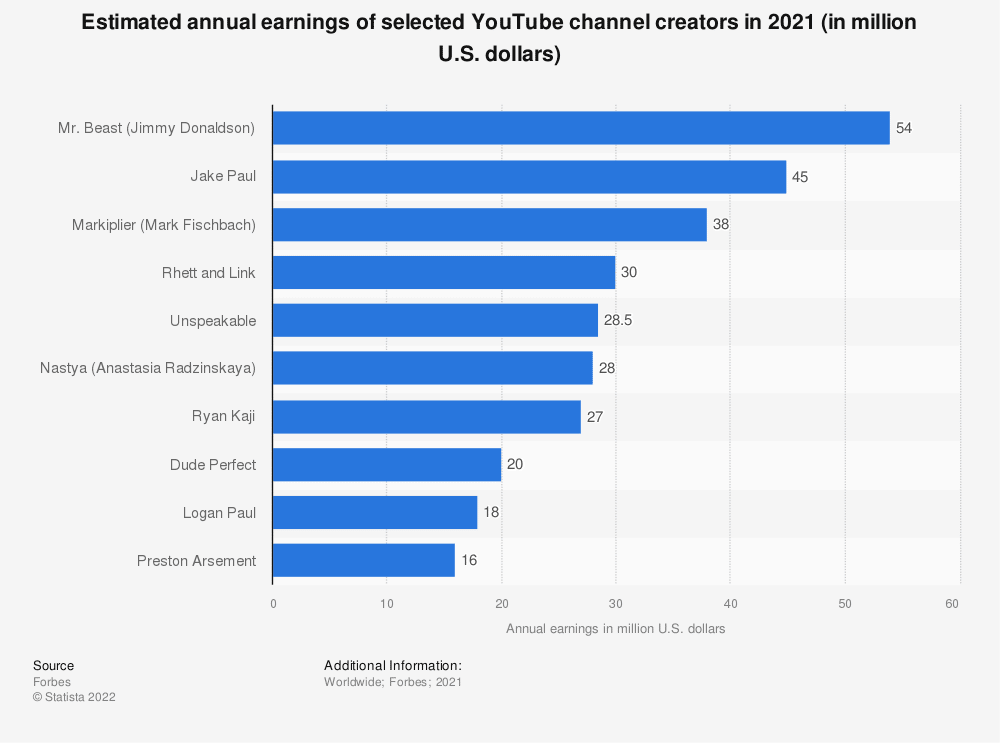 Be ready to know more about jaw-dropping earnings of the highest paid YouTubers make.
#1 | MrBeast (Jimmy Donaldson) ↗️ 102 Mn Subs. 💲54 million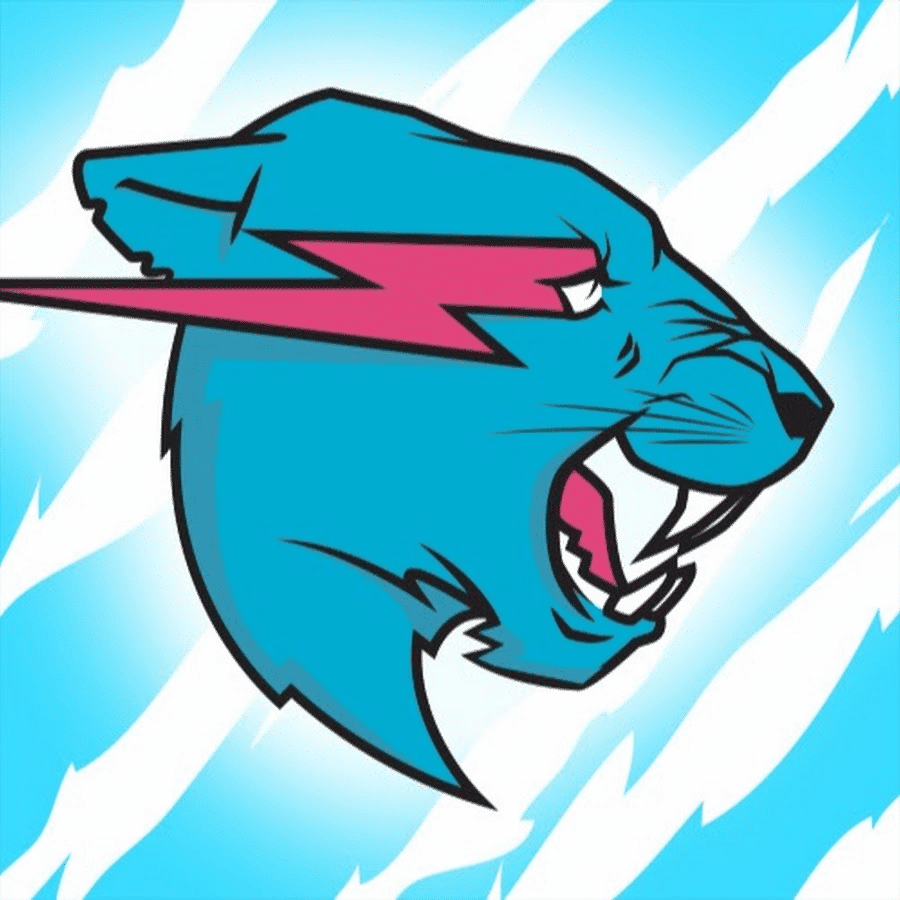 When someone calls YouTube stars, MrBeast comes to mind first. He is a 24 years old American millionaire who has the most subscribers on YouTube and is worth more than $54 million as it is stated by Forbes. He uploaded  his first YouTube video on 2012 when he was 13. At that time, his contents were about games, and giving tips & tricks to upcoming creators. Soon, he made fun of the other's video intros by making a series of "best intros" which gained him amazing popularity. His decision to drop out of the university was not okay by his family members. But, they didn't have a clue how he might create a successful YouTube channel. Mr.Beast has multifarious contents now, mainly focusing on challenges and donations which he gives even up to 1 million!
#2 | Jake Paul ↩️ 20,4 Mn Subs. 💲45 million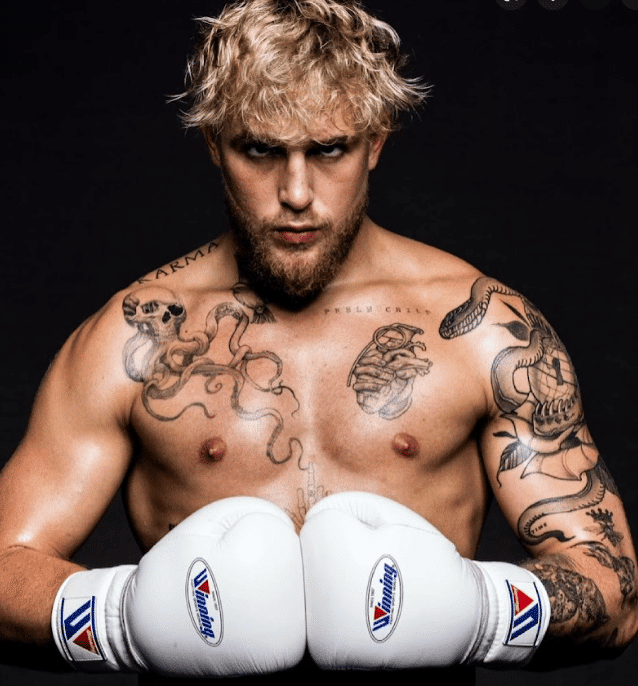 Jake Paul is a 25 years old professional American boxer who is also known for his video content of boxing experiences, and some publishable adult contents stories with almost 21 million subscribers, Jake Paul's YouTube channel worth is $45 million, and his fame actually comes from his Vine videos which soon ended up his being a Disney actor. He even released music videos after so many scandalous YouTube videos which caused legal issues such as his video titled "I lost my virginity". After various broke ups, he is finally -not legally- married to Tana Mongeau. MTV recorded their ceremony and even got a $50 pay-per-view.
#3 | Markiplier (Mark Edward Fischbach) ↗️ 33,4 Mn Subs. 💲38 million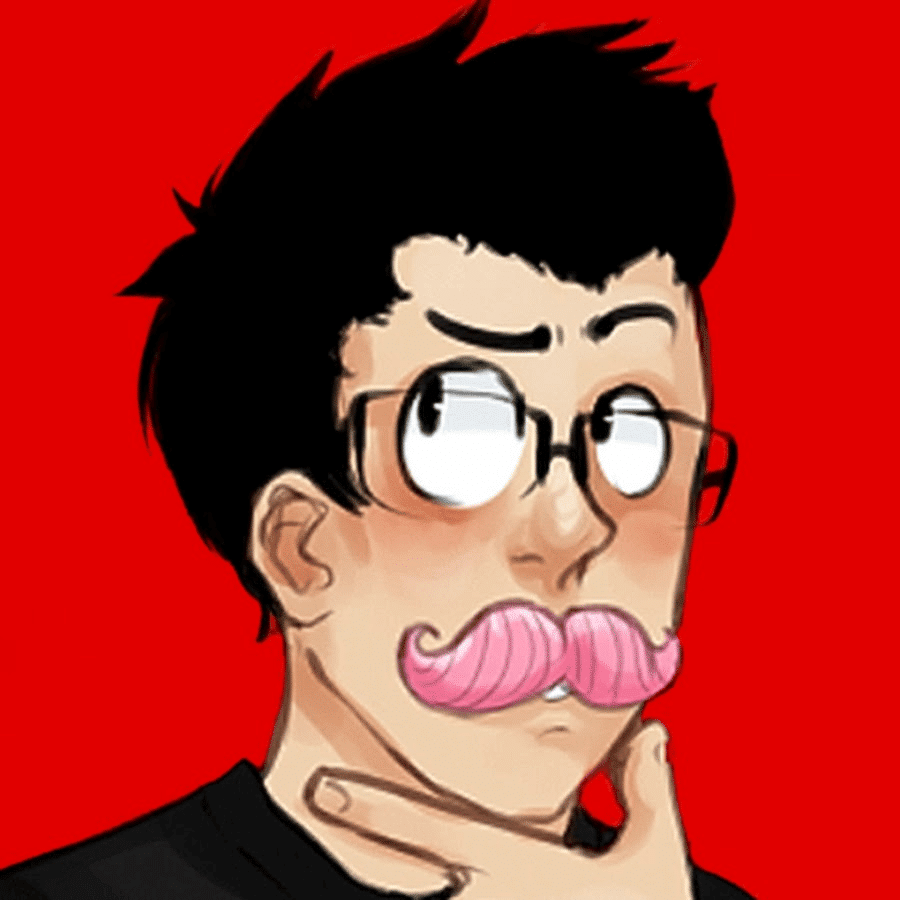 Mark Edward Fischbach aka Markiplier is 33 years old Korean-American YouTuber, actor, and producer whose estimated worth is 38 million dollars. His deep voice is famaous and he usually creates horror-genre playthroughs. He started his YouTube channel in 2012 which ended up getting bannede from Google AdSense and resulted in his starting a new channel called markiplierGAME, then markliplier2, markliplierTWITCH, and again markiplierGAME. Apart from his YouTube career, he took part in films and got an award for "best collaboration" in 2021, at the 11th Annual Streamy Awards.
#4 | Rhett and Link (Rhett James McLaughlin and Charles Lincoln "Link" Neal III) ↗️ 17,7 Mn Subs. 💲30 million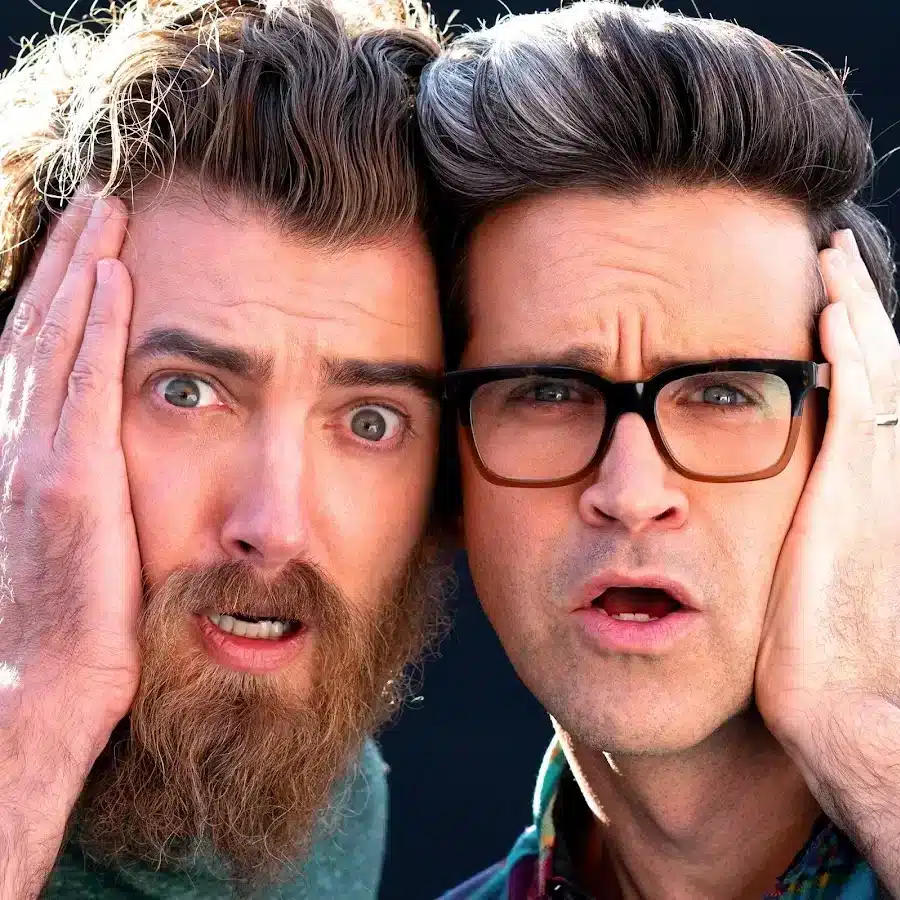 This is an inactivated channel of Rhett, who is 45 years old, and Link, who is 44 years old American comedy duo whose worth is 30 million dollars. They are currently active on their other YouTube channel, "Good Mythical Morning". The previous channel "Rhett and Link" is condemned for being not suitable for young viewers, so the new one is totally age-free and has a family kinda atmosphere. Rhett and Link are commercial kings online after living almost a twin life who went to the same schools from elementary to high school. The two even created "Mythical" entertainment inspired by their shows, and they published books, gave tours, produced documentaries, and recorded music and broadcasts. They won numerous awards for their comedy show views.
#5 | Unspeakable (Nathan Graham)💡 14,3 Mn Subs. 💲28.5 million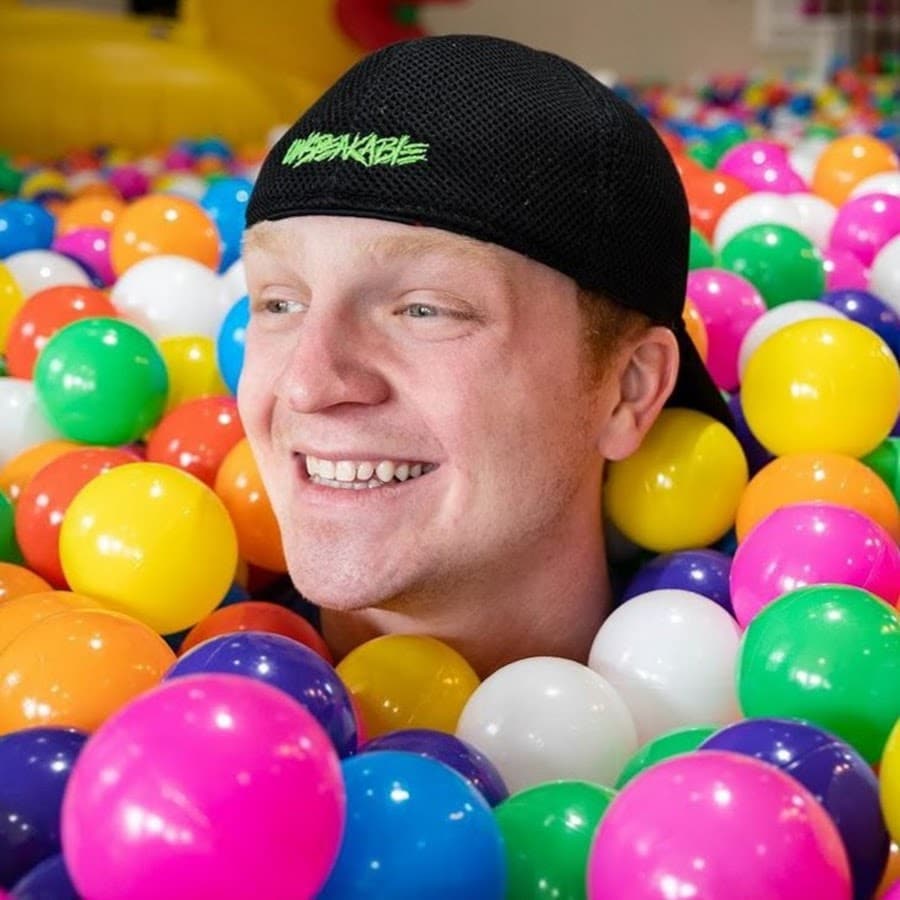 This YouTube channel is run by Nathan Graham. He created UnspeakableGaming YouTube channel back in 2012, and now running Unspeakable. He is 25 years old American YouTuber. and he is famaous for his gaming contents. His special YouTube contents about Minecraft gave him a wild rise on social media when the game become popular on 2016. Now he has 7 different YouTube channels with millions of subscribers. He even created his own clothing brand Unspeakable after realizing how much do YouTubers make money on YouTube with all those targeted audiences. His estimated net worth is 28.5 million dollars.
#6 | Like Nastya (Anastasia Radzinskaya) ↗️ 99,6 Mn Subs. 💲28 million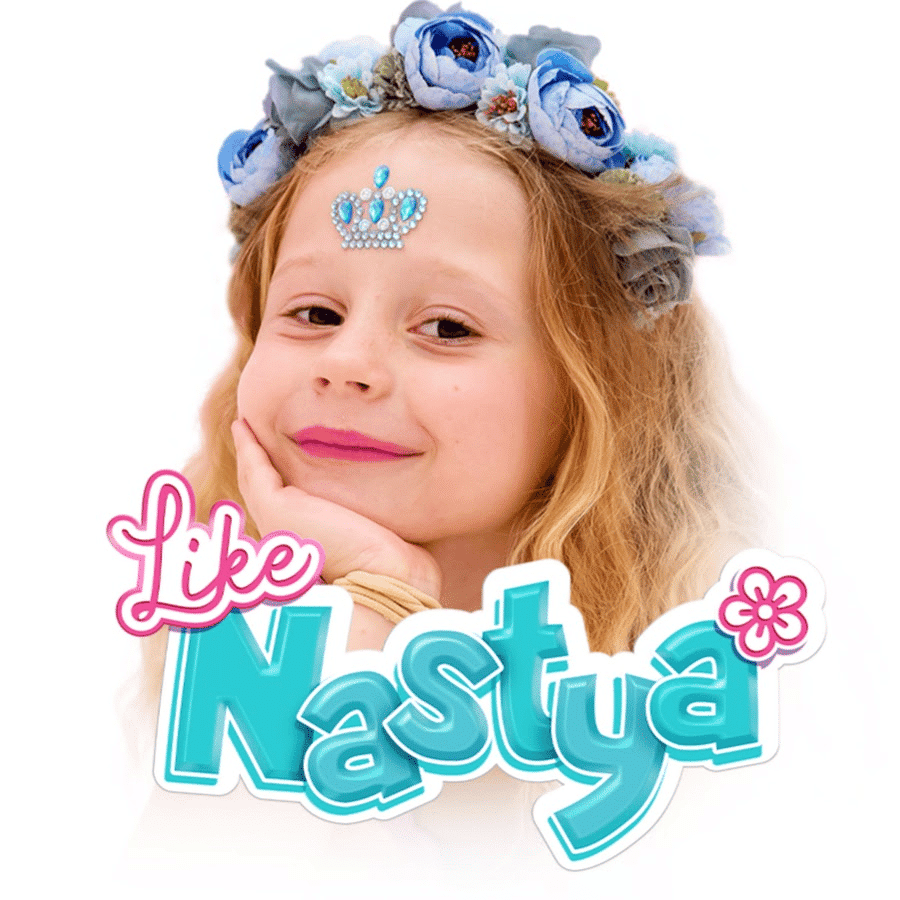 Anastasia Radzinskaya aka Like Natsya, who is the youngest-highest-paid YouTuber at 8 years old, created her channel with the help of her family when she was diagnosed with cerebral palsy. The family thought that she would be better if she could use social media platforms for fun, which turned into her being a millionaire. Her estimated net worth is $28 million. As it is proper for her age, her contents are about unboxing, roleplays, songs, and education. She is one of the most watched child stars! Her large audience even reached cross-continental views with a single video. Many brand sponsorships are already waiting in line pay $100,000 per 1,000 ad views.
#7 | Ryan's World (Ryan Kaji) ↙️ 33 Mn Subs. 💲27 million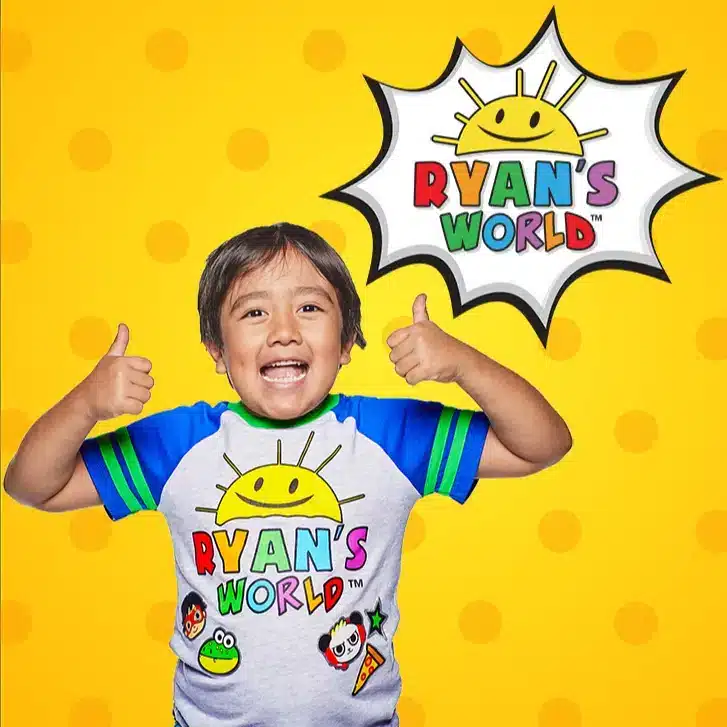 He is 11 years old, and one of the highest-paid American YouTubers with his channel Ryan's World. He is Texas boy, he is famaous for his video unboxing videos. His early access to the platform was back in 2015 with his family, when he was 4 years old. This is an unbelievable channel growth when someone ask how much does Ryan get from YouTube. It is a quite hard way to make money for a child, but he manages it perfectly. It still gives a lot of fun who look for family content to want from YouTubers. Although the age group he targeted is between 2-6 years, his estimated worth is 27 million dollars.
#8 | Dude Perfect ↙️ 51,8 Mn Subs. 💲20 million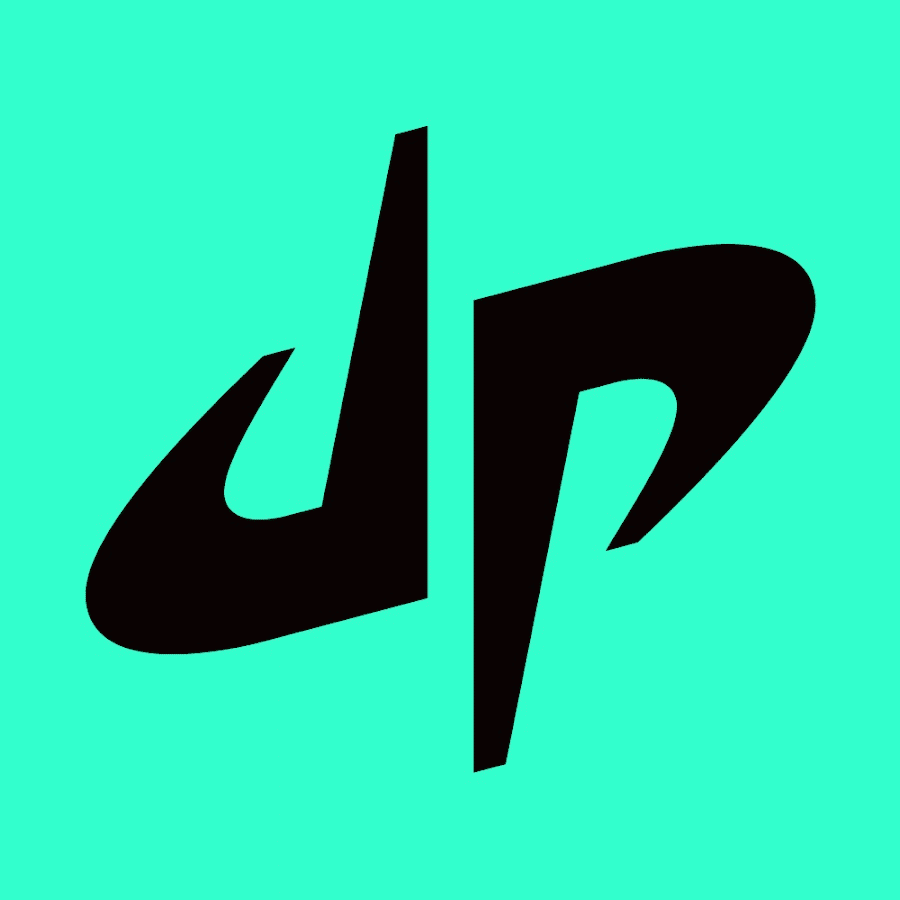 With the group of five YouTube creators, Dude Perfect has been active since 2009 and they are known for their trick shots, stunts, and stereotypical contents. They have more than 50 million subscribers that are currently in decline and the channel's net worth of $20 million. Twins Cory and Coby Cotton, Tyler Toney, Cody Jones, and Garrett Hilbert are the team members who are actually roommates back in university. Their sports contents made their YouTube earnings and ad revenue double, and these clearly opened a new door to sponsorship opportunities.
#9 | Logan Paul (Logan Alexander Paul)↩️ 23,5 Mn Subs. 💲18 million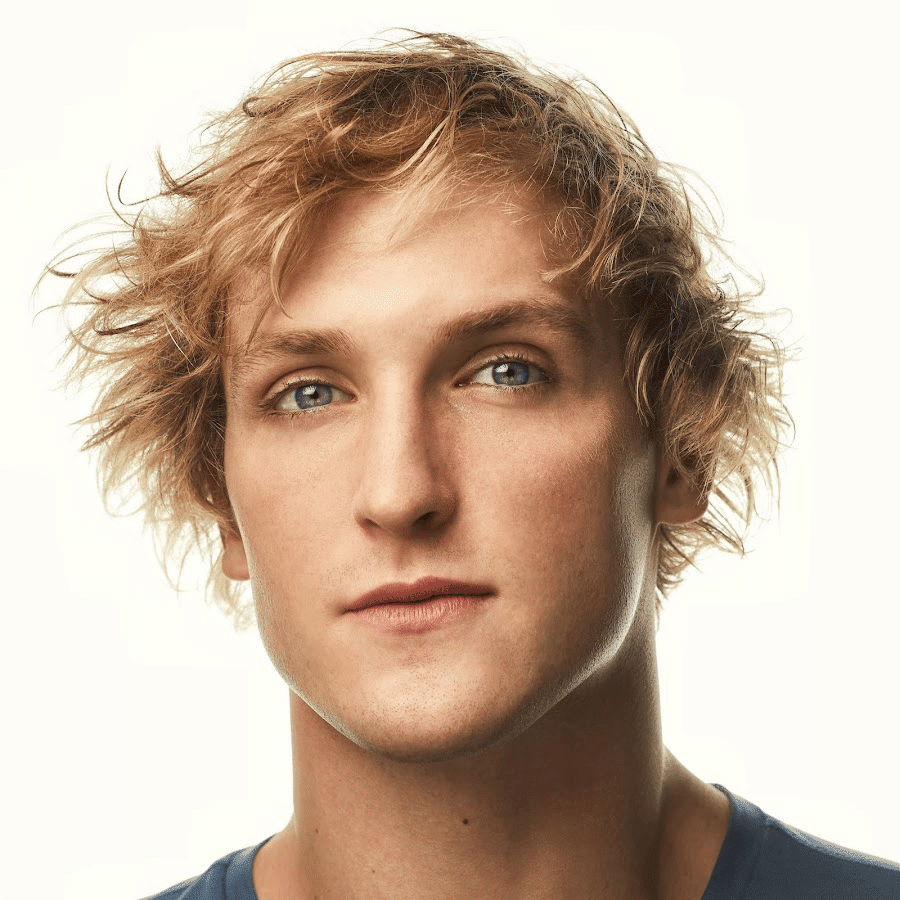 Jake Paul is 27 years old YouTuber whose video contents made him one of the highest-paid content creator on YouTube. His journey actually began with the app Vine, after this app's closure, he started recording for YouTube. Due to his countless misbehaviors, YouTube almost banned him ftom the patform. He posted video in which he recorded Japan's so-called suicide forest. It is clearly stated that all advertisers pay will be stopped again he has a "pattern of behavior". Yet, he's still online and making money on YouTube, and his estimeted net worth is 17 million dollars.
#10 | Preston (Preston Blaine Arsement) ↙️ 20,8 Mn Subs. 💲16 million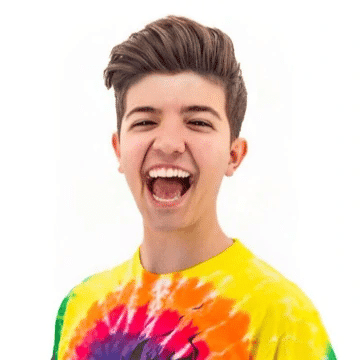 Like many YouTubers, Preston got his personal finance independence at the age of 28 with an estimated $16 million net worth. He is known for his YouTube channels PrestonPlayz and TBNRFrags (The Best Never Rest) among 8 different channels. Preston usually records pranks, challenges, and gaming content on various popular games. The famous YouTuber is also married to another YouTuber Briana, who creates contents mostly for children.