Occasionally, you may come across a YouTube channel that shows inappropriate content. To prevent specific videos from appearing on your watch page, you can block the account entirely.
This article will offer you step-by-step instructions on how to block a YouTube channel on various devices. Thus, if you work on a computer, mobile, or tablet, you will learn how to block all the channels on YouTube if you wish!
How to Block YouTube Channels on your Devices?
Luckily, we have two different ways to block YouTube channels.
Firstly, you can either block the user entirely or easily hide their video recommendations from your page. The key distinction between these two methods is that if you block a user, they will never be able to leave comments on your videos.
In the coming sections, we will give you step-by-step instructions on how to block YouTube channels on several devices. So, if you are using a computer, smartphone, or any other device, we will  guide you through the steps to controlling your YouTube experience and managing unnecessary channels on the platform.
1-Blocking YouTube Channels On Your Computer — "Don't Recommend Channel"
To block a YouTube channel on your computer, you must follow an easy and direct process. This process will require you to remove a recommended video. Follow the steps listed out below:
From your device's home screen, open your web browser and visit the YouTube website.
Choose the video that you want to block from the channel, and hover the mouse pointer across it. You will see a three-dot menu in the lower right corner.
Now tap on the three dots located beside the video title, and choose the "Don't recommend channel" option.
As, you can see below the content disappeared.
If you follow these easy steps, you can block content from specific YouTube channels on your computer quickly. This option allows users to manage what they can view and ensure that they will only watch videos that are suitable and interesting to them.
2-Block Specific YouTube Channels On Mobile
If you usually use a mobile browser to watch YouTube, we got you the solution, so don't fret. You can still put YouTube channels on your blacklist by following the instructions we share below. However, it's good to note that you cannot totally block an account from a mobile browser. You can only force YouTube to stop recommending videos from that channel.
To blacklist any of the channels you don't like, using a mobile browser, follow these steps:
Open the browser on your mobile device and access the YouTube website.
From your feed, choose the video you do not want to see, or look up  the account you want to block using the Magnifying glass icon you see at the top.
Click on the three-dot menu found next to a video, and choose the "Don't recommend channel" option.
You can also block YouTube channels via the YouTube app:
1-Go to the YouTube app
2-Look for a video.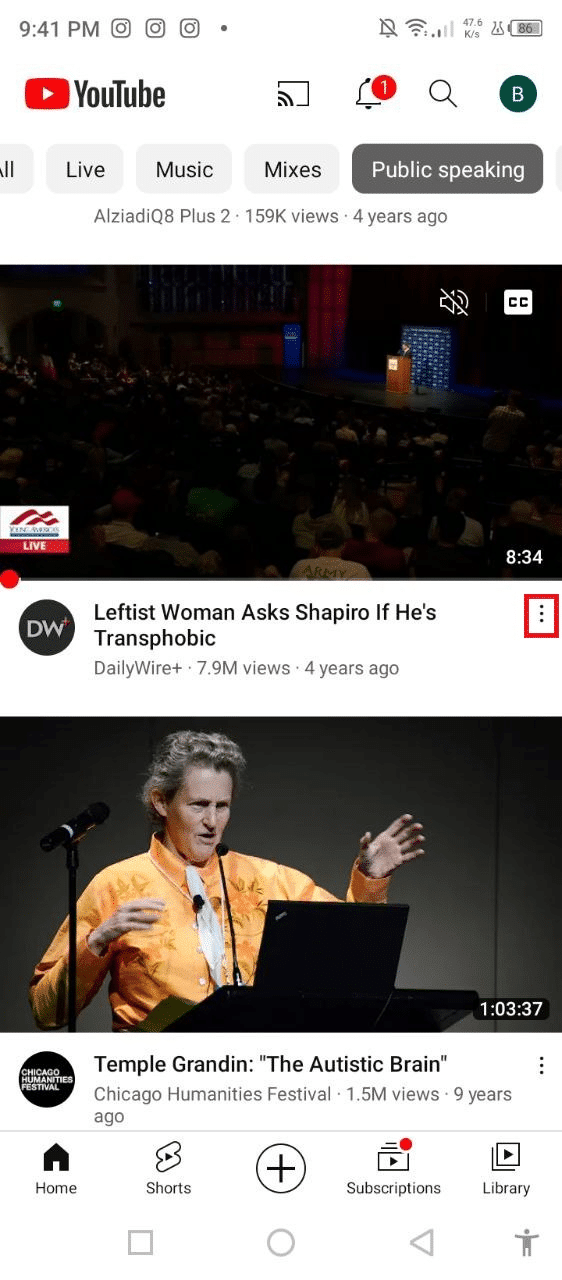 3-Click on the three vertical dots on the lower right corner (beside the video title).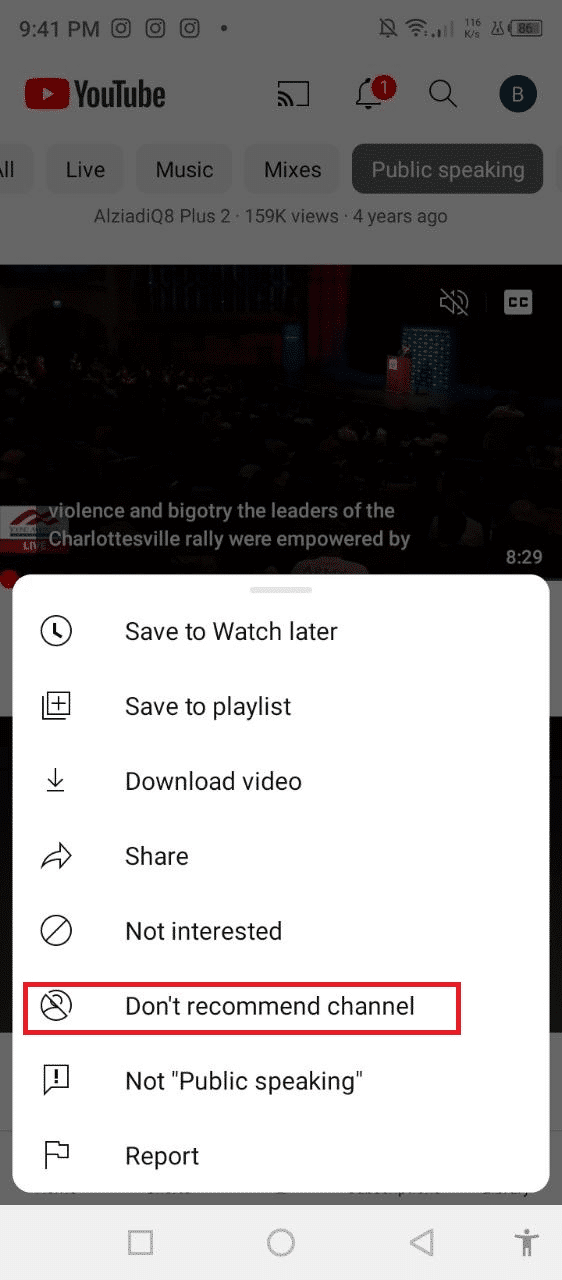 4-A settings menu will pop up in front of you. Now, click on "Don't recommend channel" to block it!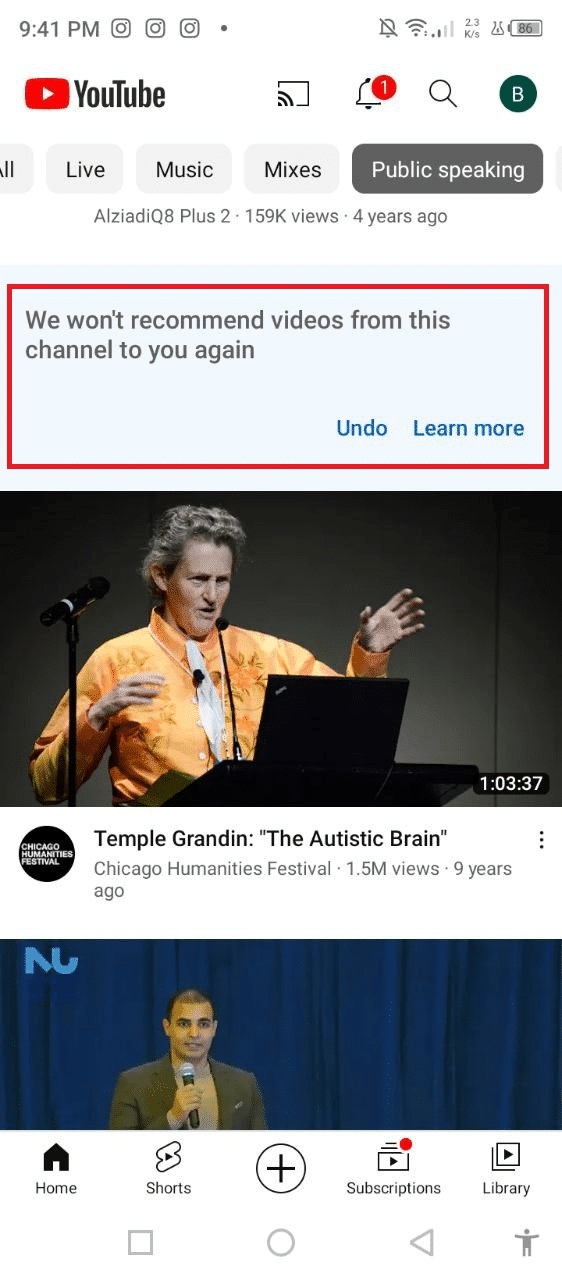 3-Blocking YouTube channels On An iPad
The YouTube app provides several features that let you discover and enjoy the application. If you see any bad video or channel, don't worry – you can simply block them.
4-Blocking YouTube channels on Apple TV
Although it is not possible to block specific channels directly on Apple TV, you can still limit access to the ones you do not want to appear on your profile.
To do so, follow the coming steps:
Choose a PIN code to utilize for the restrictions.
Navigate to the Settings option through the remote.
Select General, then Restrictions.
Enter your chosen PIN code, and confirm it. Then click "OK" to proceed.
Now, it's time to customize your restrictions:
Navigate to the Restrictions menu again.
Turn on the Restrictions option, then move down and choose the Apps tab.
Select "Don't Allow Apps."
At the time you apply the restriction, you must input your PIN code whenever you open YouTube. While this does not allow you to block individual channels, it lets you limit access to the videos you do not want to see.
How Do I Block YouTube App for Kids?
Bark is a parental control tool that helps parents monitor their kid's YouTube usage. If you are a Bark user, this is how to block apps or sites you want to restrict your kids from accessing:
Go to the Bark dashboard and find your child's account.
Choose "Settings" and then "Parental Controls."
Review the rule sets you have scheduled.
Scroll down until you find "Screen time rule sets" and select the rule set which is currently applied.
Toggle the application or website you want to block to "Blocked."
Repeat the steps for any other screen time rule sets you have scheduled.
If you are not yet a Bark user, sign up for a free, one-week trial at bark.us.
By following these easy steps, you will make sure that your kids are not accessing inappropriate content on any devices. Bark's parental controls help you manage your kids' screen time and keep them safe while surfing online.
How Can I Block YouTube Channels Via YouTube Kids?
In 2015, YT launched a kid-friendly version of its website named YouTube Kids. It was created to offer a huge range of YouTube content that is good for children. Still, some parents realized that certain videos might not be okay for their children. Thus, blocking an account on YouTube Kids might be the best decision.
So, here are the steps to follow to block a channel on YouTube Kids:
First, find YouTube Kids on your child's device.
Look for the channel via the Search Box at top of the page or browse it via the YouTube feed.
Choose the one you need and tap on the three-dot menu you see beside the Subscribe button.
Select the "Block this channel" option.
If they follow these direct steps, parents can block channels on YouTube Kids that they believe are not good for the kids. This option allows the parents to have greater control over the videos their children can access on the platform. Moreover, you can block YouTube kids' channels via the YouTube kids app.
FAQs
How To Block Comments from A Profile?
To block an entire channel and stop a user from commenting or engaging with your videos, follow the coming steps:
Navigate to the YouTube app.
Search for the channel you want to block or click on it from your feed.
Choose the three-dot menu you see in the top right corner of your screen.
Now, select the "Block user" option.
Confirm your choice so that you block both the YouTube videos and comments from the account.
How Do I Block Words on YouTube?
If do not want some words to appear in the comment section of your channel, follow these steps:
Tap on your profile picture which you can see in the upper-right corner of your screen.
Now, choose the YouTube Studio option.
In the YouTube Studio, tap on the Settings icon at the lower-left corner of the screen.
Next, click on the Community option.
Move down until you notice the "Blocked Words" box.
Write the words you wish to block from appearing in your comments sections.
If you follow the mentioned steps, you will guarantee that your YouTube channel remains a positive and safe environment for the viewers.
How To Stop Recommended Videos Suggestion from A Channel?
To stop getting recommendations from other channels, do the following:
Go to the YouTube app on your device.
Tap on the three dots see beside the video from the account you wish to block.
Next, choose the "Don't recommend channel" option.
With the above steps, you can successfully hide the channel's videos.
How To Unblock a YouTube Channel?
To unblock a channel, do the following:
Navigate to Google My Activity page.
Choose Other Google activity on the left menu.
Beside the YouTube 'Not interested' feedback, tap Delete.
Tap on Delete again to confirm.